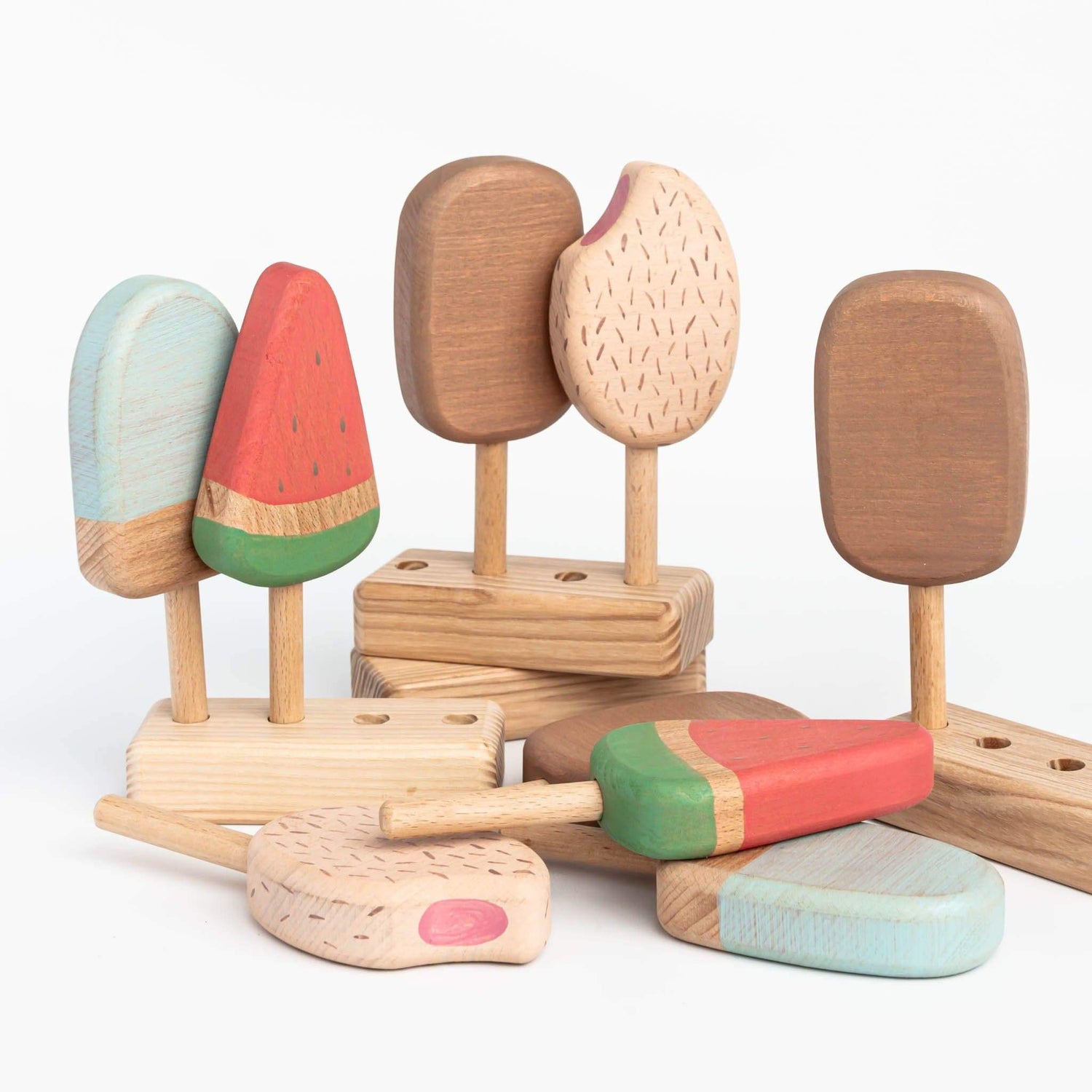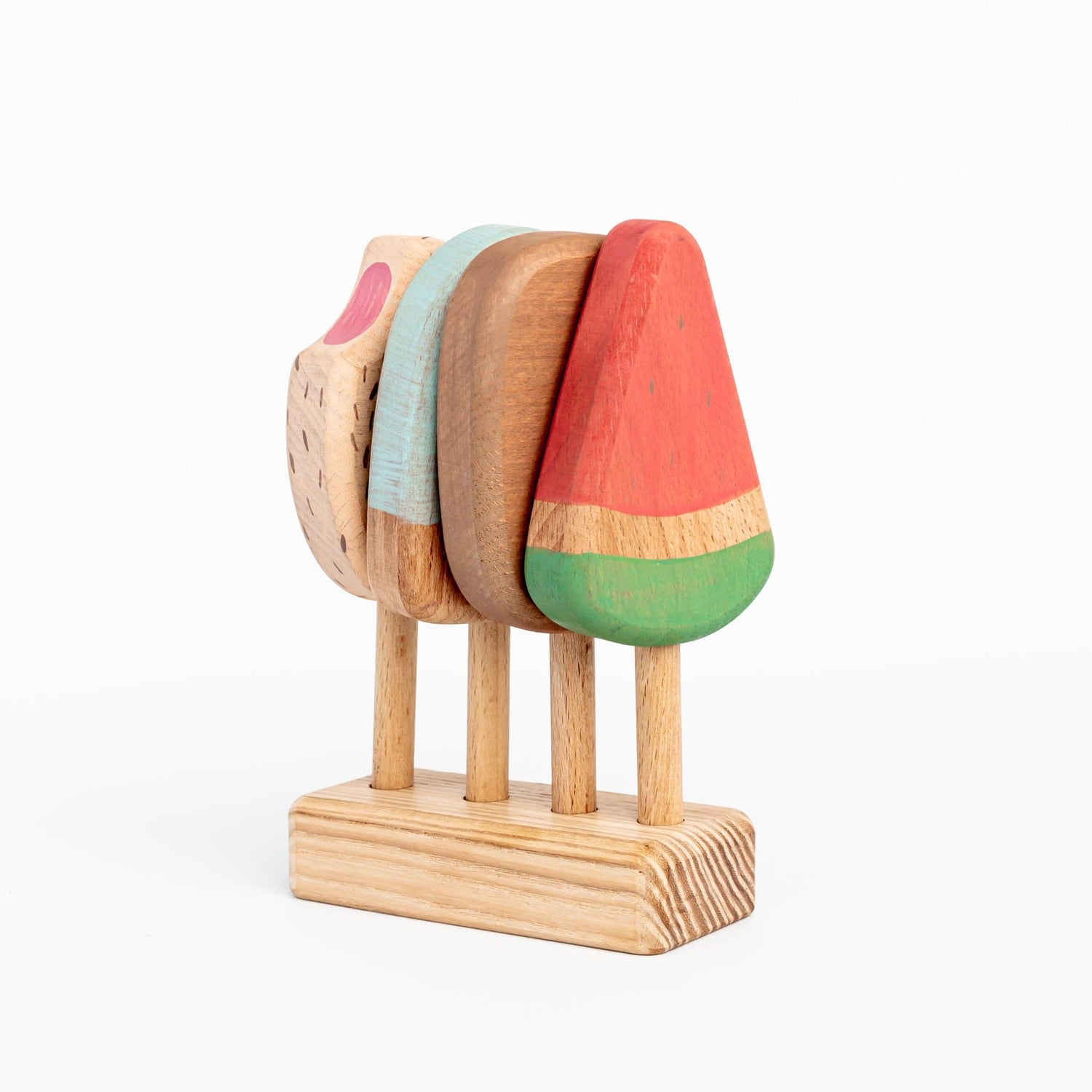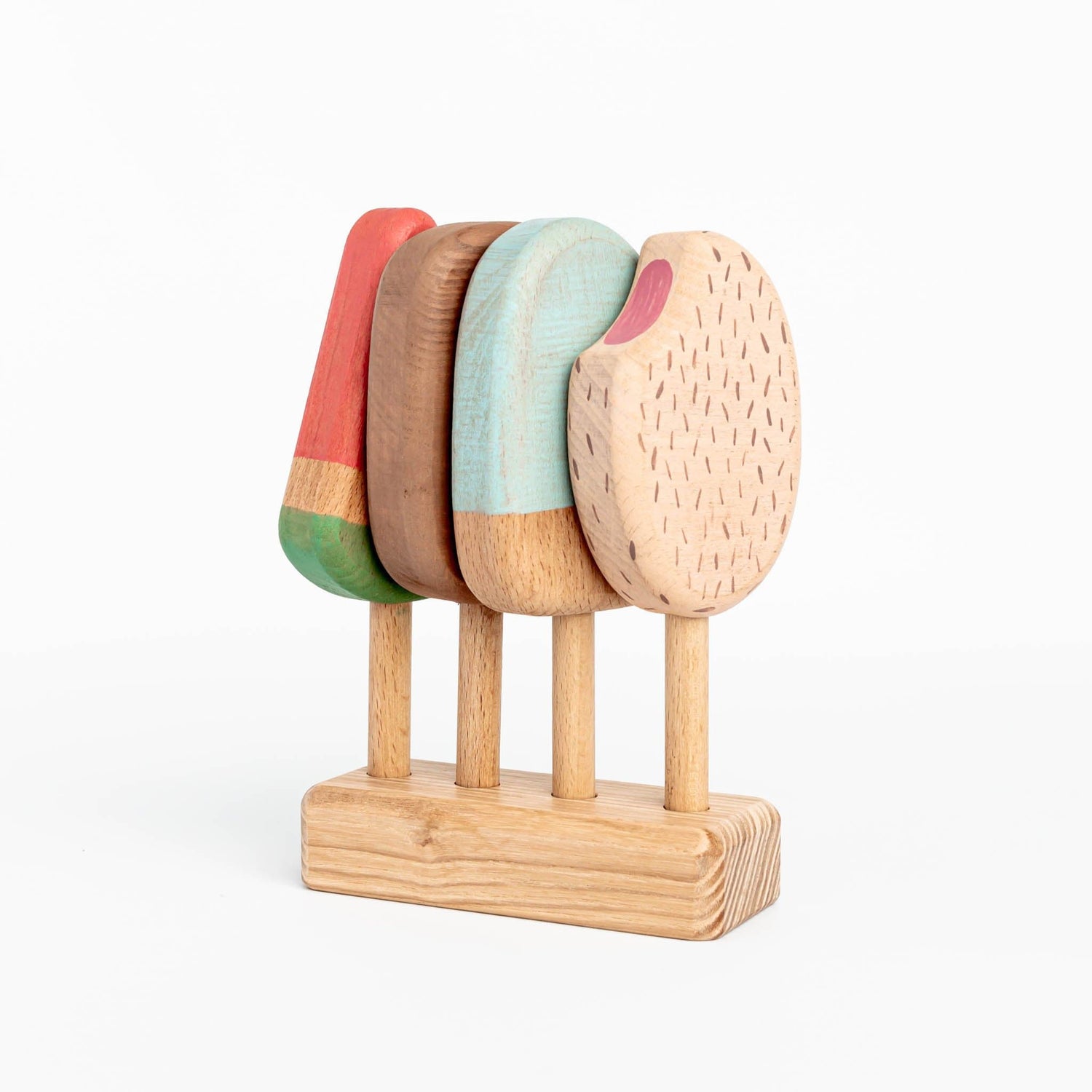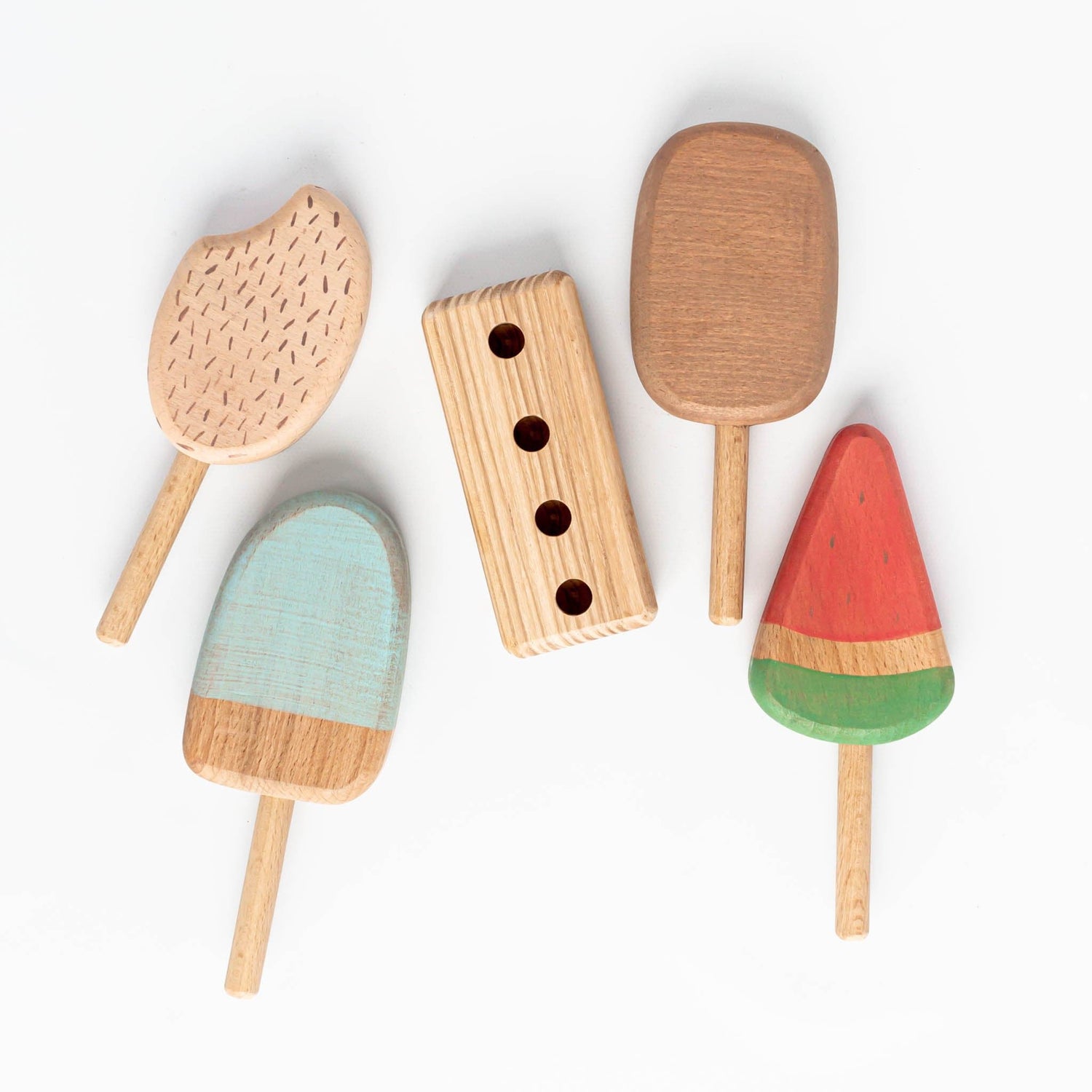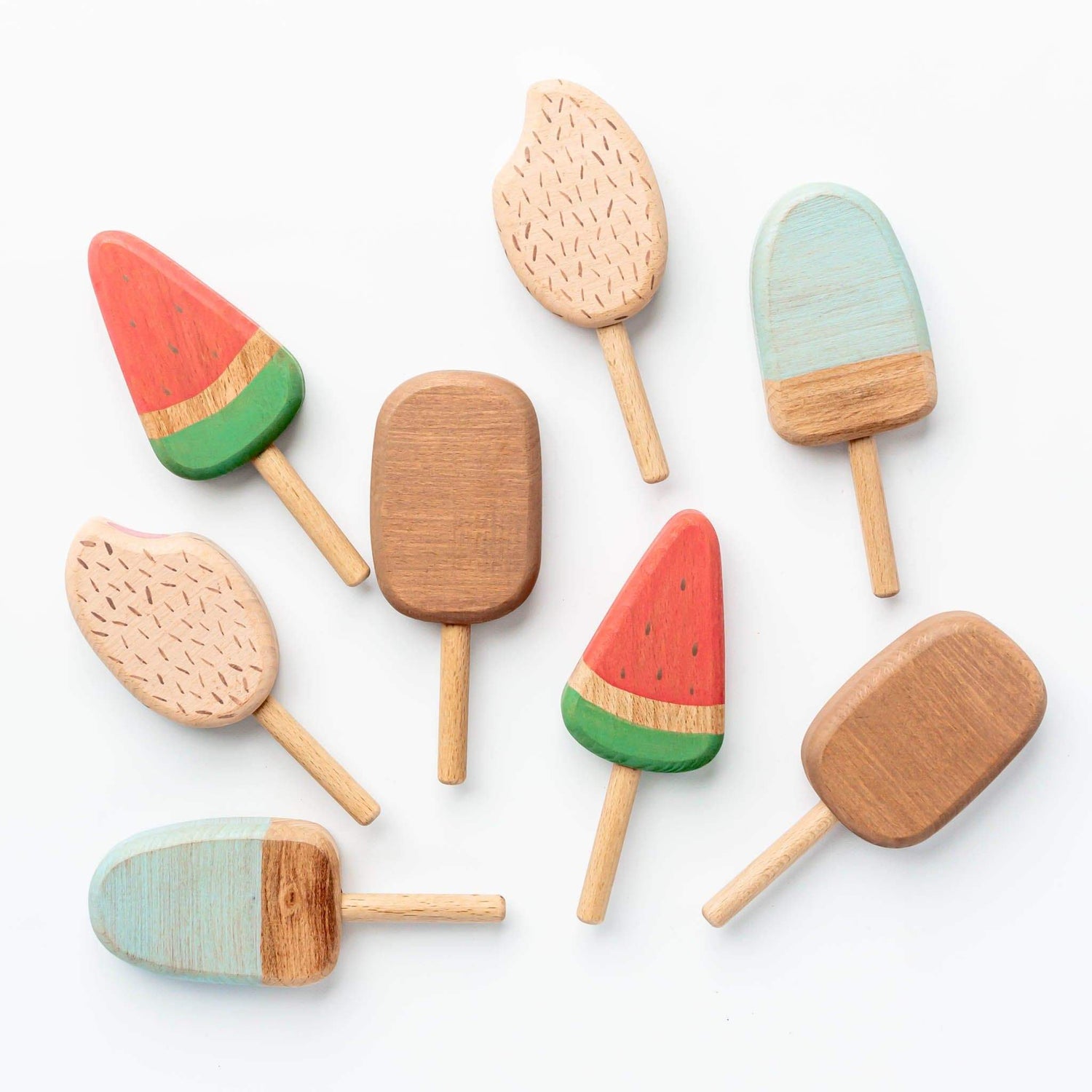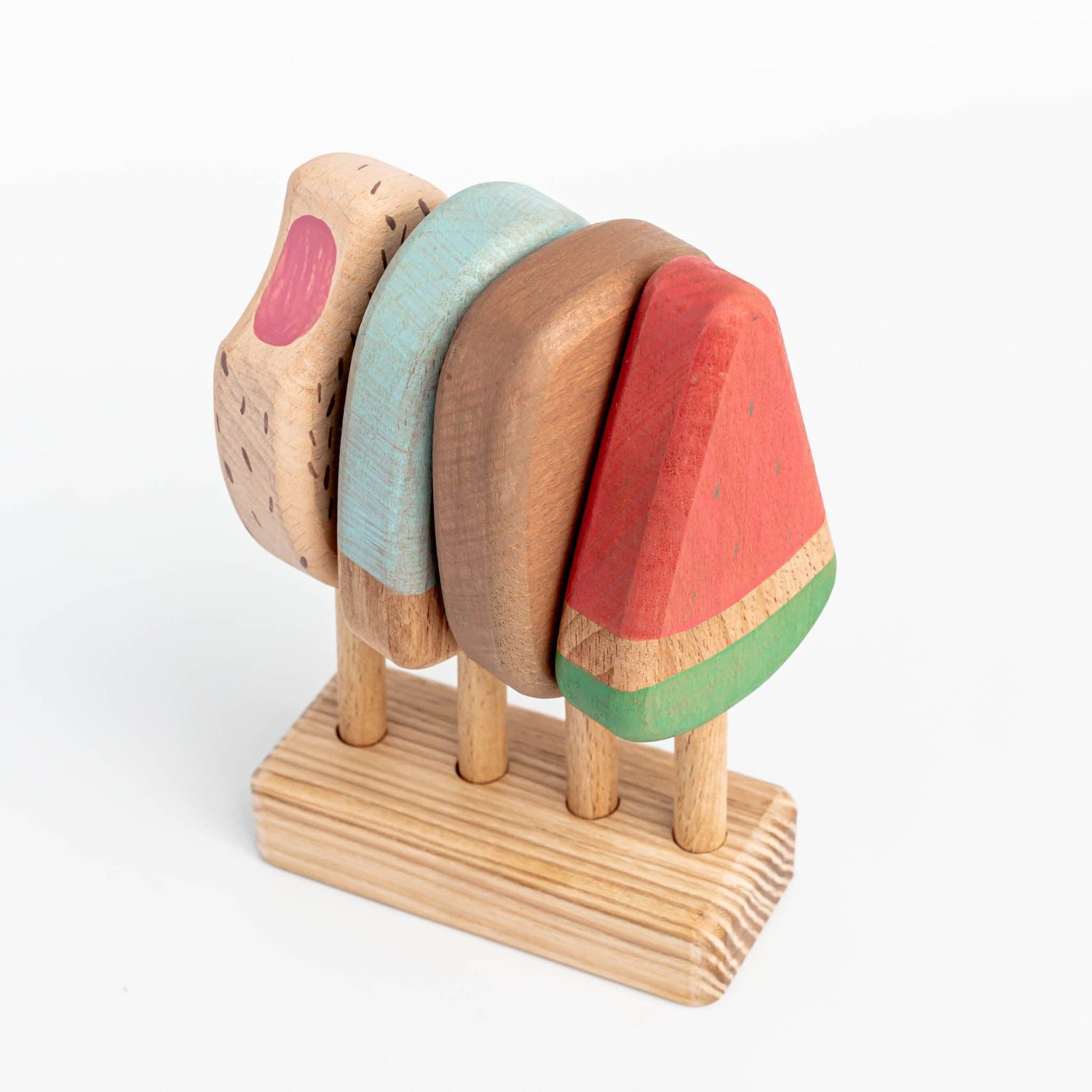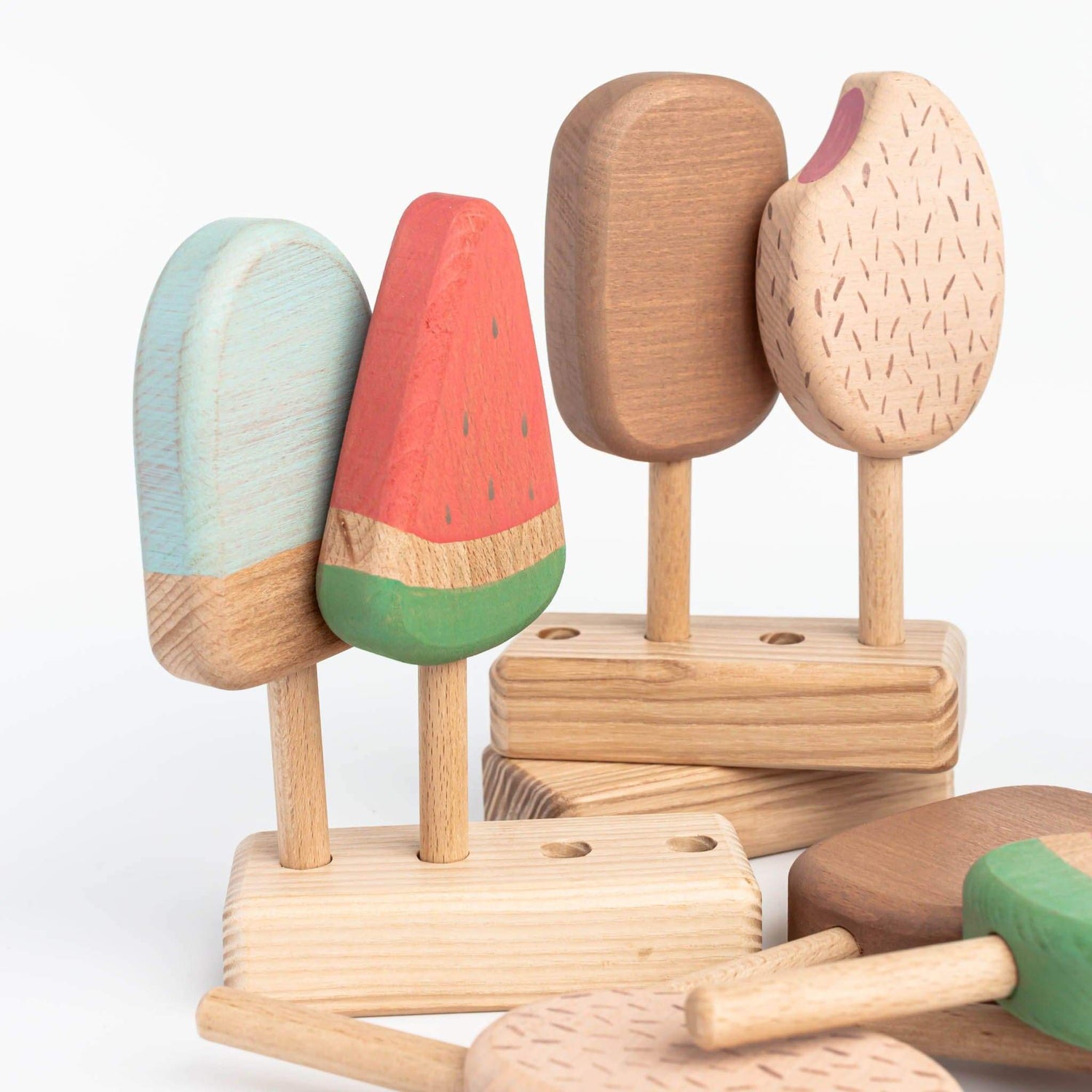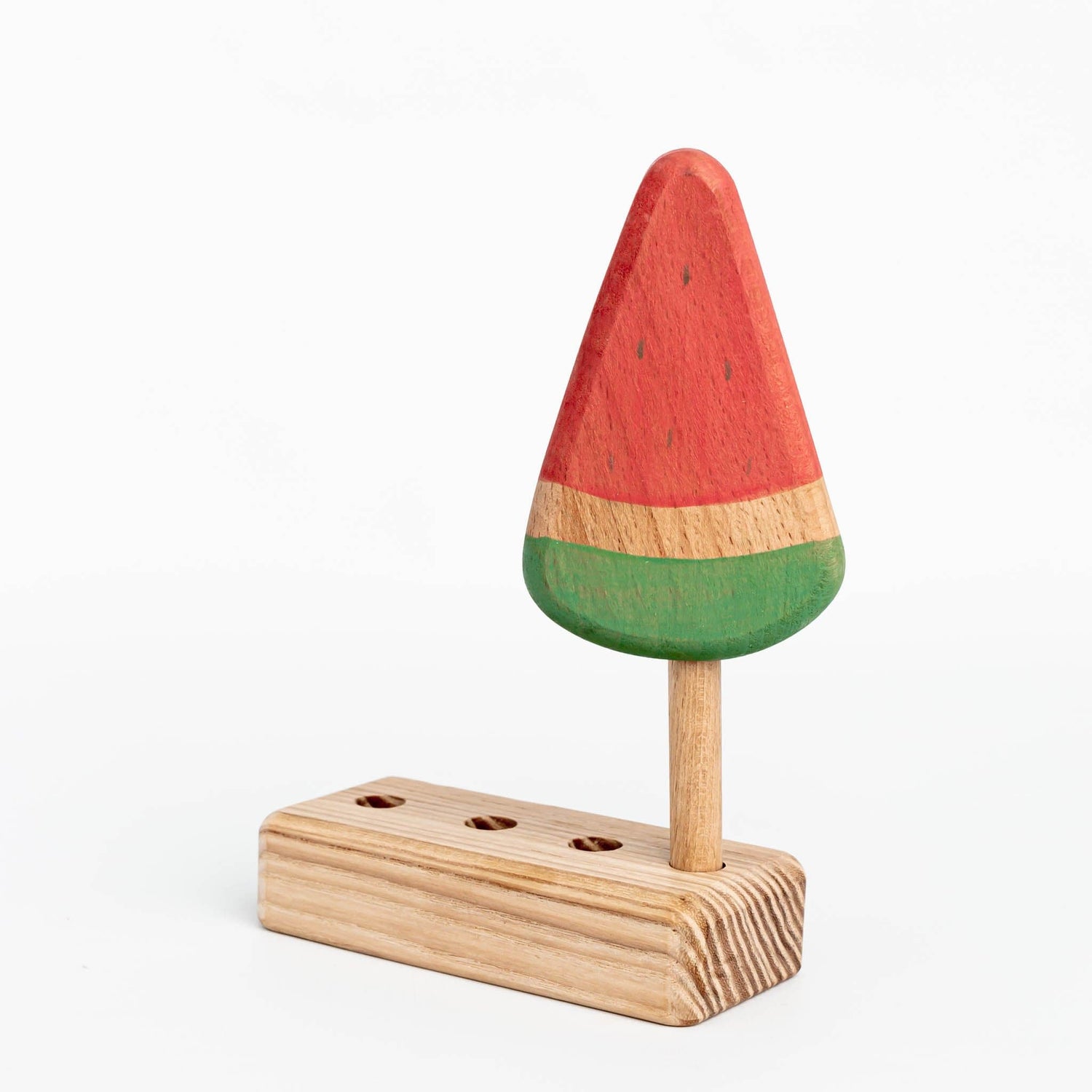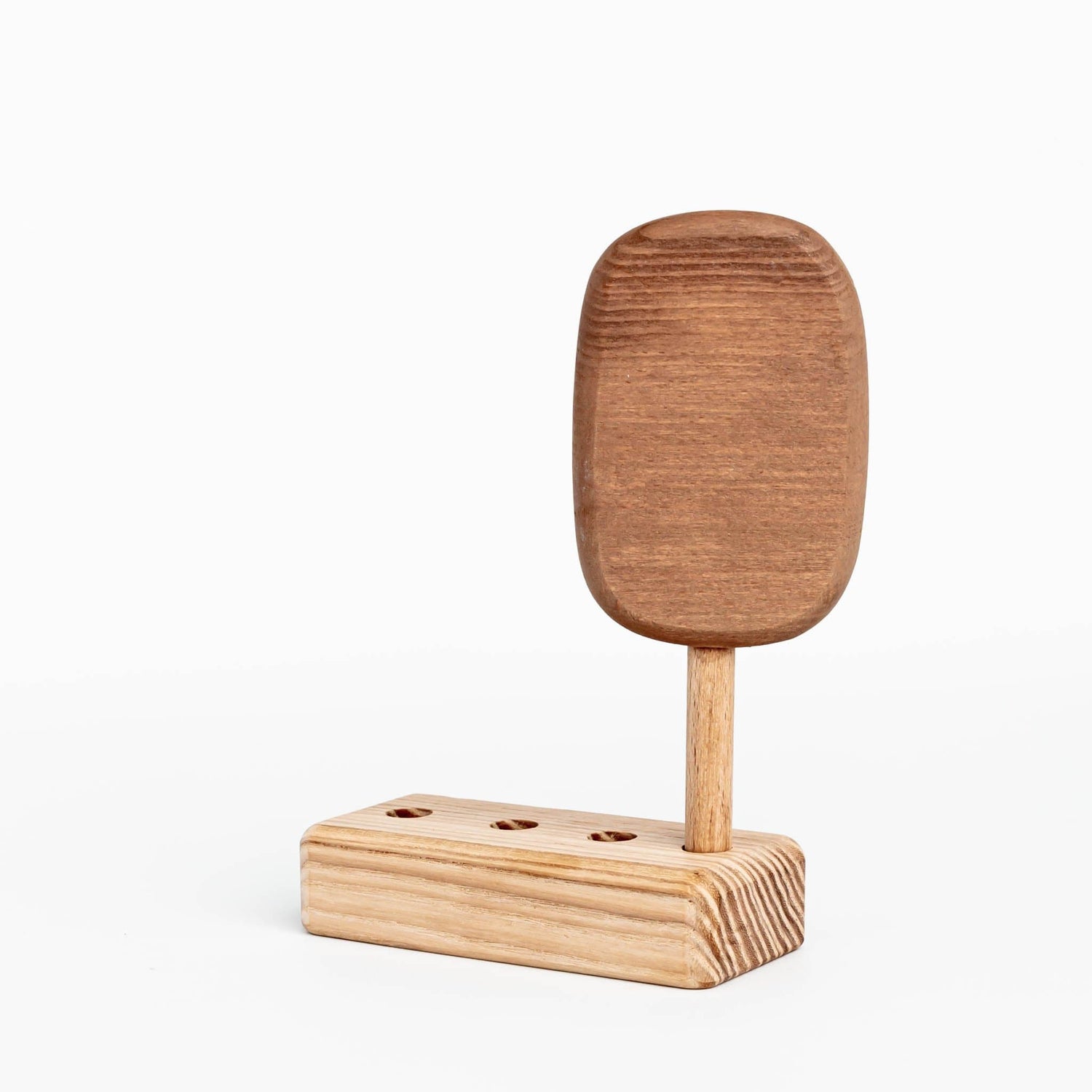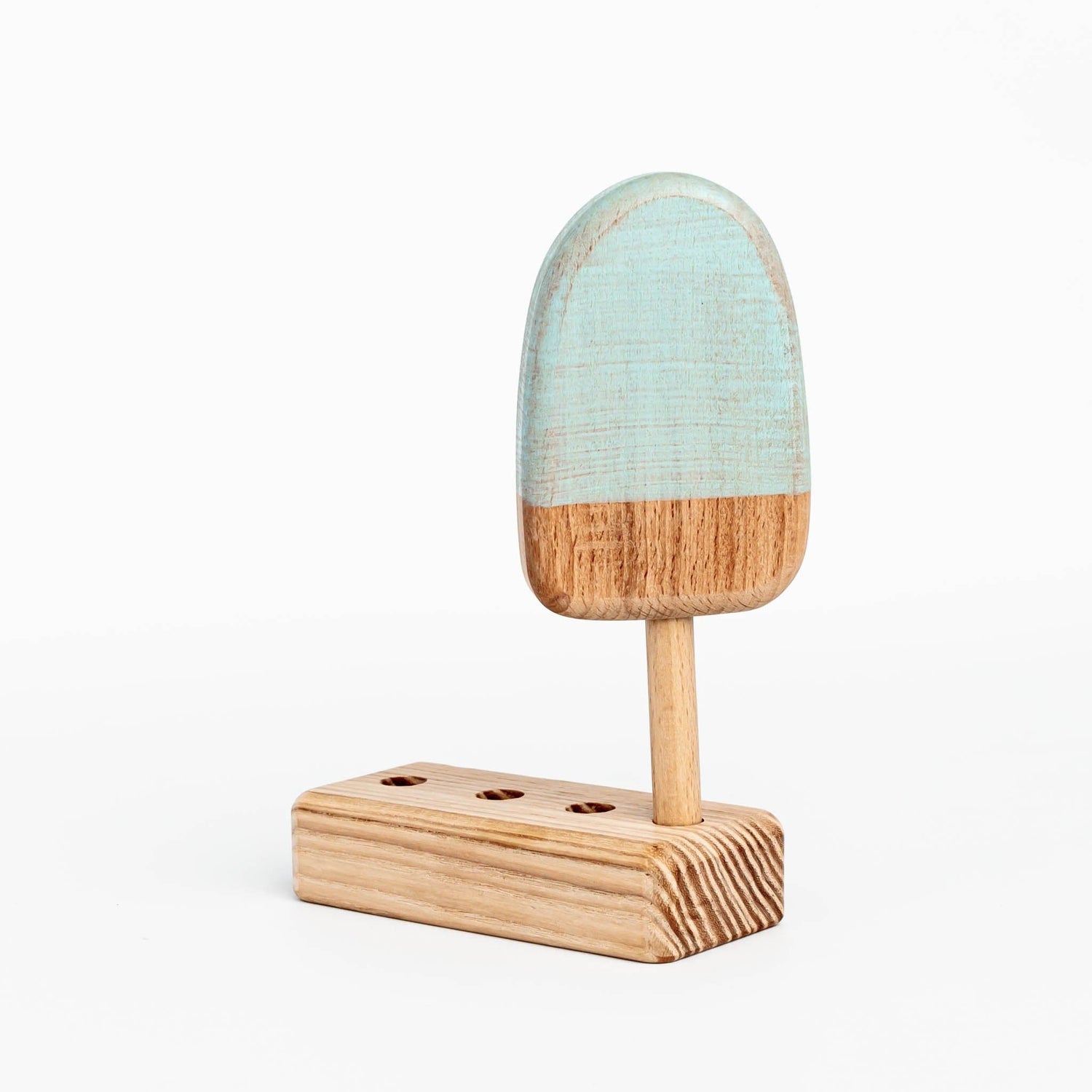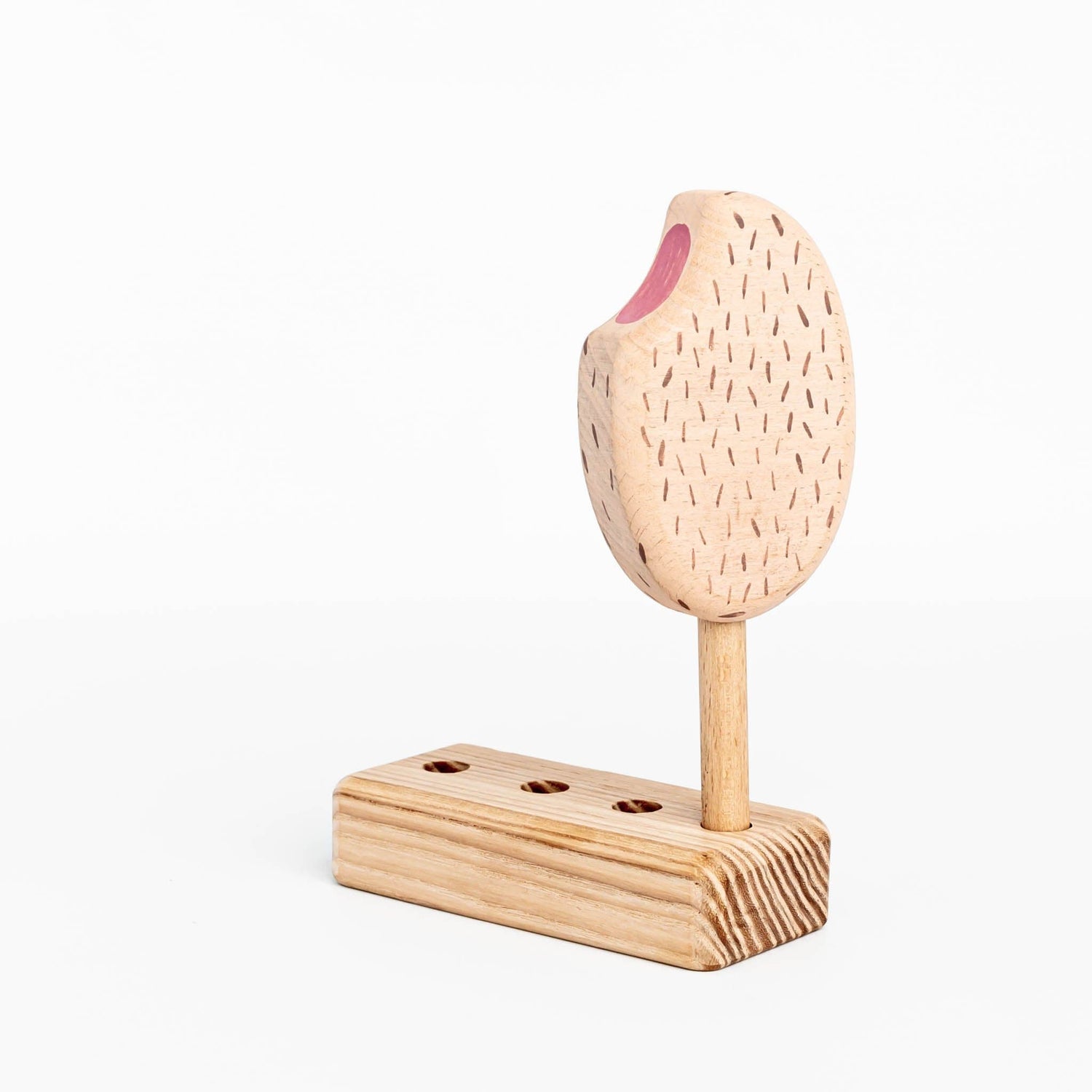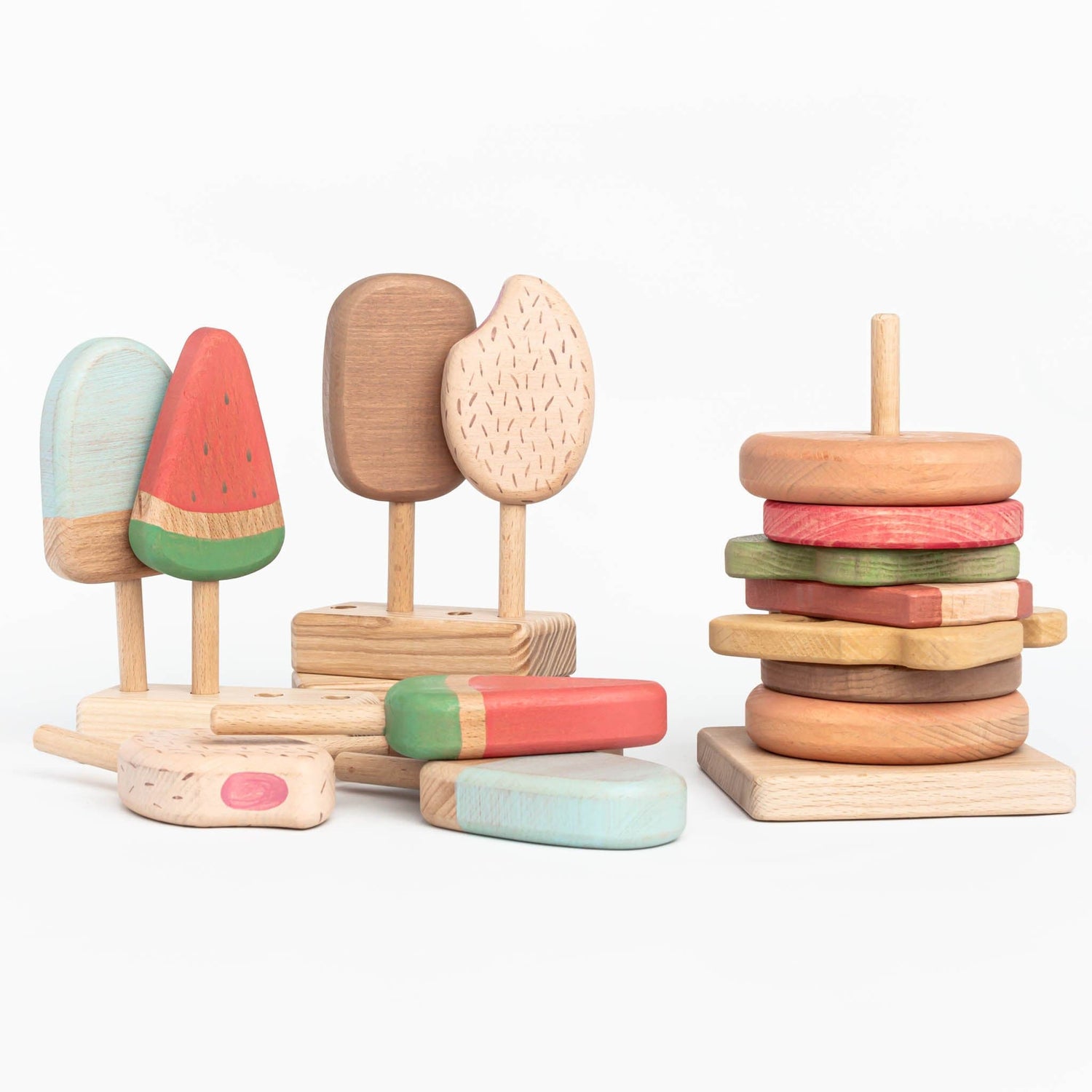 Handmade Wooden Popsicle Set
by 4OurBaby
This purchase helps provide 1 meal to
Indigenous Canadian children in need. Learn More
Description
Introduce a world of delightful playtime with our Handmade Wooden Popsicle Set. Designed to ignite your child's imagination and keep their hands happily engaged, this set is a must-have for summer fun!
Our carefully crafted set includes four captivating wooden ice cream treats that resemble mouthwatering popsicles. Let their imagination take flight as they indulge in pretend play adventures with flavours like refreshing Watermelon, decadent Chocolate, invigorating Frosty Mint, and creamy White Chocolate with Strawberry - a delectable assortment that will leave them craving more!
To enhance the play experience, we've included a charming wooden stand where each popsicle finds its place. This not only adds an element of organization but also encourages imaginative storytelling and role-playing scenarios. Watch as your little ones concoct delightful ice cream parties or run their own ice cream shop with this enchanting set.
Each popsicle is lovingly handmade using high-quality, child-safe materials to ensure durability and long-lasting play value. The smooth wooden surfaces are perfect for little hands, providing a tactile and sensory experience as they explore vibrant colours and unique designs.
Indulge your child's imagination and provide hours of engaging play with our Handmade Wooden Popsicle Set. It's the perfect combination of imaginative fun, sensory exploration, and timeless craftsmanship. Let the summer adventures begin!
Handmade in Russia by 4ourbaby.
Features

• The set comes with 4 different ice creams (or popsicles - whichever you prefer to imagine!) and a little wooden stand for them to fit in. There is Watermelon, Chocolate, Frosty Mint and White Chocolate with Strawberry - YUM!

Materials

• Each ice cream is approximately 5.5" (14cm) in length
• Made from sustainably sourced beech wood
• Painted with non-toxic Biofa paint and finished with a natural beeswax & oil mixture.

Age/Safety

• Recommended for children 3 years +

About the Brand

At 4ourbaby, they are more than just a brand – they are a family passionate about creating handmade, natural wooden toys that bring joy and wonder to children's lives. With meticulous attention to detail and an unwavering commitment to quality, they pour their love and care into every product they create.

Their mission is to provide children with toys that not only ignite their imagination but also promote their holistic development. They believe that the beauty of natural materials, like wood, offers a sensory experience that is unmatched. That's why they carefully source sustainable materials, ensuring that each toy is not only safe for children but also gentle on the environment.

From the early stages of design to the final touches, they prioritize craftsmanship and durability. Each toy is lovingly handcrafted, embodying the warmth and character that only handmade items can offer. They believe that the little imperfections are what make their toys truly special and unique.

As parents themselves, they understand the importance of creating a safe and nurturing environment for little ones. That's why they go above and beyond to ensure that their toys are free from harmful chemicals and toxins, providing parents with peace of mind.

Join them on this journey of imagination, creativity, and endless play possibilities. Discover the beauty and wonder of their natural wooden toys and create cherished memories that will last a lifetime.

Shipping & Delivery

• FREE shipping over $150
• $12 flat rate shipping across Canada on orders under $150
• $15 flat rate shipping on US orders under $150
• For more information, check out our full Shipping Policy
Beautiful set
Beautiful and unique set.
Was all that I had hoped it was going to be!
Can't wait to give it as a gift!!
Lovely
Cute and well constructed. Arrived very quickly!