About
Born from a passion for play, a deep
love & respect for our planet, and a
commitment to giving back.
Our Story
Like so many parents, I found myself in a position to care for my son full-time when daycares closed during the COVID-19 pandemic. After a few months at home, I noticed he showed little interest in the flashing, gimmicky toys I had bought him, and instead, loved to engage with more simple open-ended items. I began exploring the world of Montessori, wooden toys, and open-ended play, and was amazed at the positive difference it made in my son's engagement. From there, The Playful Peacock came to life as I set out to find the very best products on the market and share them with other families.
Everything you find in our store has been thoughtfully hand-selected from around the world to spark curiosity and play while respecting and protecting our planet. None of our toys have batteries or plastic, and every product is ethically made and sustainably sourced. With our own children as "official" toy testers, you can also rest assured that all our products are kid-approved!
Thank you for choosing our products to bring into your home; we can't wait to see how you play!
Our Ethos
We are a purpose-first brand, and a business second.


We believe the art of toy shop curation is a craft worth mastering. We endeavour to embody the timelessness of toy shops from days past, where handmade, natural wooden toys provided a deep purpose – for both the children who played with them and the makers who crafted them.

We know the toy industry has a long way to go when it comes to the Planet, People, Reciprocity and Community. With our advocacy for social justice causes, our participation in environmental betterment, our stringent ethical standards for makers and craftspeople, our support for the LGBTQ+ community, and above all, our deep reverence for all children, we hope to do our part in upholding these values.

When we observe change, not only do we want to have a part in shifting the way the future of playtime is considered, we also want to invest in a future where all parts of our community are considered.

Indigenous

social justice

Environmental

LGBTQ+

Children
Ending childhood
hunger in Canada
Currently, one in five children in Canada are living in poverty, with rates exceptionally high in our Indigenous communities. On top of that, 48% of Indigenous households have difficulty putting enough food on the table. To know that kids are going hungry in this country is heartbreaking, and I want to help.
When you shop at The Playful Peacock, your purchase directly helps support food security initiatives in 26 Indigenous communities across Canada through our partnership with Canadian Feed the Children. You will see a number of meals associated with every product on our site, which we then donate to CFTC. Kids will receive healthy, nutritious meals because of YOU, and together, we can help build a world where childhood hunger and poverty are a thing of the past.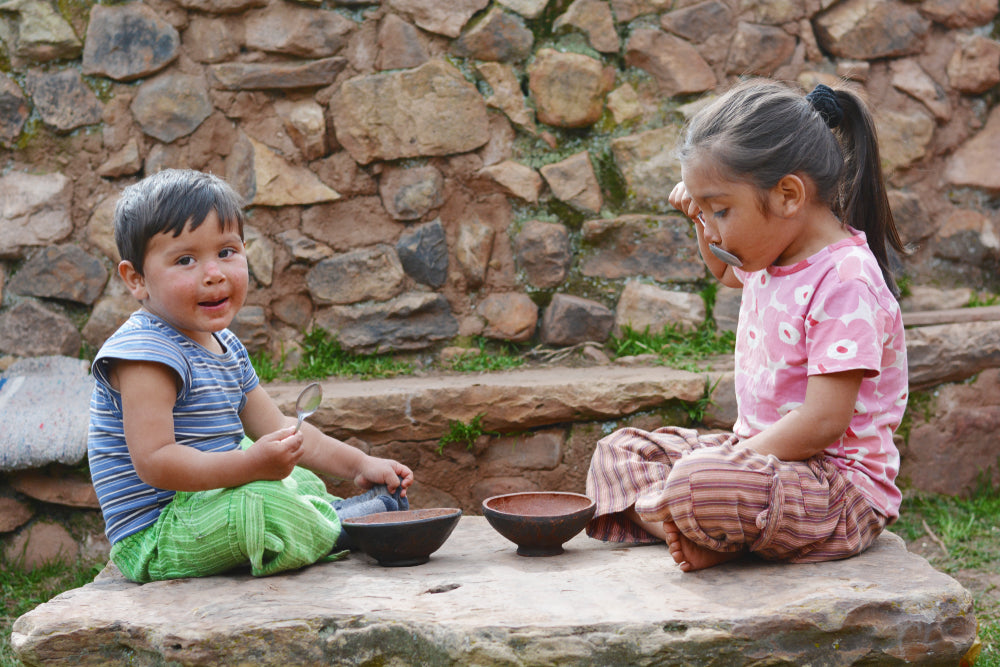 Sustainability
"The toy industry is the most plastic intensive industry in the world." – UNEP report.


After learning this, and the fact that 90% of the toys on the market are made of single-use plastic, our purpose took hold even stronger. Children are our future, and if we help encourage what they already are naturally drawn to – nature, open-ended play, connection - we empower them to create the change we so desperately need. By bringing awareness and daring to do things differently, we envision an industry that doesn't just market to children, but that, alongside the toys they create, deeply considers their future on this planet.


Our Commitment to Sustainability


Planet: We're committed to supporting manufacturing that puts the earth first, through FSC Certifications, non-toxic paint, and planet-friendly materials across all products. Our packaging is 99% plastic-free, biodegradable, recyclable and compostable.


*A note: where there sometimes might be trace amounts of plastic in our packaging, it is there to ensure the efficacy, safety, and integrity of our products, and often comes directly to us, as is, from the manufacturer. A plastic-free world is a vision we dream of, and until we're able to find ways to completely eradicate it from our supply chain, the tiny amounts of it you might encounter are only there if absolutely necessary.


People: We're committed to only working with aligned makers and craftspeople who see our vision as clearly as we do, paying living and fair wages to all makers, and ensuring the highest standards of ethics in labour.


Reciprocity: We believe in creating radical change, which is why reciprocity is one of our core values. Every purchase from us provides meals to children in need across 26 Indigenous communities within Canada.


Community: We're committed to the advocacy for marginalized folks, children in communities across Canada, and the wonderful people who we wouldn't be able to operate without – you!


We acknowledge that the barriers to accessing sustainable and ethical options across all industries are very real, so we encourage conscious consumption whenever possible, for those who are able and have access.