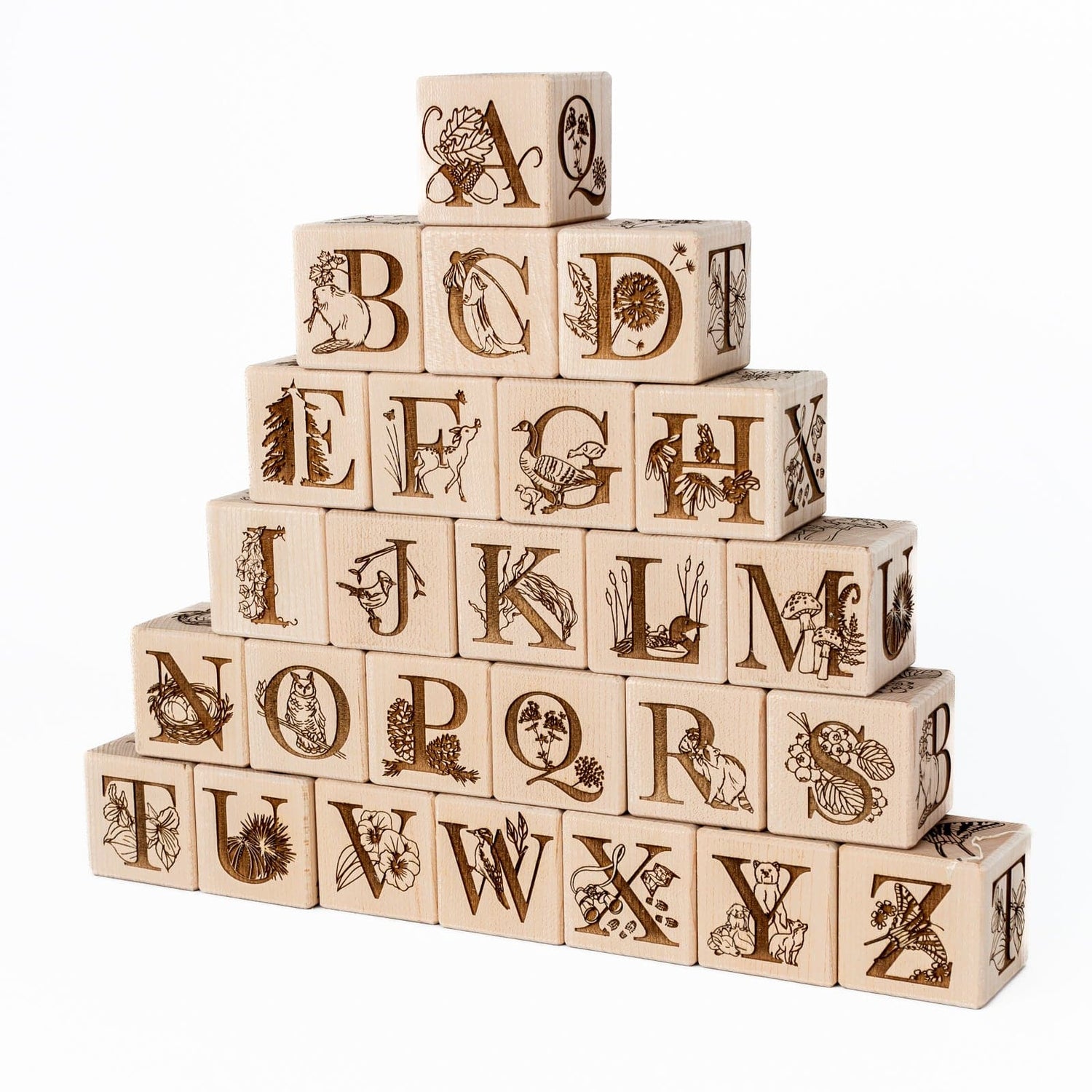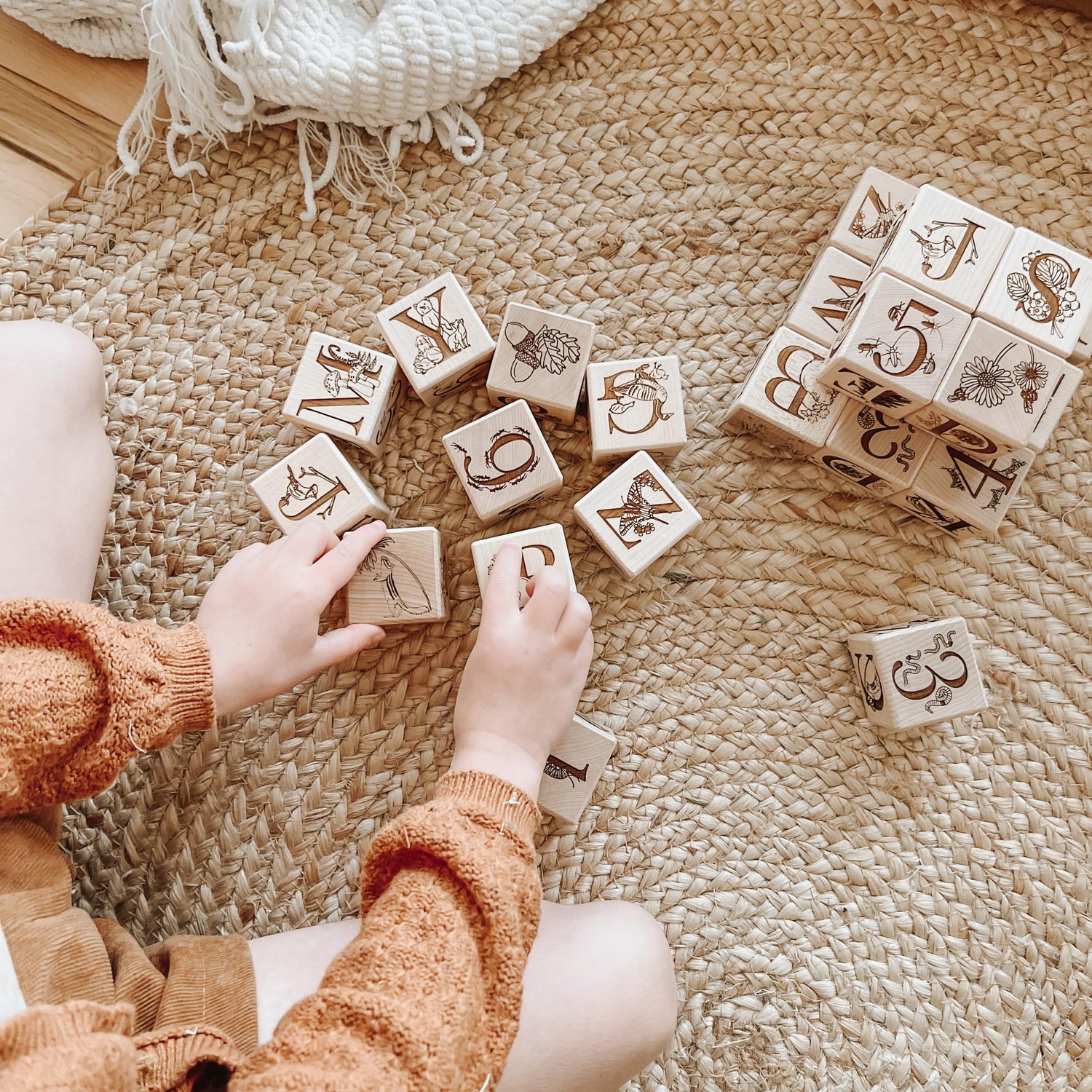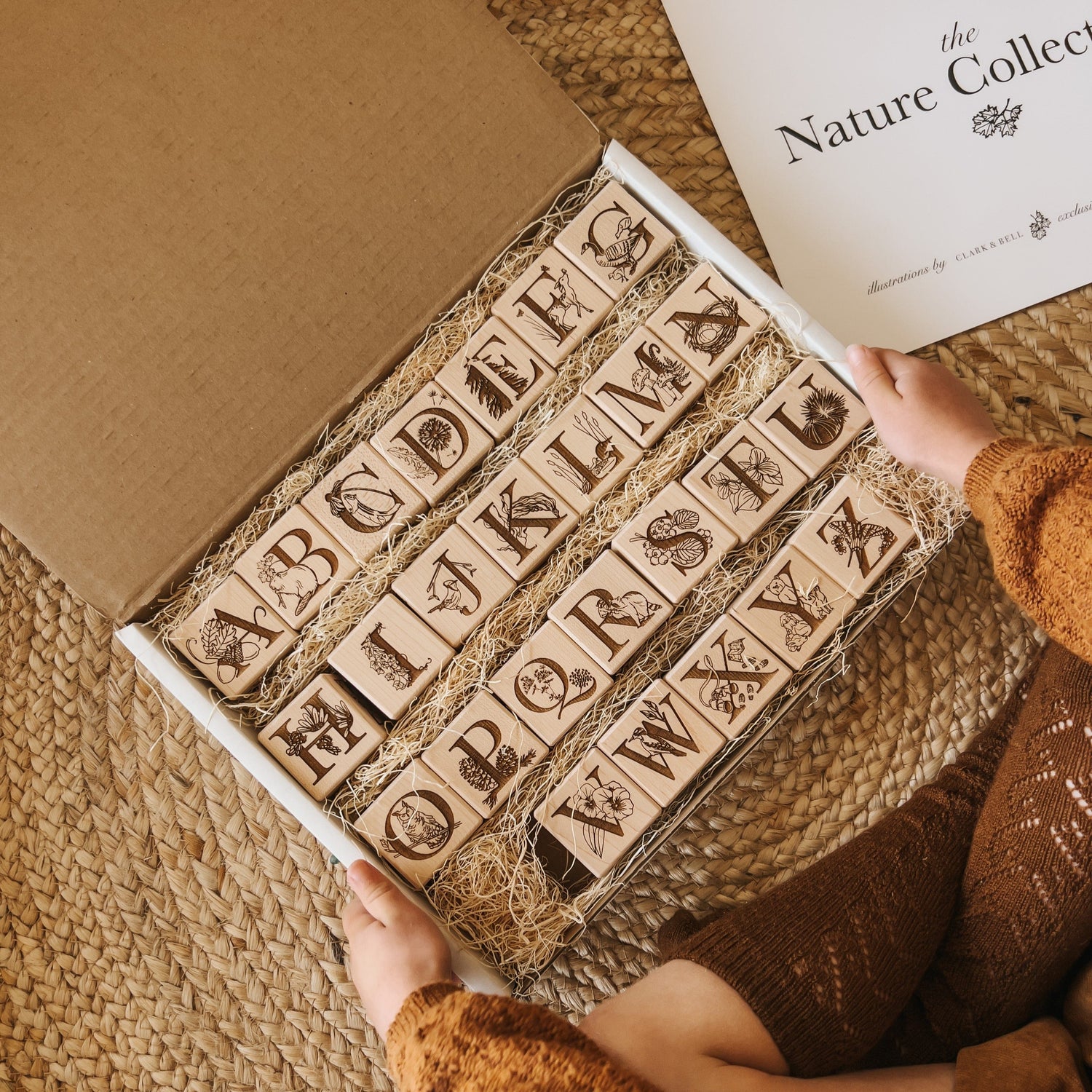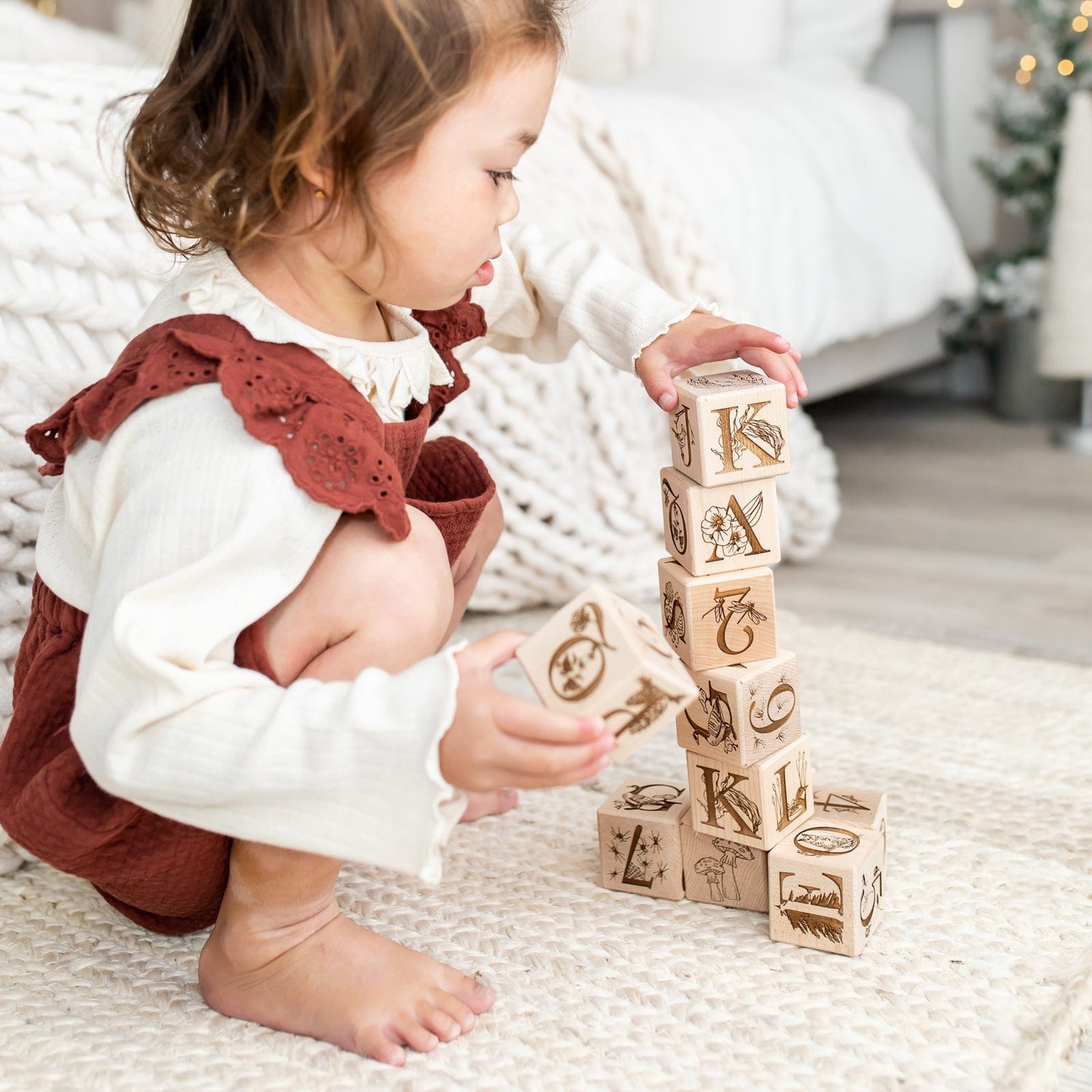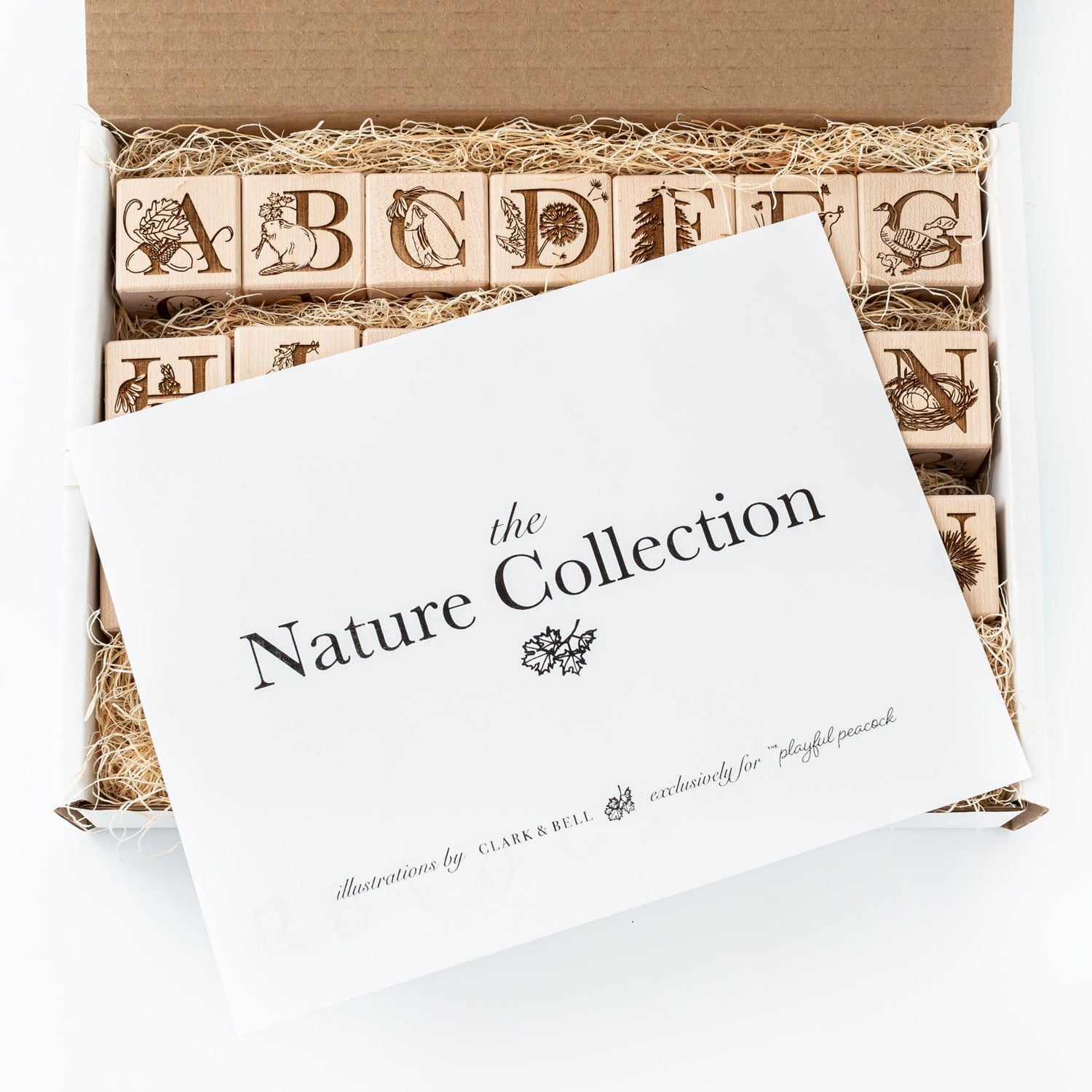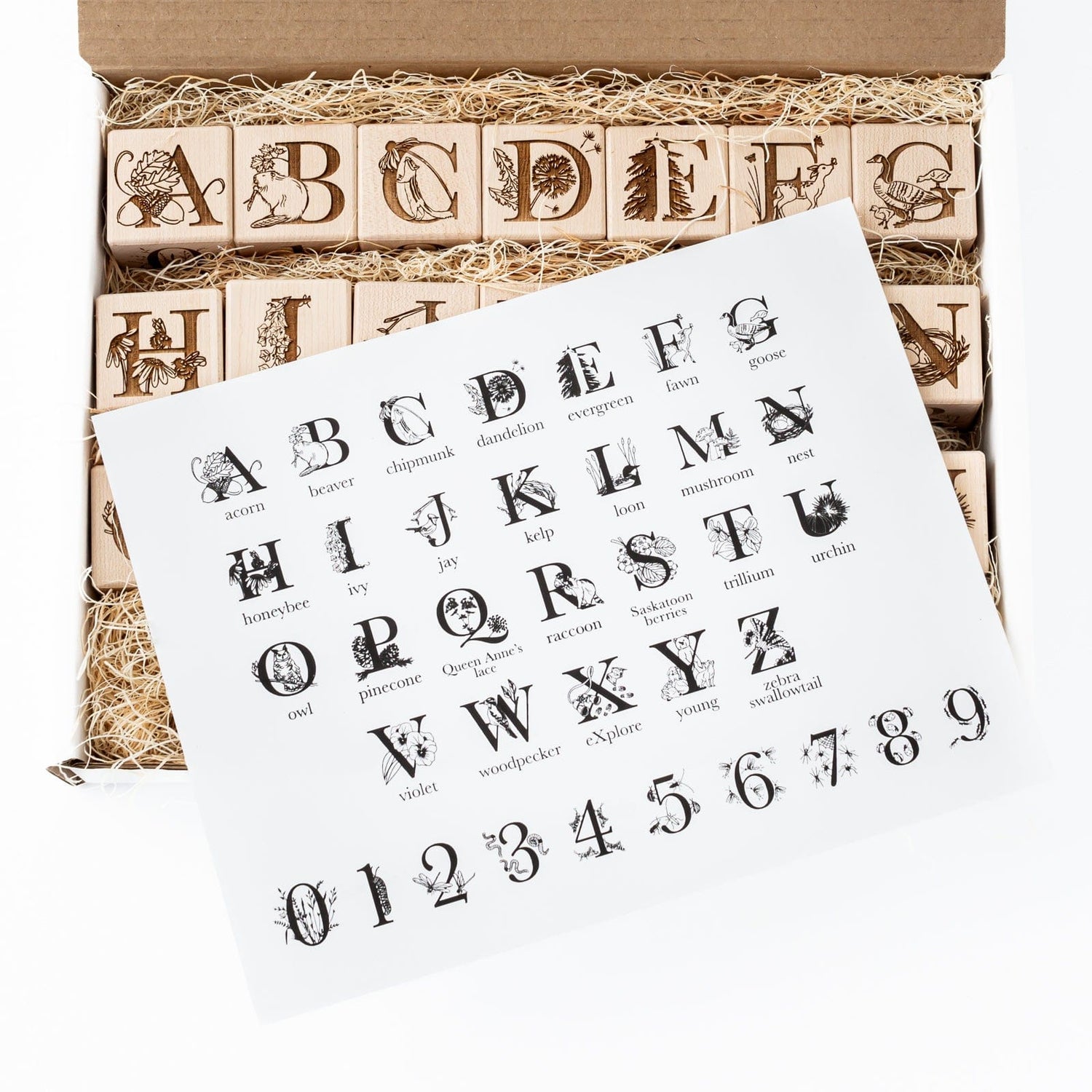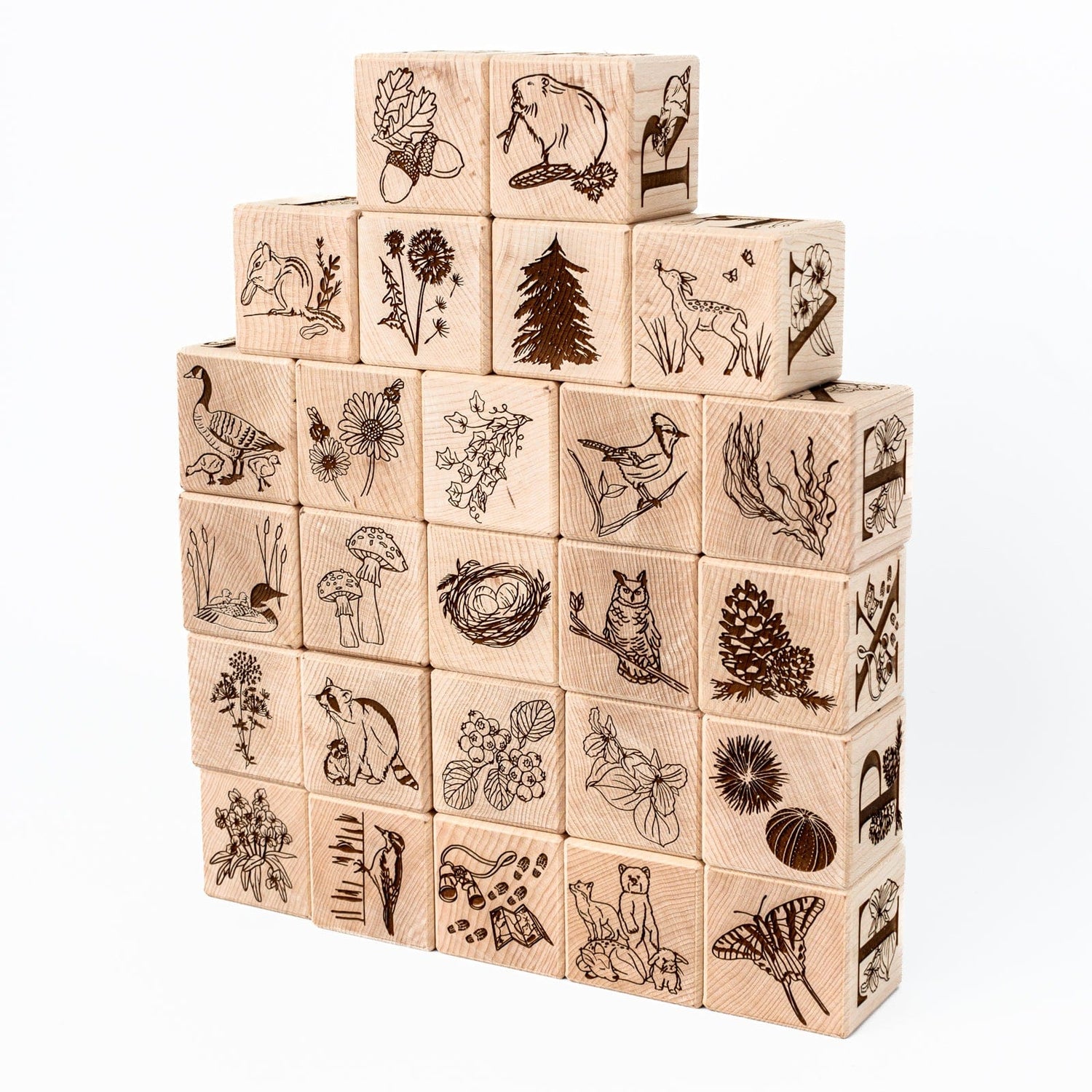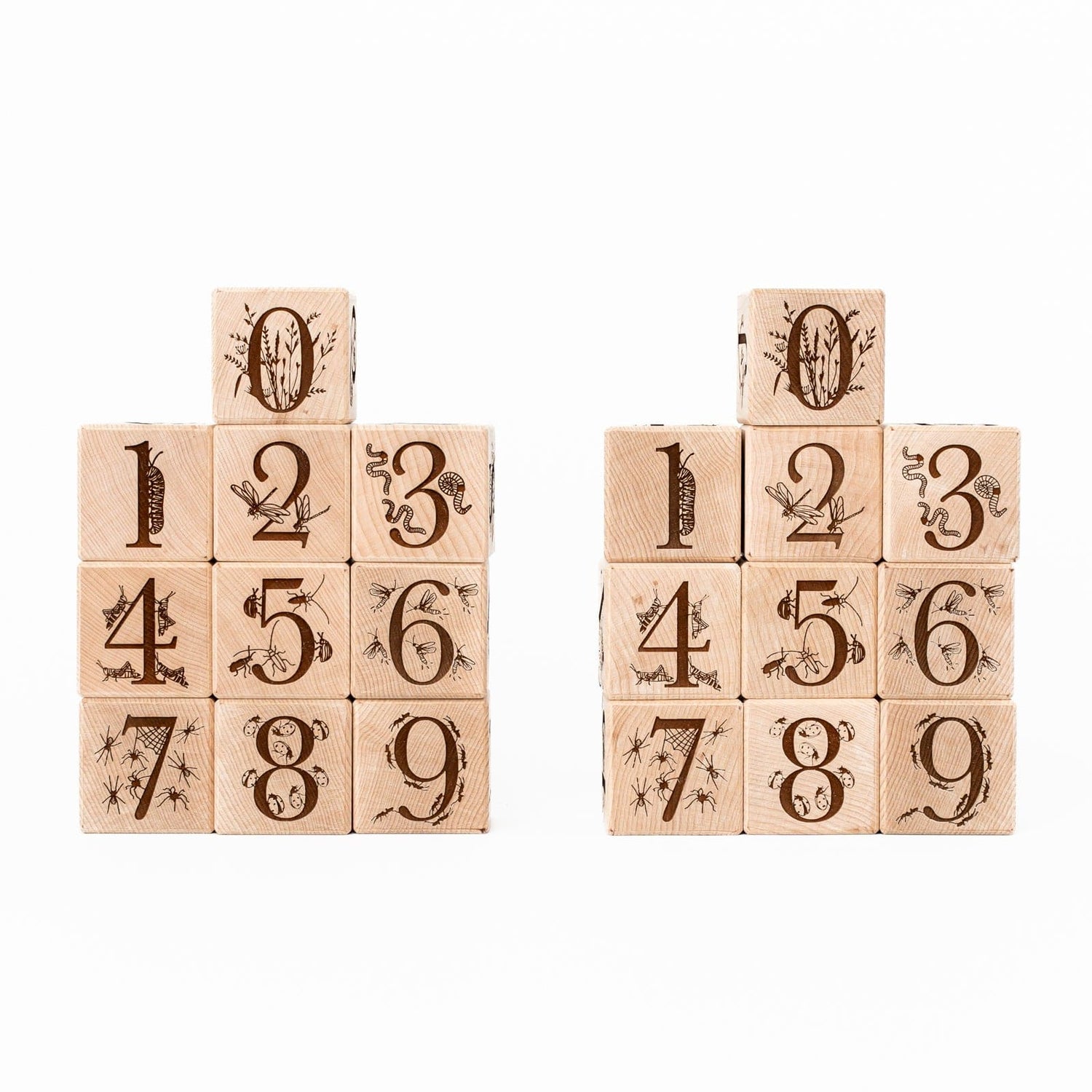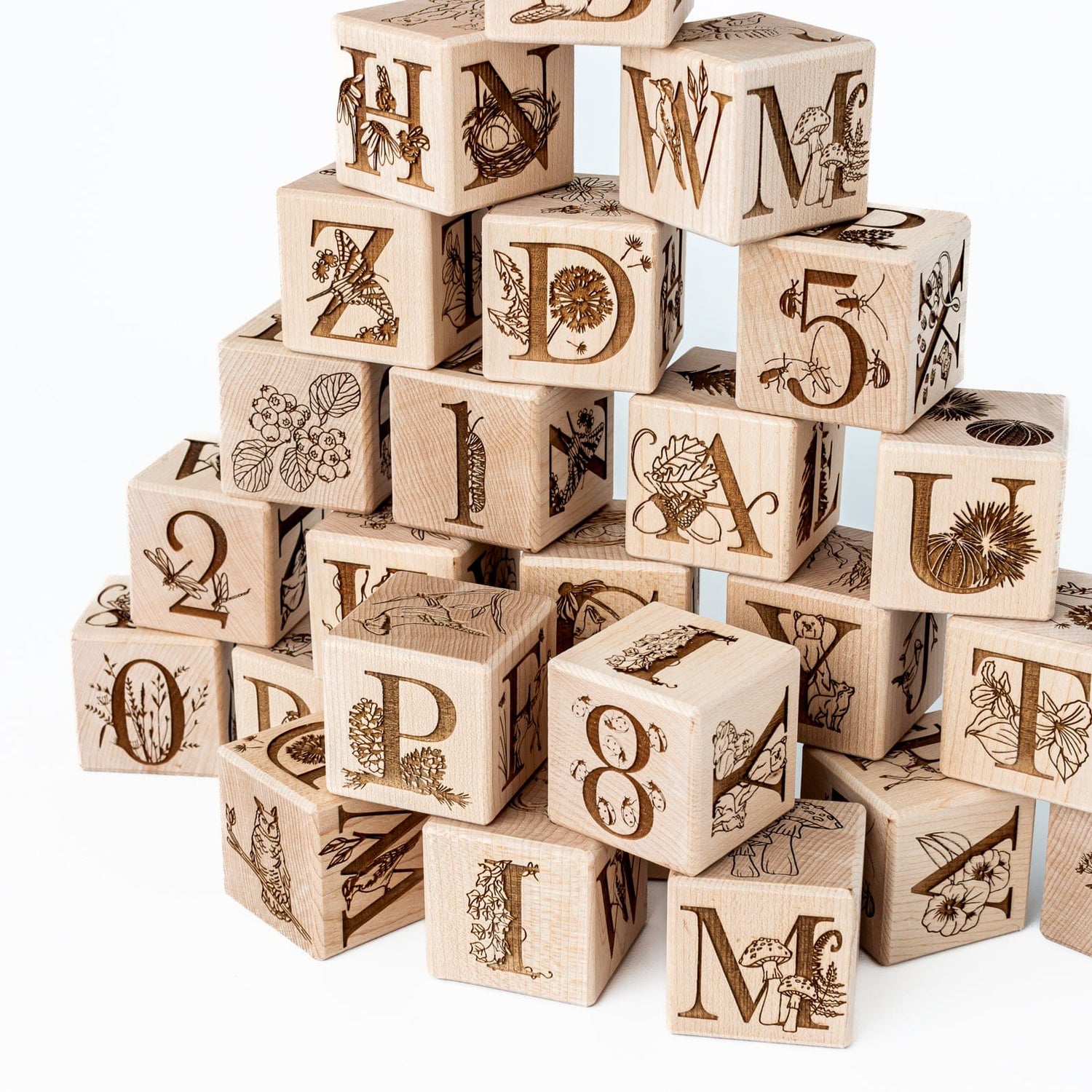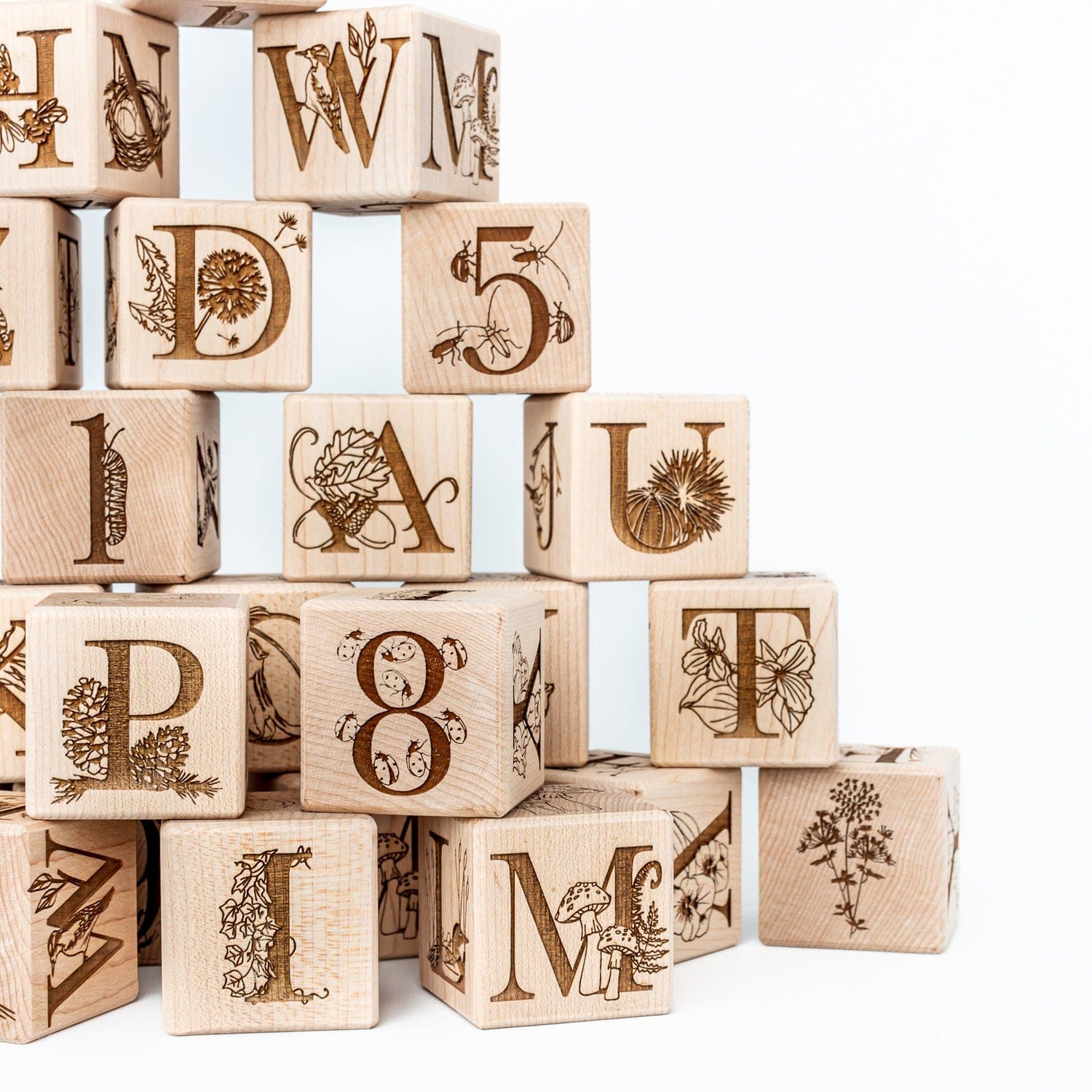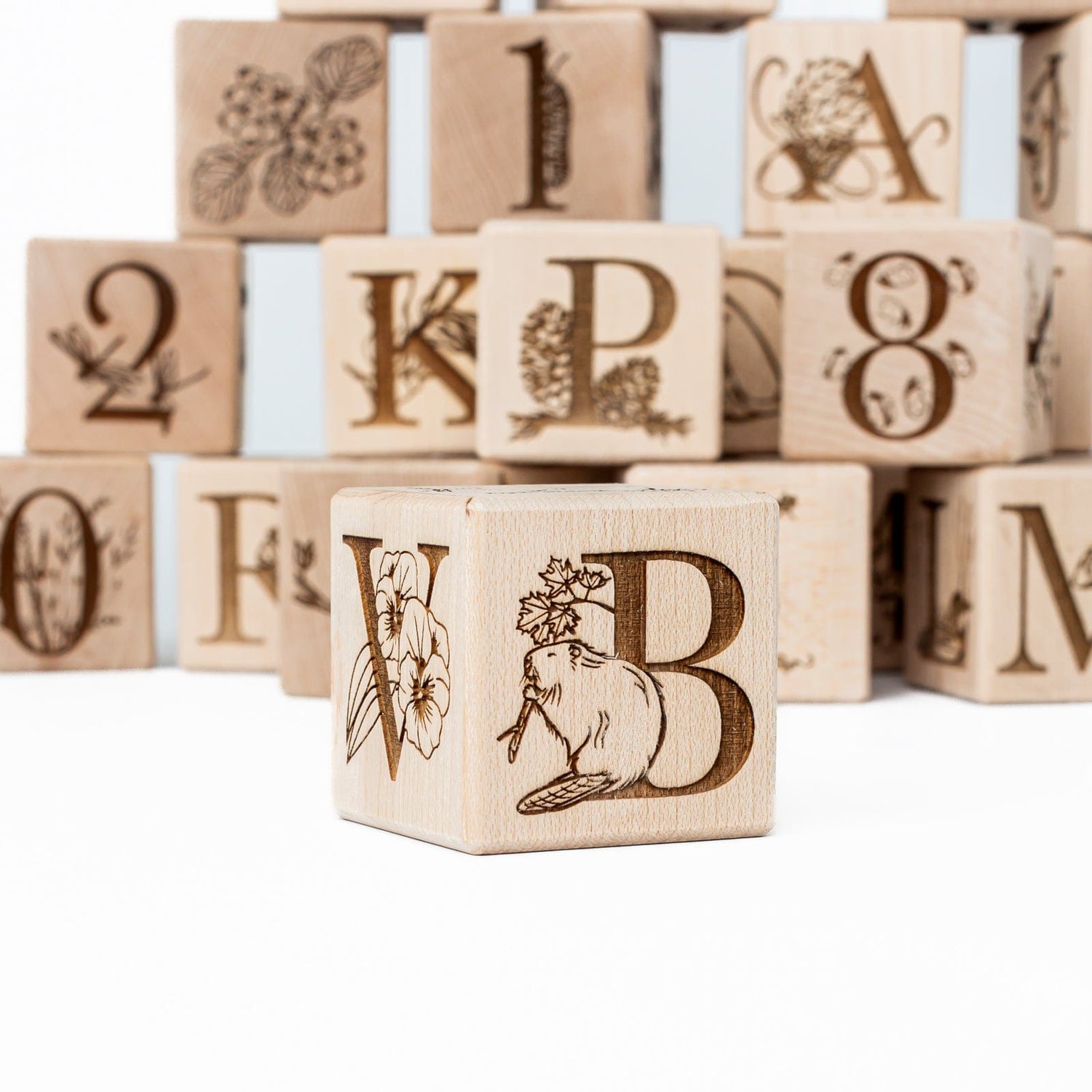 Nature Collection Alphabet Blocks (Set of 26) - Handmade in Canada
by Maker Mind Toys
This purchase helps provide 5 meals to
Indigenous Canadian children in need. Learn More
Description
Say HELLO to our Nature Collection Alphabet Blocks - made exclusively for The Playful Peacock. Made of solid sustainably sourced Canadian Maple, all blocks are permanently engraved on all SIX sides with uppercase letters, numbers and intricate North American nature-themed graphics. 
Block play is a wonderful way to develop early motor skills, dexterity, problem-solving and math skills. As children grow, they can use blocks to practice letters, sounds, spelling, identifying pictures, and words, and of course, stack & build! Block sets also grow with your children, making them a wonderful multi-use toy! And when not in use, they serve as beautiful nursery or playroom decor.
Looking for a smaller set of these blocks? You can find our 15-piece set here.
Handmade with love in Canada by our friends at Maker Mind Toys. Designed by Clark & Bell (www.clarkandbell.ca)
Features

Features:

• Set of 26 blocks
• Letters A-Z (repeated 4x over throughout set)
• Numerals 0-9 (repeated 2x over)
• Corresponding nature graphics to the alphabet (A for Acorn)
• Paper insert included for identifying nature-themed graphics

Materials

• Made of solid Maple Canadian hardwood
• Unfinished wood, no oils, stains or toxic chemicals used
• Size: 1.75" / 4.5cm
• Edges and corners are rounded over and smooth
• Blocks are packed in a sturdy white cardboard gift box and nestled tightly with wood shreddings.

Age/Safety

• Recommended for children 3 years +
• Blocks are made of unfinished laser-etched (burnt) wood and should not be allowed to be chewed or sucked on.
• Inspect blocks regularly for splits or cracks creating small pieces or sharp edges.

About the Brand

Maker Mind Toys is a Canadian & Female-Owned workshop out of Winnipeg, Manitoba, specializing in intricate laser-engraved alphabet blocks and memory games, made of solid Canadian hardwoods. With a deep commitment to sustainability and craftsmanship, these are some of the most beautiful toys you'll ever own.

Shipping & Delivery

• FREE shipping over $125
• $12 flat rate shipping across Canada on orders under $125
• $15 flat rate shipping on US orders under $125
• For more information, check out our full Shipping Policy
Beautiful
I have been eying these blocks up sine we had our first baby and finally decided to splurge on these. They do not disappoint! They are gorgeous and I know will become a precious keepsake for our 2nd baby. Baby #2 often gets the hand-me-downs and I wanted something that was truly his. These were the perfect selection. I cannot wait to give these to our baby for his 1st Christmas.
Beyond Stunning, cherished for multiple sweethearts
These blocks are so beautiful, the detail is stunning and the perfect larger size. My son is 15 months and loves them already. So many uses, educational , stunning, and will be loved for many many years.
Uniquely Beautiful
These artful blocks are a wonderful representation of so many parts of Canada - sea urchins and kelp from our Coasts, Saskatoon berries from our Prairies, loons and trilliums, evergreens (love the surprise of the 'negative' trunk) and pinecones and acorns from our vast forests. And doesn't everyone love our variety of woodland birds and animals, even insects and crawlers, especially when they are fun to count? There are so many ways to 'play' with these blocks. Whether you're a little human just learning to find the pictures on the blocks out there in the real world, or you're a grown human looking at your real world with more appreciative eyes, connections are created. Made of Canada, by Canadians, for All to eXplore ;-)