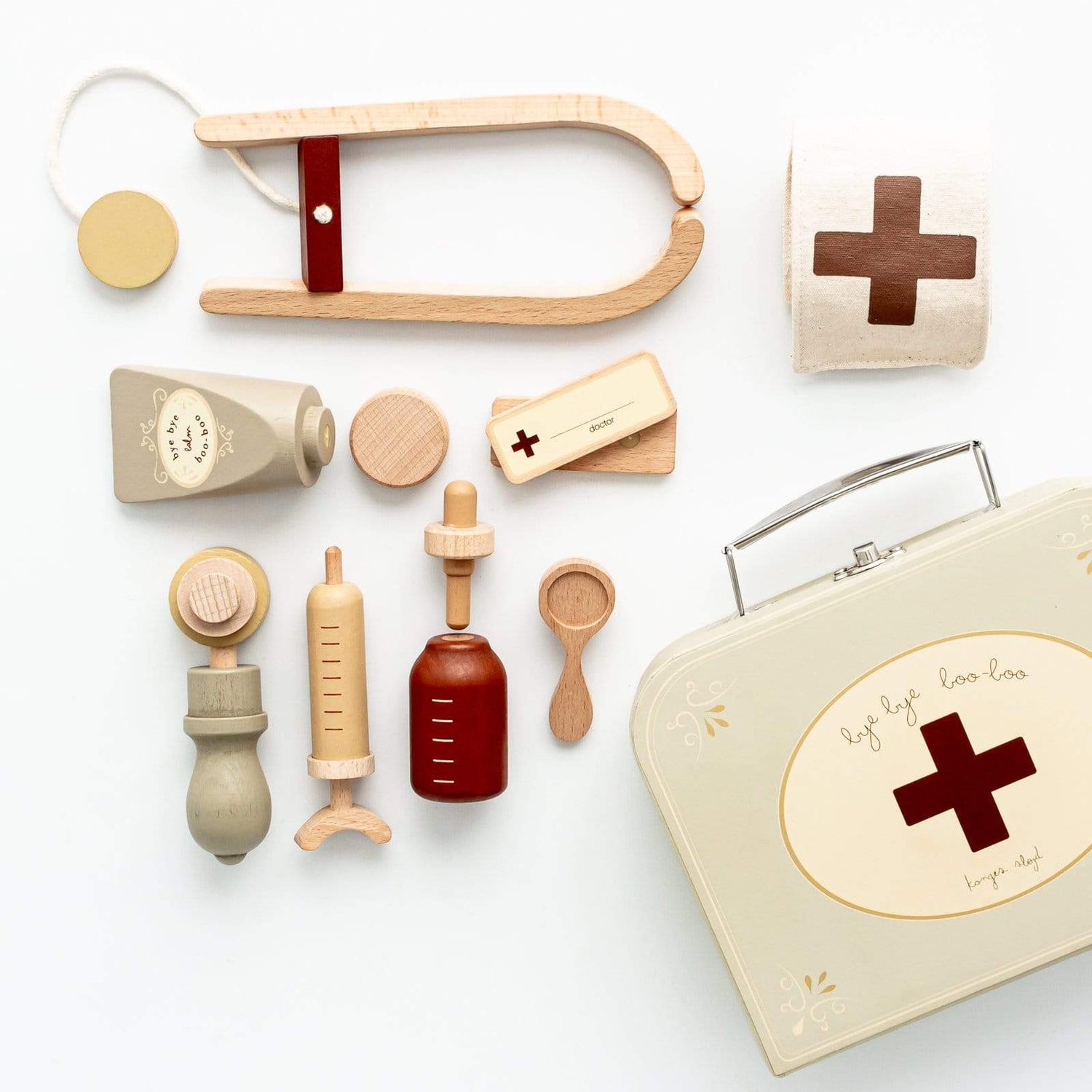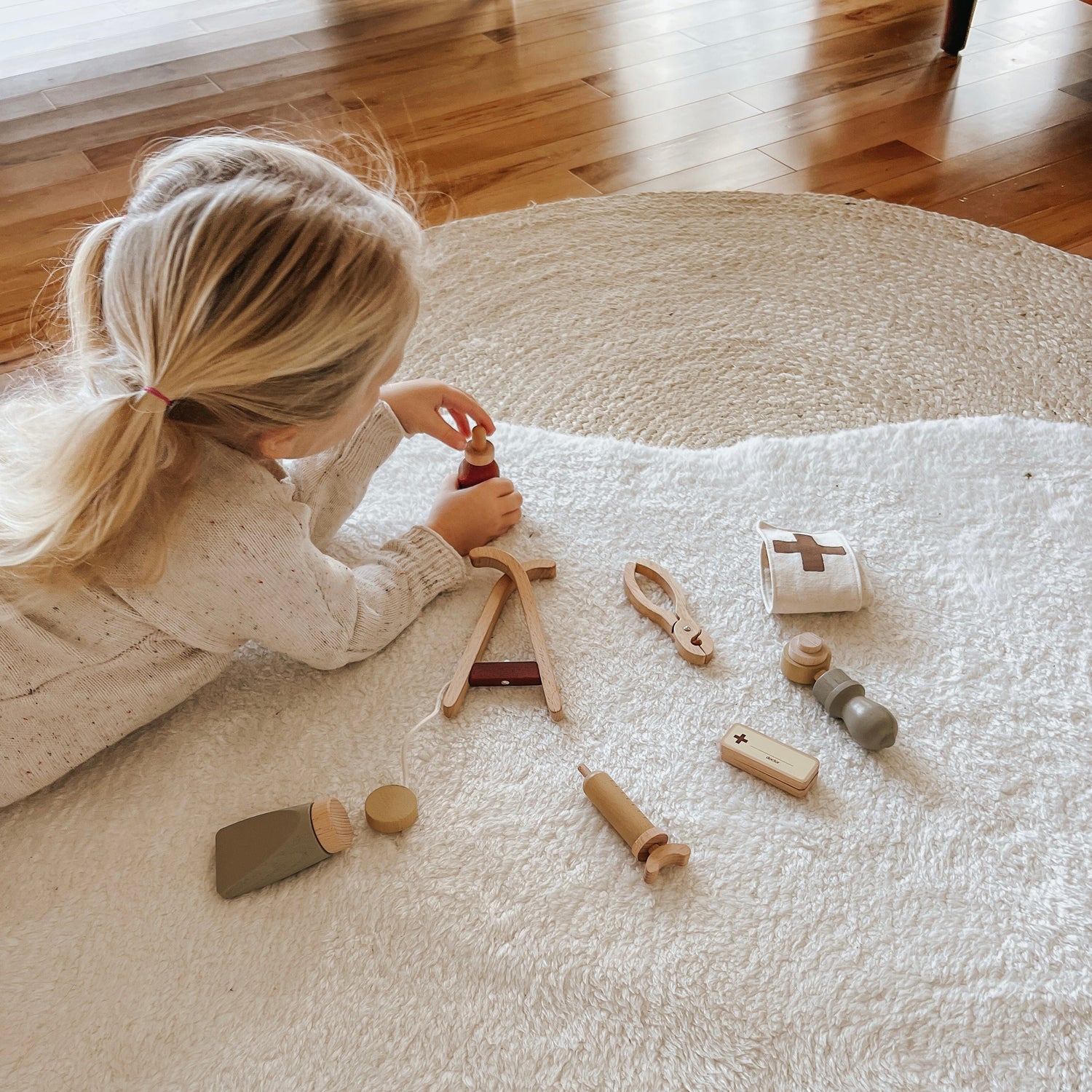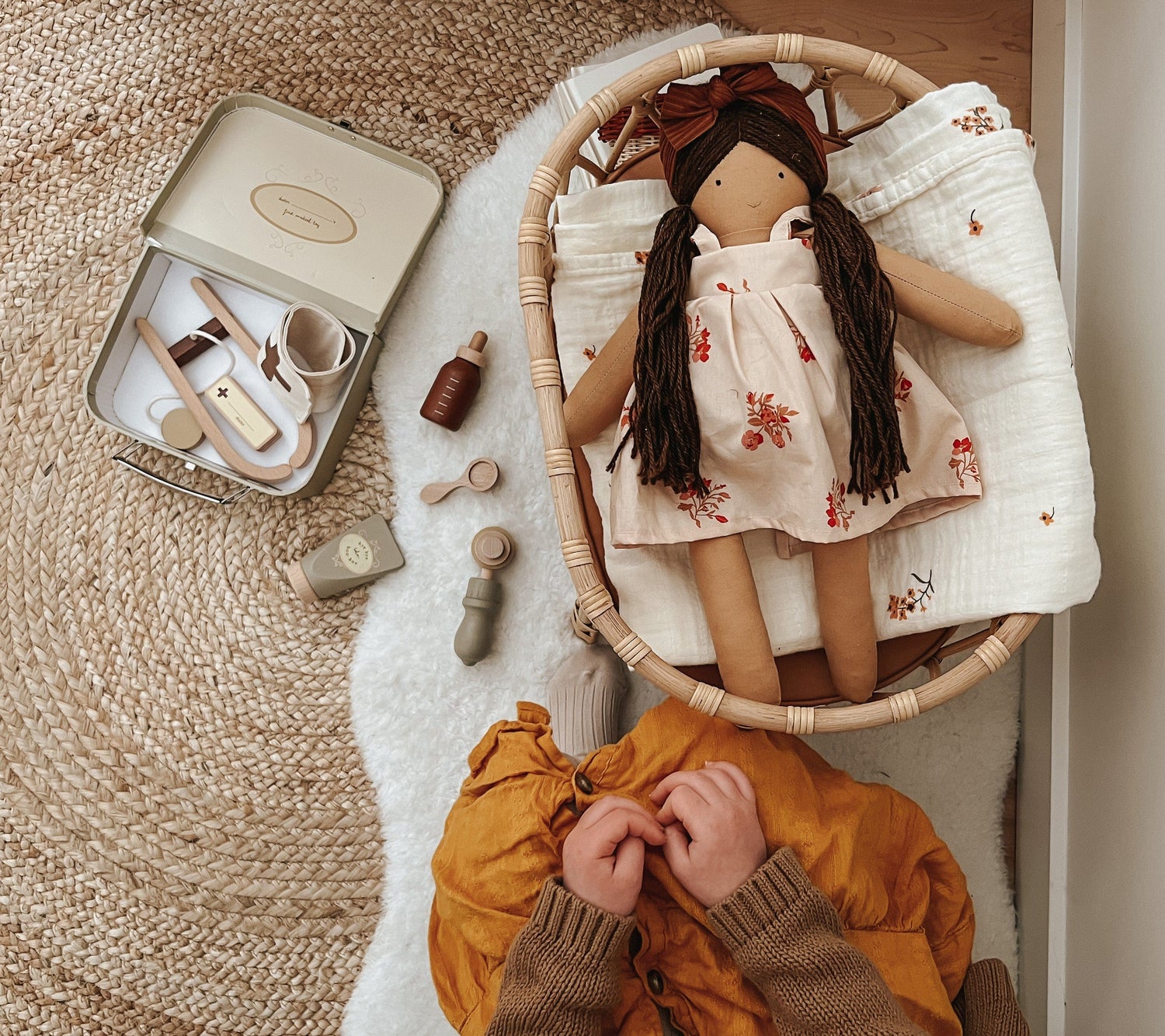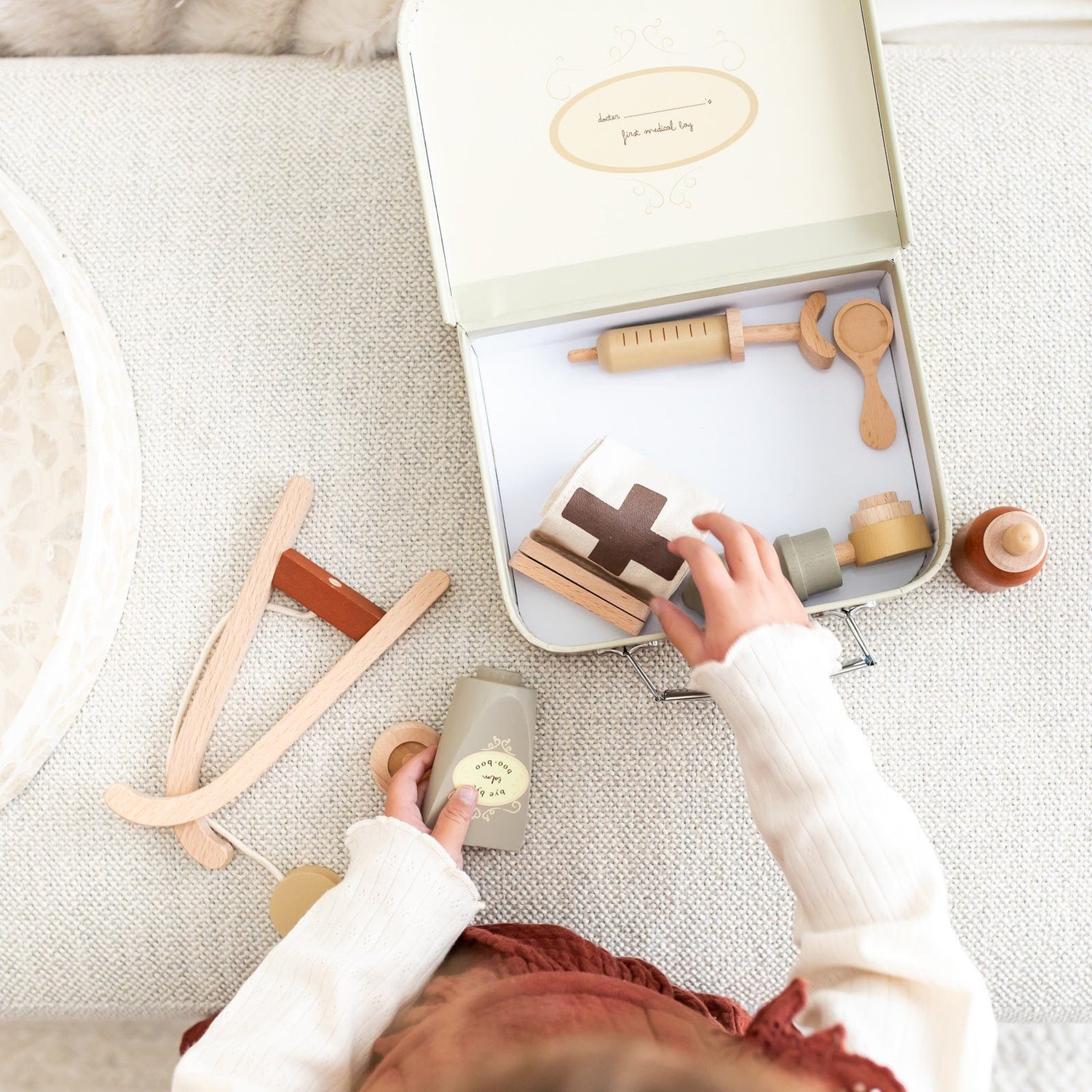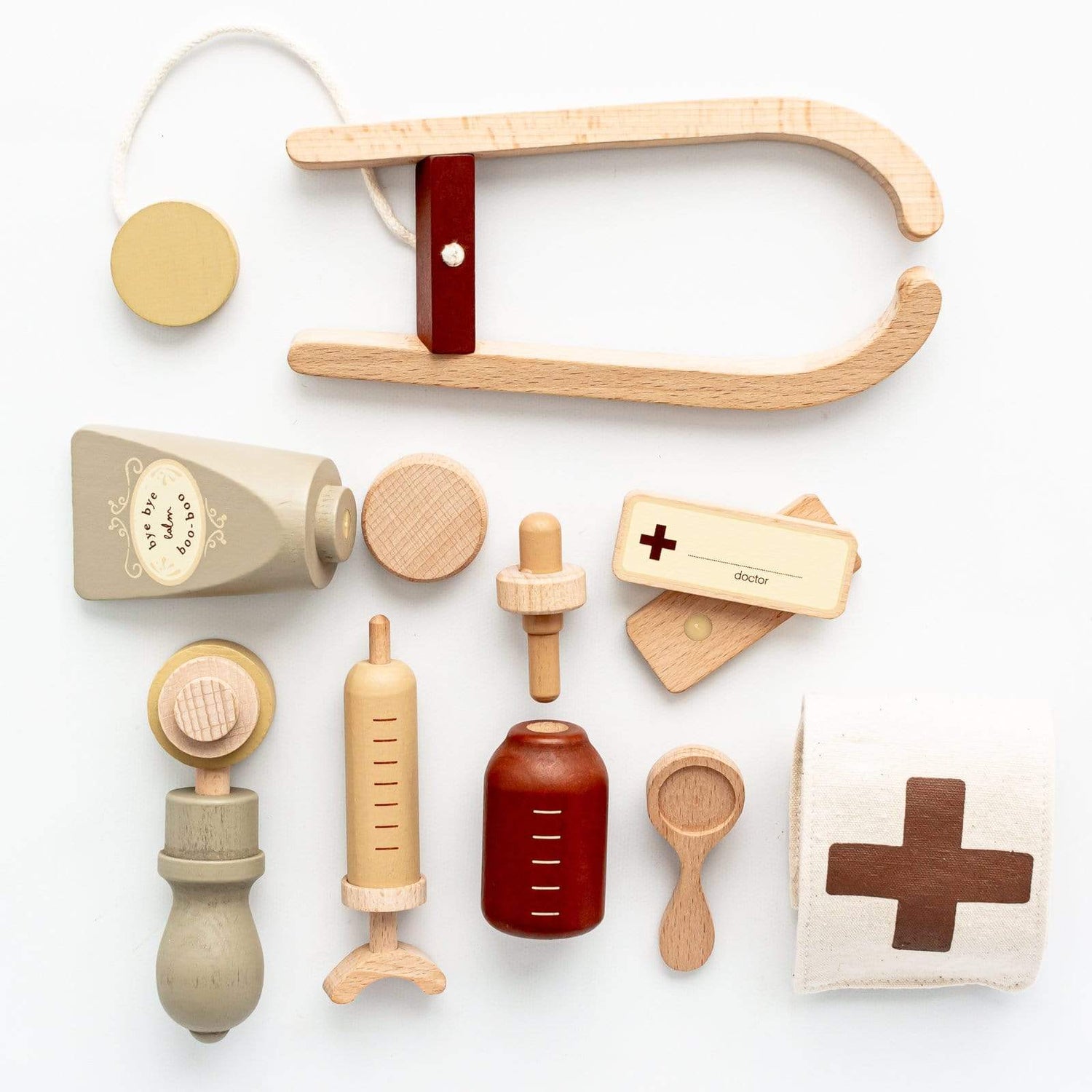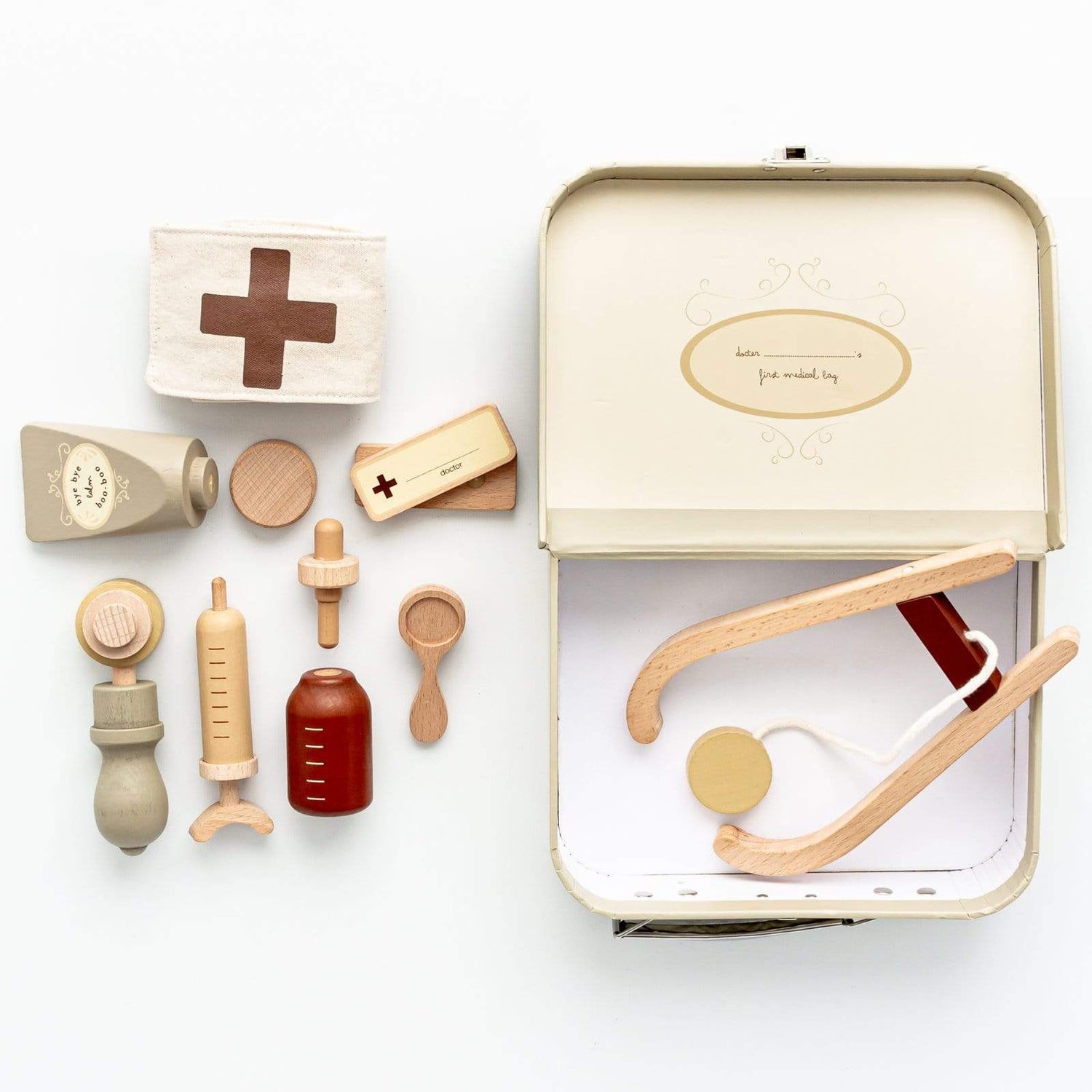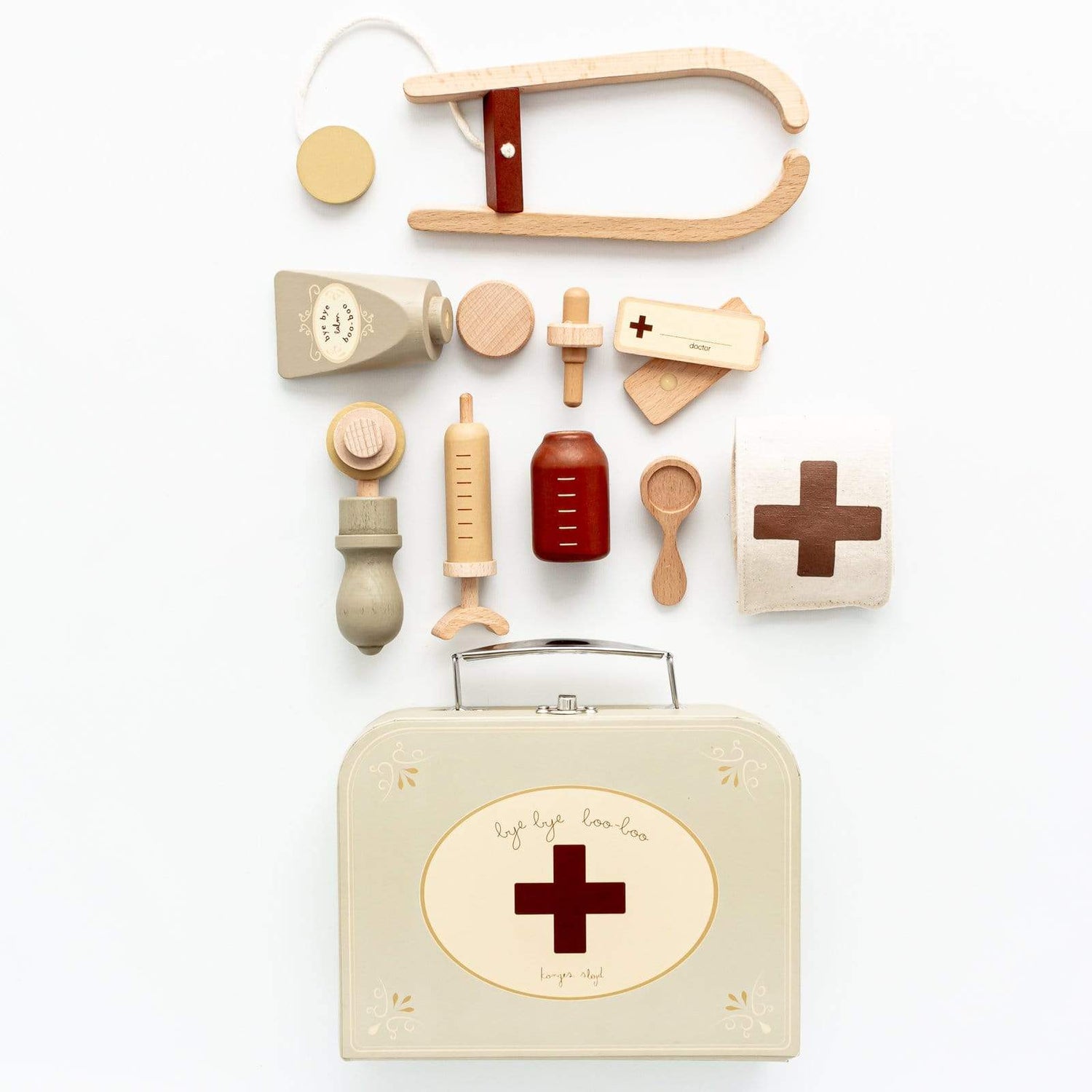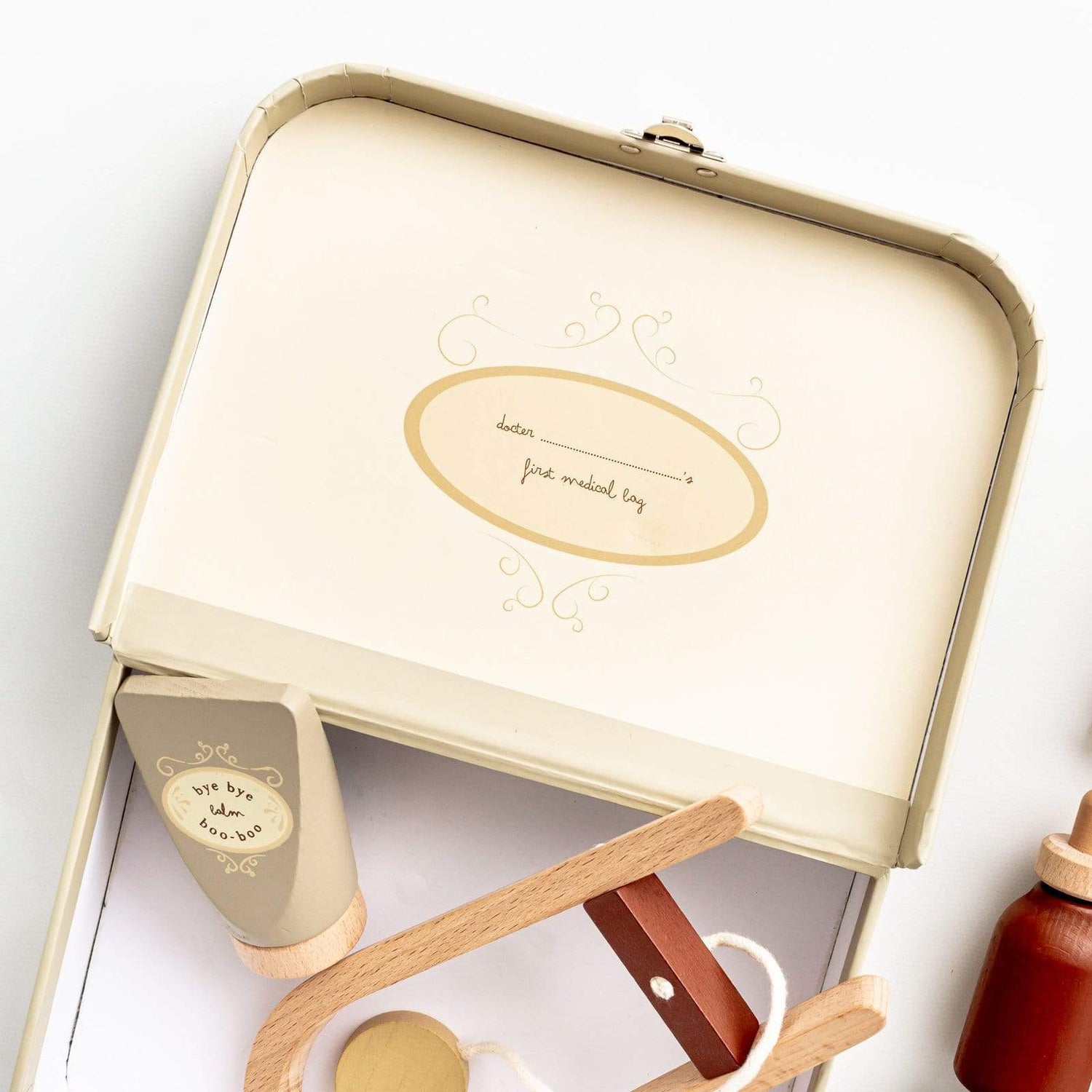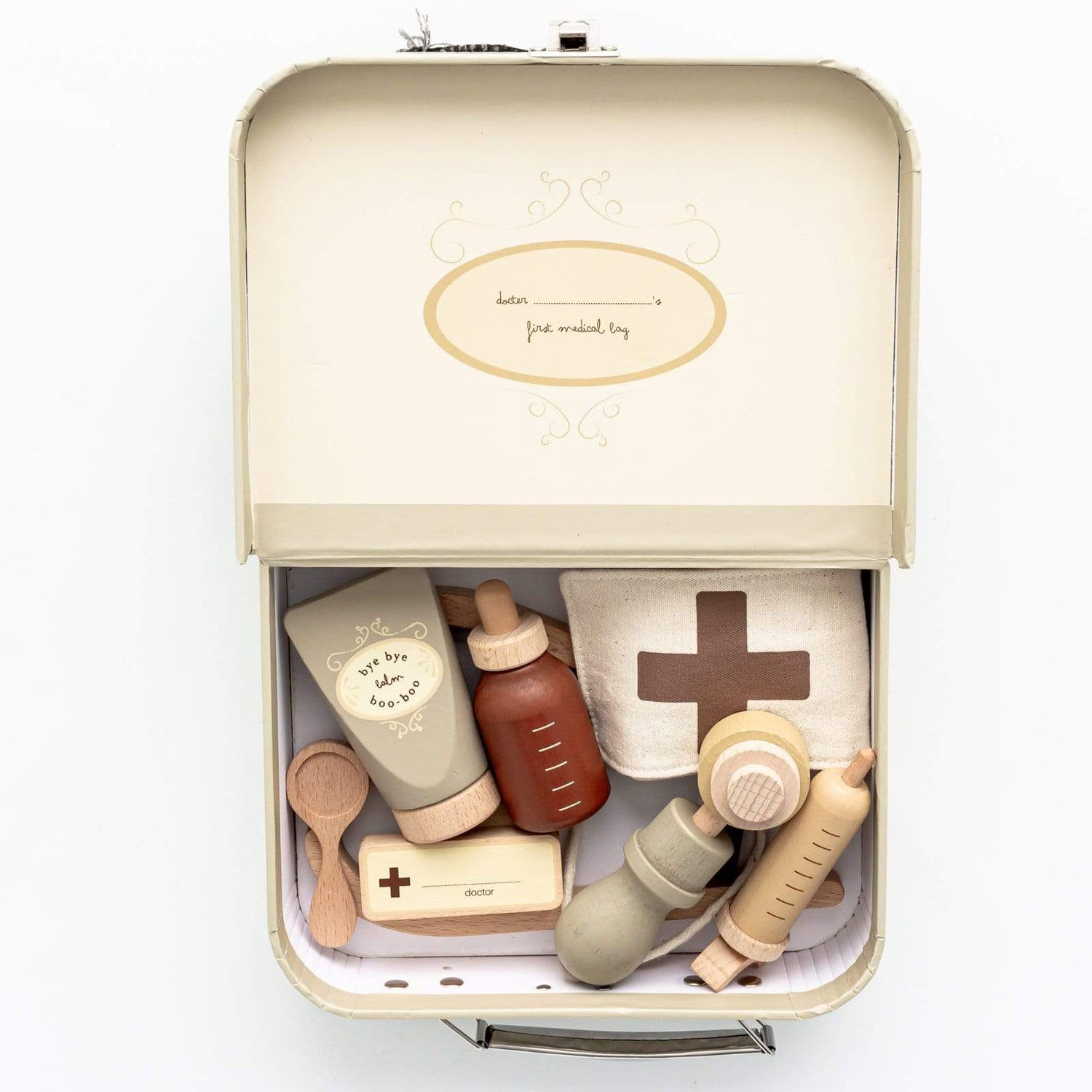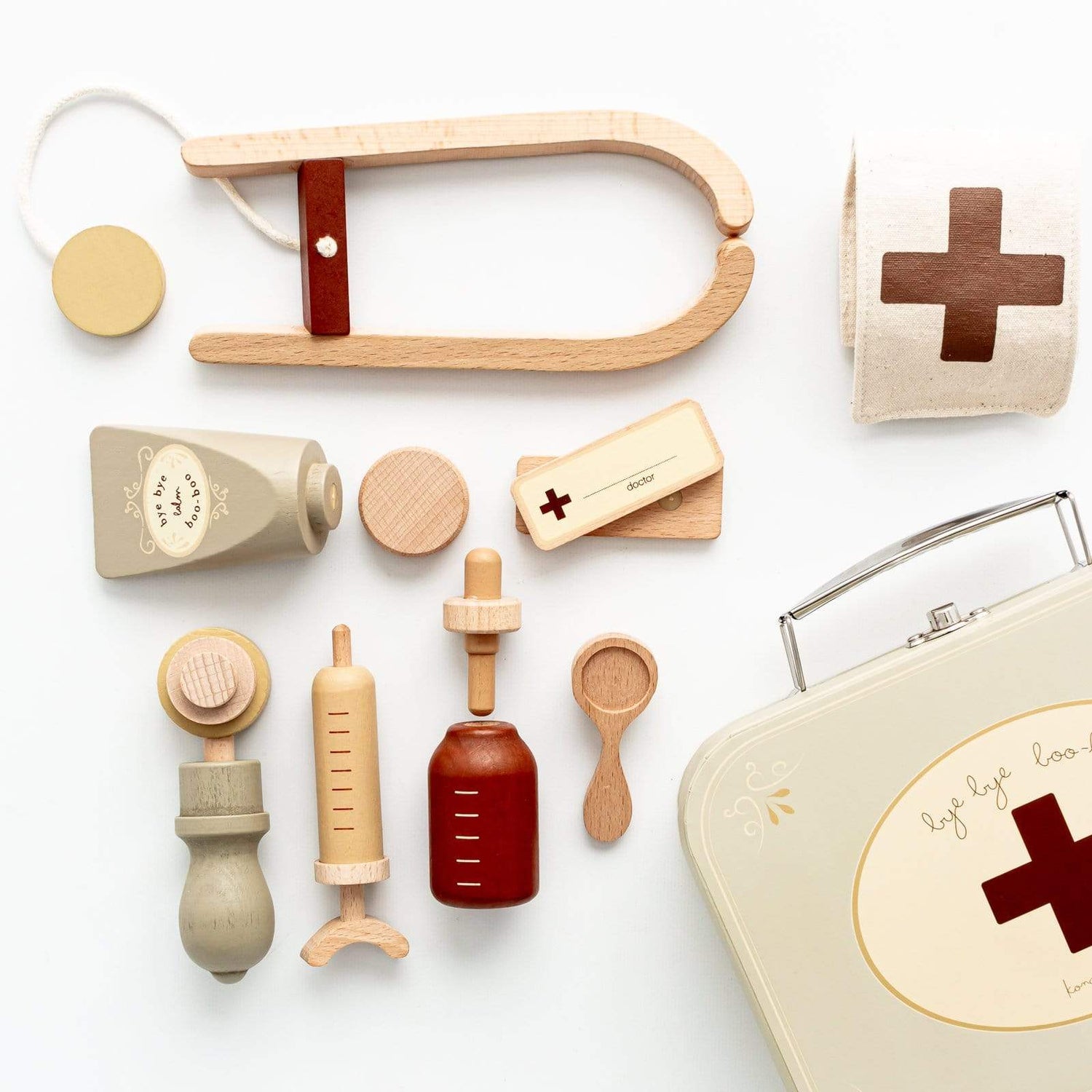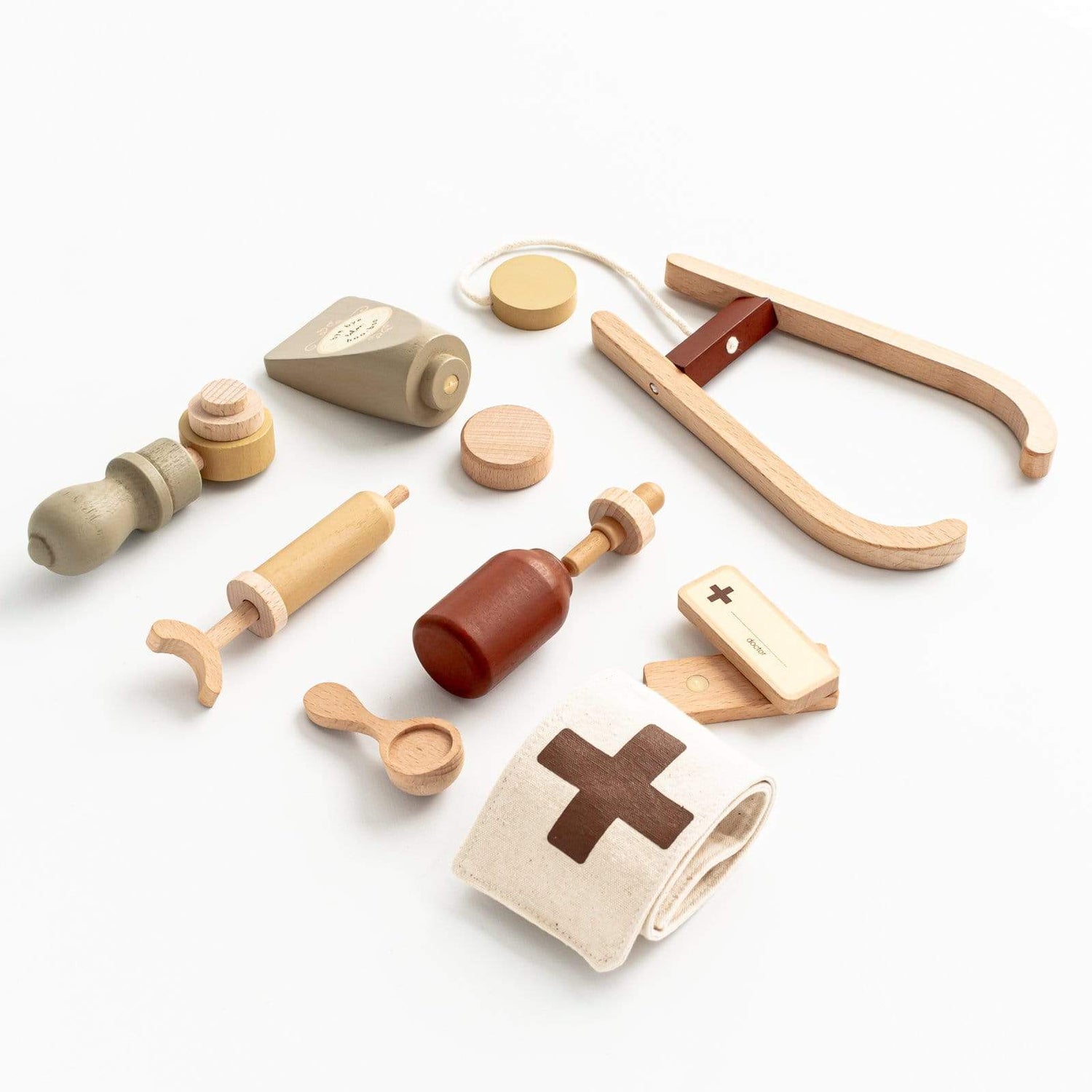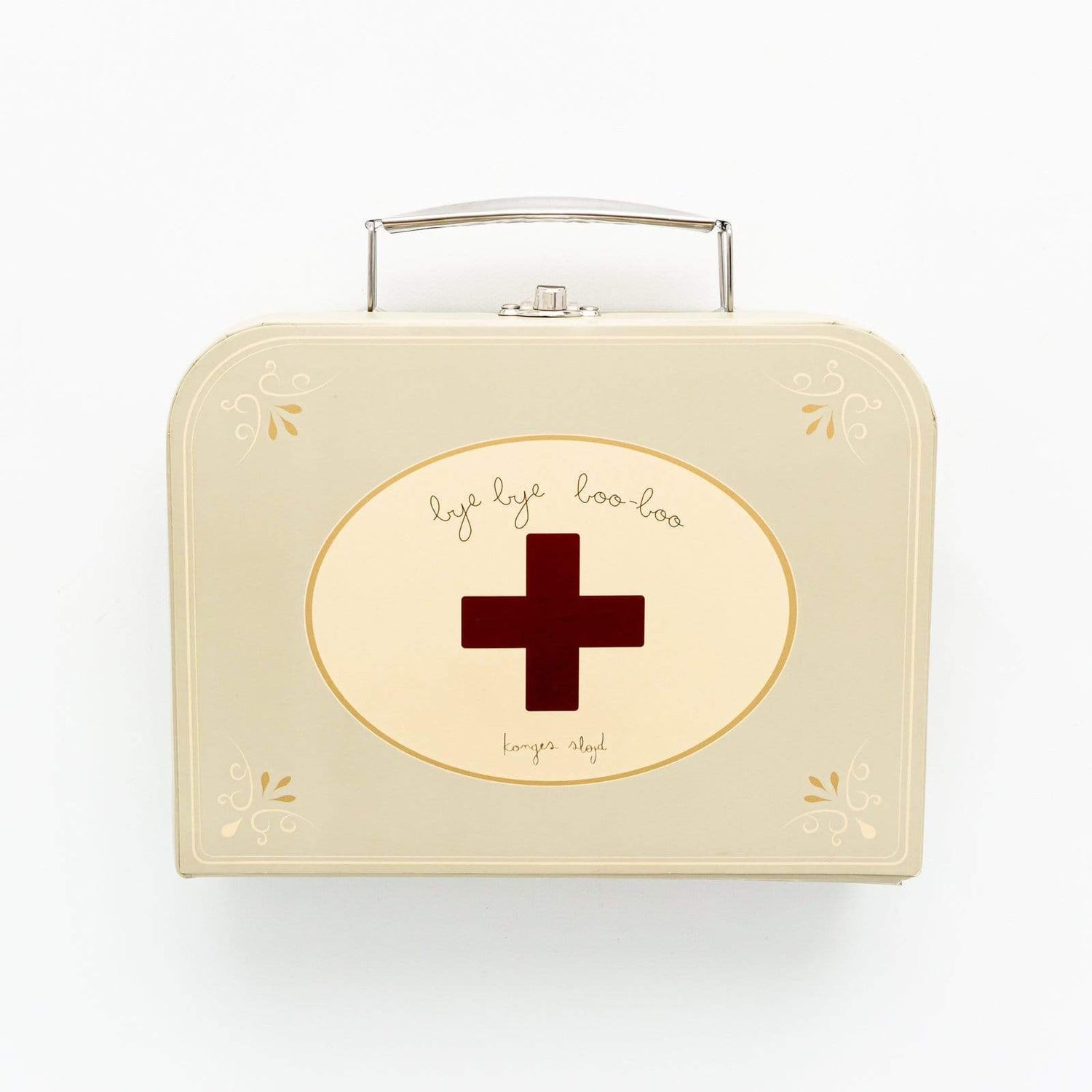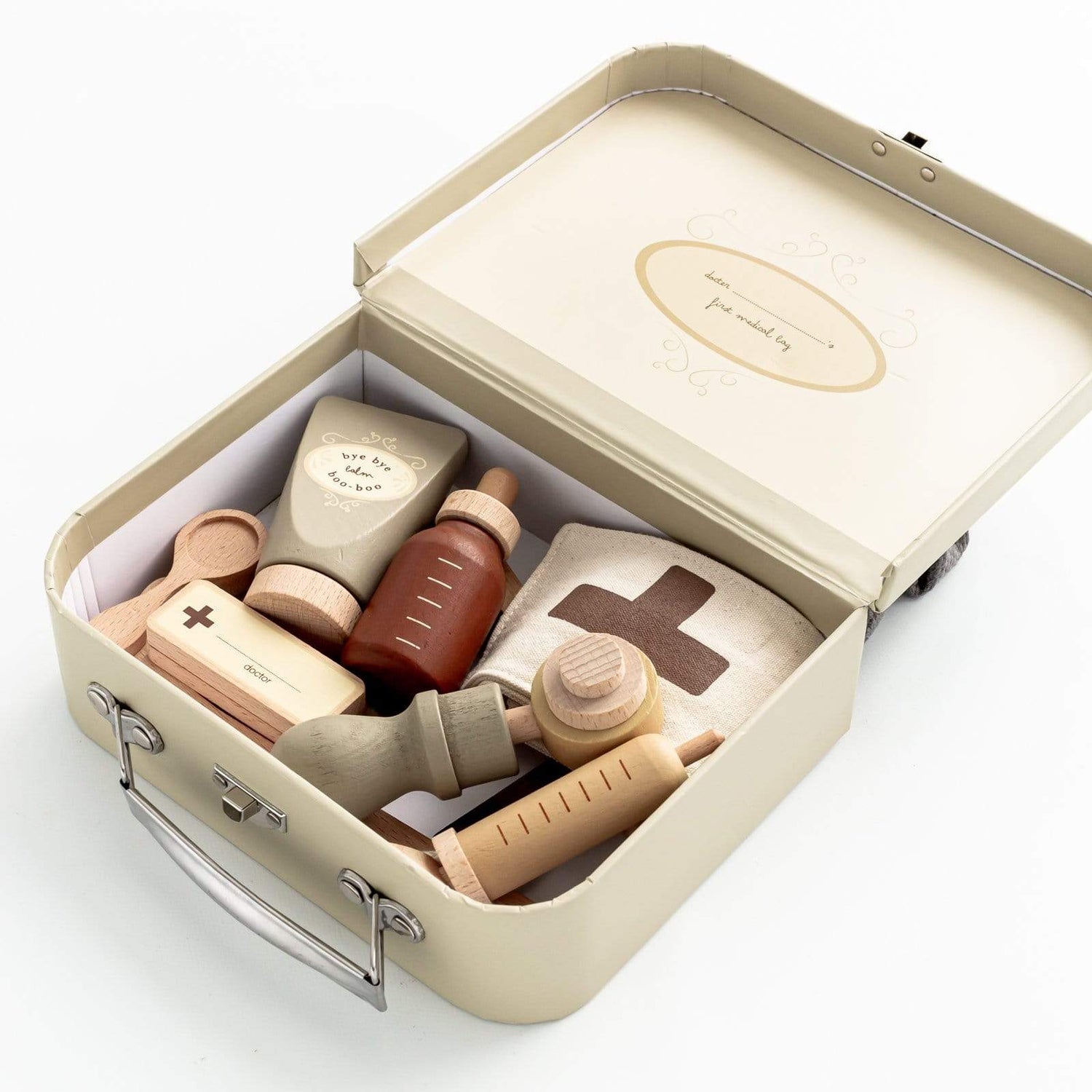 Wooden Doctor Set by Konges Sløjd
by Konges Slojd
This purchase helps provide 2 meals to
Indigenous Canadian children in need. Learn More
Description
Step into the world of imaginative play and nurture your child's curiosity with our Wooden Doctor Set. This unique set brings the magic of a real doctor's office right into your child's hands. From a stethoscope to a syringe, each instrument is meticulously handcrafted to mimic its real-life counterpart, sparking endless opportunities for pretend play and creative exploration.
With our wooden doctor set, your little one will not only have a blast playing doctor but also develop important life skills in a fun and engaging way. As they diagnose their stuffed animals, friends, or even you, they'll learn empathy, communication, and problem-solving. The interactive, movable parts of the instruments provide a truly immersive experience, allowing them to feel like real doctors. Gone are the fears of doctor visits – this set will make them feel at ease and even excited for their next check-up.
Why we love the Wooden Doctor Set:
Encourages imaginative play and creativity
Develops empathy, communication, and problem-solving skills
Movable parts provide a realistic and engaging experience
Fosters a positive perception of doctor visits
Handcrafted with sustainably sourced wood and non-toxic paints
Promotes screen-free, hands-on play
Perfect for solo or group play, enhancing social interactions
Introduce your child to the world of caring and compassion while nurturing their imagination with our Wooden Doctor Set. Spark their love for play and learning, one check-up at a time.
Designed in Copenhagen, Denmark by Konges Slojd. Ethically made in China.
Features

• Set includes: stethoscope, syringe, magnetic doctor's name tag, spoon, boo-boo balm, bandage, medicine dropper, otoscope, and doctor's carry case
• Carry case measures 20 x 15 x 5.5 cm

Materials

• Made from 100% FSC certified wood
• Carrying case is cardboard

Age/Safety

• Recommended for ages 3 and up
• CE-tested after European standard EN-71-1

About the Brand

Konges Sløjdis a world-renowned children's lifestyle brand nestled in the vibrant city of Copenhagen, Denmark. Known for their exceptional craftsmanship, Konges Sløjd offers a delightful array of high-quality, functional, and eco-friendly Scandinavian products for children.

With an unwavering commitment to excellence, Konges Sløjd captivates hearts with their meticulously designed toys, adorned with intricate details that spark imagination and bring joy to little ones. Each item is crafted with precision and care, ensuring not only endless hours of play but also an enduring quality that withstands the test of time.

Embracing a sustainable ethos, Konges Sløjd goes above and beyond to make eco-conscious choices in their materials and manufacturing processes. By prioritizing the well-being of children and the planet, they create products that are both kind and gentle, leaving a positive impact on the environment.

Parents and children alike fall in love with the magical world of Konges Sløjd, where cherished memories are made and treasured keepsakes are found. Explore their enchanting collection and experience firsthand why Konges Sløjd has earned its esteemed reputation as a leading brand in the realm of children's lifestyle products.

Shipping & Delivery

• FREE shipping over $125
• $12 flat rate shipping across Canada on orders under $125
• $15 flat rate shipping on US orders under $125
• For more information, check out our full Shipping Policy
It's perfect!!
What a beautiful toy. The colours, the craftsmanship… and I love that each little lid on the bottles attaches with magnets! Fantastic! My girls are completely obsessed, and honestly so am I! 😂
Perfect addition for imaginative play
We bought this for our daughter who is always creating imaginary worlds and picture her playing veterinarian with her stuffed animals. Each piece is so cute and so well made, I know this will last through all our kids and beyond.
Best customer service
Lovely pretend play set, reminiscent of antique medical instrument that my granddaughter enjoys, and surely will be a family heirloom. What made the purchase extra special was your customer service from buying to speedy delivery. Thank you Anne.
Nicole
Amazing product, extremely detailed!
I found this account on a whim and I'm soooo happy I did. They give back to an extremely important cause very dear to my heart, and the products are out of this world! My little girl is still a bit young to play with everything Iv got for her it I'm introducing it to her anyways because I'm too excited! It was my first time ordering and definitely will NOT be my last.
Wooden Doctor Set
This set is my son's absolute favourite toy! It's beautifully crafted and is very sturdy, yet gentle on my toddler's hands. The quality of the set is amazing and each of the pieces are thoughtfully designed to replicate real medical instruments. I also love that it's eco friendly and uses natural finishes. It will definitely be a treasured family heirloom!