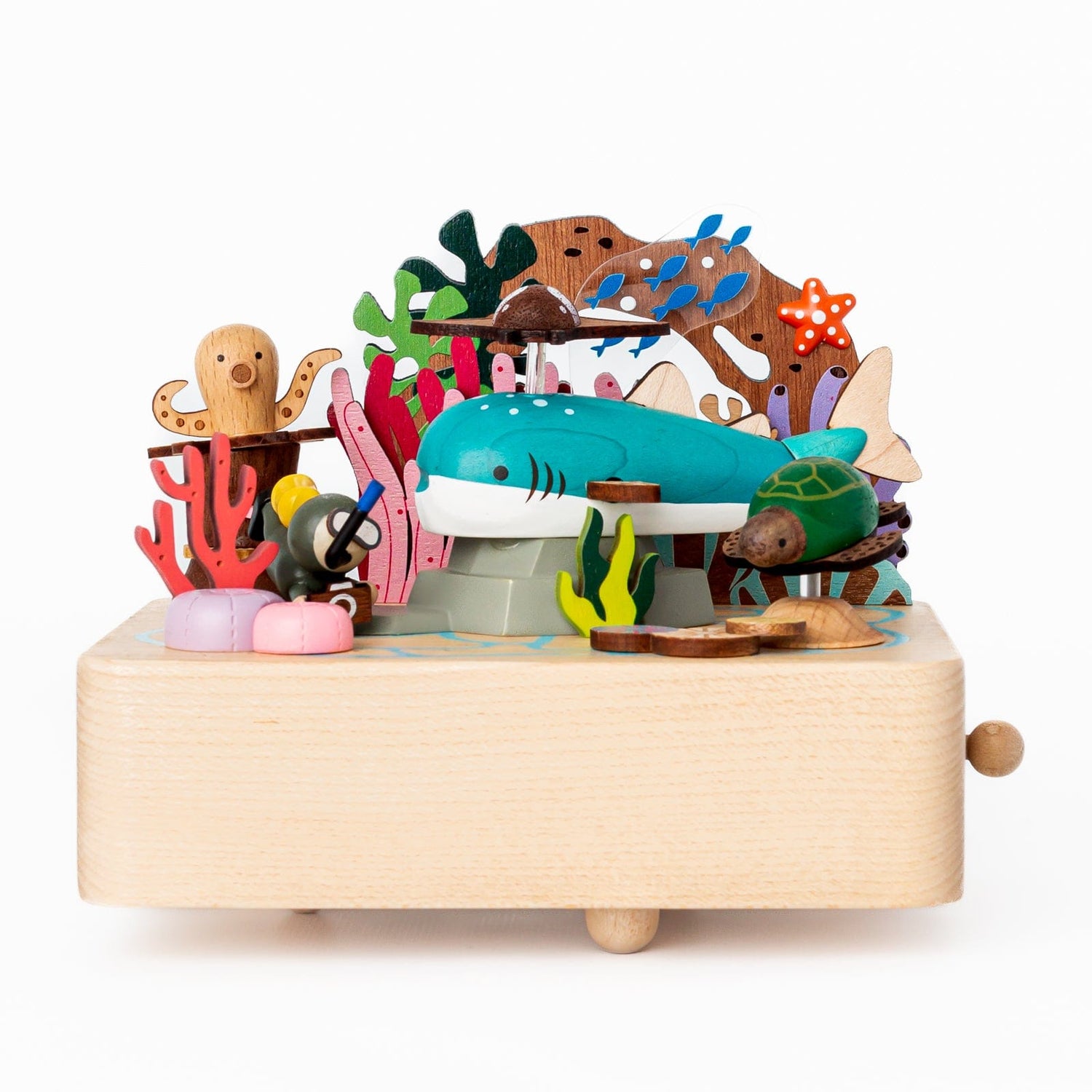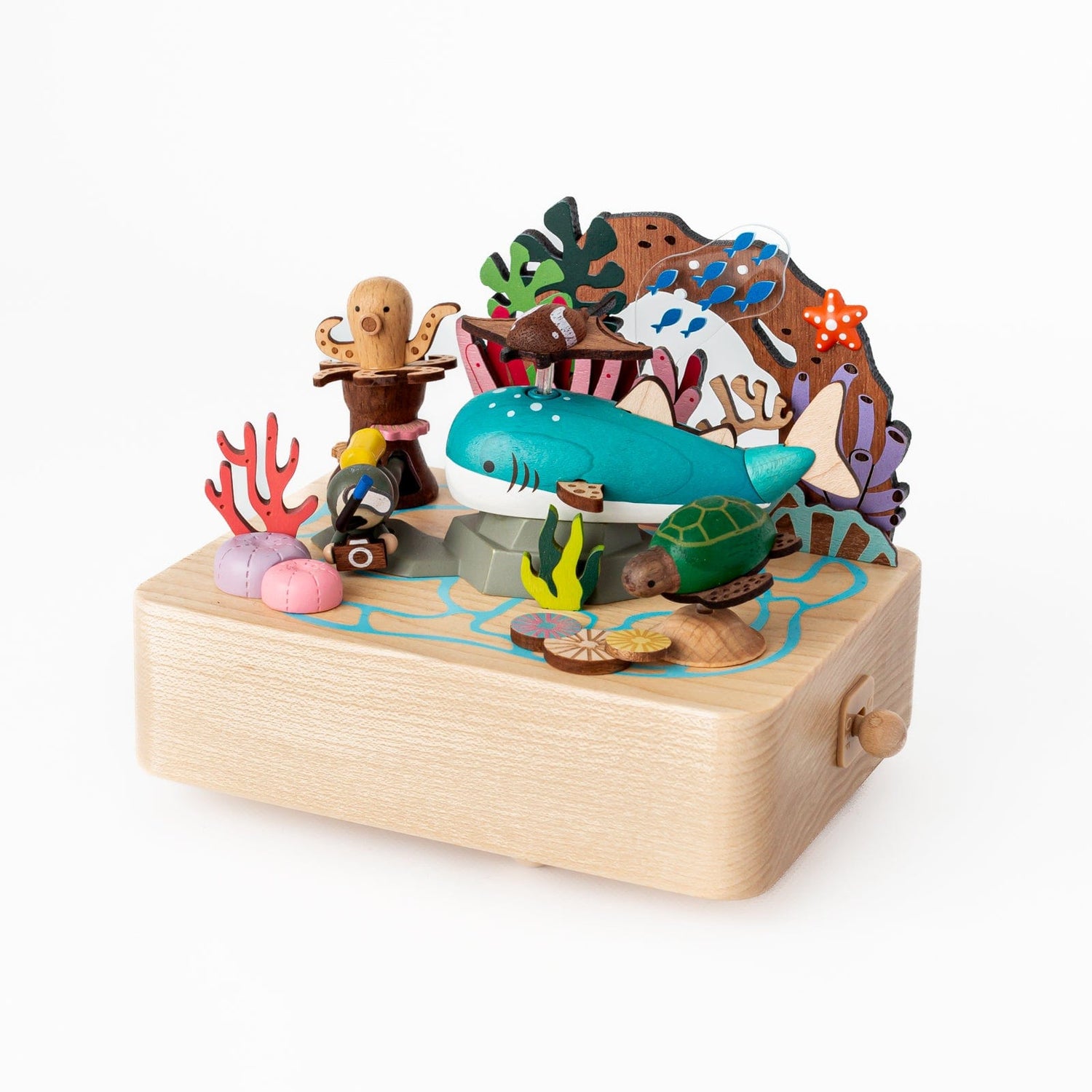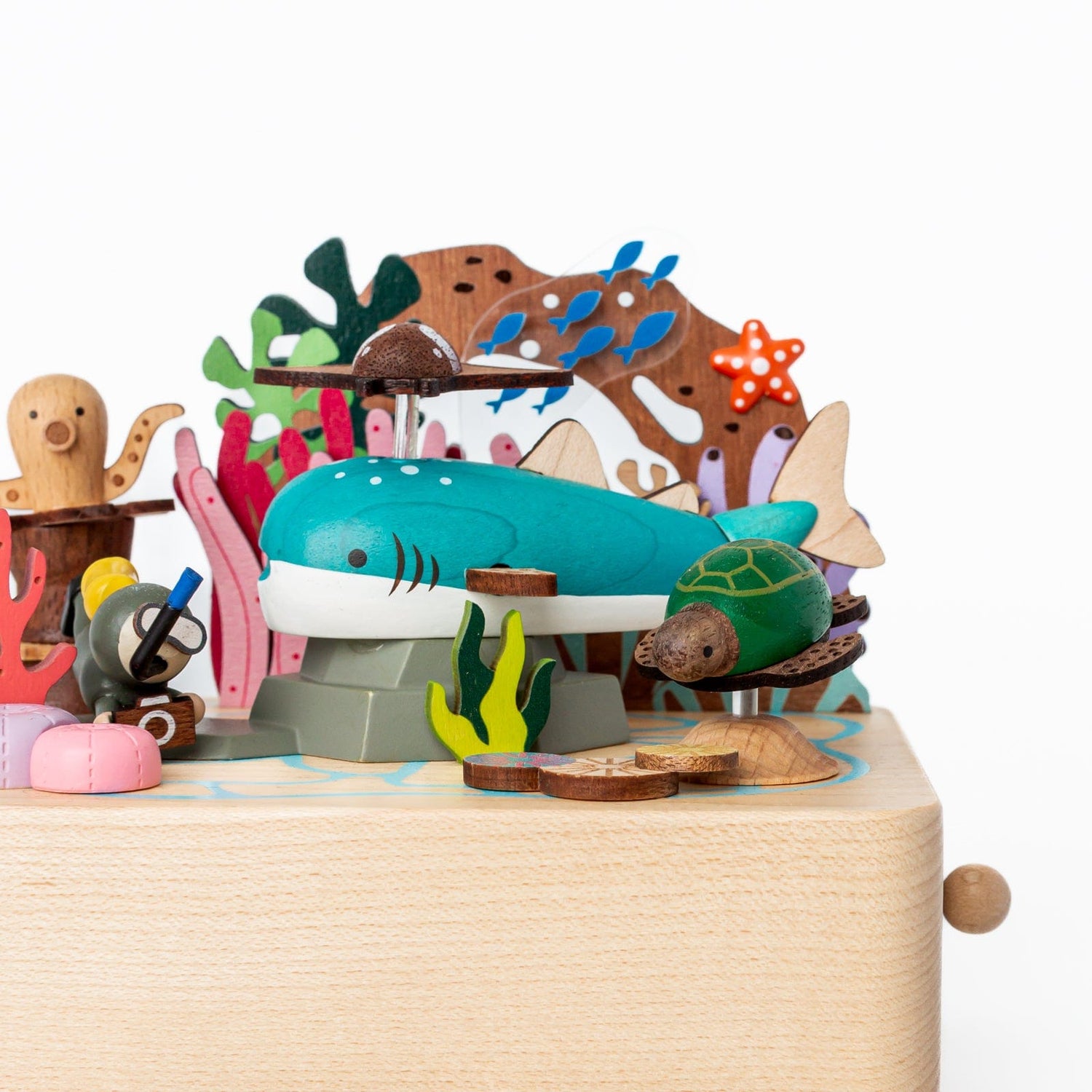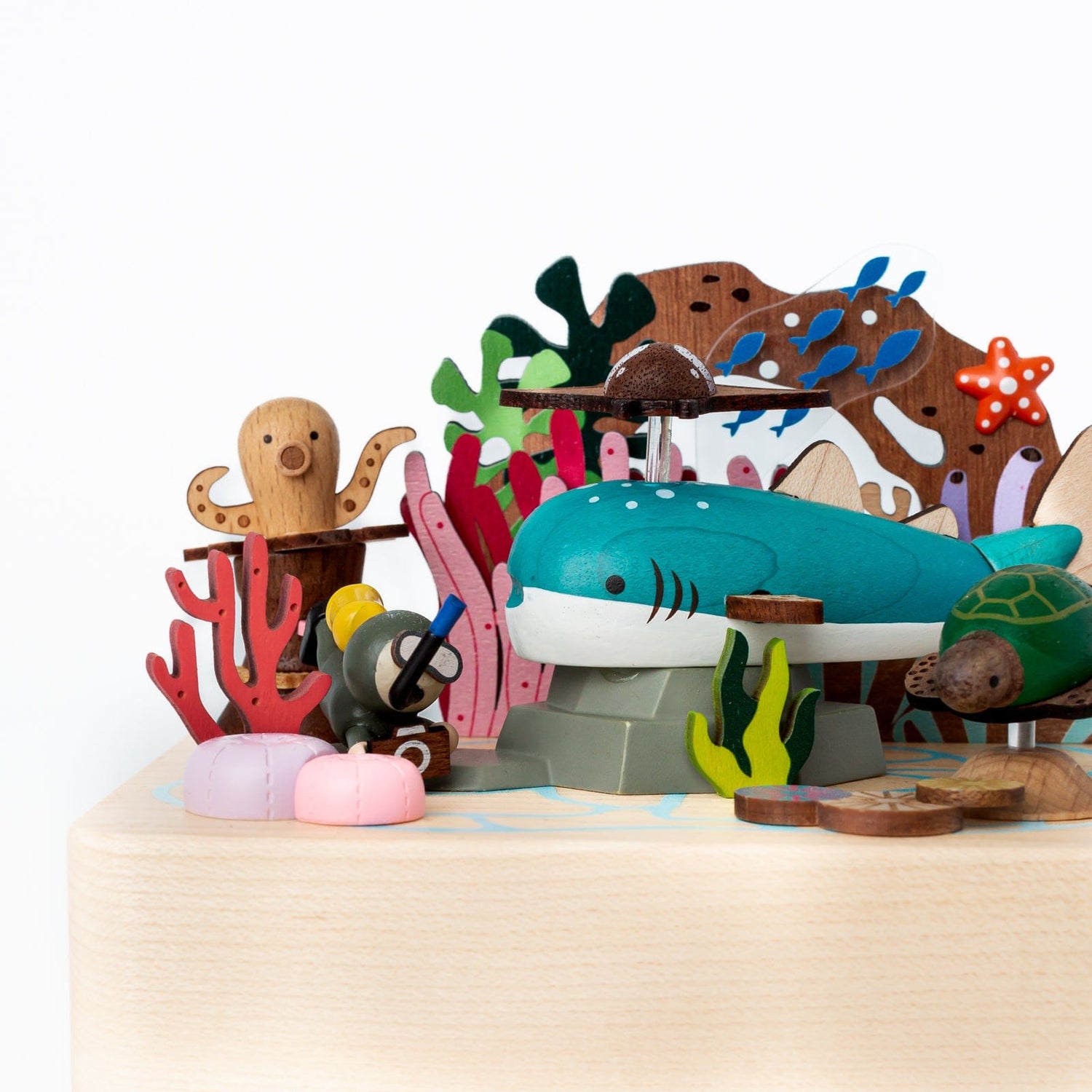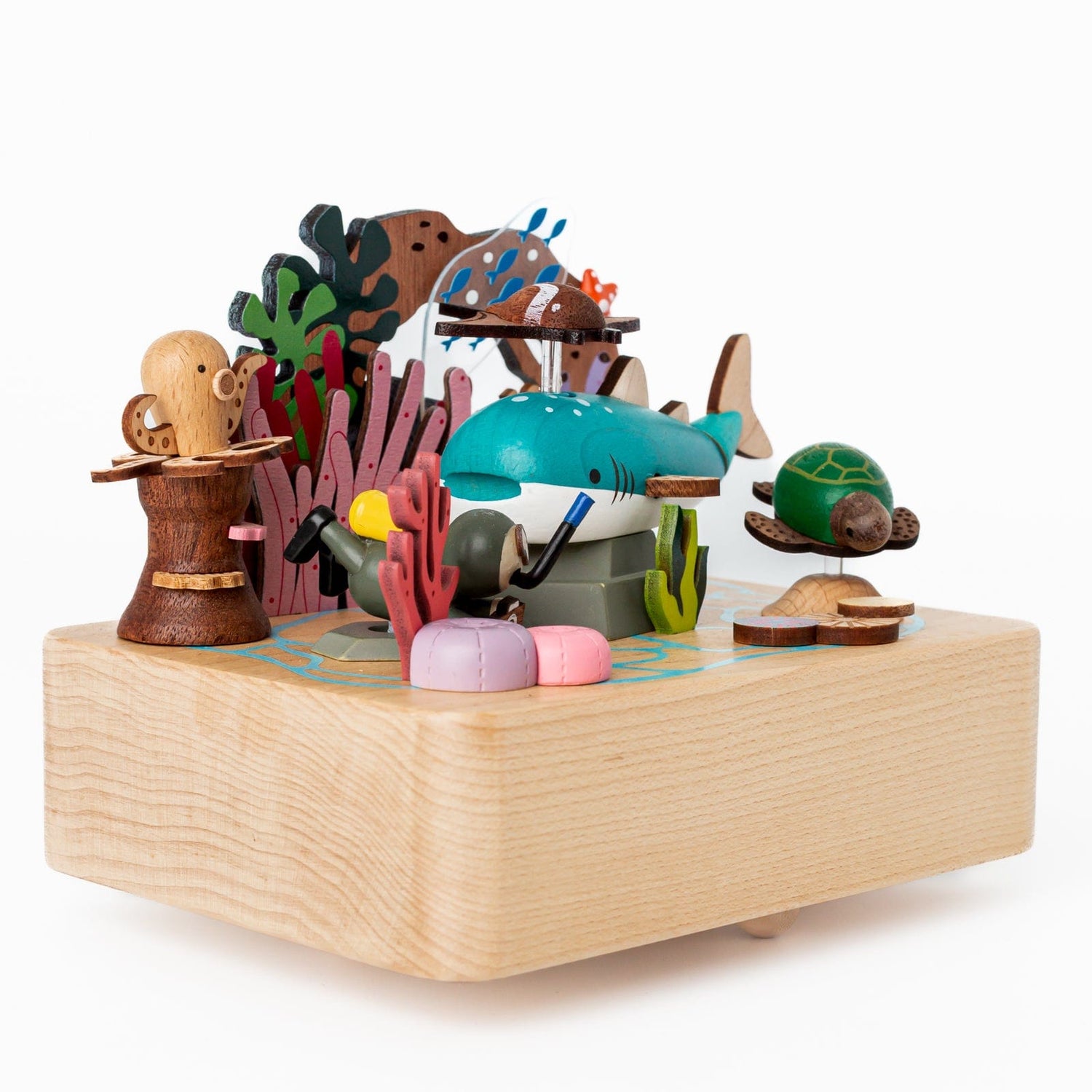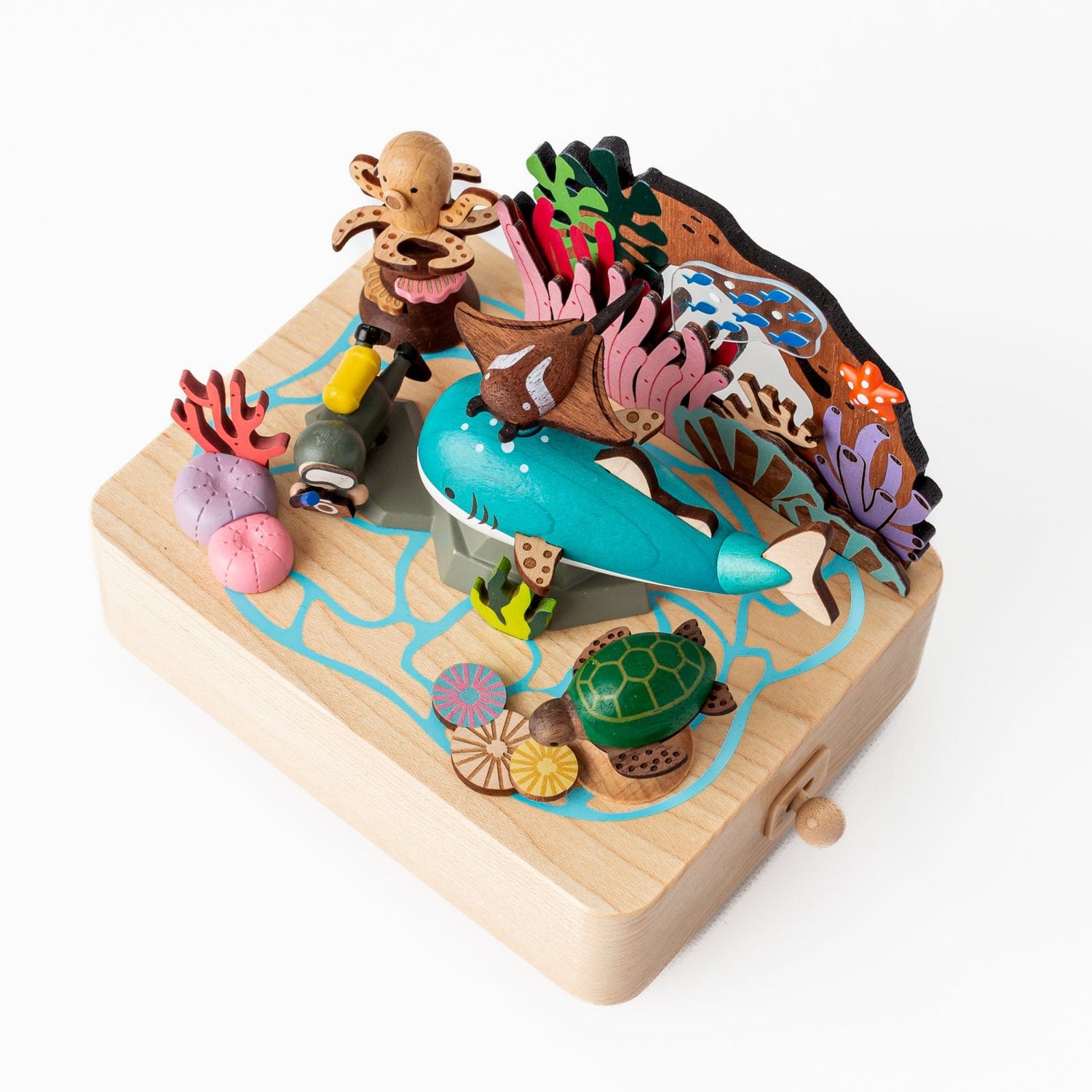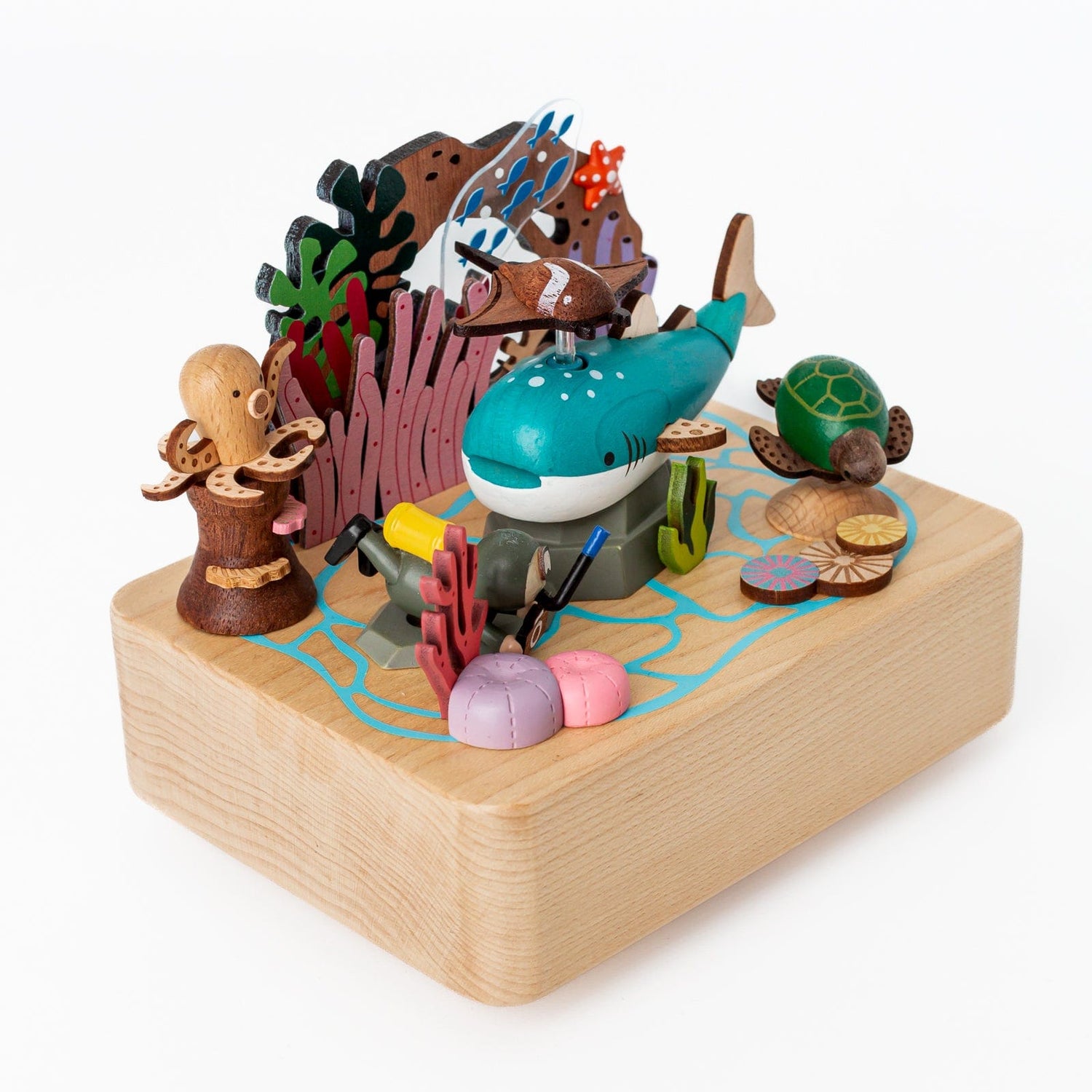 Wooden Whale & Sea Friends Music Box
by Wooderful Life
This purchase helps provide 3 meals to
Indigenous Canadian children in need. Learn More
Description
Dive into the magical depths of the ocean with our Handmade Wooden Whale and Sea Friends Music Box. This enchanting creation brings to life a delightful underwater scene, featuring a graceful whale, friendly sea creatures, and a captivating scuba diver. As the soothing melody of Brahms Waltz fills the air, watch in awe as the string ray elegantly rotates and the scuba diver joyfully moves up and down, creating a mesmerizing spectacle that will captivate both young and old.
Crafted with utmost care and attention to detail, our wooden music box is entirely handmade, ensuring each piece is a unique work of art. The intricate carvings and vibrant colours bring the underwater world to life, sparking imagination and inviting little ones to embark on exciting underwater adventures. This heirloom-quality treasure is not just a toy; it is a keepsake that will be cherished for generations, creating lasting memories and moments of joy.
Benefits of our Handmade Wooden Whale and Sea Friends Music Box:
Stimulates imaginative play and storytelling
Enhances cognitive development and fine motor skills
Fosters a love for music and rhythm appreciation
Battery-free operation for eco-friendly play
Exquisitely crafted with attention to detail
Creates a beautiful heirloom keepsake to be passed down through generations
Experience the wonders of the ocean and the joy of music with our Handmade Wooden Whale and Sea Friends Music Box. It is a delightful addition to any nursery or playroom, bringing a touch of magic and whimsy to your little one's world. Dive into the depths of imagination and let the music transport you to an underwater paradise.
Designed in Taiwan by Wooderful LIfe.
Features

• Type: Multi Rotate Music Box with Sankyo Movement
• Tune/Song: Brahms Waltz
• Movement triggered by winding key
• Toggle switch to turn on/off music
• Dimensions: 5x4.5.5"

Materials

• Materials: Sustainably Sourced Wood, Resin, Steel, Iron
• Painted using water-based paints


Age/Safety

• Recommended for children 5 years+
• Warning: This is not a toy. This music box is intended for decoration purposes only. Small parts can be a choking hazard. Adult supervision is recommended.

About the Brand

Wooderful Life is a Taiwanese brand that blends modern wooden products with the beautiful aesthetics of life. Their handcrafted wooden music boxes will transport you back in time as you listen to the delicate melodies and are mesmerized by the intricate moving parts.

As a member of the National Hardwood Lumber Association (NHLA), Wooderful Life is deeply committed to the sustainability and ethical harvesting of lumber.

Shipping & Delivery

• FREE shipping over $125
• $12 flat rate shipping across Canada on orders under $125
• $15 flat rate shipping on US orders under $125
• For more information, check out our full Shipping Policy