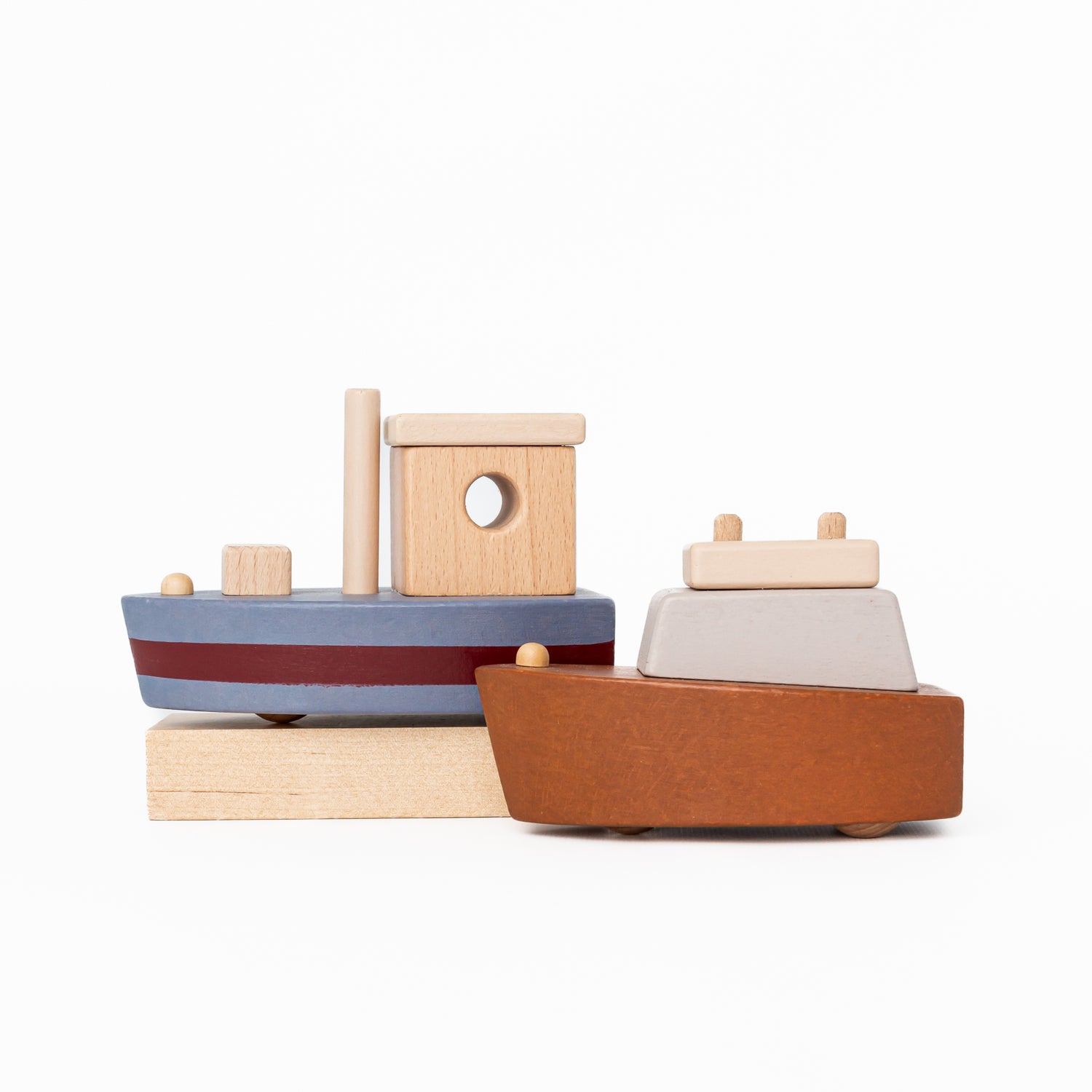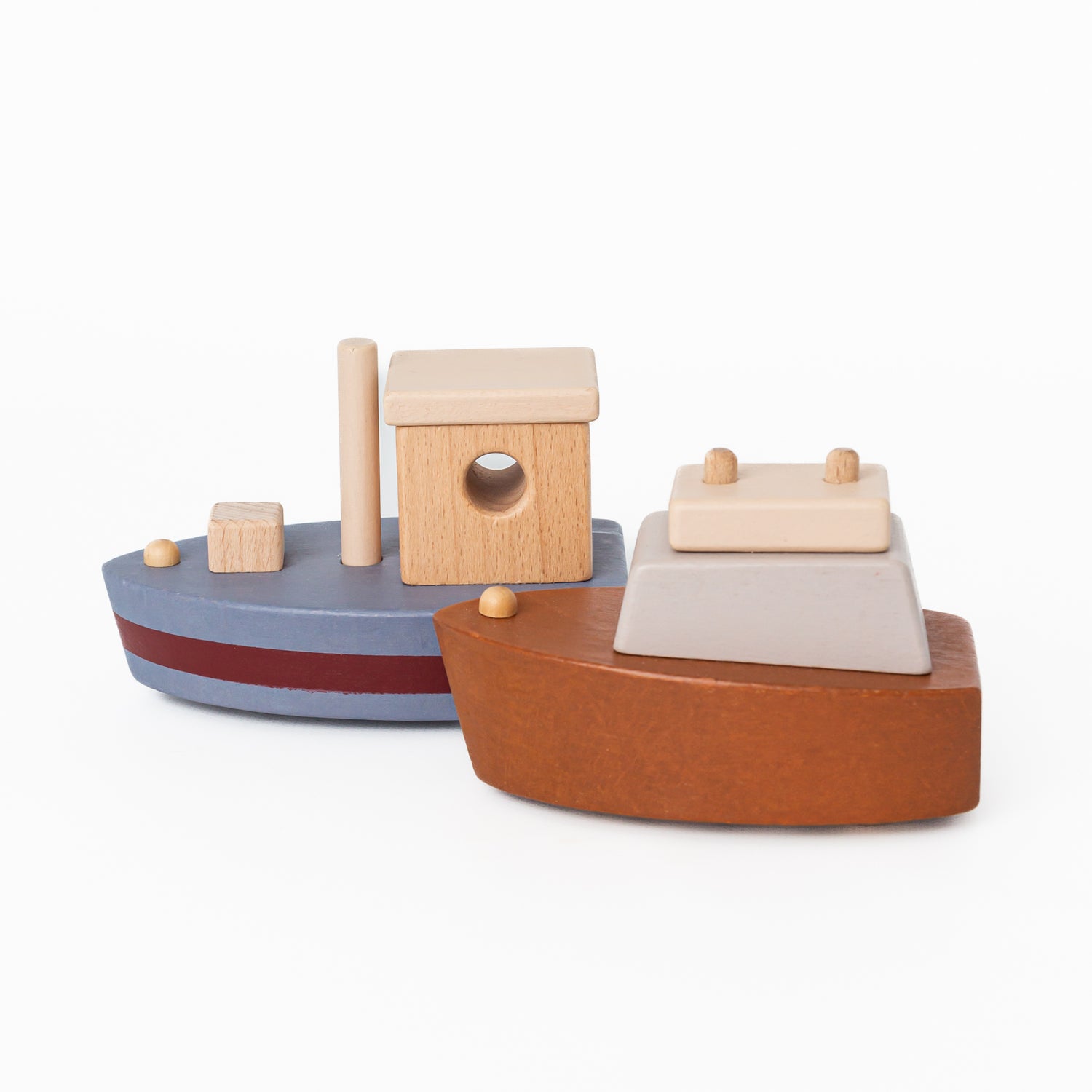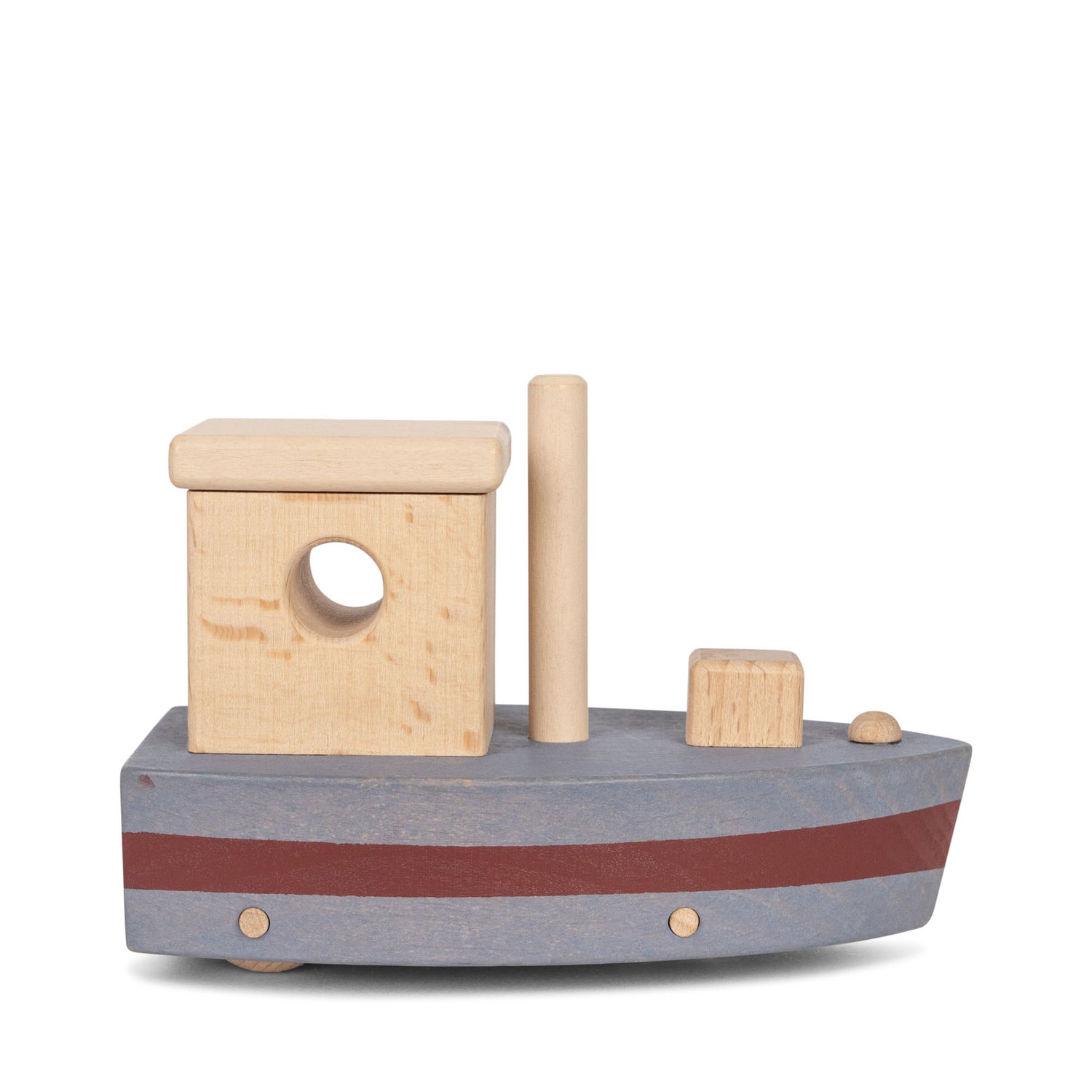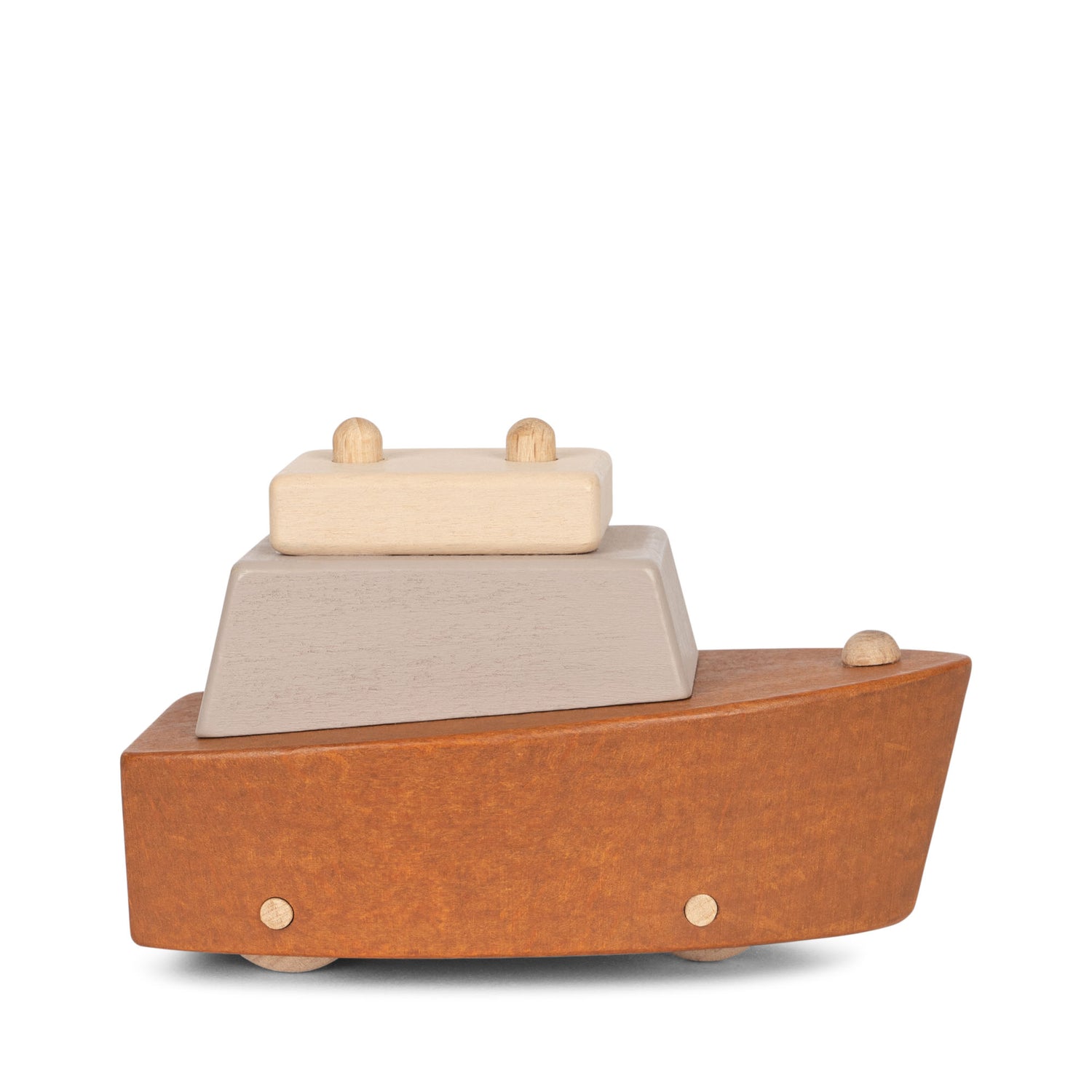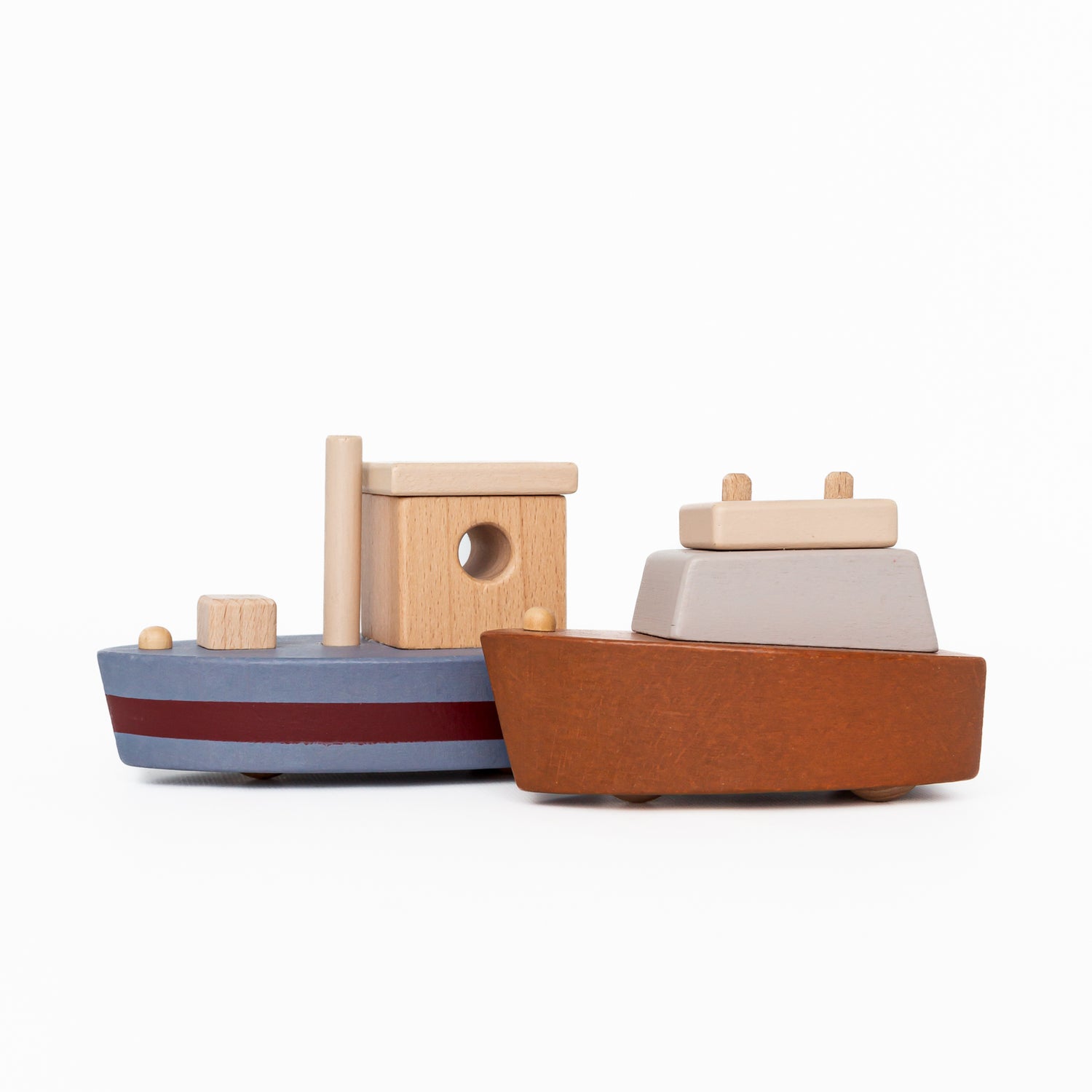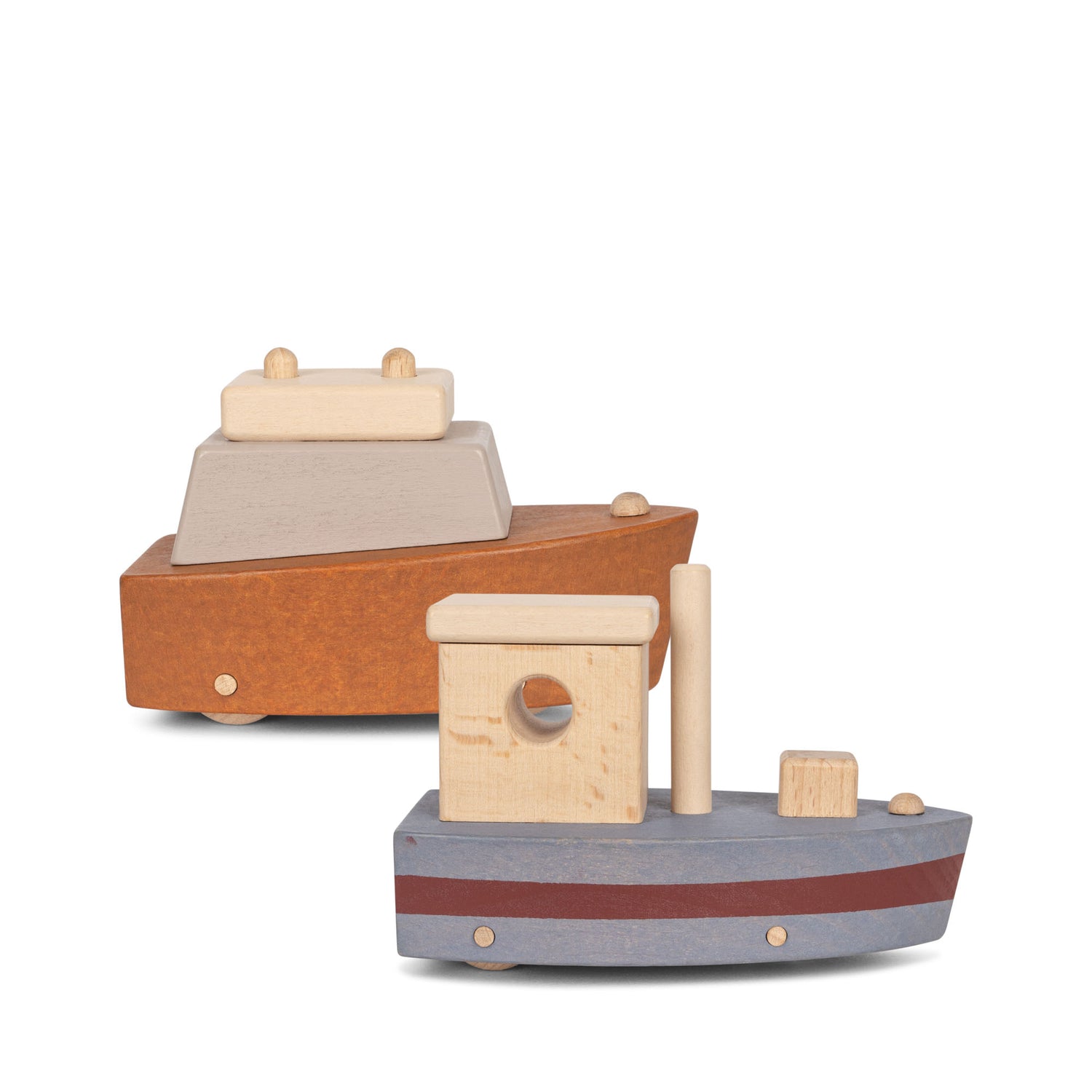 Wooden Rolling Boats (Set of 2) by Konges Sløjd
by Konges Slojd
This purchase helps provide 1 meal to
Indigenous Canadian children in need. Learn More
Description
Set sail on a voyage of imagination with Konges Slojd's Wooden Rolling Boats! This delightful set features two wooden boats, each thoughtfully designed to spark your child's creativity and delight. What makes them truly unique? Well, these boats aren't just for show; they come with rolling wheels on the bottom, transforming them into exciting push toys that your little one will adore.

Crafted with the quality and care that Konges Slojd is renowned for, these wooden boats showcase beautiful, calming neutral tones. They're not only fantastic for play but also make charming decorative pieces in any playroom or nursery. 

Why we love the wooden rolling boats (set of 2):
Dual Play: These wooden boats are both charming decorations and enjoyable push toys.
Calming Neutrals: Painted in calming neutral tones, they complement any playroom or nursery.
Ethical Craftsmanship: FSC Certified and responsibly made, ensuring your child's safety and the environment.
Konges Slojd Quality: From a brand known for exquisite hand-designed toys and whimsical accessories.
Imagination Afloat: Encourages imaginative play, creativity, and endless adventures for your child.
Perfect Pair: A wonderful gift for birthdays, holidays, or special occasions
Set sail on the sea of fun and creativity with Konges Slojd's Wooden Rolling Boats!
Features

• Ferry: H: 9,9 cm x W: 5,2 cm x D: 6,1 cm
• Boat : H: 10,6 cm x W: 6,5 cm x D: 8,2 cm

Materials

• Made from 100% FSC certified beech wood
• Finished with non-toxic paints and finishes

Age/Safety

• Recommended for ages 2 and up
• CE-tested after European standard EN-71-1

About the Brand

Konges Slojd is a world-renowned children's lifestyle brand nestled in the vibrant city of Copenhagen, Denmark. Known for their exceptional craftsmanship, Konges Slojd offers a delightful array of high-quality, functional, and eco-friendly Scandinavian products for children.

With an unwavering commitment to excellence, Konges Slojd captivates hearts with their meticulously designed toys, adorned with intricate details that spark imagination and bring joy to little ones. Each item is crafted with precision and care, ensuring not only endless hours of play but also enduring quality that withstands the test of time.

Embracing a sustainable ethos, Konges Slojd goes above and beyond to make eco-conscious choices in their materials and manufacturing processes. By prioritizing the well-being of children and the planet, they create products that are both kind and gentle, leaving a positive impact on the environment.

Parents and children alike fall in love with the magical world of Konges Slojd, where cherished memories are made and treasured keepsakes are found. Explore their enchanting collection and experience firsthand why Konges Slojd has earned its esteemed reputation as a leading brand in the realm of children's lifestyle products.

Shipping & Delivery

• FREE shipping over $150
• $12 flat rate shipping across Canada on orders under $150
• $15 flat rate shipping on US orders under $150
• For more information, check out our full Shipping Policy