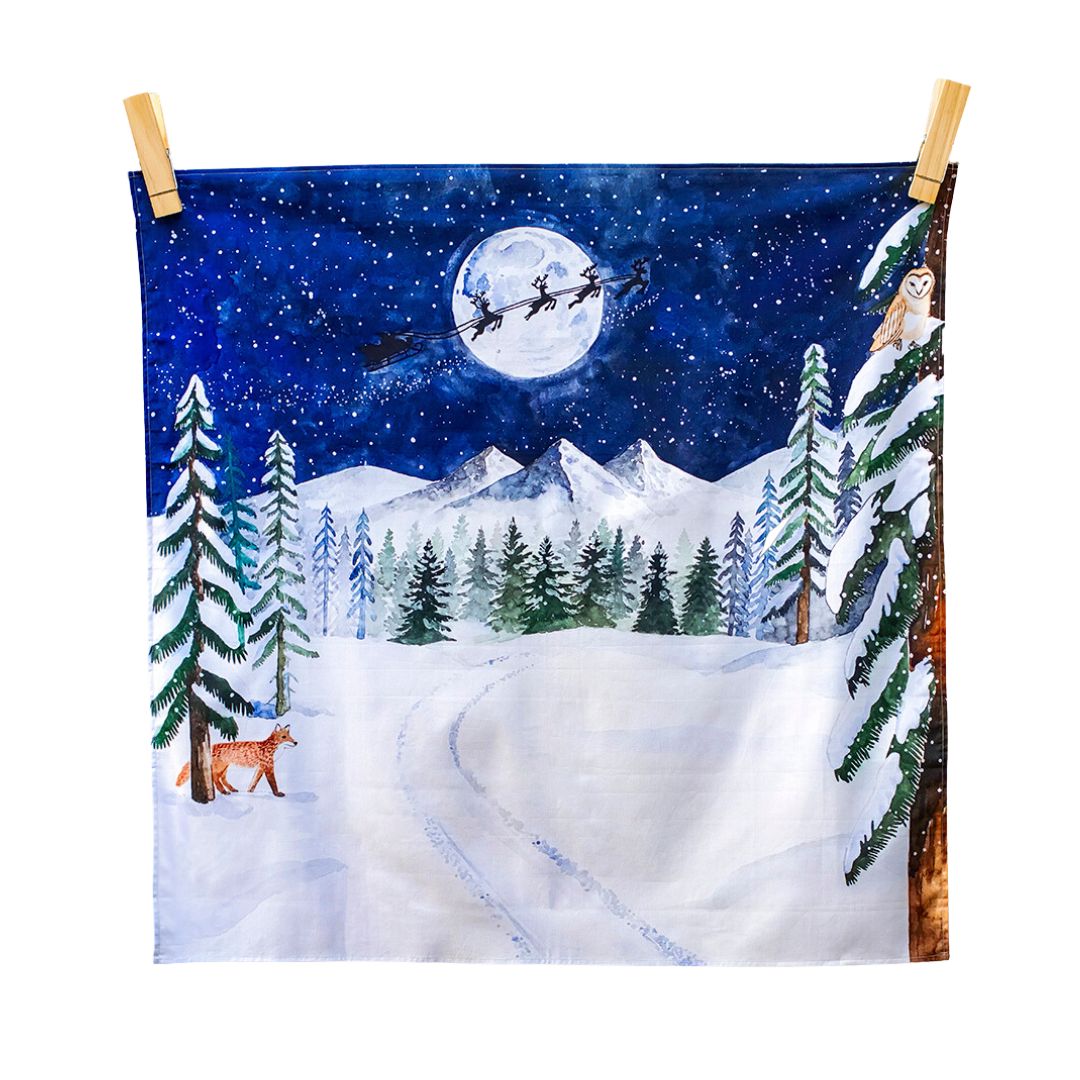 Wonderie "One Starry Winter's Night" Vegan Play Cloth
by Wondercloths
This purchase helps provide 2 meals to
Indigenous Canadian children in need. Learn More
Description
Introducing "One Starry Winter's Night" – a luxurious playcloth that brings the whimsy of winter straight into your child's hands. Crafted by the artisans at Wonderie, every inch of this playcloth is an ode to the enchantment of the festive season. A canvas of GOTS-certified cotton sets the snowy stage, while hand-illustrated designs reveal a world where animals gaze in awe, and Santa, with his team of reindeer, adds a sprinkle of festive cheer against the luminous backdrop of the winter moon.
Why we love the Wonderie "One Starry Winter's Night:"
Hand-Illustrated Magic: Each design detail is hand-drawn, offering a unique touch.
Eco-Friendly Choice: Made of 100% certified GOTS cotton, ensuring sustainable luxury.
Vivid Imagery: From mountains to Santa's sleigh, every element captures the spirit of winter.
Versatile Use: Perfect for playtime narratives, cozy wraps, or as a charming décor accent.
Wrap your little one in the heartwarming tales of winter and let their imaginations dance with the reindeers in the moonlit sky. One Starry Winter's Night is not just a playcloth; it's a keepsake of memories waiting to be made.
Features

• Cloth measures 100cm x 100cm
• All cloths include handy stitched-in hanging hooks
• Every design is lovingly hand-painted from scratch, with each image carefully crafted to contain just the right blend of scenery and detail to spark a child's imagination, leaving plenty of room to add figures, toys and play-thing

Materials

• Made of 100% GOTS Certified cotton
• Printed with eco-friendly, toxin-free dyes
• Packaged completely plastic-free


Age/Safety

• Recommended for children 3 years +
• All cloths are CE UKCA Tested

Care/Cleaning

• Cloths are machine washable (cold or warm cycle)
• You can also safely iron the cloths at a low temperate

About the Brand

Wondercloths is a woman-owned, small UK business founded by Vi, a busy mum of 2 who loves to create eco-conscious products for her children, and yours!

When she went looking for vegan play silks and couldn't find one, Vi decided to make it herself! Every Wondercloth design is lovingly hand-painted from scratch, with each image carefully crafted to contain just the right blend of scenery and detail to spark a child's imagination, leaving plenty of room to add figures, toys and play-things.

Wondercloths are proudly made by a production partner who specializes in planet-friendly, 100% organic fabrics and plastic & toxin-free dyes.

Shipping & Delivery

• FREE shipping over $150
• $12 flat rate shipping across Canada on orders under $150
• $15 flat rate shipping on US orders under $150
• For more information, check out our full Shipping Policy