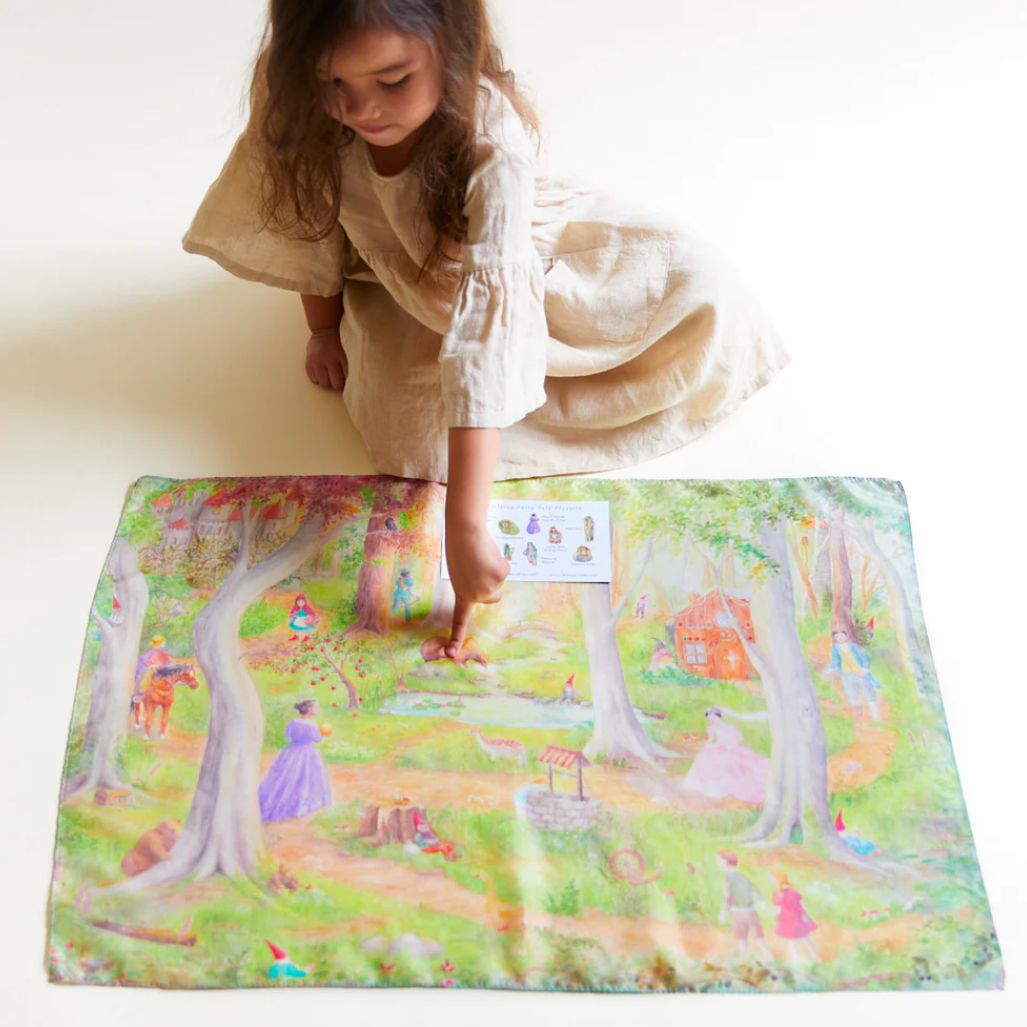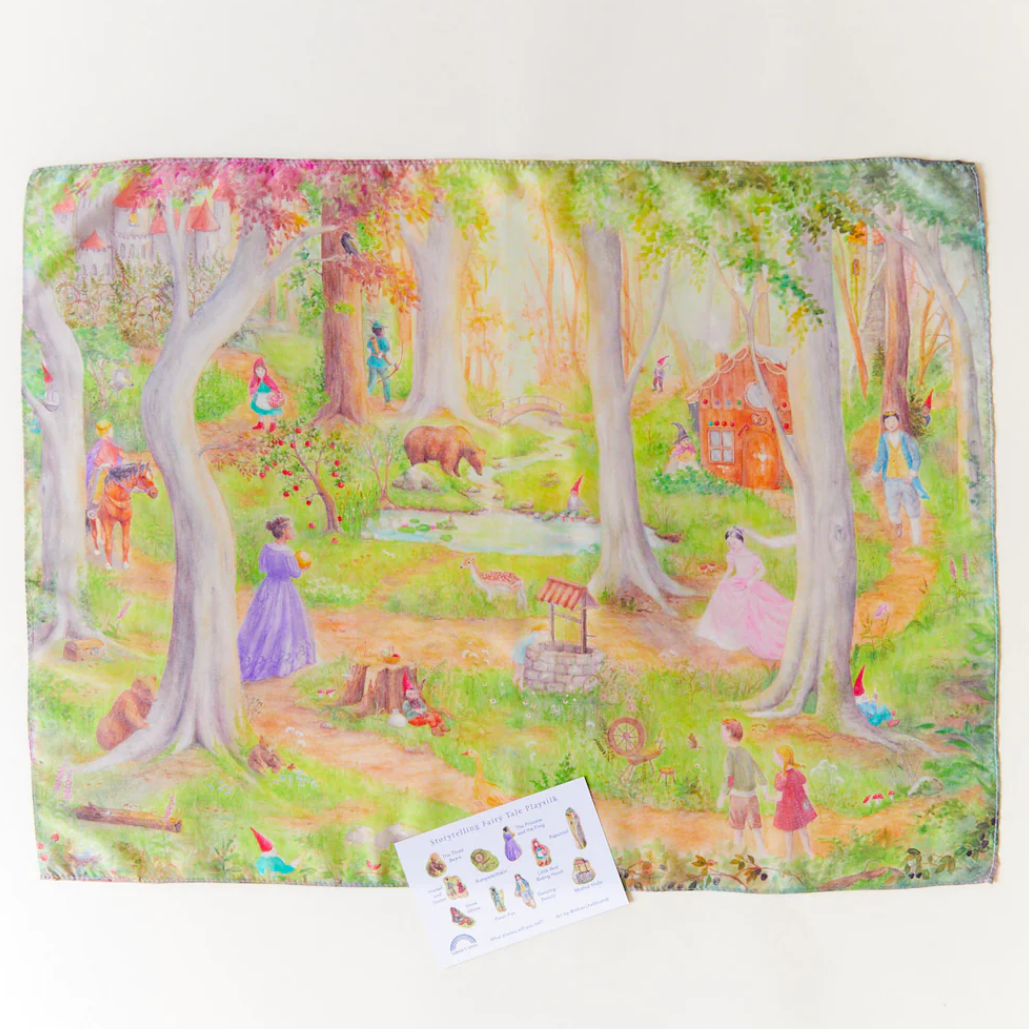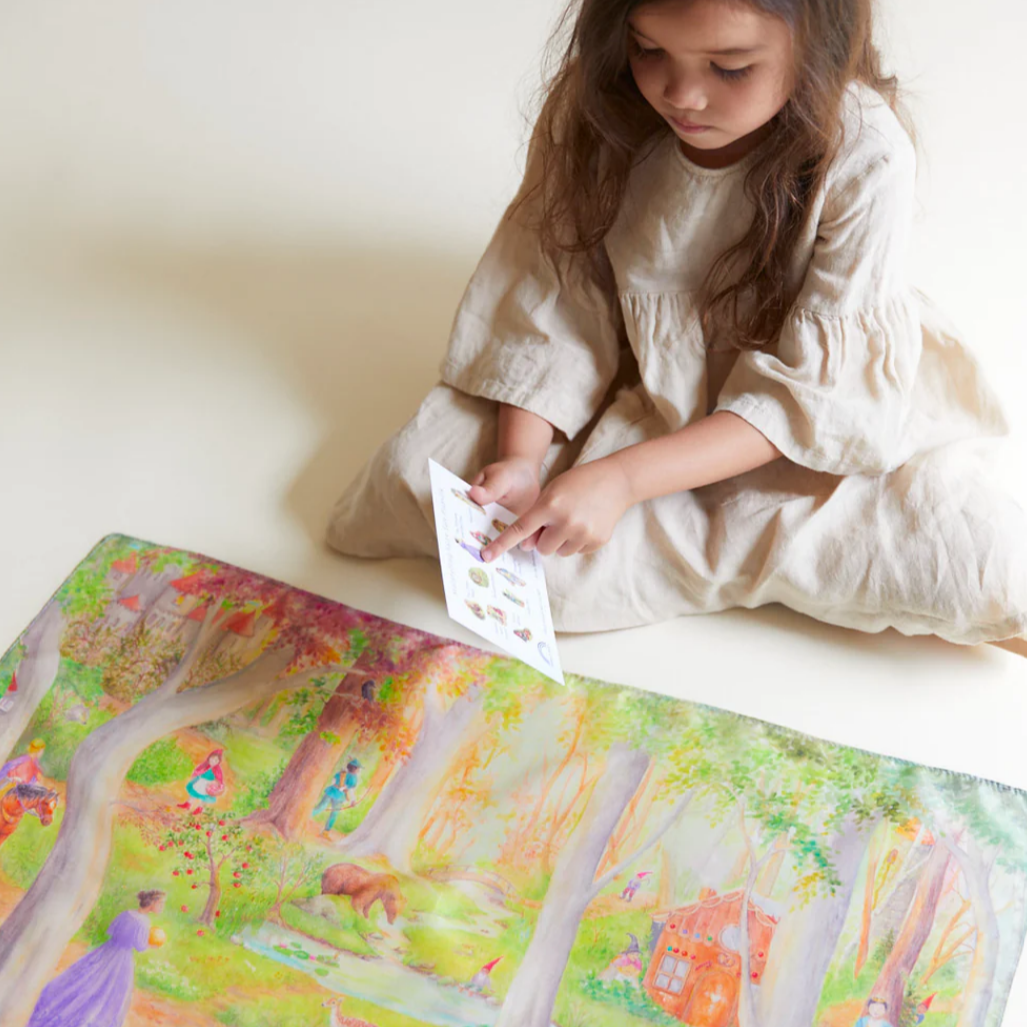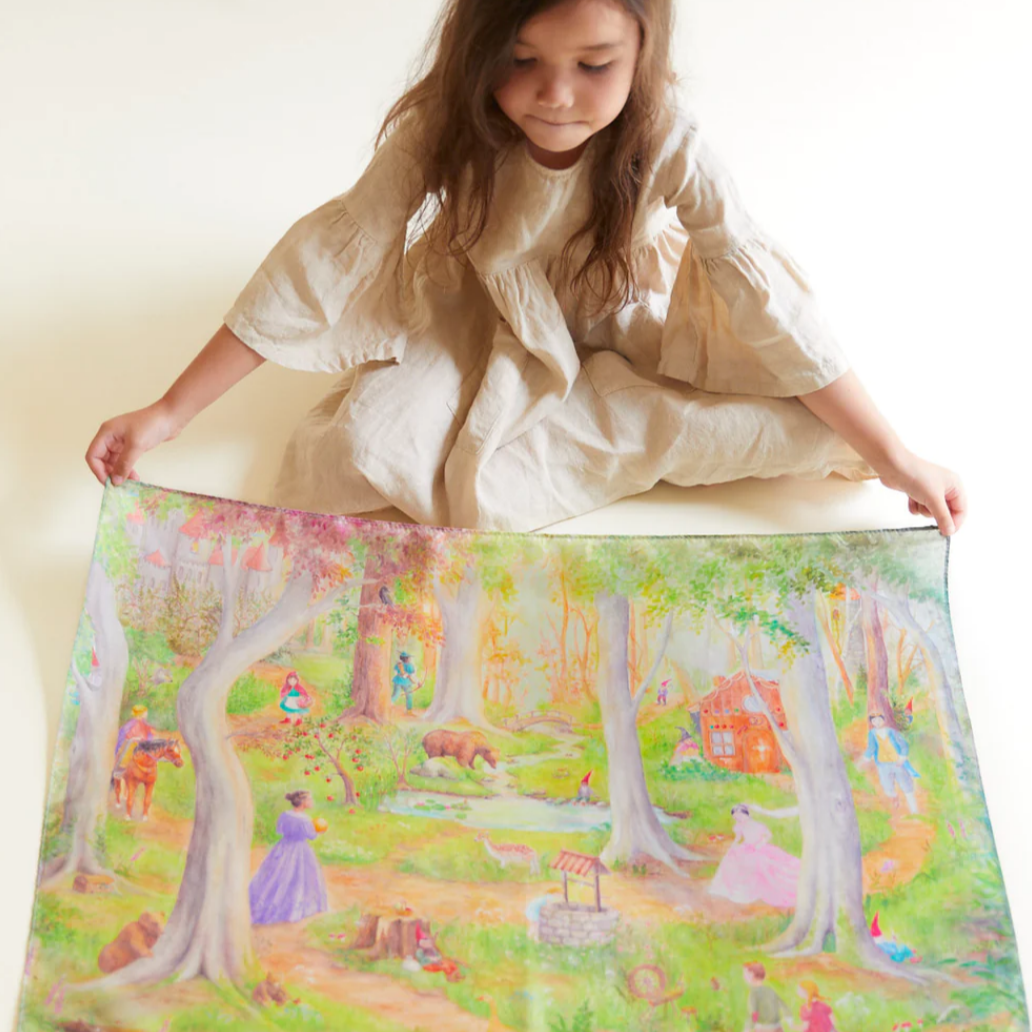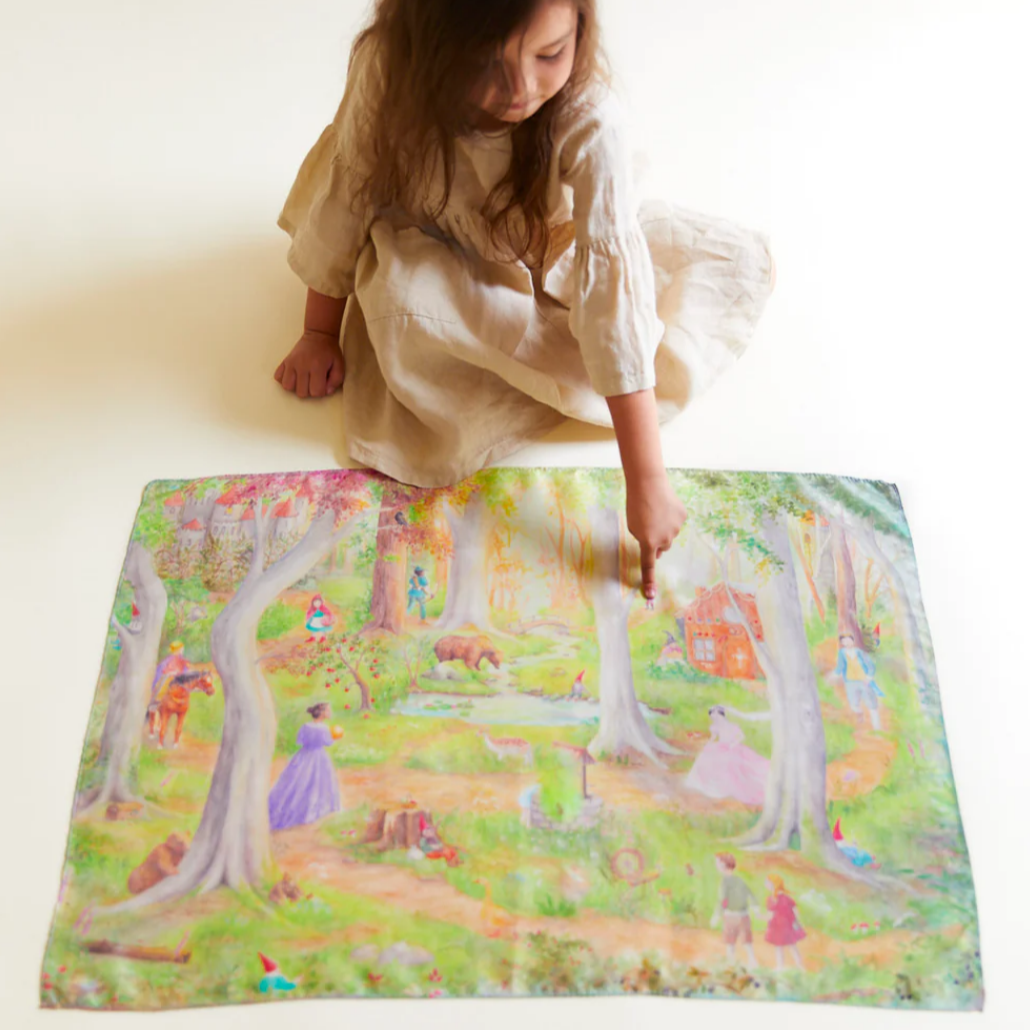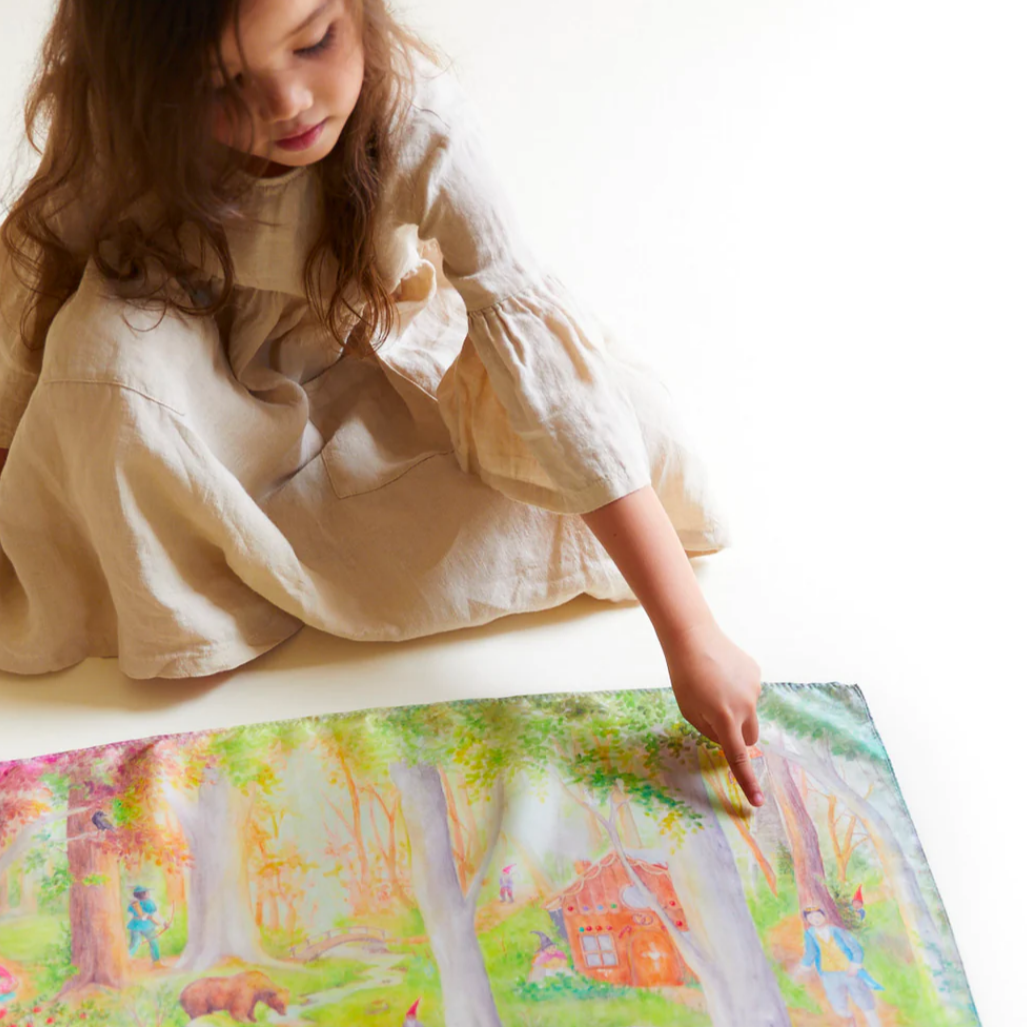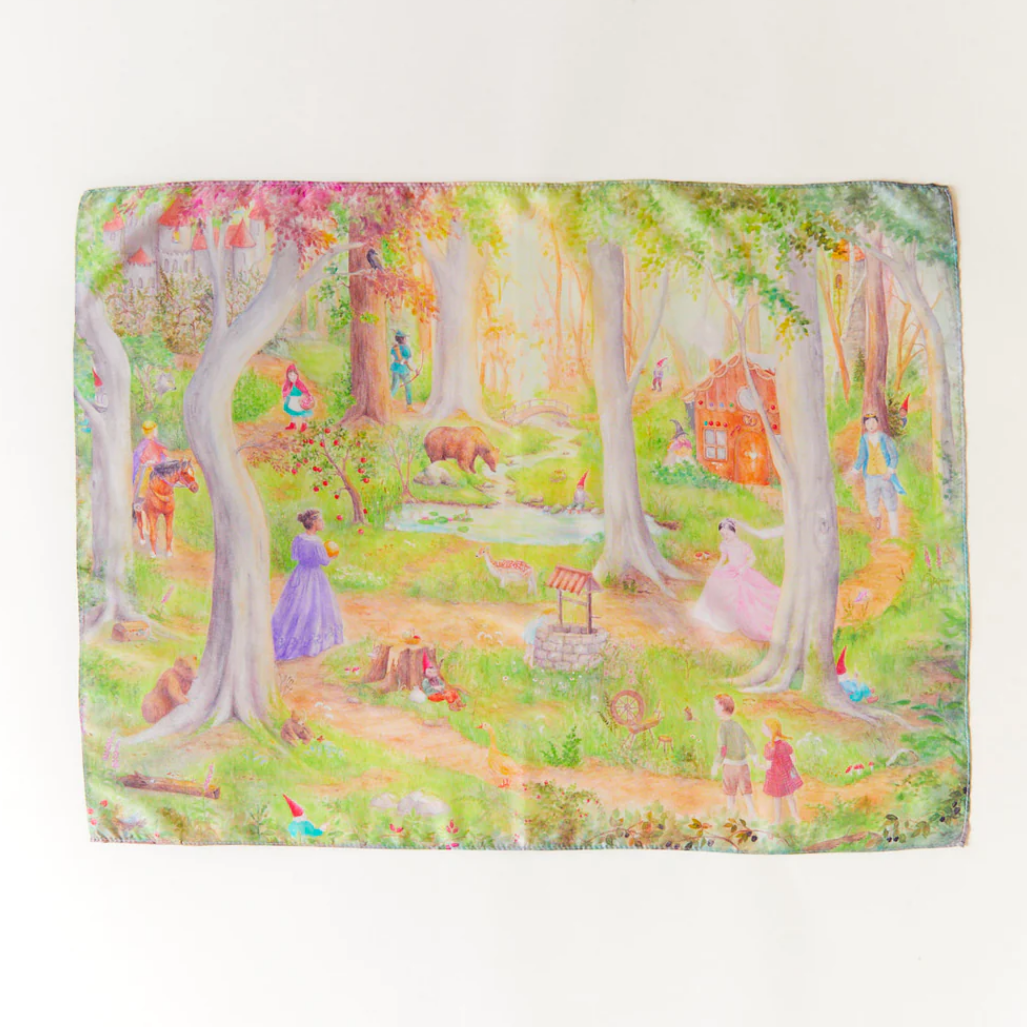 Sarah's Silks Seek & Find Playsilk (Storytelling Fairytale)
by Sarah's Silks
This purchase helps provide 1 meal to
Indigenous Canadian children in need. Learn More
Description
Embark on a whimsical journey through the realms of make-believe with Sarah's Silks Storytelling Fairytale Seek and Find Playsilk. Hand-illustrated by the talented Mhairi Hellbrandt, each silk square is a treasure trove of fairy tale adventures waiting to unfold. As you weave tales of enchantment, from Rapunzel's lofty tower to the cozy cottage of the Three Bears, your children's eyes will light up with the joy of imagination. This playsilk isn't just a prop, it's a gateway to a land where every fold and flutter brings a story to life.

Why we love the Seek & Find Playsilk ( Storytelling Fairytale):
Ignite Imagination: Fires up creativity and storytelling skills.
Interactive Play: Engages children in seek-and-find games.
Educational Fun: Helps familiarize with classic fairy tales.
Quality Craftsmanship: Made with durable, heavyweight 100% mulberry silk.
Artistic Design: Each piece is hand-illustrated, ensuring a unique work of art.
Wrap up your storytime with a flourish of silk and a sprinkle of fairy dust — Sarah's Silks Storytelling Fairytale Playsilk is the heirloom-quality piece that brings your child's favorite stories off the pages and into their play.
Features

• Seek & Find Playsilks are 21" x 26" and made from heavyweight, 100% pure mulberry silk.
• Included with every Seek & Find Playsilk is a one-of-a-kind card with suggestions for children to easily begin the seek and find fun!
• The Storytelling Fairytale Seek & Find features artwork by Mhairi Hellbrandt. Find her at Illustrated by @mhairi.hellbrandt on Instagram.

Materials

• Made with 100% sustainably sourced, hand-woven mulberry silk & elastic
• The dyes used to colour the silks are non-toxic, non-hazardous, environmentally friendly and do not contain any heavy metals.


Age/Safety

• Recommended for children 3 years +
• Safety tested by the rigorous standards of the U.S. & E.U.


Care/Cleaning

• All silk pieces can be hand-washed with mild soap and warm water.
• Hang dry, and iron on medium to restore shine

About the Brand

Drawing from the philosophies of Waldorf education and her own childhood of imaginative play, Sarah has been designing Playsilks and other natural, eco-friendly silk and wooden toys for over 28 years! Playsilks and dress-up items offer children endless opportunities to use their imaginations through play while fostering skills like independence and creativity.

Shipping & Delivery

• FREE shipping over $150
• $12 flat rate shipping across Canada on orders under $150
• $15 flat rate shipping on US orders under $150
• For more information, check out our full Shipping Policy