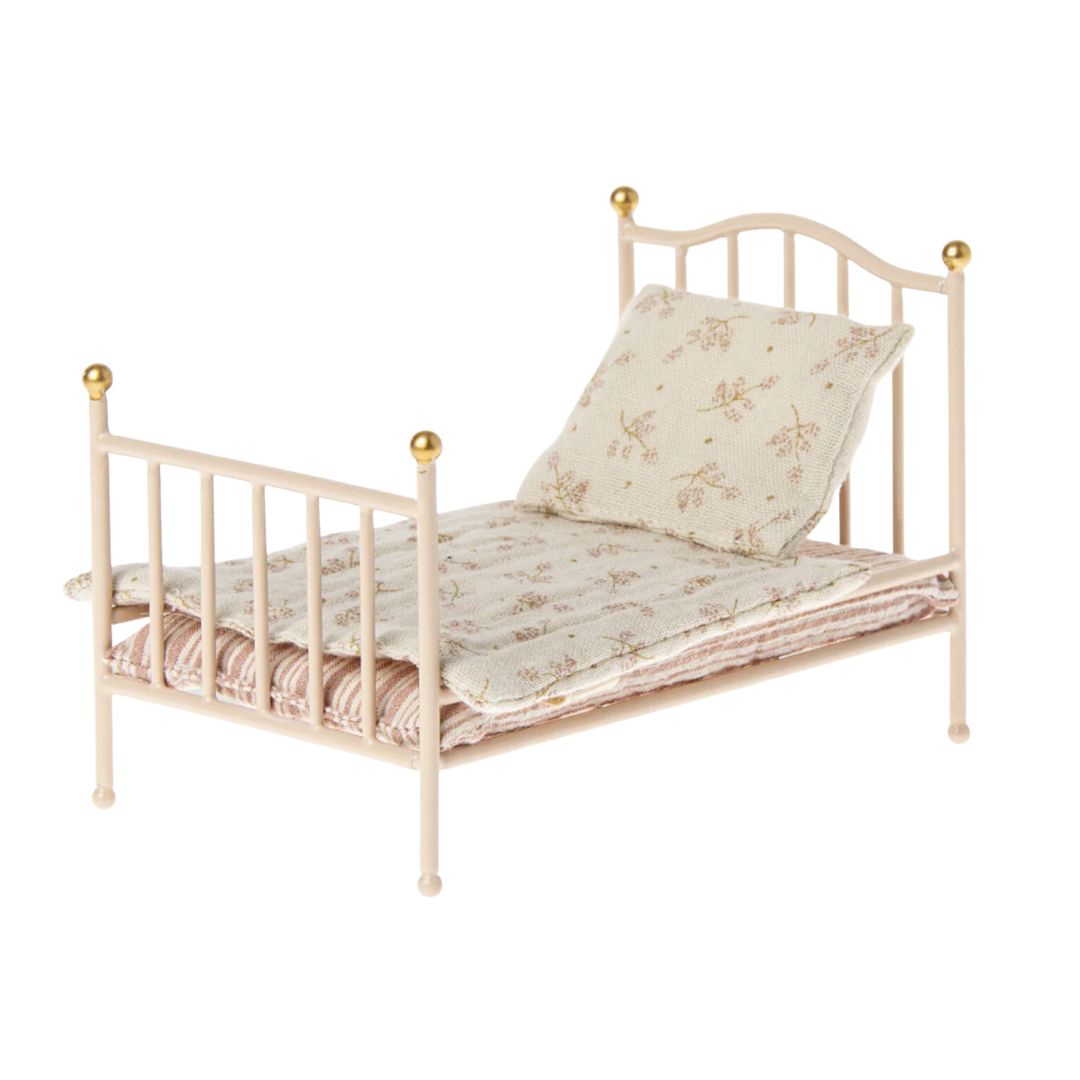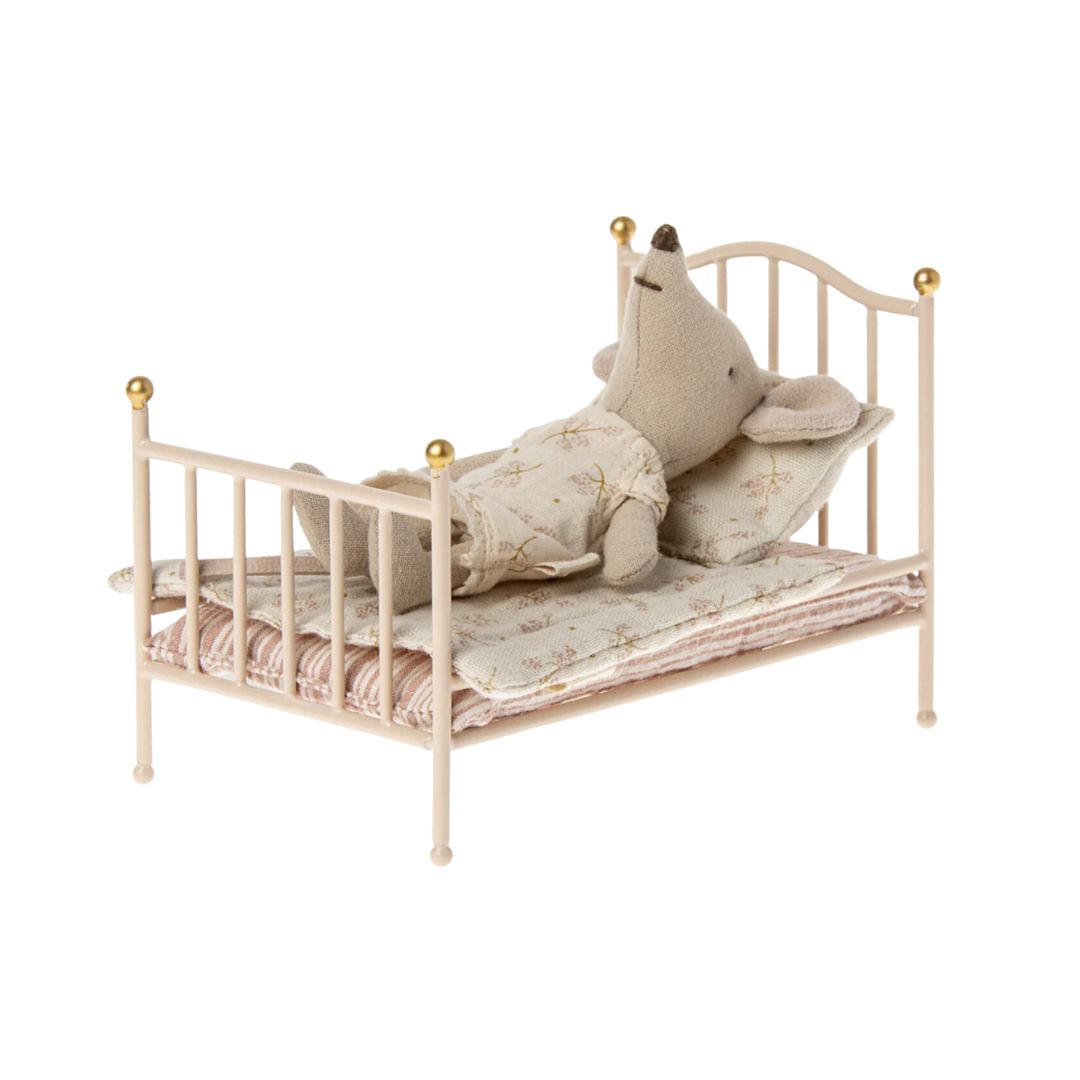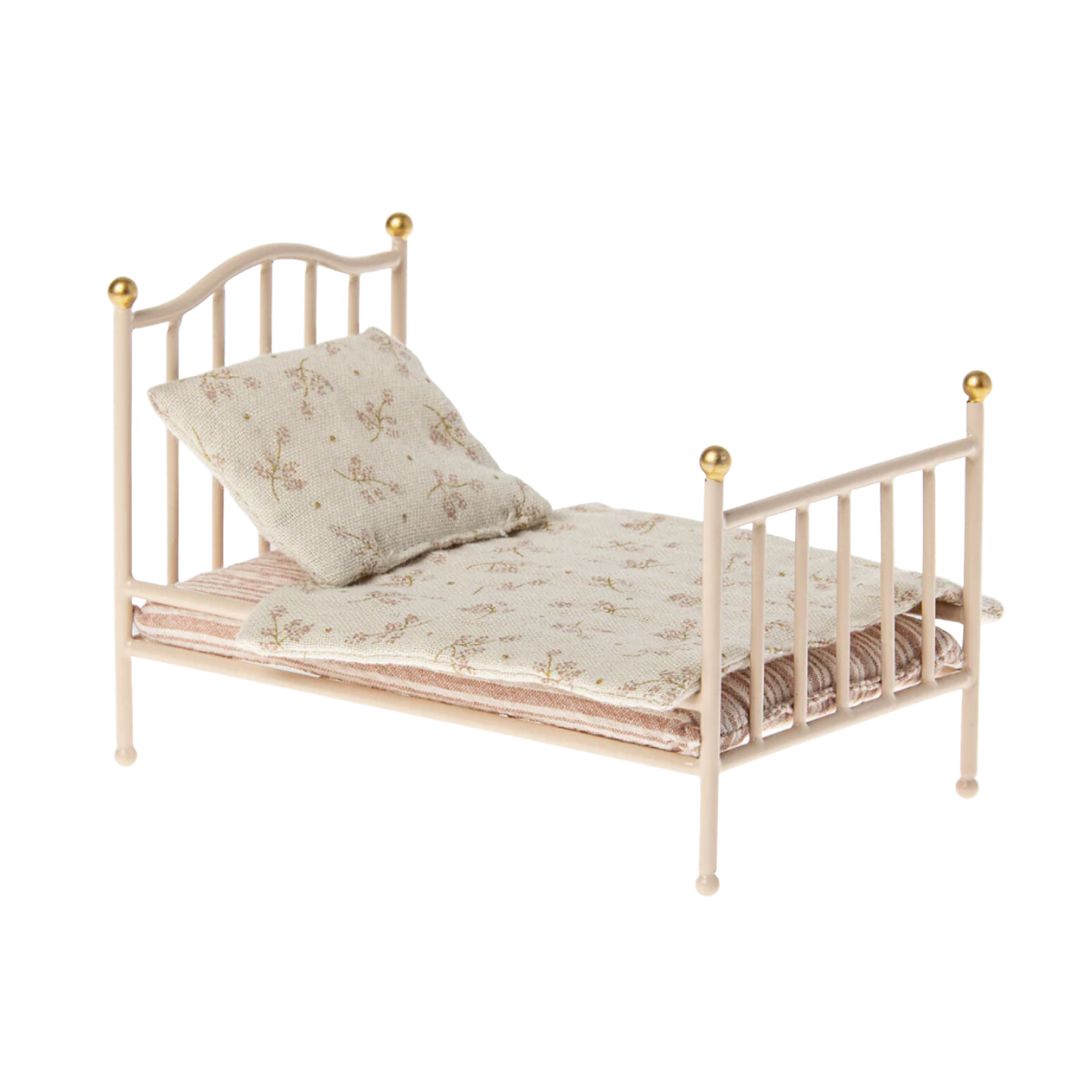 Maileg Vintage Bed - Rose (Mouse)
by Maileg
This purchase helps provide 1 meal to
Indigenous Canadian children in need. Learn More
Description
Step into the quaint and cozy world of Maileg with the enchanting Vintage Mouse-Sized Bed in Rose, a delightful abode for your little one's Maileg mouse friends. Crafted with the utmost attention to detail, this charming vintage-style bed is more than just a place for the Maileg mice to lay their heads; it's a cornerstone of countless stories and dreamy adventures. The bed's classic metal frame, painted in a serene pink rose hue, brings a touch of nostalgia and elegance to any Maileg dollhouse or play scene.
Why we love the Maileg Vintage Bed (Rose):
Inspires Imaginative Play: Perfect for dollhouse storytelling and small-world play.
Charming Design: Vintage metal bed frame in a gentle pink rose colour.
Cozy Bedding Included: Comes with a soft bedding set in Maileg's unique prints.
Perfect Fit: Ideal for Maileg's smaller mice, creating a realistic play experience.
High-Quality Craftsmanship: Durable and elegantly designed for lasting play.
Invite the Maileg Vintage Mouse-Sized Bed into your child's playtime and watch as it becomes the heart of countless bedtime stories and daytime adventures in their miniature world.
Features

• Size: Mouse
• Height: 3.54 in., Width: 3.14 in.
• Colour: Rose


Materials

• Material: Metal / Cotton

Age/Safety

• Suitable for ages 3 years+

Care/Cleaning

About the Brand

Maileg, (pronounced My-Lye) is a beloved Danish brand celebrated for crafting enchanting handcrafted toys that ignite the magic of playtime. From charming mice in cozy matchbox homes to fluffy bunnies dressed for endless adventures, Maileg toys bring imagination and creativity to life in every child.

Maileg's heritage is steeped in generations of Danish craftsmanship. With a nod to old fashioned Scandinavian and French looks, these toys are timeless. The beauty is in the details – from hand-knit dresses to hand-stitched eyes, Maileg's toys are lovingly crafted, embracing the values of quality and tradition.

Beyond its delightful charm, Maileg's creations are collector's items meant to be cherished for generations. Each piece is crafted with care and only available for a limited time, ensuring that it becomes a treasured keepsake passed down through the years.

Explore Maileg, where the ordinary becomes extraordinary!

Shipping & Delivery

• FREE shipping over $150
• $12 flat rate shipping across Canada on orders under $150
• $15 flat rate shipping on US orders under $150
• For more information, check out our full Shipping Policy