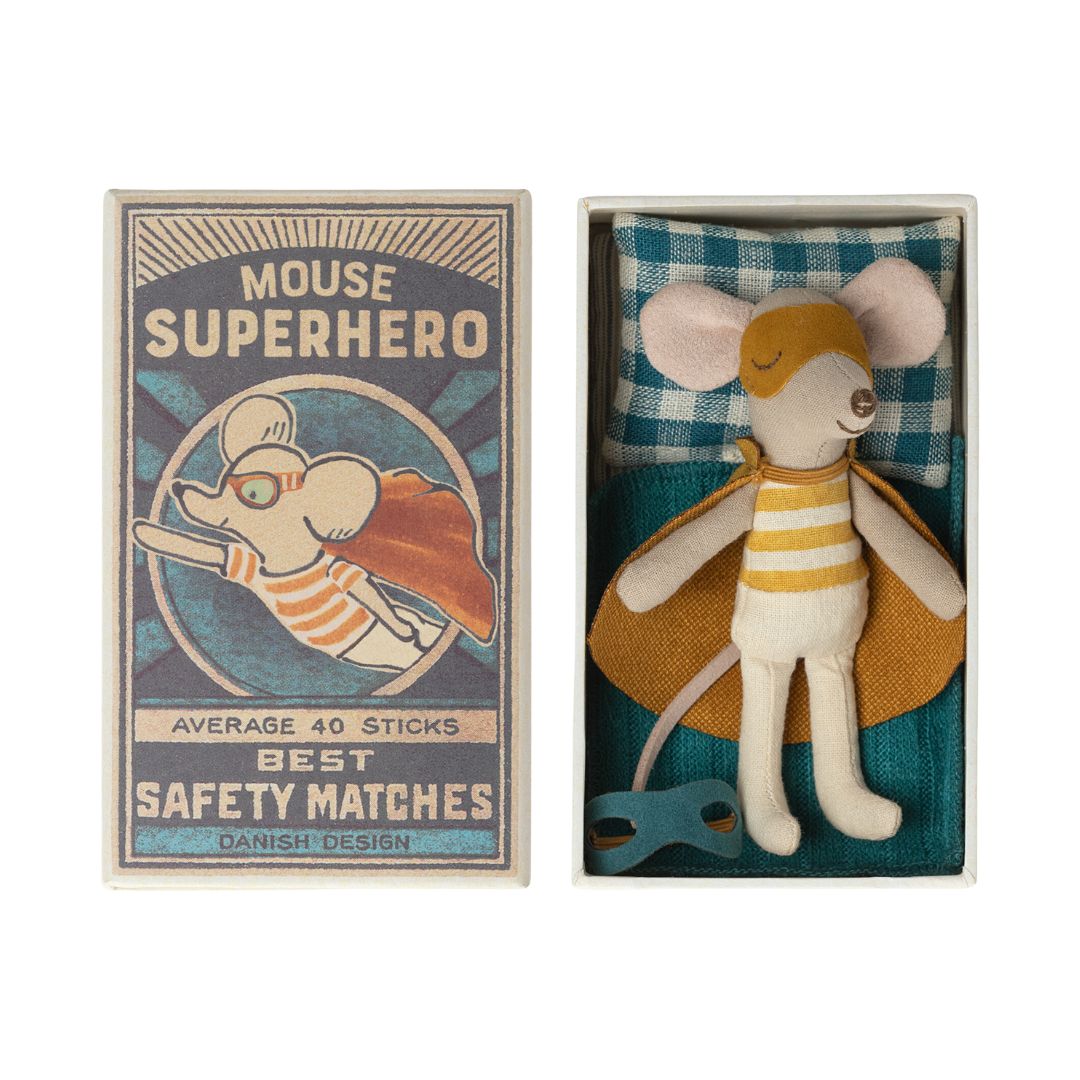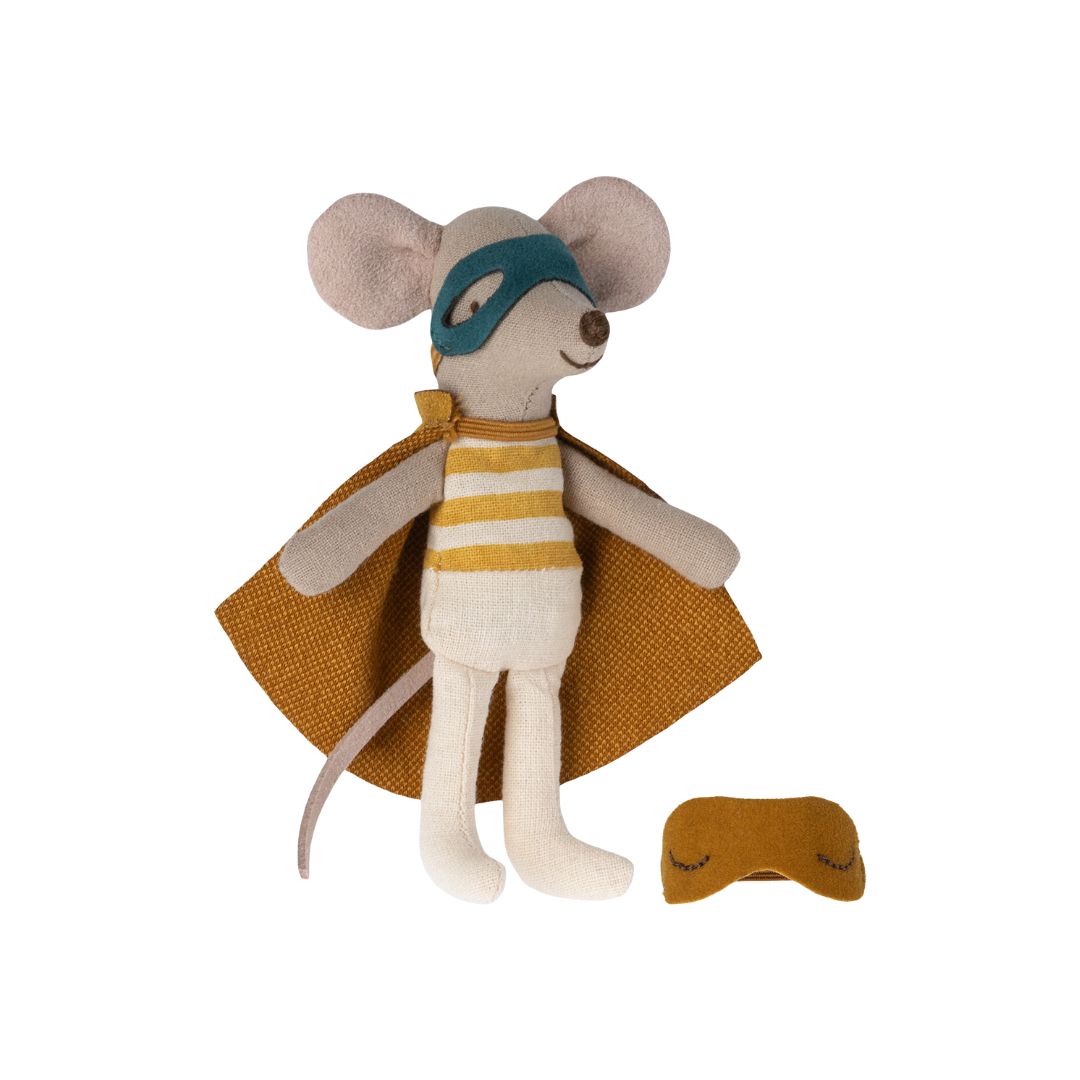 Maileg Superhero Mouse in Matchbox (Little Brother)
by Maileg
This purchase helps provide 1 meal to
Indigenous Canadian children in need. Learn More
Description
Unleash the power of imagination with our Little Brother Superhero Mouse by Maileg. This pint-sized hero is here to save the day and take your child's playtime to new heights. Dressed in an off-white and yellow striped shirt and tights, he's ready for action. But what truly sets him apart is his shimmery gold faux suede cape, making every flight through the air look positively heroic. His bright blue mask adds the perfect touch of mystery while he's on duty. And after a thrilling day of adventures, he can peacefully rest with his dark yellow sleeping mask.

Packaged in a brilliant and colourful matchbox, this Little Brother Superhero is not just a toy; he's an invitation to a world of limitless creativity!
Why we love the Maileg Superhero Mouse:
Inspires Heroic Adventures: Encourage imaginative play and storytelling.
Craftsmanship Excellence: Handcrafted with care, this superhero mouse is a testament to Maileg's quality.
Day and Night Fun: From action-packed days to peaceful nights, this mouse is ready for any escapade.
Perfect Gift: Arrives in a vibrant matchbox, making it a delightful present for little heroes.
Expands the Maileg Universe: Seamlessly integrates with other Maileg toys and accessories for endless adventures.
Embrace the magic of playtime with Maileg's Little Brother Superhero Mouse, where every moment is a chance for young imaginations to soar.
Features

• Size: Little Sister/Little Brother Mouse
• Height: 4.33 in.

Materials

• Material: Cotton & Polyester


Age/Safety

• Suitable for ages 3 years+

Care/Cleaning

• Machine wash gentle cycle 30 C

About the Brand

Maileg, (pronounced My-Lye) is a beloved Danish brand celebrated for crafting enchanting handcrafted toys that ignite the magic of playtime. From charming mice in cozy matchbox homes to fluffy bunnies dressed for endless adventures, Maileg toys bring imagination and creativity to life in every child.

Maileg's heritage is steeped in generations of Danish craftsmanship. With a nod to old fashioned Scandinavian and French looks, these toys are timeless. The beauty is in the details – from hand-knit dresses to hand-stitched eyes, Maileg's toys are lovingly crafted, embracing the values of quality and tradition.

Beyond its delightful charm, Maileg's creations are collector's items meant to be cherished for generations. Each piece is crafted with care and only available for a limited time, ensuring that it becomes a treasured keepsake passed down through the years.

Explore Maileg, where the ordinary becomes extraordinary!

Shipping & Delivery

• FREE shipping over $150
• $12 flat rate shipping across Canada on orders under $150
• $15 flat rate shipping on US orders under $150
• For more information, check out our full Shipping Policy