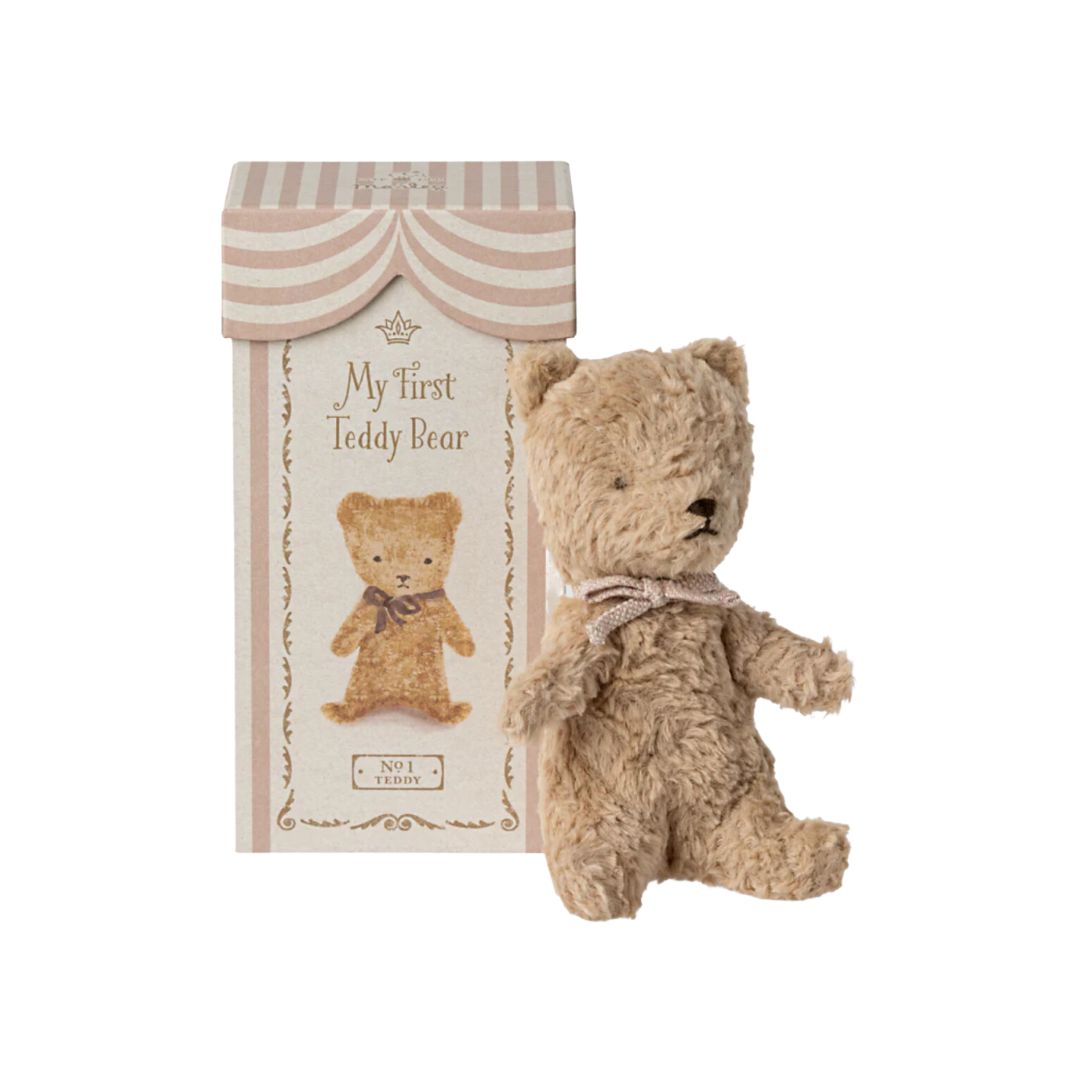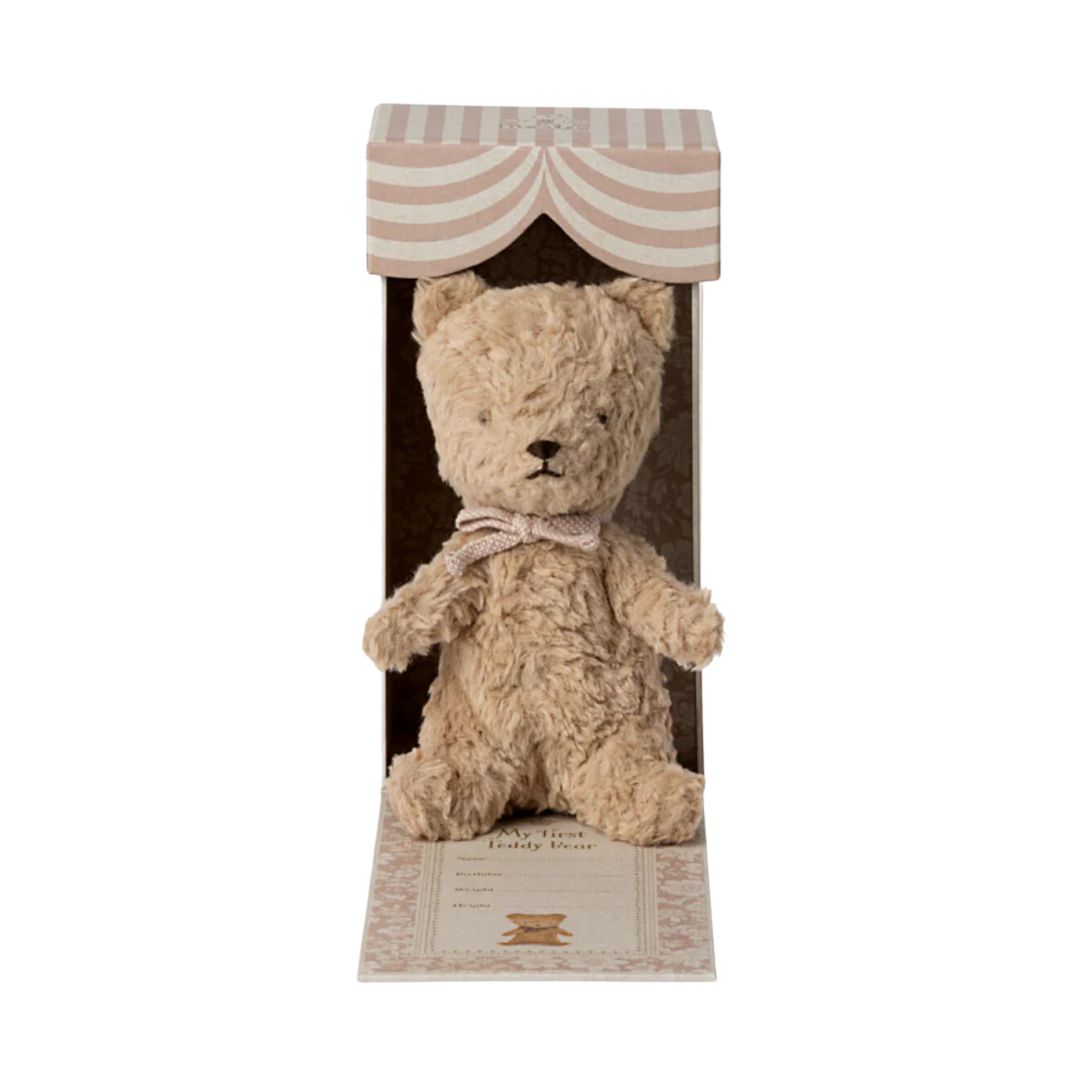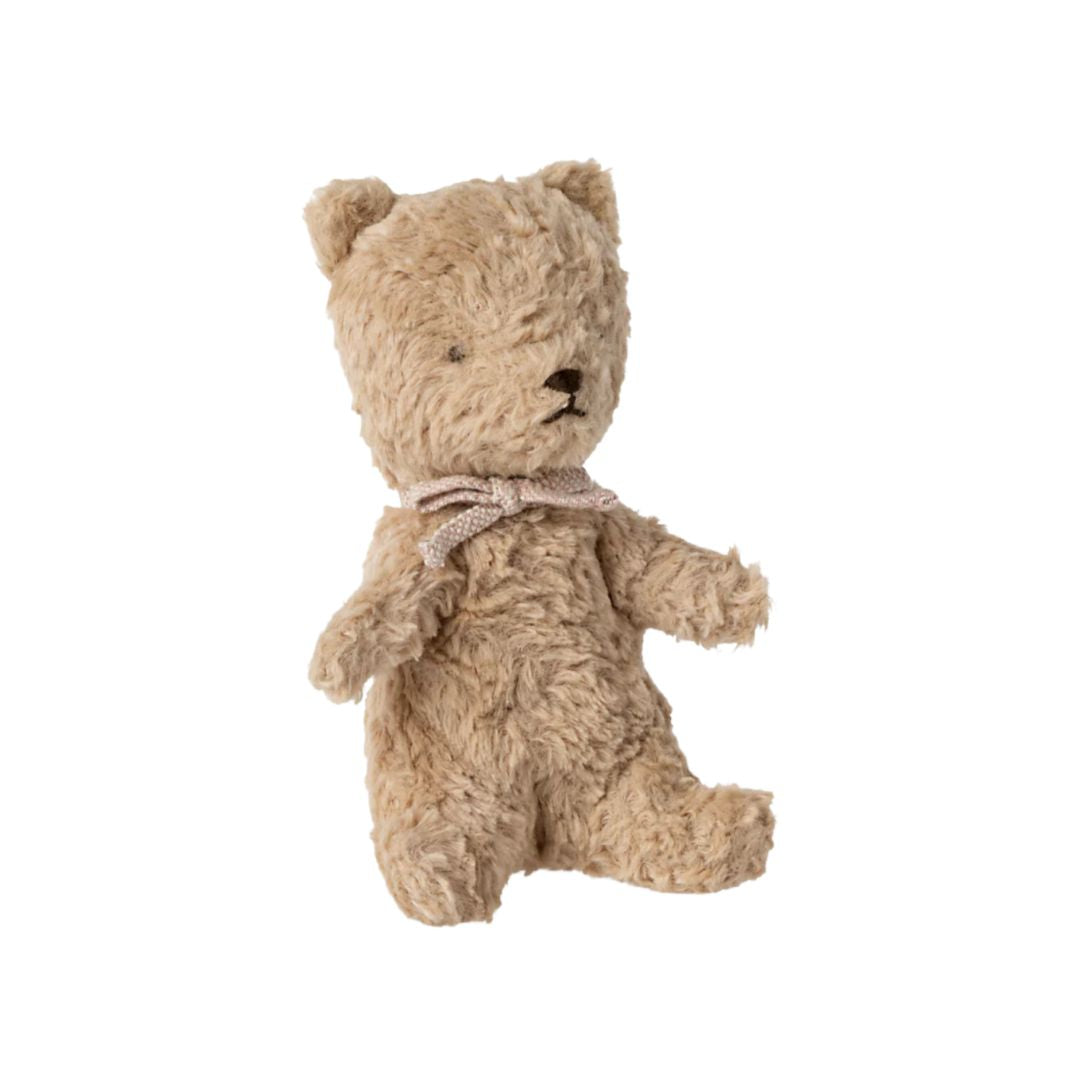 Maileg My First Teddy (Powder)
by Maileg
This purchase helps provide 1 meal to
Indigenous Canadian children in need. Learn More
Description
Introducing "My First Teddy" in Powder by Maileg, a heartwarming gift that celebrates the arrival of a precious newborn. This beautiful soft teddy bear comes nestled in a keepsake box, making it a cherished memento for years to come. What sets this teddy apart is its exclusive fabric, giving it a sweet and timeless vintage appearance. With its classic design and utmost softness, it's destined to be the first cuddly friend for your little one.

As an extra special touch, the inside of the box provides space to record the baby's name, birth date, height, and weight, creating a personalized keepsake to treasure. "My First Teddy" is not just a toy; it's a beautiful memory in the making. 
Why we love the Maileg My First Teddy (Powder):
Heartwarming Gift: A heartwarming gift for newborns and new parents.
Exclusive Fabric: Crafted with exclusive fabric and a vintage-inspired design.
Personalized Keepsake: Personalize the keepsake box with the baby's name, birth date, height, and weight.
Soft and Cuddly: Incredibly soft and cuddly, perfect for little hands.
Maileg Craftsmanship: Crafted by Maileg, renowned for hand-designed, whimsical toys.
Celebrate the magic of new beginnings with "My First Teddy" by Maileg, a treasure that grows alongside your little one.
Features

• Height: 7.48 in.
• Width: 3.93 in.
• Comes in a beautiful keepsake box - you can write the name, date, height and weight of the baby on the inside of the box.



Materials

Age/Safety

About the Brand

Maileg, (pronounced My-Lye) is a beloved Danish brand celebrated for crafting enchanting handcrafted toys that ignite the magic of playtime. From charming mice in cozy matchbox homes to fluffy bunnies dressed for endless adventures, Maileg toys bring imagination and creativity to life in every child.

Maileg's heritage is steeped in generations of Danish craftsmanship. With a nod to old fashioned Scandinavian and French looks, these toys are timeless. The beauty is in the details – from hand-knit dresses to hand-stitched eyes, Maileg's toys are lovingly crafted, embracing the values of quality and tradition.

Beyond its delightful charm, Maileg's creations are collector's items meant to be cherished for generations. Each piece is crafted with care and only available for a limited time, ensuring that it becomes a treasured keepsake passed down through the years.

Explore Maileg, where the ordinary becomes extraordinary!

Shipping & Delivery

• FREE shipping over $150
• $12 flat rate shipping across Canada on orders under $150
• $15 flat rate shipping on US orders under $150
• For more information, check out our full Shipping Policy