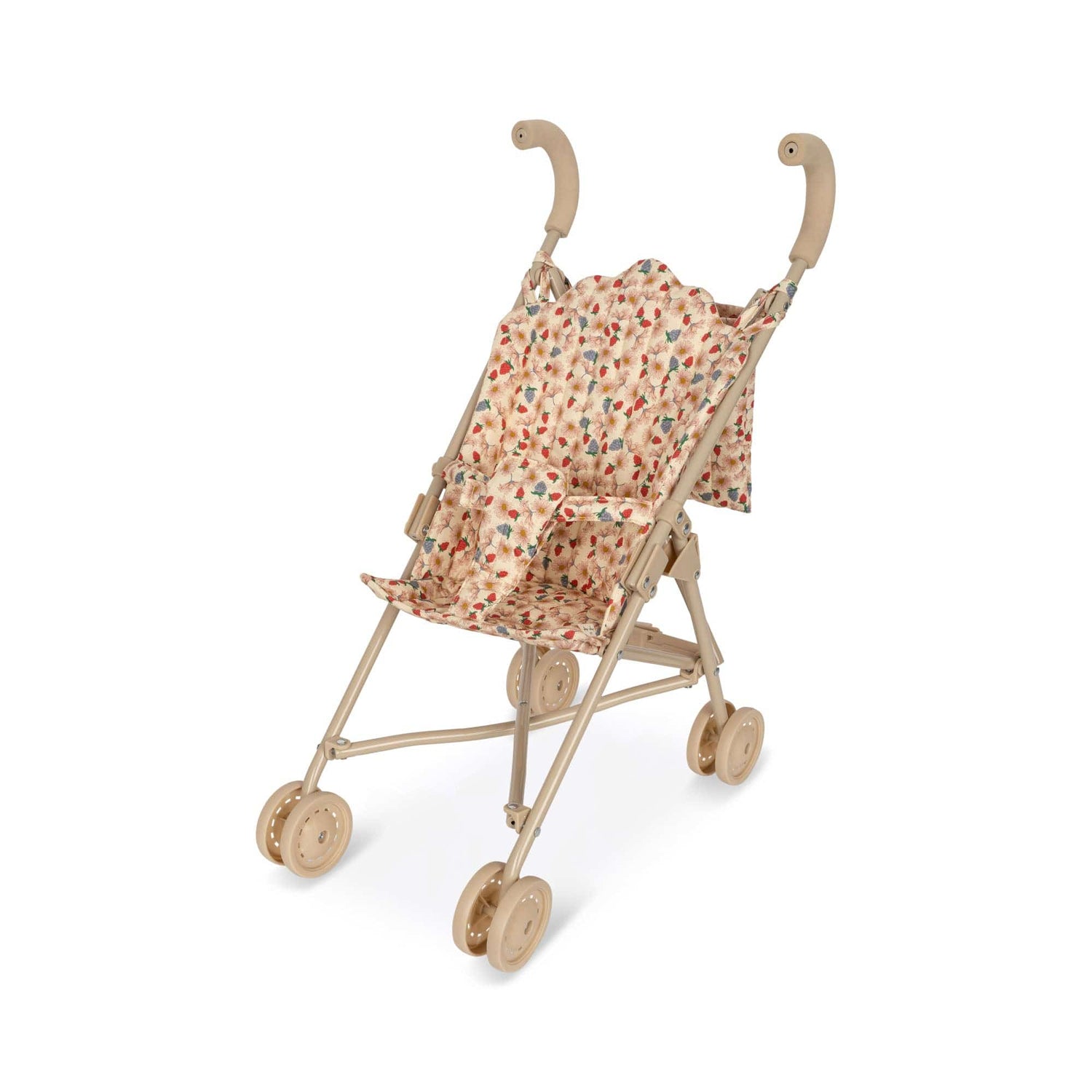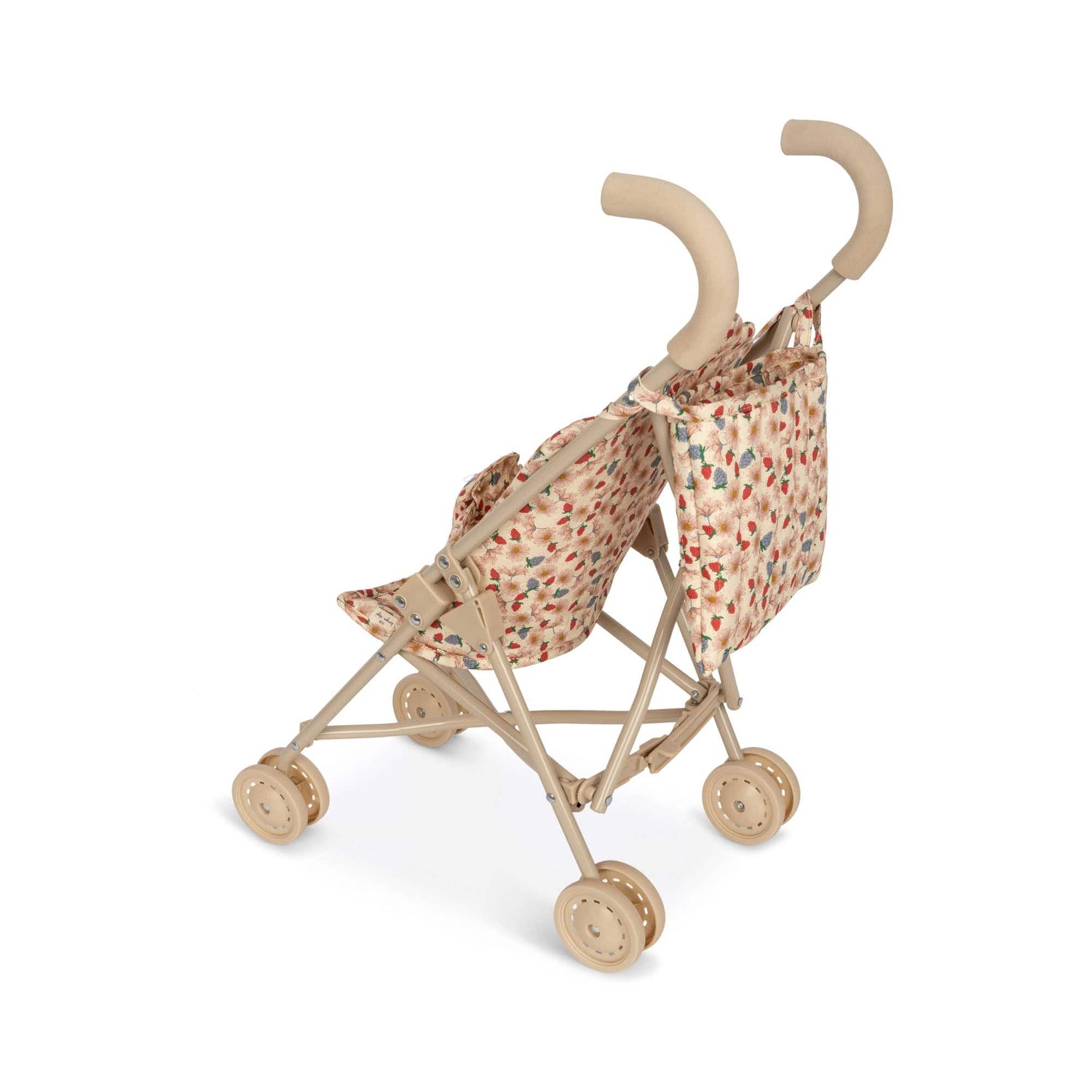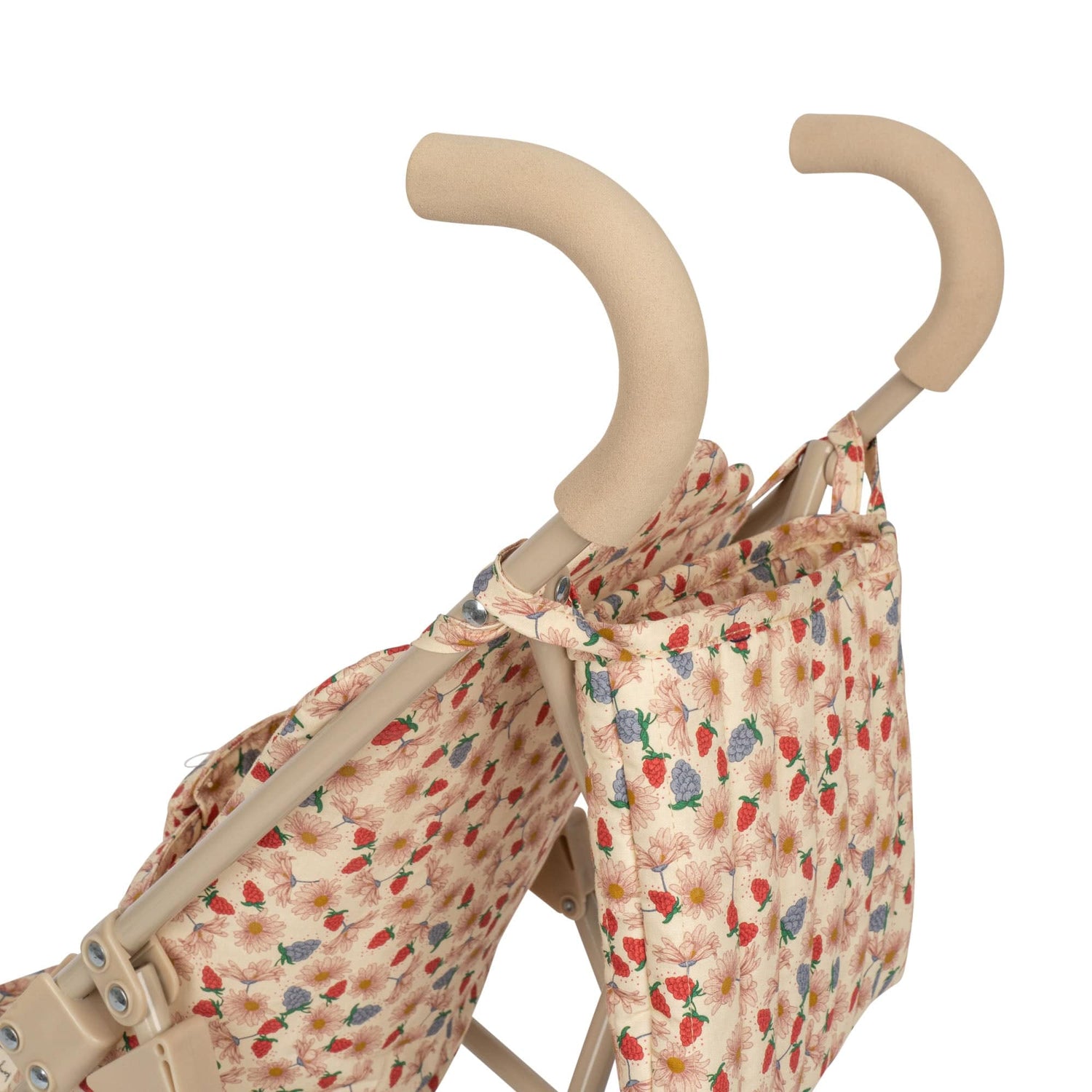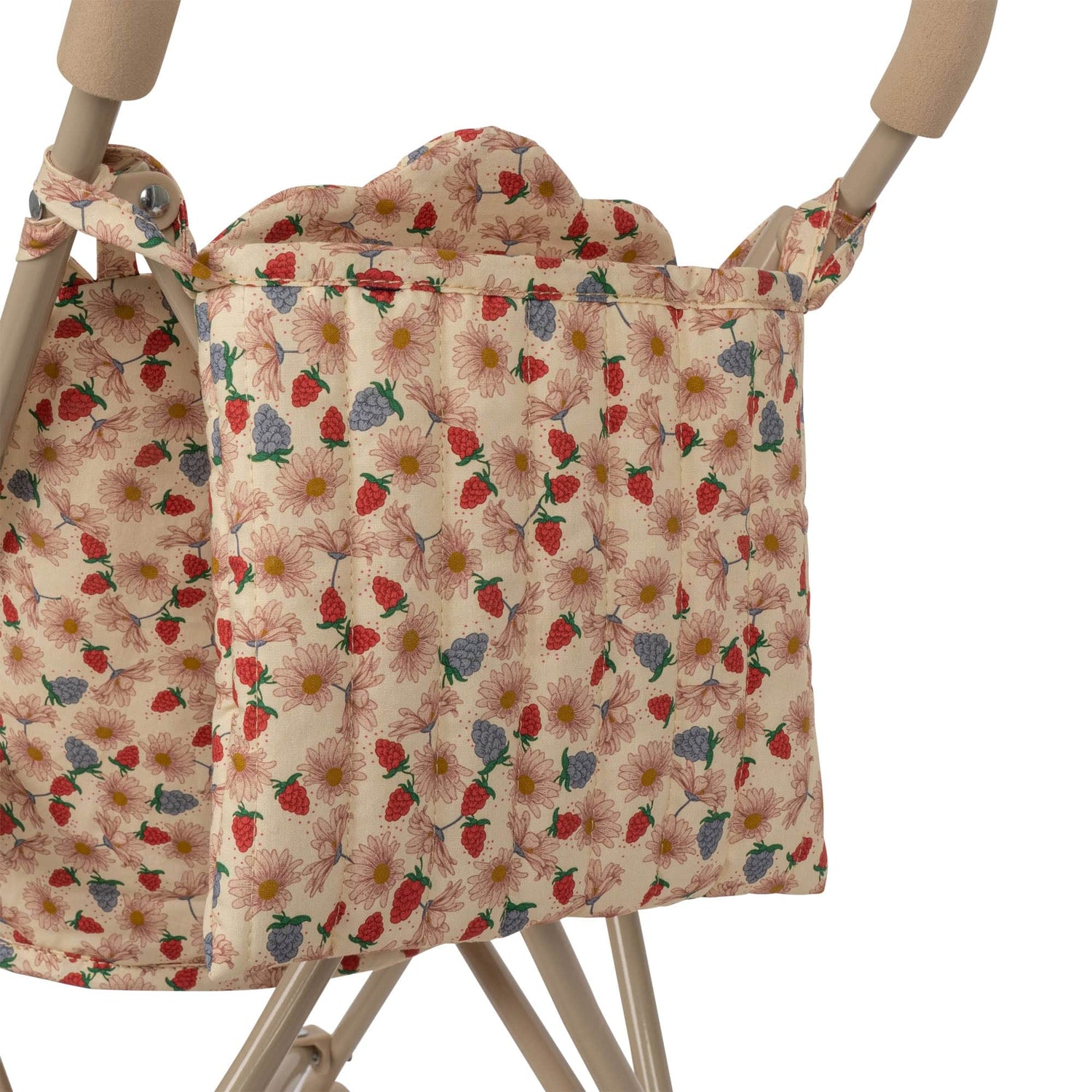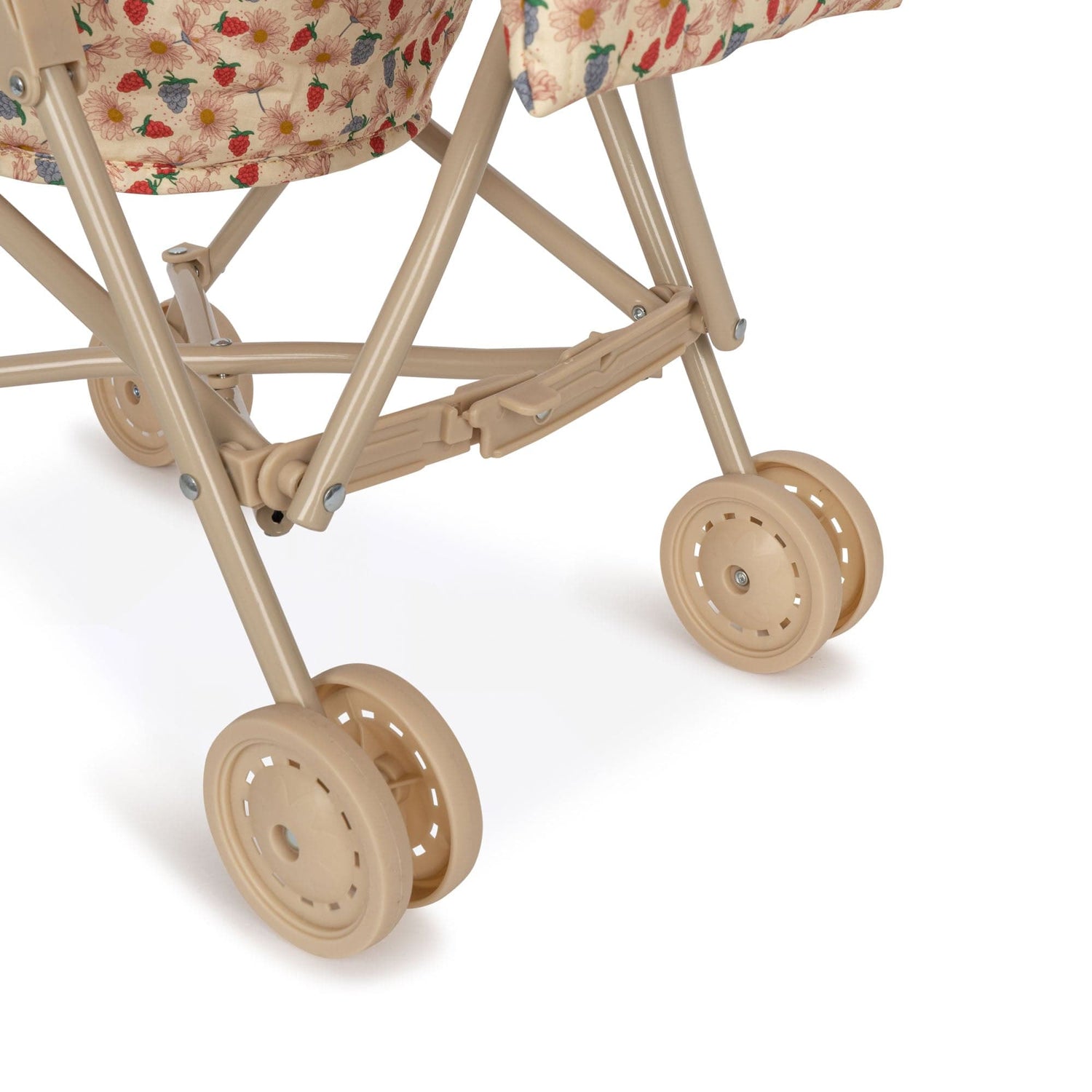 Doll Stroller (Marguerite Berry) by Konges Sløjd
by Konges Slojd
This purchase helps provide 2 meals to
Indigenous Canadian children in need. Learn More
Description
Say hello to the enchanting world of imaginative play with our Doll Stroller, a masterpiece brought to life by the esteemed Danish children's brand, Konges Sløjd. 
Watch as your little one takes on the role of a caring parent, pushing their cherished dolls and stuffed animals in style. The unique double wheels ensure a smooth and graceful ride, adding an extra touch of realism to their playtime adventures. A thoughtful storage pocket on the back provides the perfect place for your child to tuck away their treasures or necessities, fostering a sense of responsibility and organization. As they engage in this charming play, their creativity and nurturing instincts will flourish, laying the foundation for essential life skills.
Why we love the Konges Sløjd Doll Stroller:

Encourages imaginative and nurturing play as children role-play as caregivers.
Crafted with organic cotton fabric for a safe and sustainable playtime experience.
Unique double wheels ensure a smooth and realistic strolling experience.
Storage pocket promotes organization and responsibility.
Adorned with a captivating Marguerite Berry motif for added charm.
Enhances fine motor skills, coordination, and cognitive development.
Elevate their playtime, nurture their creativity, and provide them with a cherished companion that embodies both luxury and sustainability. 
Features

• Features removable fabric made in 100% organic cotton.
• Comes fully assembled. Easy to fold and store.
• Printed with Marguerite Berry Motif
• Dimensions: 56cm (H) x 27cm (W) x 46cm (D)

Materials

• Made from 100% organic cotton
• The frame is made of iron with soft and spongy EVA material on the handles.

Age/Safety

• Recommended for ages 2 and up
• CE-tested after European standard EN-71-1

Care/Cleaning

• Spot clean with mild soap & water

About the Brand

Konges Sløjdis a world-renowned children's lifestyle brand nestled in the vibrant city of Copenhagen, Denmark. Known for their exceptional craftsmanship, Konges Sløjd offers a delightful array of high-quality, functional, and eco-friendly Scandinavian products for children.

With an unwavering commitment to excellence, Konges Sløjd captivates hearts with their meticulously designed toys, adorned with intricate details that spark imagination and bring joy to little ones. Each item is crafted with precision and care, ensuring not only endless hours of play but also an enduring quality that withstands the test of time.

Embracing a sustainable ethos, Konges Sløjd goes above and beyond to make eco-conscious choices in their materials and manufacturing processes. By prioritizing the well-being of children and the planet, they create products that are both kind and gentle, leaving a positive impact on the environment.

Parents and children alike fall in love with the magical world of Konges Sløjd, where cherished memories are made and treasured keepsakes are found. Explore their enchanting collection and experience firsthand why Konges Sløjd has earned its esteemed reputation as a leading brand in the realm of children's lifestyle products.

Shipping & Delivery

• FREE shipping over $125
• $12 flat rate shipping across Canada on orders under $125
• $15 flat rate shipping on US orders under $125
• For more information, check out our full Shipping Policy
Doll stroller
My two-and-a-half-year-old daughter is amazed by her new doll stroller! She had been wanting one for a long time and this has been the best possible decision, the fabric is cotton and the quality of the stroller is unbeatable, as is the design, which couldn't be more beautiful! She would also add that, as always, Anne put all her love into the packaging and opening it was a wonderful experience for my very excited little girl. The package arrived to us immediately, taking into account that it came from the other side of the country! You will always find the best and most special toys in her store!