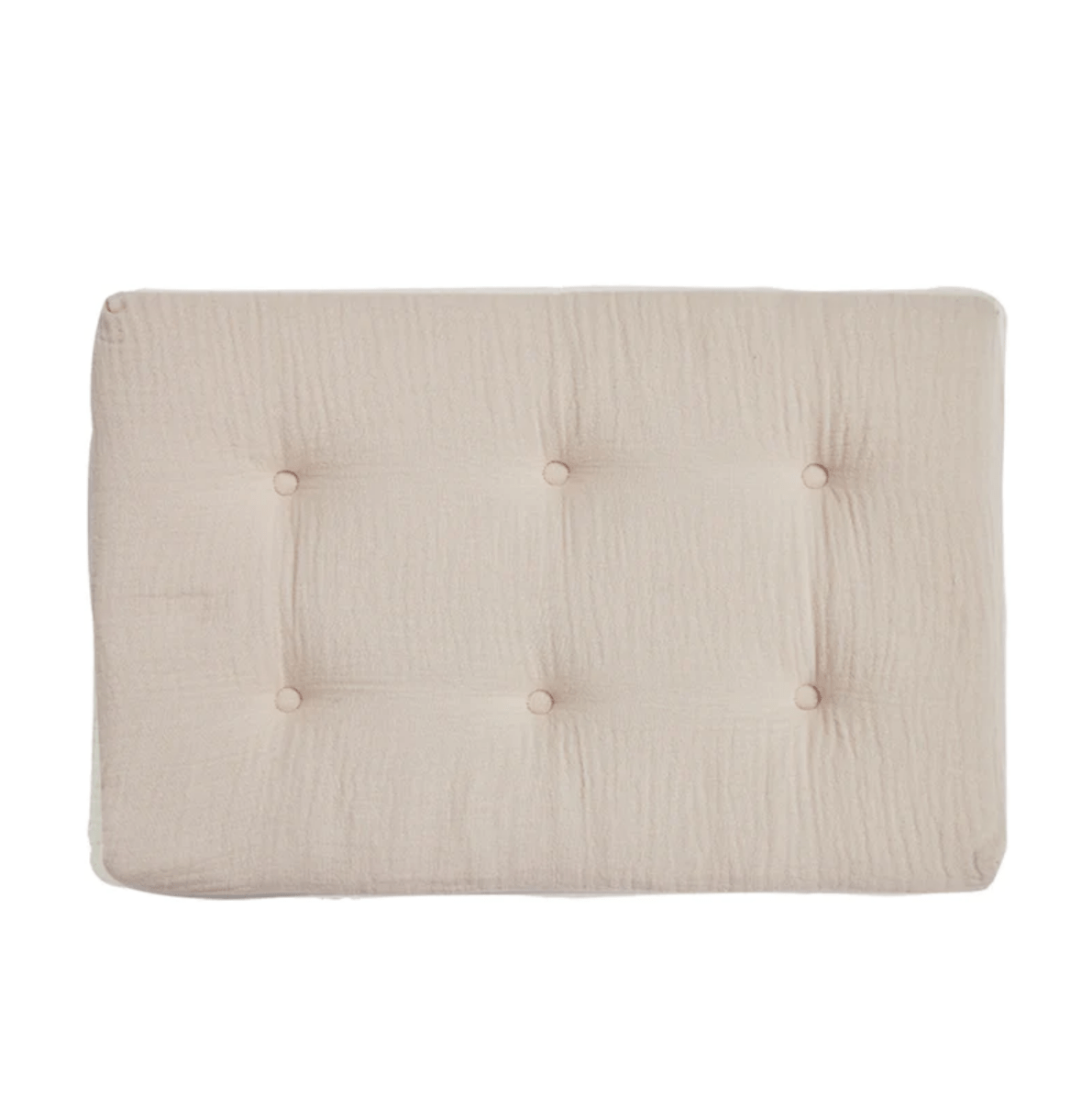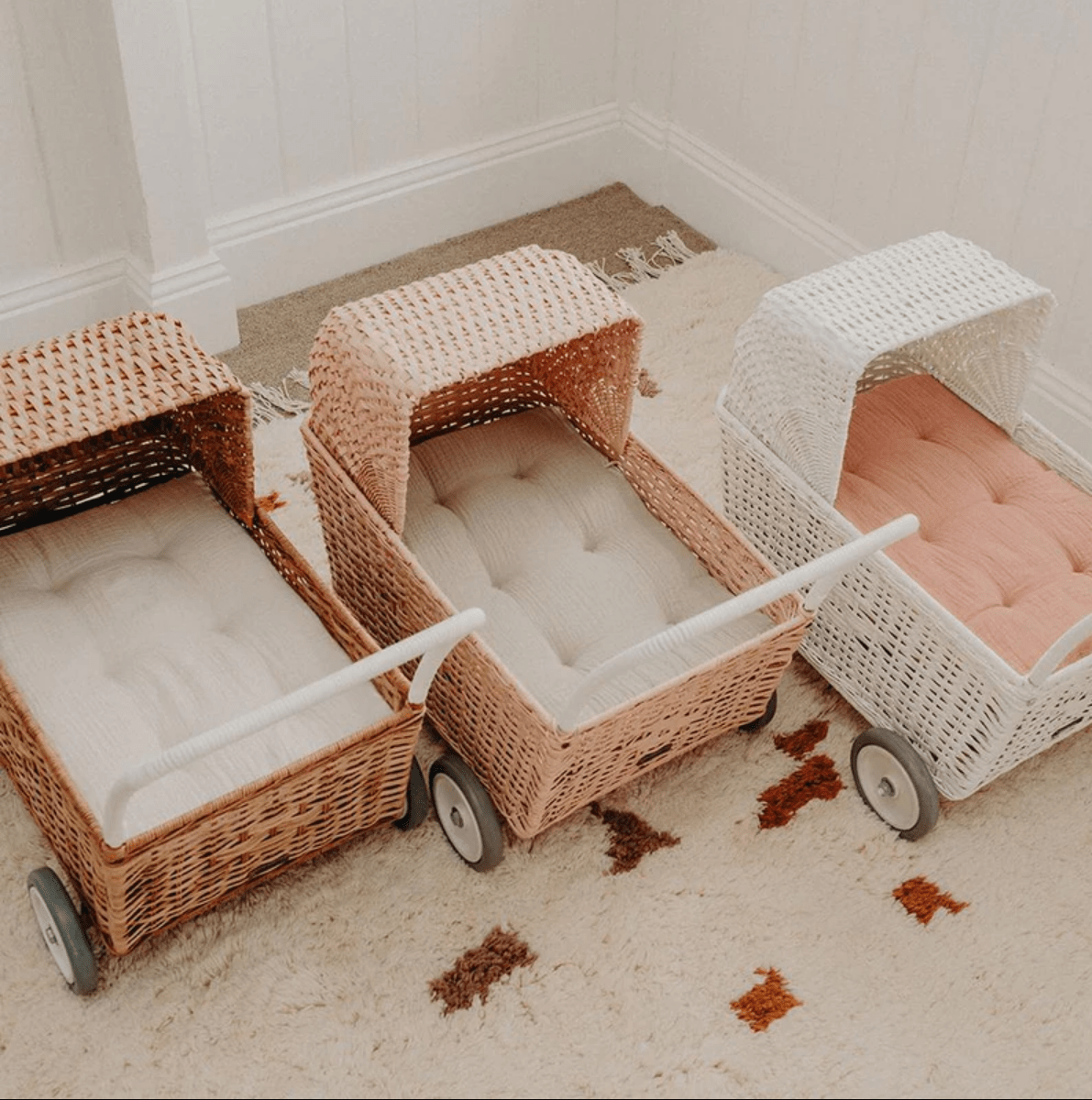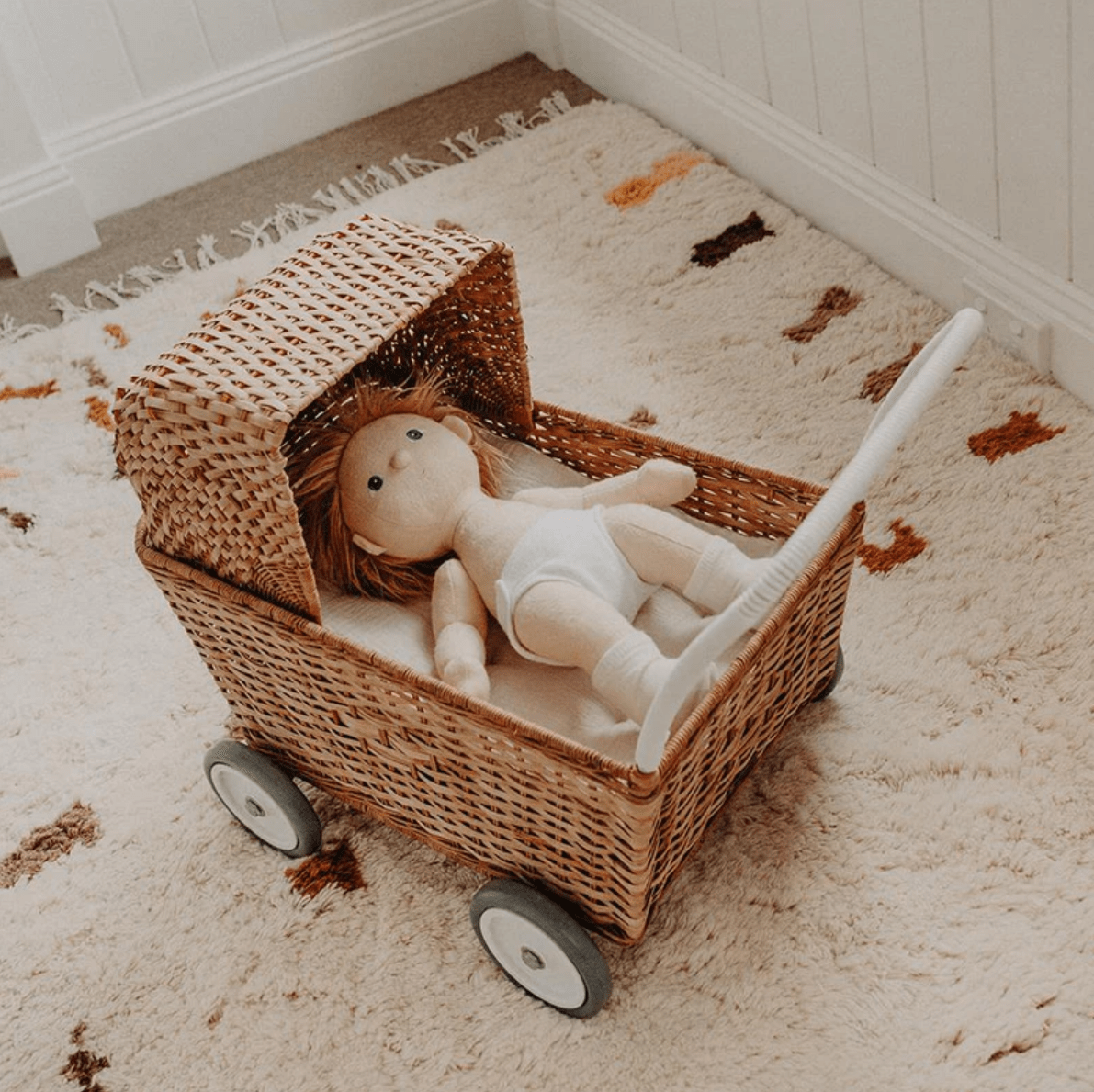 Cotton Strolley Mattress (Oat) by Olli Ella
by Olli Ella
This purchase helps provide 1 meal to
Indigenous Canadian children in need. Learn More
Description
Introducing our plush mini mattress, the perfect accessory to accompany our beloved Rattan Strolley by Olli Ella. Let your little one's imagination soar as they create a cozy and comfortable space for their favourite dolls and stuffed animals. This unique and versatile product adds a touch of whimsy and charm to playtime, making it an essential addition to every young adventurer's collection.

Crafted from buttery-soft cotton muslin, it's the most comfortable little slice of heaven to keep your little friends cozy as they cruise along.  Watch as your child's face lights up with joy, knowing that their dolls and plush companions can now enjoy a soft and snuggly ride. Whether it's a pretend picnic in the park or a magical journey through the living room, this mini-mattress provides the perfect setting for their playtime adventures.

What we love about this product:
Enhances imaginative play by creating a cozy space for dolls and stuffed animals
Designed to fit perfectly with the Olli Ella Strolley
Made from high-quality cotton muslin
Adds a touch of style and charm to any playroom or nursery
Encourages nurturing and role-playing skills
Easy to clean and maintain for long-lasting enjoyment
Give your little one's dolls the royal treatment with our plush mini mattress. Let their creativity flourish as they embark on imaginative journeys and create lasting memories.

Ethically and sustainably handmade by Olli Ella.
Features

• Custom made for Olli Ella Strolley
• Dimensions: 15.4" x W10.2" x D2"
• Weight: 0.44 lb

Materials

• Made from Organic Cotton Muslin and Polyester fill



Age/Safety

• Recommended for ages 3+

Care/Cleaning

• Spot clean
• Do not machine wash
• Do not bleach
• Do not dry clean
• Air dry flat

About the Brand

Olli Ella is a popular toy brand known for its beautifully designed and ethically made toys, furniture, and accessories for children. The brand was founded by sisters Chloe and Olivia Brookman in 2010 and has gained recognition for its commitment to sustainable and eco-friendly practices.

Olli Ella toys are characterized by their timeless and whimsical aesthetic. They offer a wide range of imaginative and creative toys that encourage open-ended play, including wooden play sets, dolls, dollhouses, and soft toys. The brand focuses on creating toys that inspire children's imagination and promote their cognitive and motor skills development.

In addition to toys, Olli Ella also produces a variety of children's furniture and decor items. Their furniture pieces are crafted with high-quality materials and feature a blend of modern and vintage design elements. From cribs and beds to bookshelves and storage baskets, Olli Ella offers stylish and functional options for creating enchanting spaces for children.

What sets Olli Ella apart is their strong commitment to sustainability. The brand strives to minimize its environmental impact by using natural, non-toxic materials and implementing eco-friendly production processes. They work closely with artisans and manufacturers who share their values and ensure fair labor practices.

Overall, Olli Ella is a beloved toy brand that combines timeless design, high-quality craftsmanship, and a commitment to sustainability. Their products are cherished by children and parents alike for their beauty, durability, and ability to spark imagination and creativity.

Shipping & Delivery

• FREE shipping over $125
• $12 flat rate shipping across Canada on orders under $125
• $15 flat rate shipping on US orders under $125
• For more information, check out our full Shipping Policy