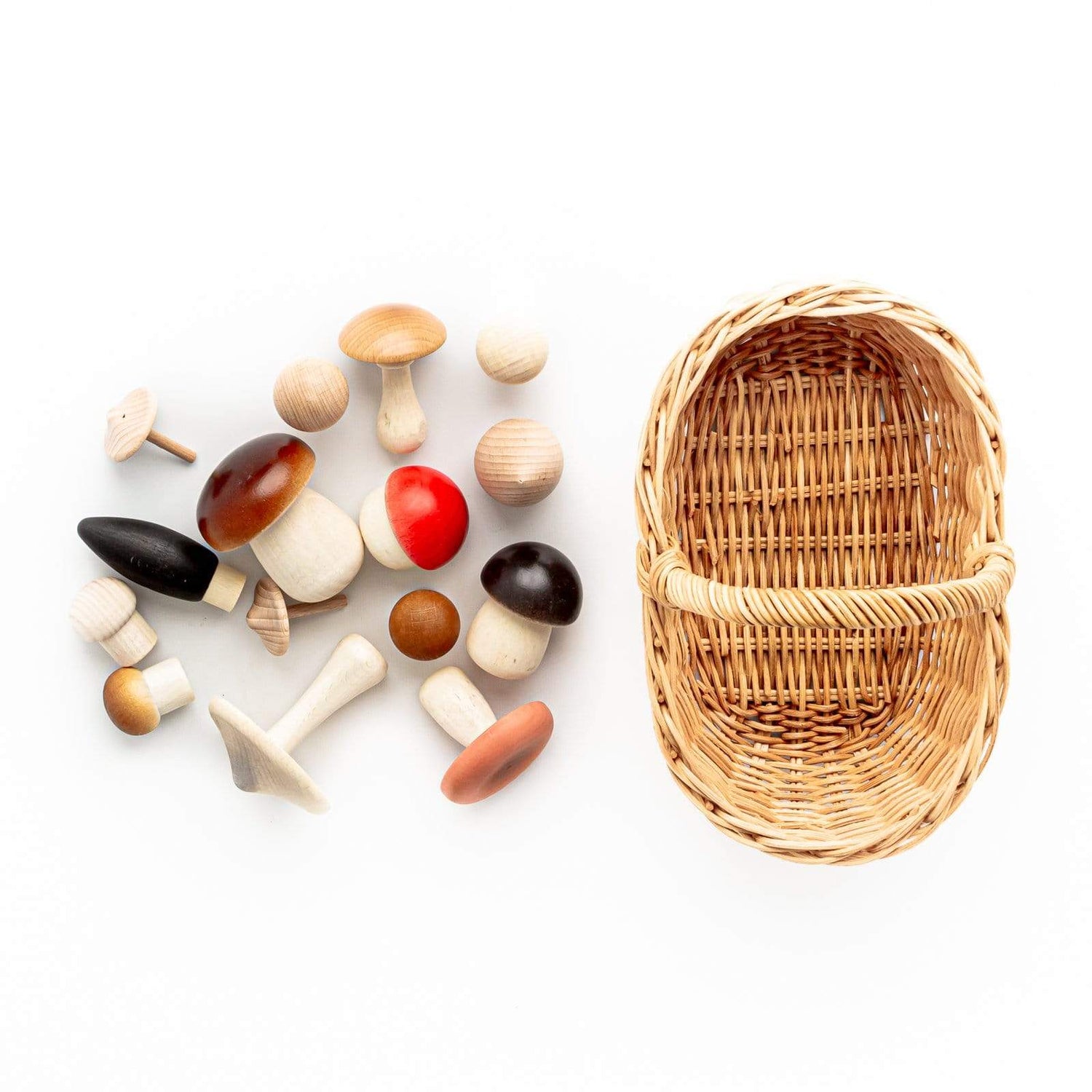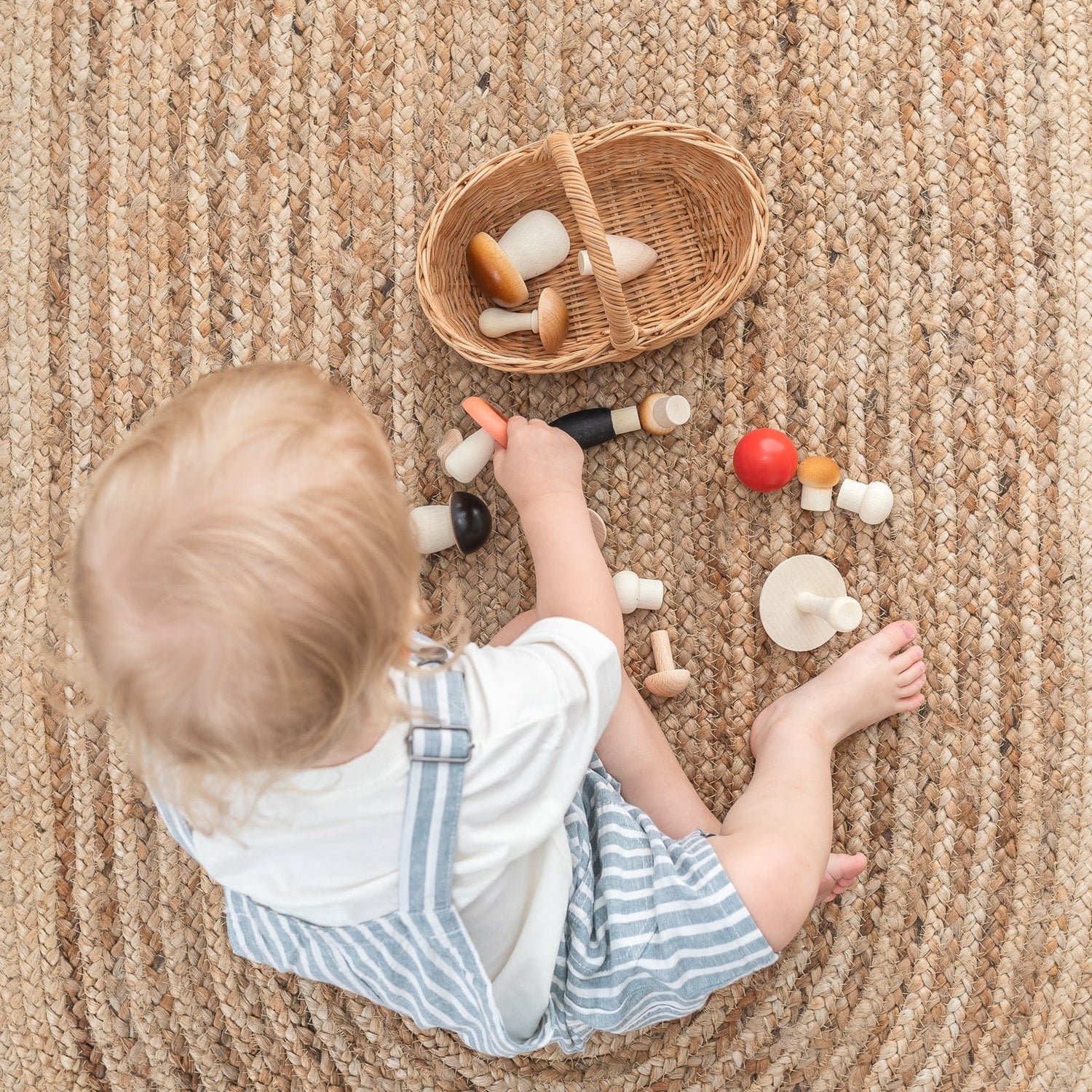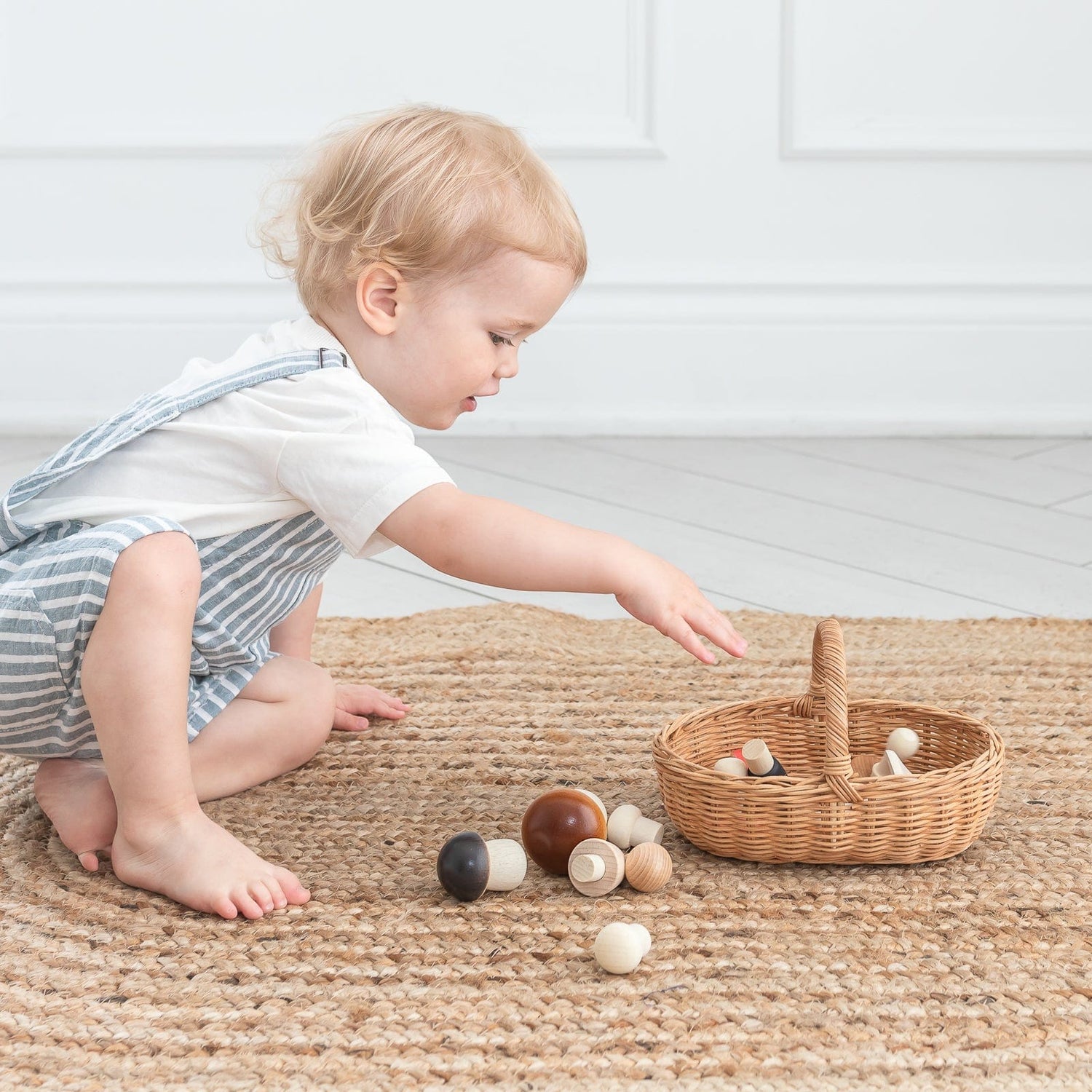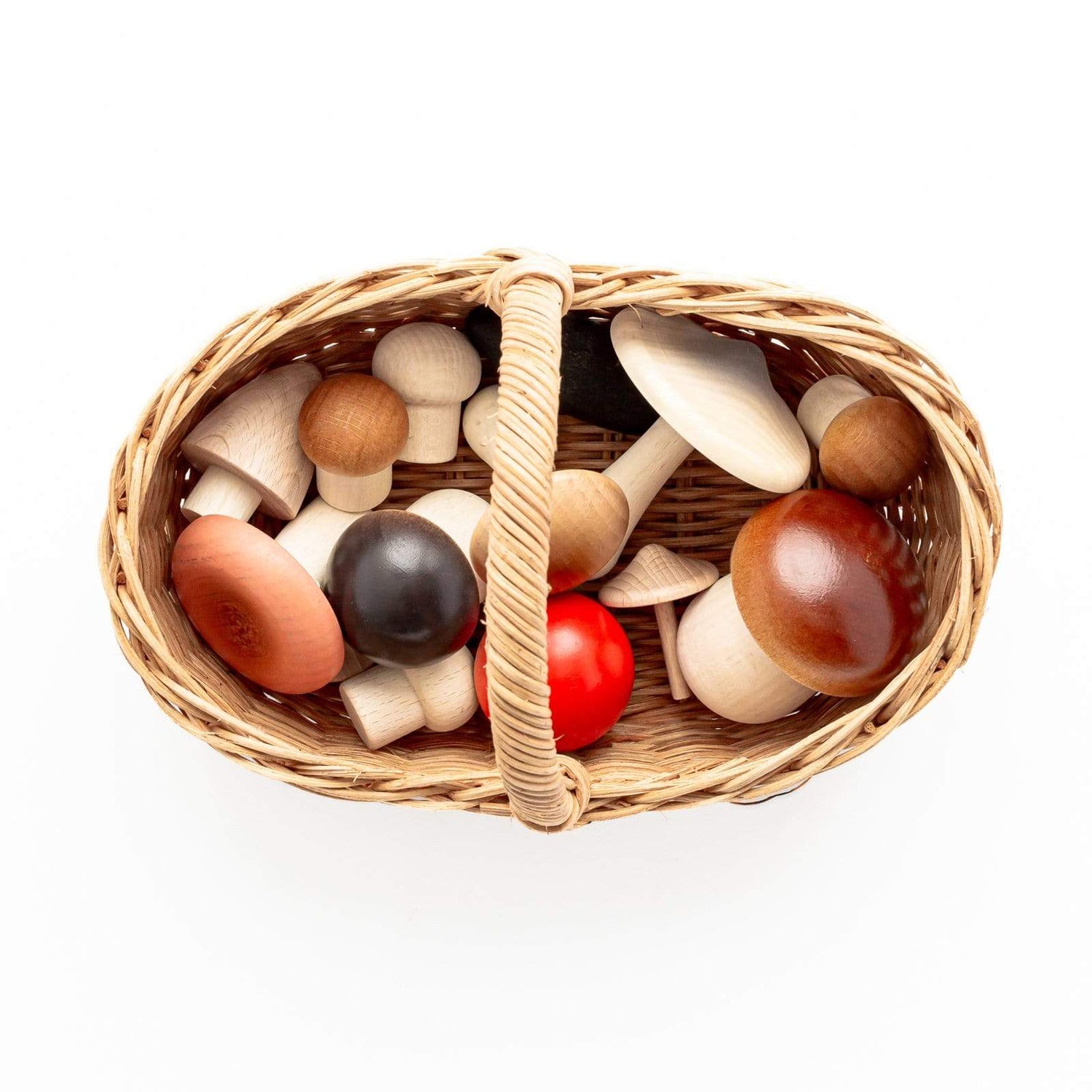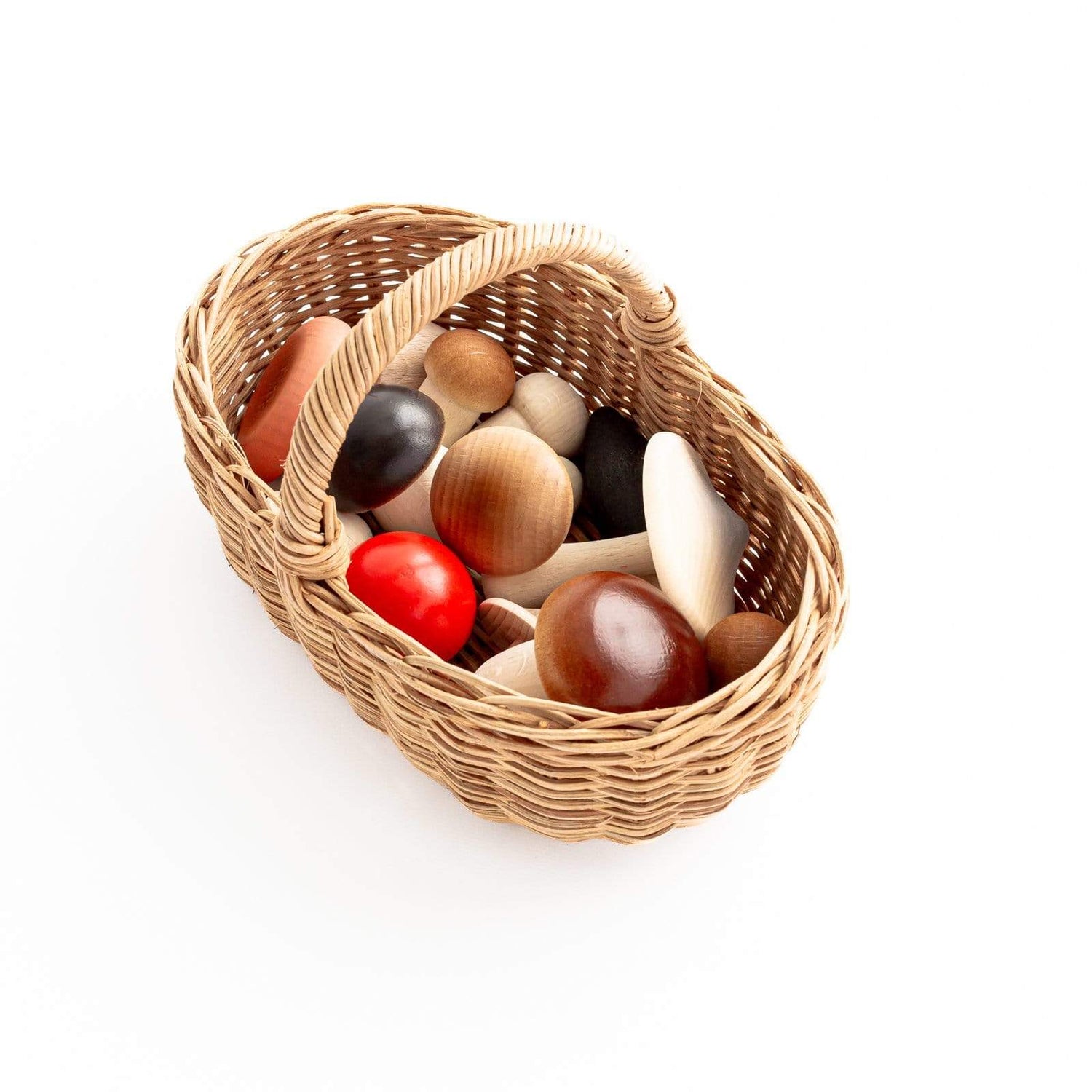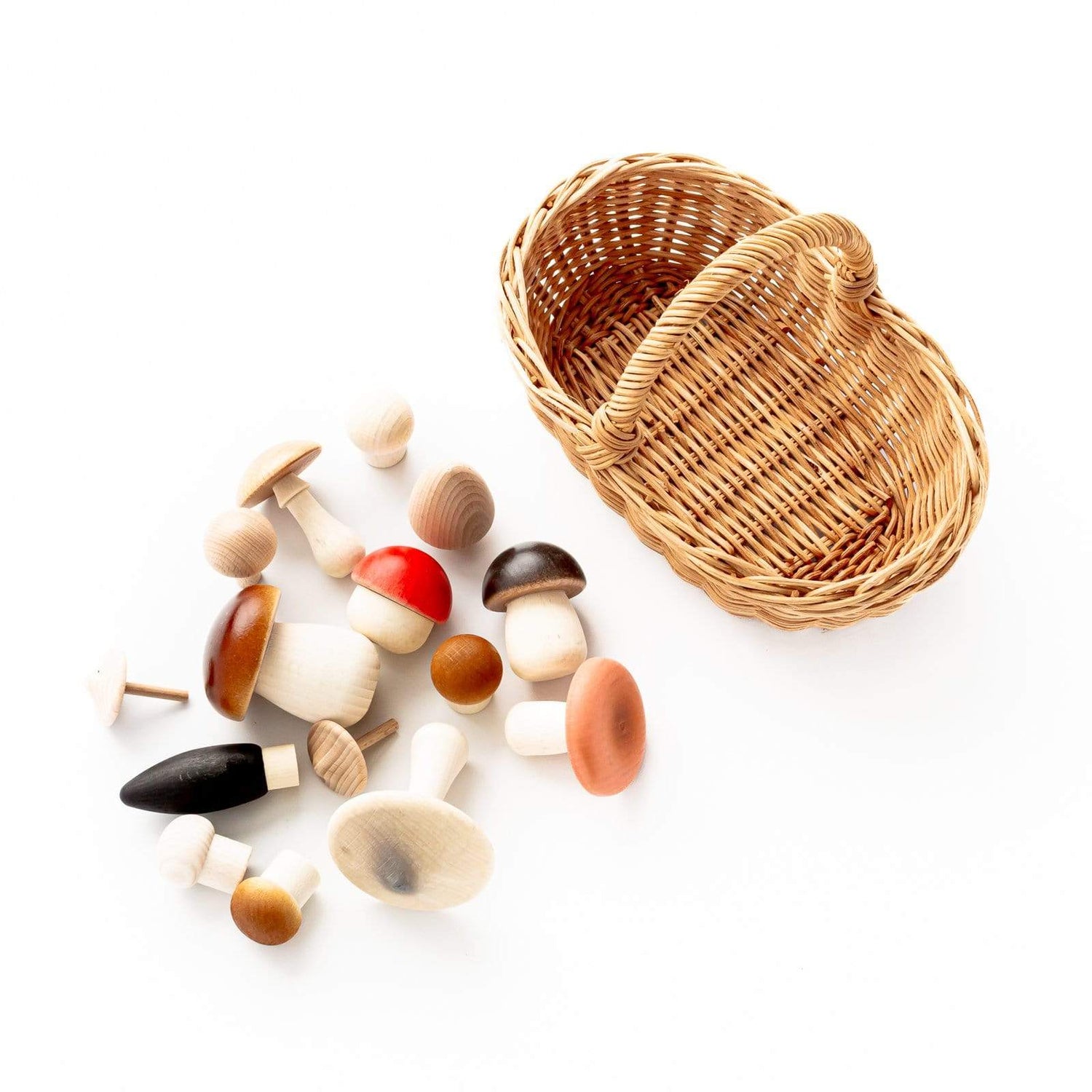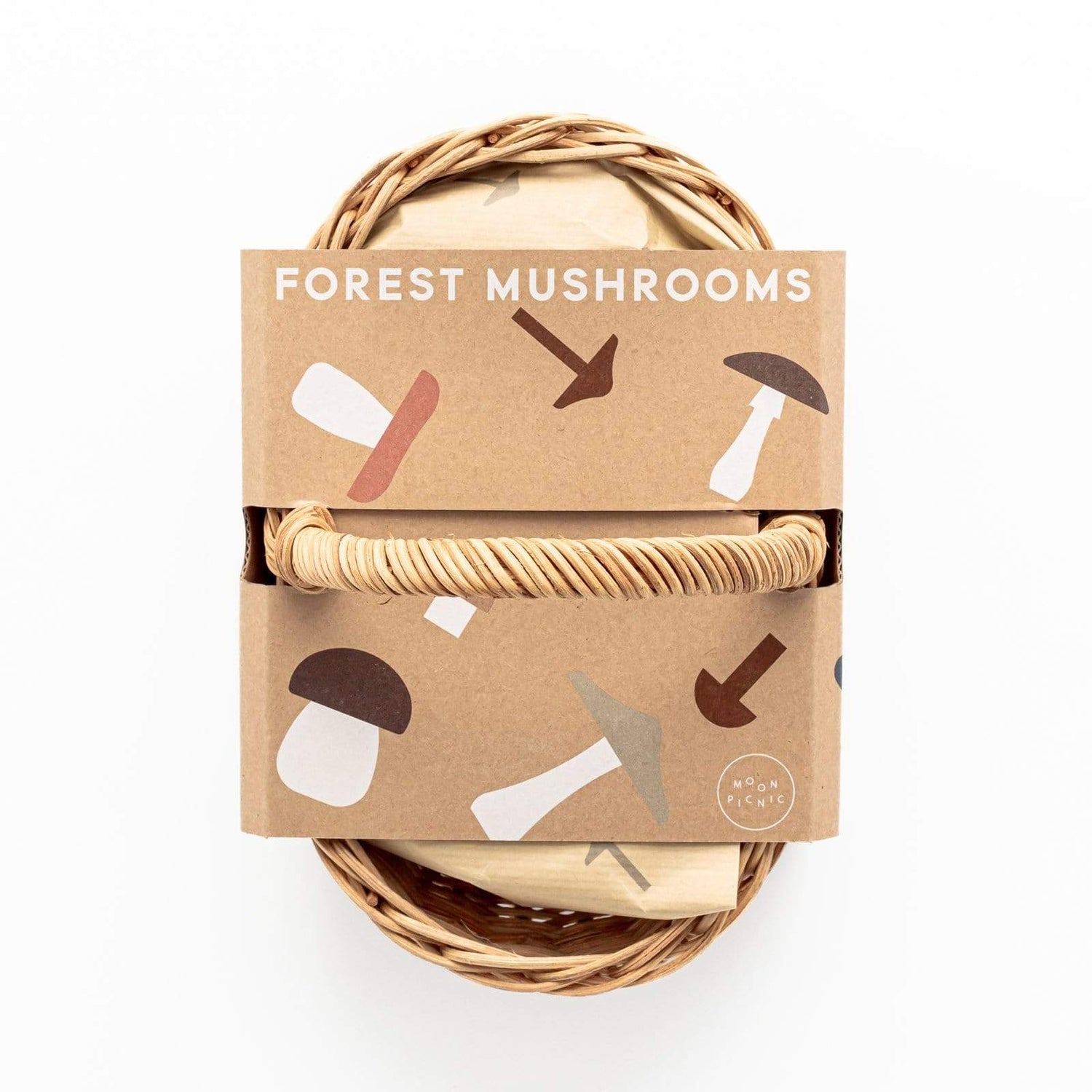 Wooden Forest Mushrooms with Basket I by Moon Picnic
by Moon Picnic
This purchase helps provide 2 meals to
Indigenous Canadian children in need. Learn More
Description
Step into a whimsical wonderland with our enchanting set of 15 Handmade Wooden Mushrooms in a delightful Rattan Basket. Created with love and care, these exquisite mushrooms are the perfect addition to your child's imaginative playtime. Crafted by skilled artisans, each mushroom is a unique masterpiece, hand-carved from sustainable wood and thoughtfully designed to inspire endless hours of open-ended play.
With their natural charm and rustic appeal, these wooden mushrooms invite children to explore the magical world of make-believe. Whether they become the homes for tiny fairies, characters in an imaginative story, or objects for sorting and counting, the possibilities are as vast as a forest itself. Nestled in a charming rattan basket, this set not only brings joy and wonder to your child's playroom but also showcases the beauty of nature's creations.
Benefits of our Handmade Wooden Mushrooms in a Rattan Basket:
Ignites creativity and storytelling
Enhances fine motor skills and hand-eye coordination
Promotes sustainable and eco-friendly play
Stimulates sensory development with natural wooden textures
Encourages cognitive skills through sorting and imaginative play
Adds a touch of natural elegance to play spaces
Welcome the spirit of adventure and imagination into your child's play!
Made in Germany by Moon Picnic in collaboration with Erzi.
Features

• Set of 15 mushrooms
• 1 Rattan Basket - 9"x5.9"x5.12" (23x15 x13cm)

Materials

• Mushrooms made from solid beech wood harvested from sustainably certified forests
• Rattan Basket
• Painted with non-toxic water-based colours

Age/Safety

• These wooden mushroom toys are recommended for children 3 years+
• Conforms to CE & CPSIA Safety

About the Brand

Moon Picnic is a small US children's brand based in California whose mission is to help create an unforgettable, nurturing, beautiful and often magical childhood in these busy modern times.

They create unique, fun designs and use sustainably sourced materials and child-safe paints on all of their toys. Come with us for a picnic on the moon, with a basket filled with childhood magic!

Shipping & Delivery

• FREE shipping over $125
• $12 flat rate shipping across Canada on orders under $125
• $15 flat rate shipping on US orders under $125
• For more information, check out our full Shipping Policy
Basket of Mushrooms
Absolutely the cutest, most unique toy ever!!! My son loves it. He's 13 months has found numerous ways to play with this, including shaking the basket so they all fall out, putting them back in the basket, trying to get them all to stand up and playing hide and seek with them. I hope to pass them down to my grandchildren one day, they're THAT cute!
The cutest !
These are so adorable I can't wait to watch the grandkids play with them !
So sweet
Beautiful little set that my toddler just adores
Beautifully crafted and full of whimsy
The mushrooms and basket are just beautiful, and I love that the set includes a list detailing the different types of mushroom. My nieces (2 & 4) are already using them in the play kitchen, and I'm looking forward to setting up a little mushroom hunt for them once it is a bit warmer outside!