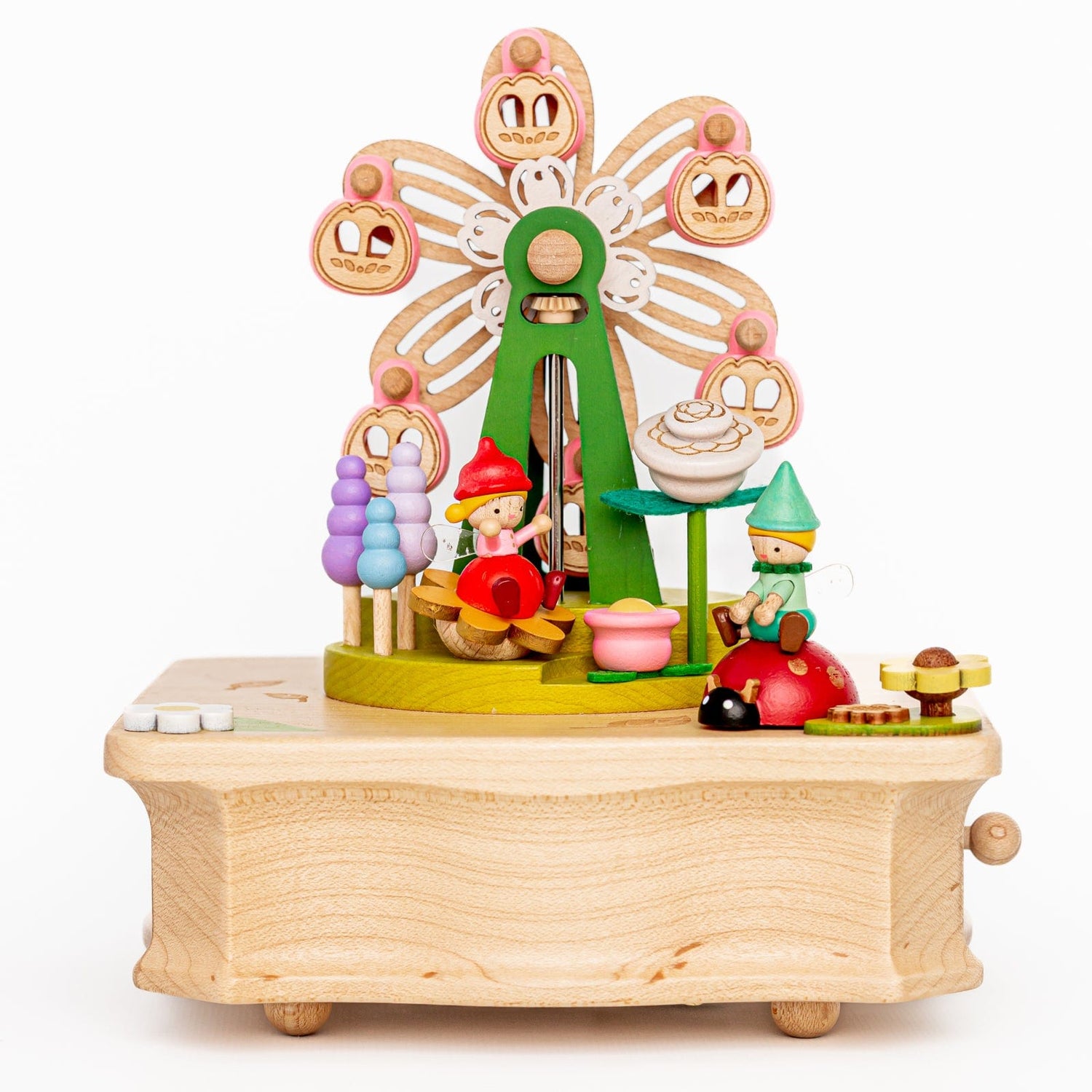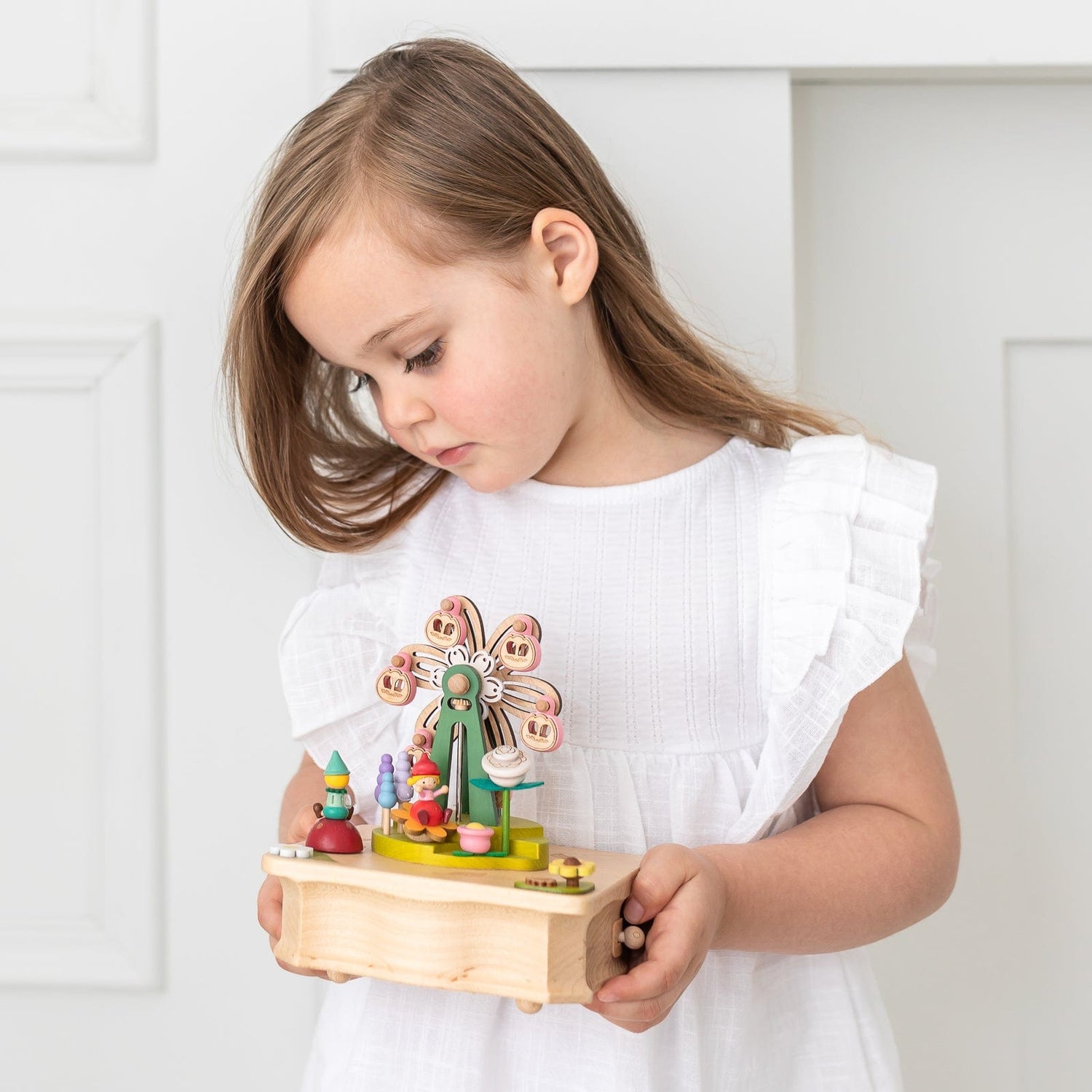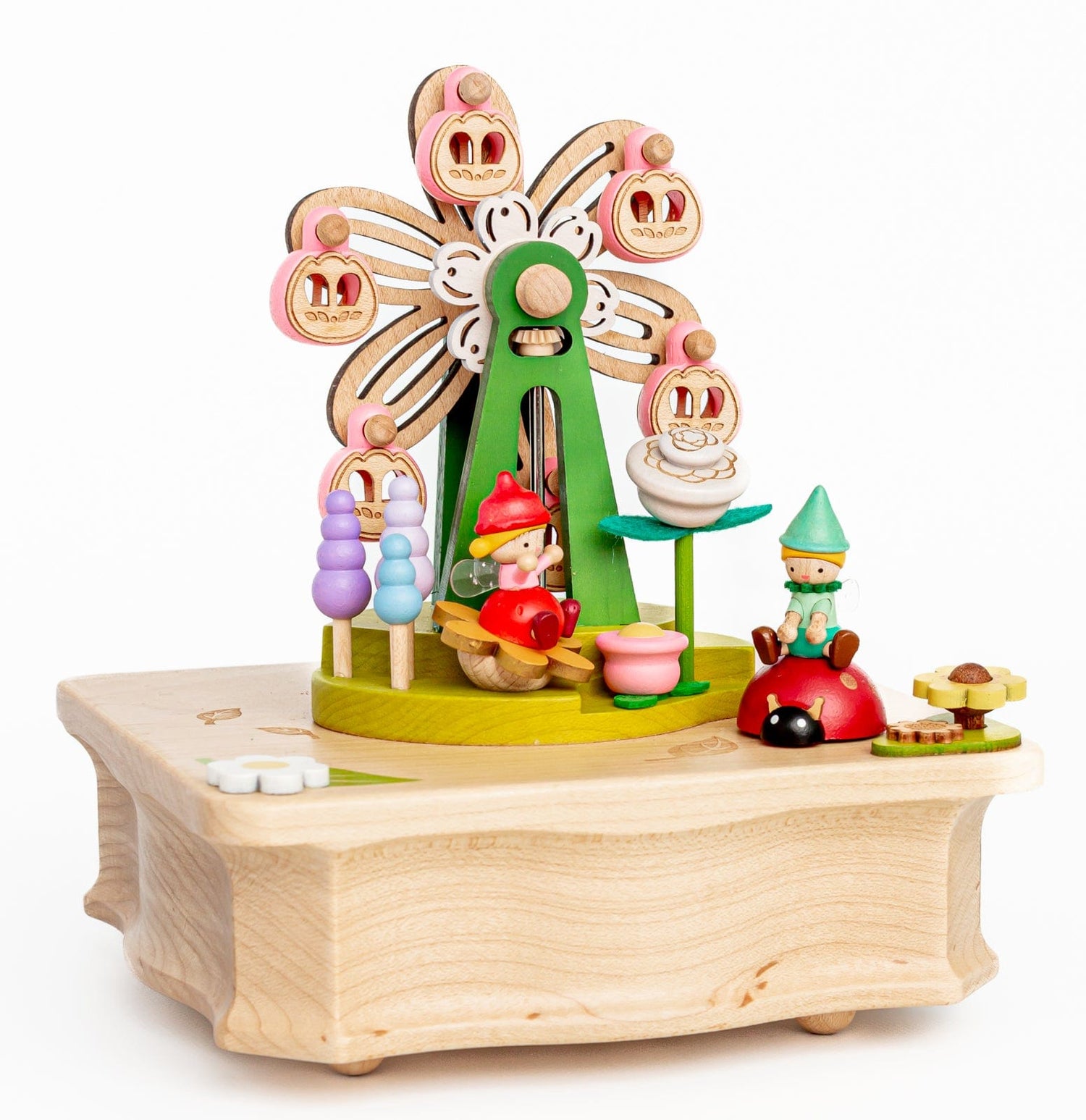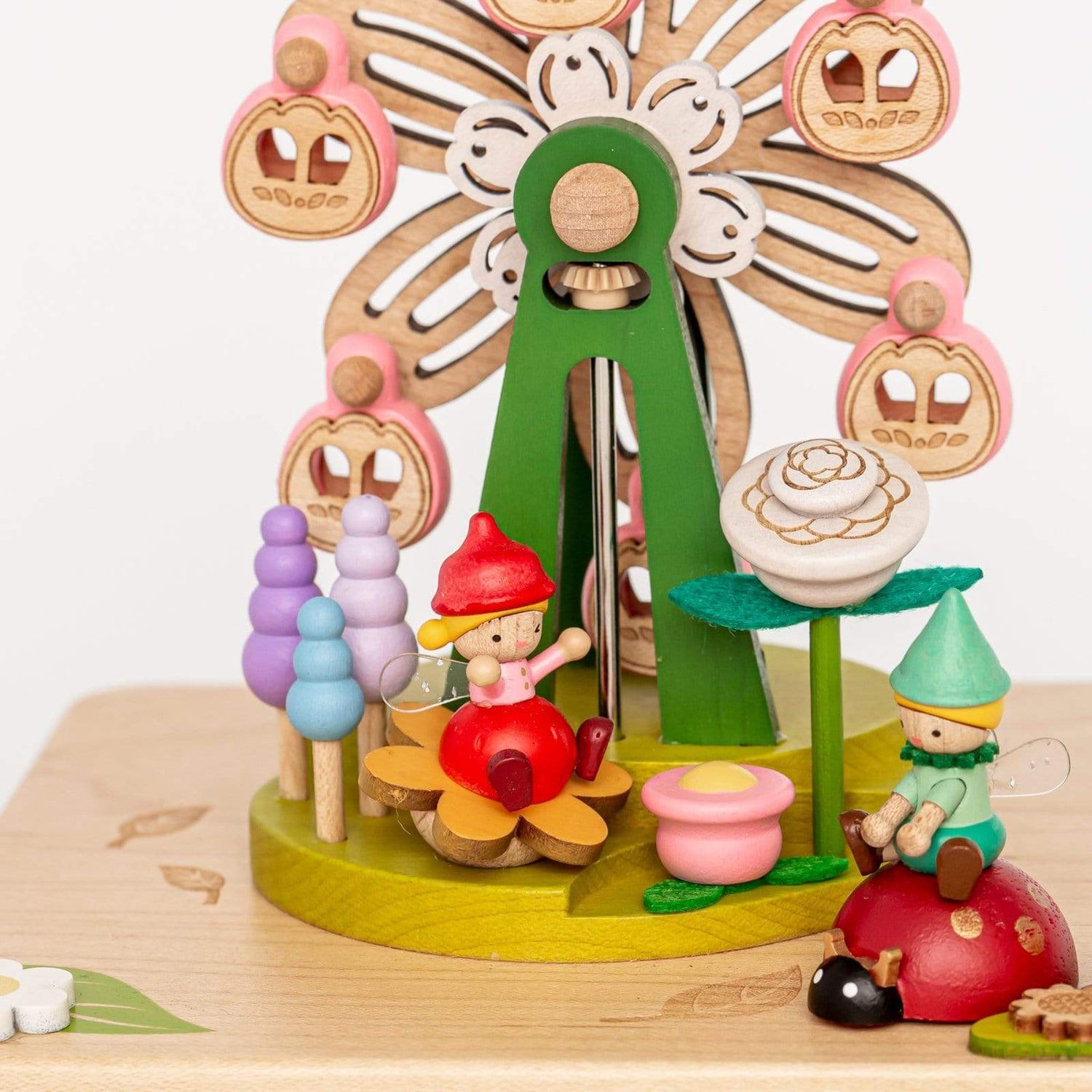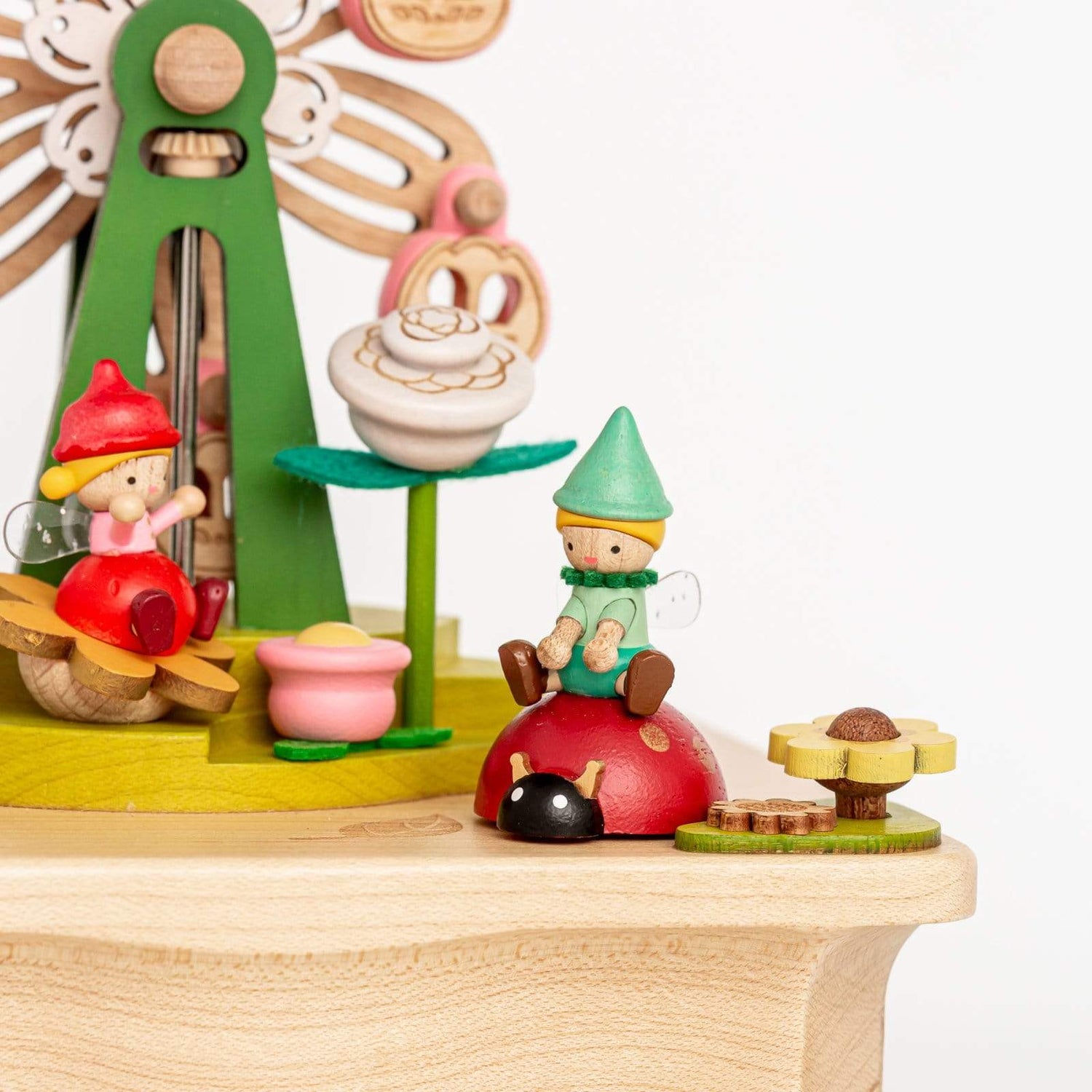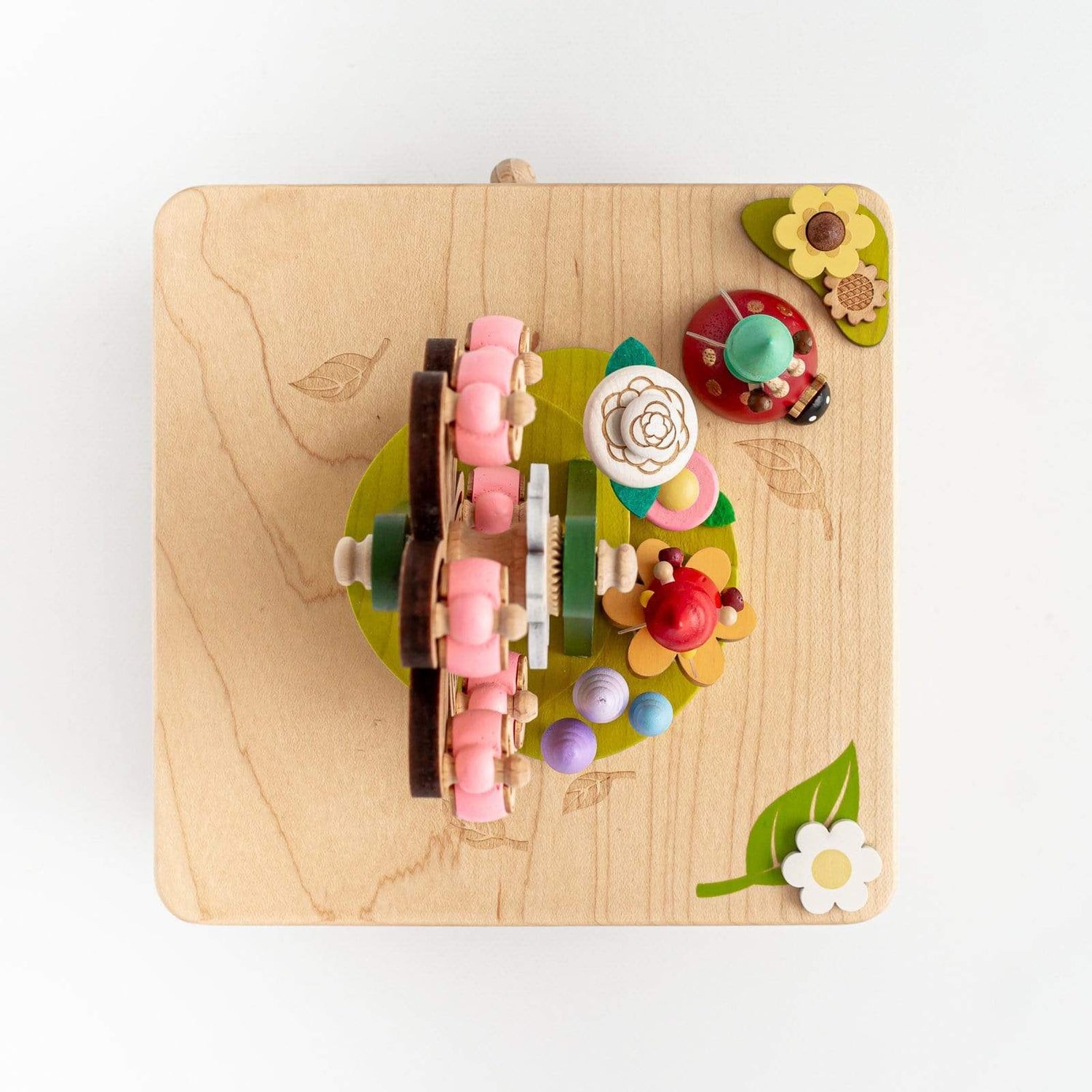 Wooden Fairy Music Box
by Wooderful Life
This purchase helps provide 4 meals to
Indigenous Canadian children in need. Learn More
Description
Introducing our enchanting Handmade Wooden Fairy Music Box, where whimsy and melody come together to create a magical experience for all. Crafted with meticulous care and attention to detail, this extraordinary music box is a true masterpiece that will captivate hearts and spark the imagination. With its delightful fairy theme and captivating rotating features, it's a treasure that will be cherished for generations to come.
Our Handmade Wooden Fairy Music Box is a celebration of imagination and childhood wonder. Adorned with a little fairy sitting on a ladybug, gracefully rotating around a pink ferris wheel, it brings a touch of whimsical charm to any space. As the beautiful melody of Gavotte fills the air, watch as the fairy dances and spins, creating a mesmerizing display that will transport you to a world of magic and dreams. Handcrafted with love and without the need for batteries or electronics, this music box is not just a toy, but a cherished heirloom that will be passed down through the years.
Why we love the Handmade Wooden Fairy Music Box:
Inspires imagination and storytelling
Enhances fine motor skills and hand-eye coordination
Promotes a love for music and creative expression
Battery-free operation for eco-friendly play
Handcrafted with love for lasting durability
Creates a beautiful heirloom keepsake
Experience the enchantment of our Handmade Wooden Fairy Music Box. Whether it's a gift for a special occasion or a cherished addition to your home decor, this music box brings joy, beauty, and a touch of magic to any setting.
Features

• Type: Multi Rotate Music Box with Sankyo Movement
• Tune/Song: Gavotte
• Movement triggered by winding key
• Toggle switch to turn on/off music
• Dimensions: 5.5"x5.5"x6.4"

Materials

• Materials: Sustainably Sourced Wood, Resin, Steel, Iron
• Painted using water-based paints


Age/Safety

• Recommended for children 5 years+
• Warning: This is not a toy. Intended for decoration purposes only. Small parts can be a choking hazard. Adult supervision is highly recommended.

About the Brand

Wooderful Life is a Taiwanese brand that blends modern wooden products with the beautiful aesthetics of life. Their handcrafted wooden music boxes will transport you back in time as you listen to the delicate melodies and are mesmerized by the intricate moving parts.

As a member of the National Hardwood Lumber Association (NHLA), Wooderful Life is deeply committed to the sustainability and ethical harvesting of lumber.

Shipping & Delivery

• FREE shipping over $125
• $12 flat rate shipping across Canada on orders under $125
• $15 flat rate shipping on US orders under $125
• For more information, check out our full Shipping Policy
Beautiful!
This music box is magical. I know my granddaughter will be thrilled with it. Very good quality. Well packaged for delivery.
Calming little music box
This is the sweetwst little music box that I hope my daughter will treasure for years and pass down. This will be a present for my musical and curious daughter on her 3rd birthday. She may be young for it now. It will be a practice for handling things with care, but she will love looking at all the moving parts and little details. The quality is amazing and the mechanics are smooth. I love how the little fairy on the ladybug is attached magnetically. I may have to get one for myself too.
Excellent quality product and superb customer service
Shortly before Christmas I ordered this music box and the Ballerina music box for my two young granddaughters for Christmas and was pleasantly surprised when they were shipped the same day so they would receive them on time. Unfortunately, when the Ballerina music box was opened on Christmas morning my son discovered that one of the ballerinas was lying loose in the box. He sent an email on Christmas day to Playful Peacock advising of the damage. To his surprise he received an email from Anne, the owner of the Playful Peacock, a couple of hours later and she said that they would replace the music box when a new shipment arrived. This is what customer service should be like. I want to thank Anne and her staff for everything they did to make Christmas special for my two granddaughters.
Handcrafted nostalgia
Beautiful wooden toys & the prettiest music boxes! I can barely contain my excitement for my niece & nephew to open these gifts on Christmas Day. And I'll bring purchasing one these music boxes for myself too. Absolutely beautiful