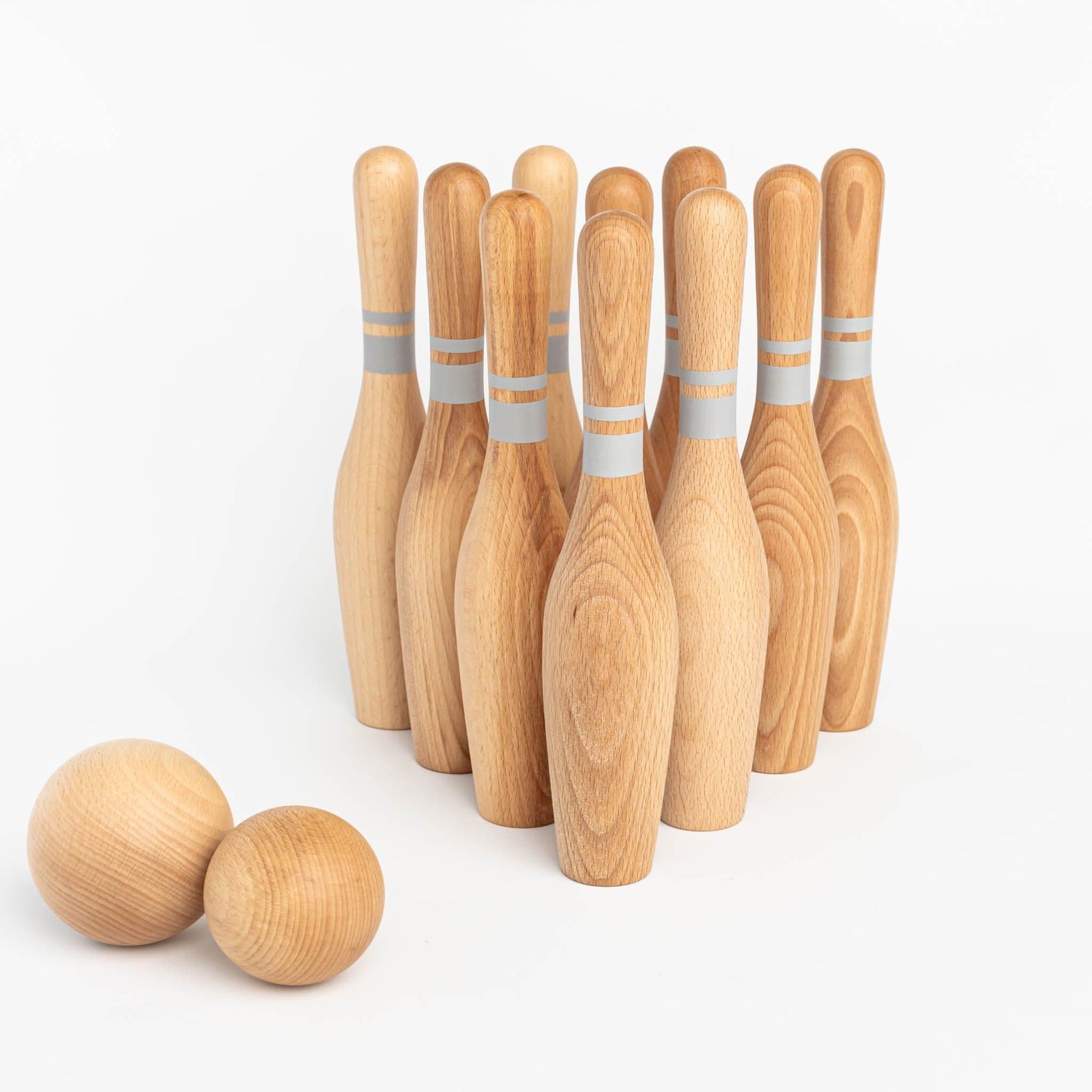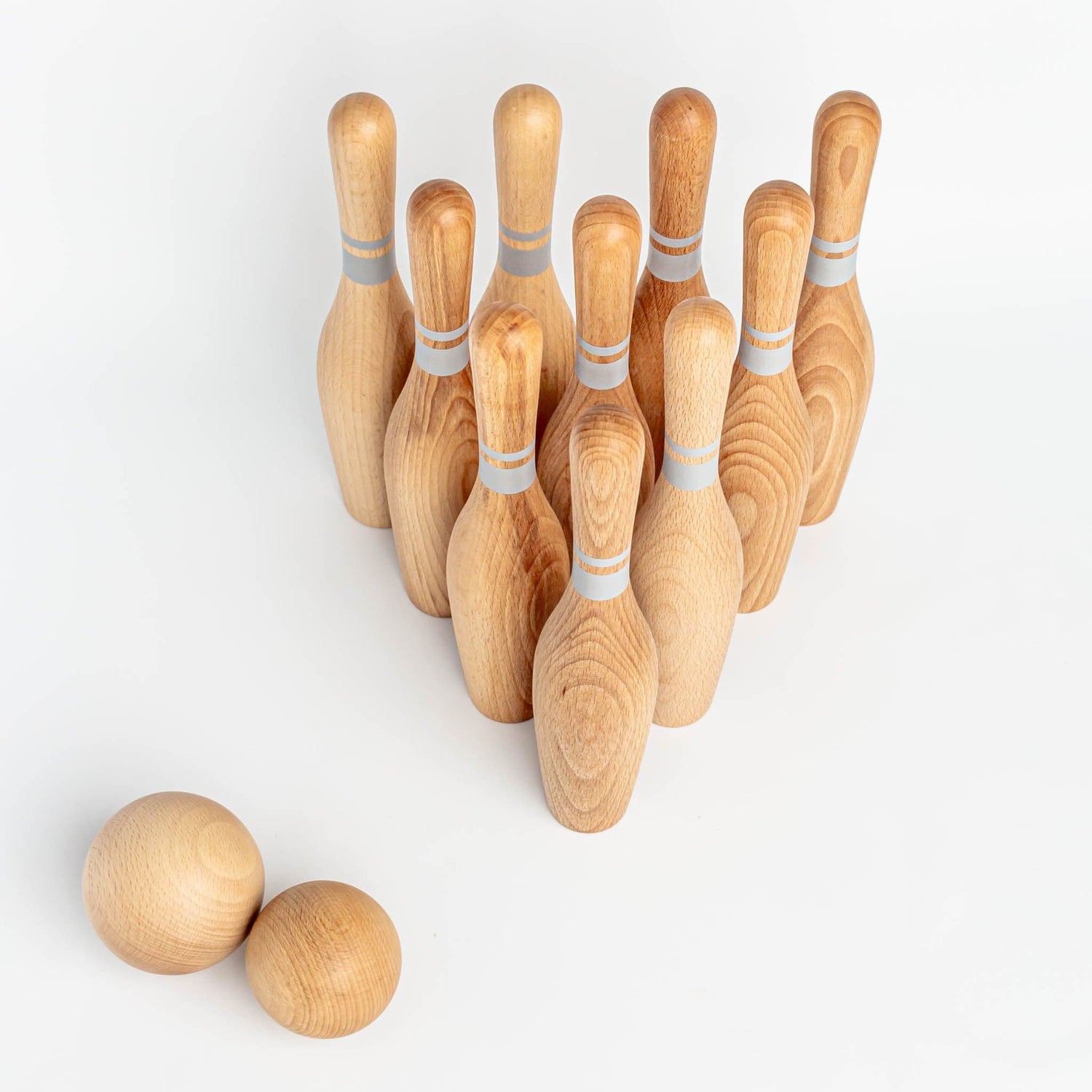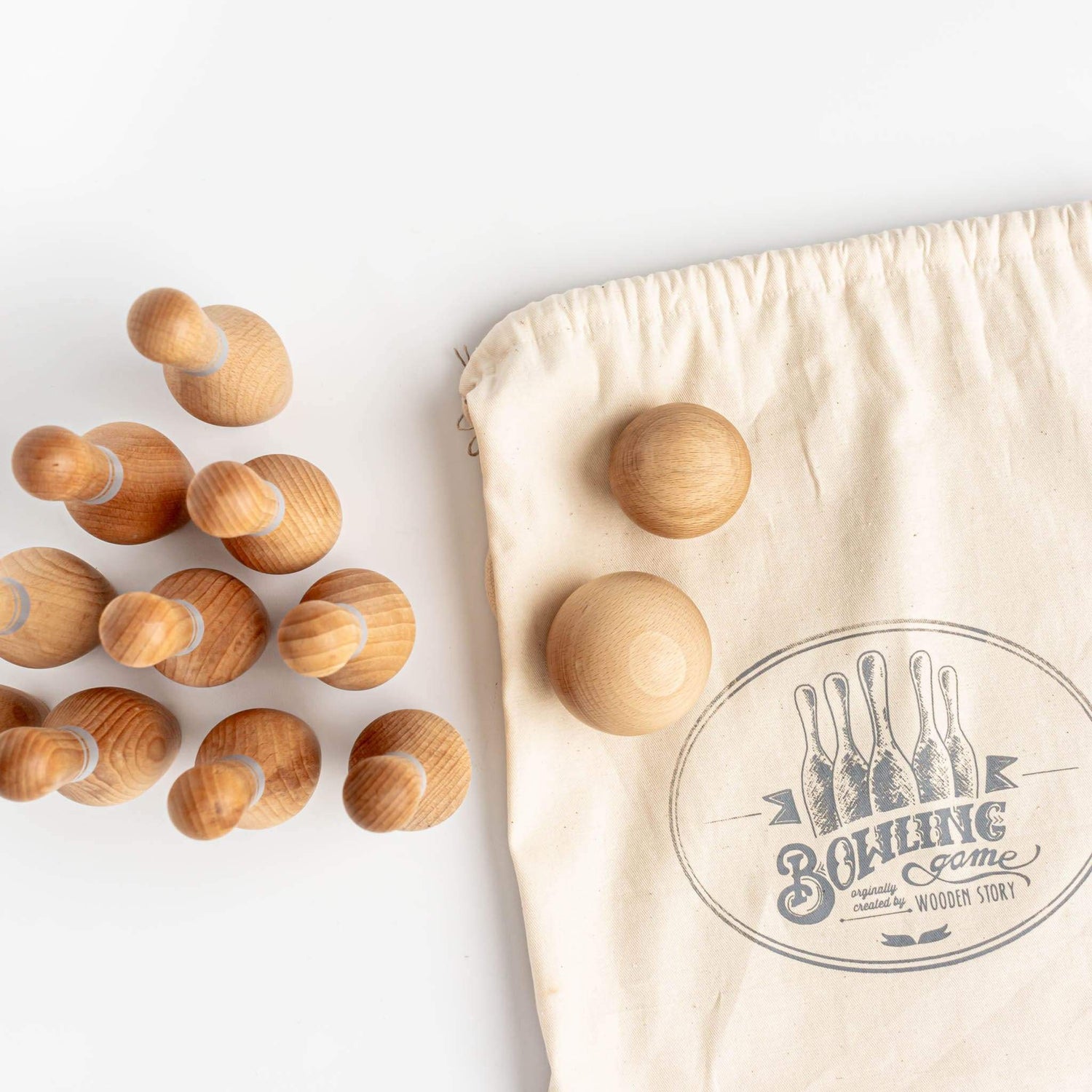 Handmade Natural Bowling Set
by Wooden Story
This purchase helps provide 3 meals to
Indigenous Canadian children in need. Learn More
Description
his handmade Natural Bowling Set is a classic toy and a wonderful addition to any toy collection! Kids, and adults alike, have been playing this game for centuries.
What is so fascinating about it?
It exercises your agility, nurtures your instinctual sense of precision, guarantees chivalrous rivalry and promises well-spent time with your friends. All you need is to find a nice spot. Let your imagination be your guide. Who will strike down the most? How do I improve my score? Is it something in my aim? Now play till your heart's content!! 
This set contains a naturally produced set of 10 bowling pins and 2 bowling balls made from softwood. They are packaged in an unbleached and organically weaved white cotton sack, which can be used for storing your little one's toys, taking the set over to their friend's or packing them for a journey. 
Materials

• Made from FSC Certified Beech Wood
• Finished with Beeswax and Natural Botanical Oils, giving it a beautiful smooth finish
• Bowling Pins: 1.9" x 8.9" (4.8cm x 4.8cm x 22.5 cm)
• Large Ball: 2.6" (6.5cm)
• Small Ball: 2.2" (5.5cm)

Age/Safety

• Recommended for children 3 years +

About the Brand

Nestled in the Beskidy Mountains in Poland, Wooden Story is a 3rd generational family-owned business.

Inspired by nature and built to last, every toy is made by hand using FSC Certified wood and finished with natural botanical oils and beeswax. These are the epitome of heirloom, and some of the most beautiful wooden toys you will ever own.

Shipping & Delivery

• FREE shipping over $150
• $12 flat rate shipping across Canada on orders under $150
• $15 flat rate shipping on US orders under $150
• For more information, check out our full Shipping Policy
Gifted to Grandparents
When first time grandparents received these they loved them. Their children my nephews were great bowlers. Now it will be passed on to their grandchildren. They were also very pleased to see the pay it forward with meals for Indigenous children. Well done Playful Peacock
Piece of art
My children love this set, it's so much fun. Also it's not an eye sore like most bowling sets. I can leave it out and it looks great with the Decor of any room.
Playful peacock is our favourite local shop. We purchase all gifts and toys from them! So much thought and care is put into each item. Plus.. the packaging is adorable. I never want to open the toys it looks so good.