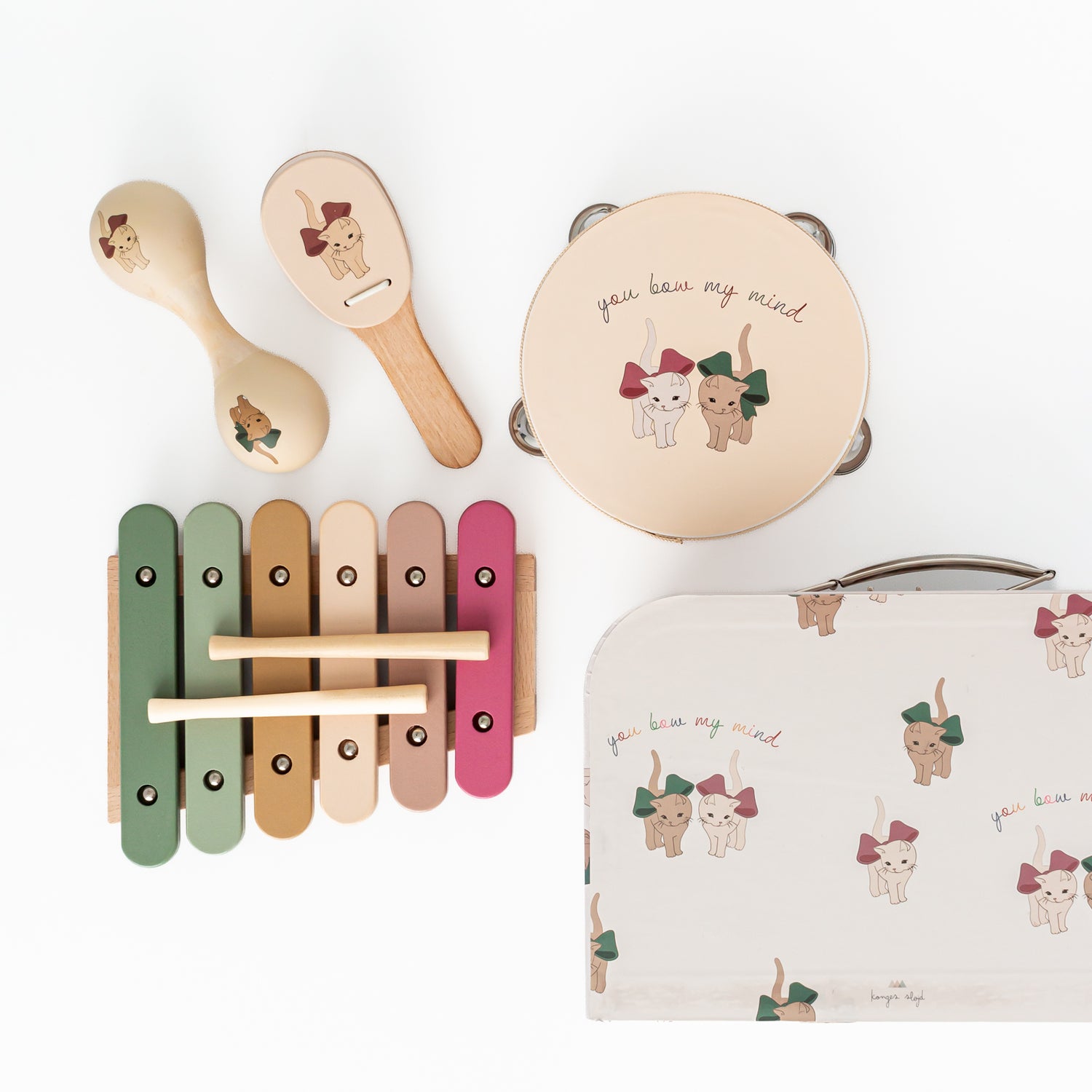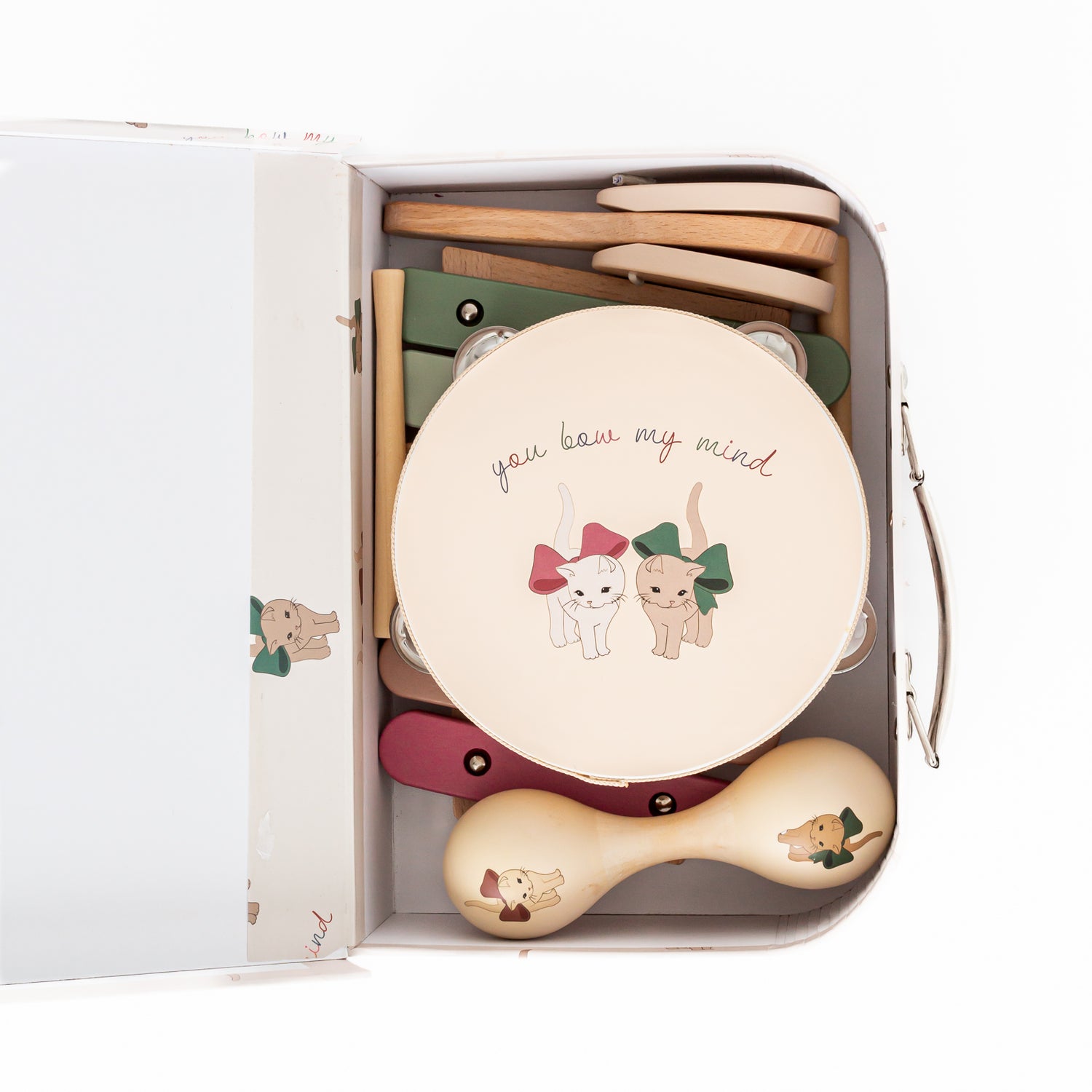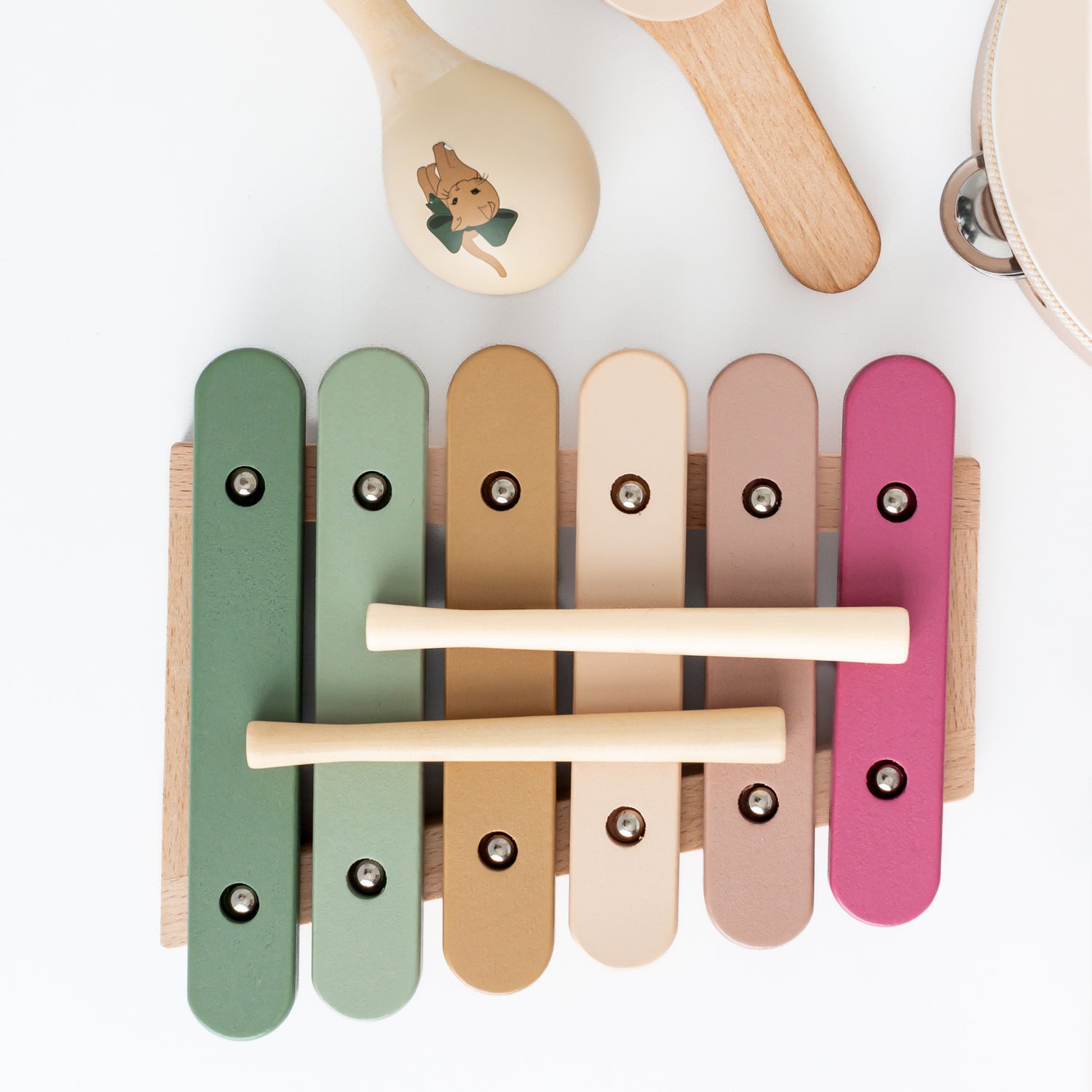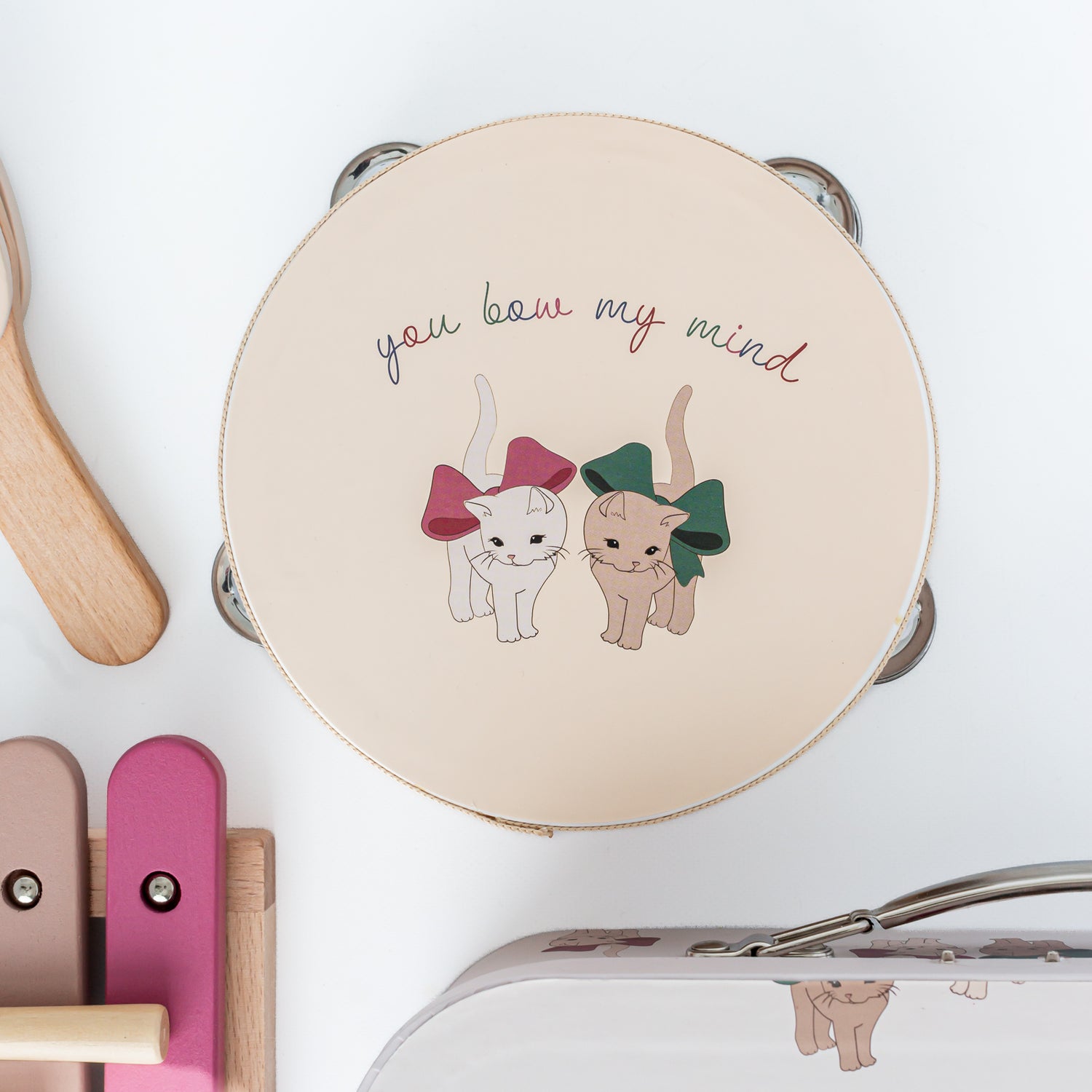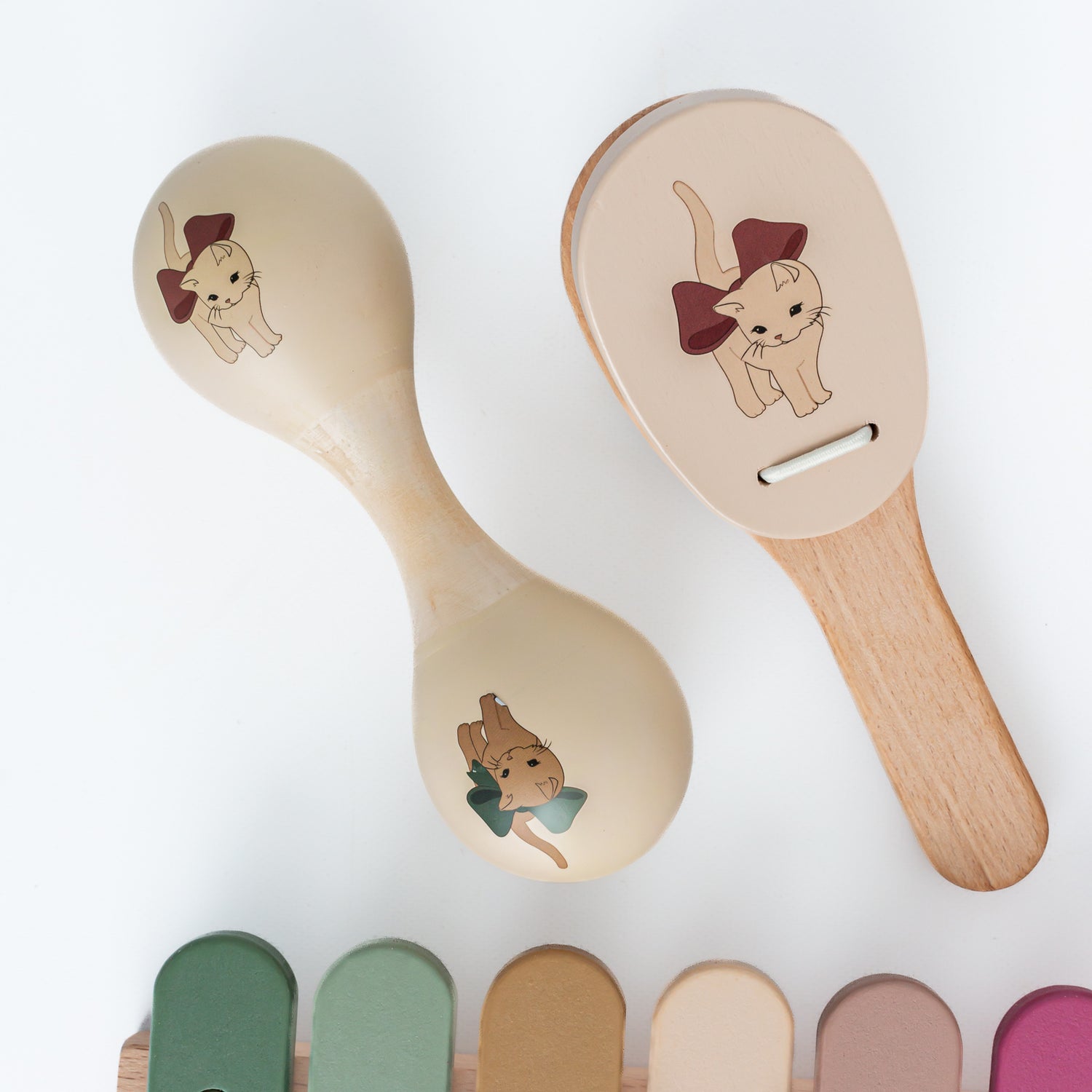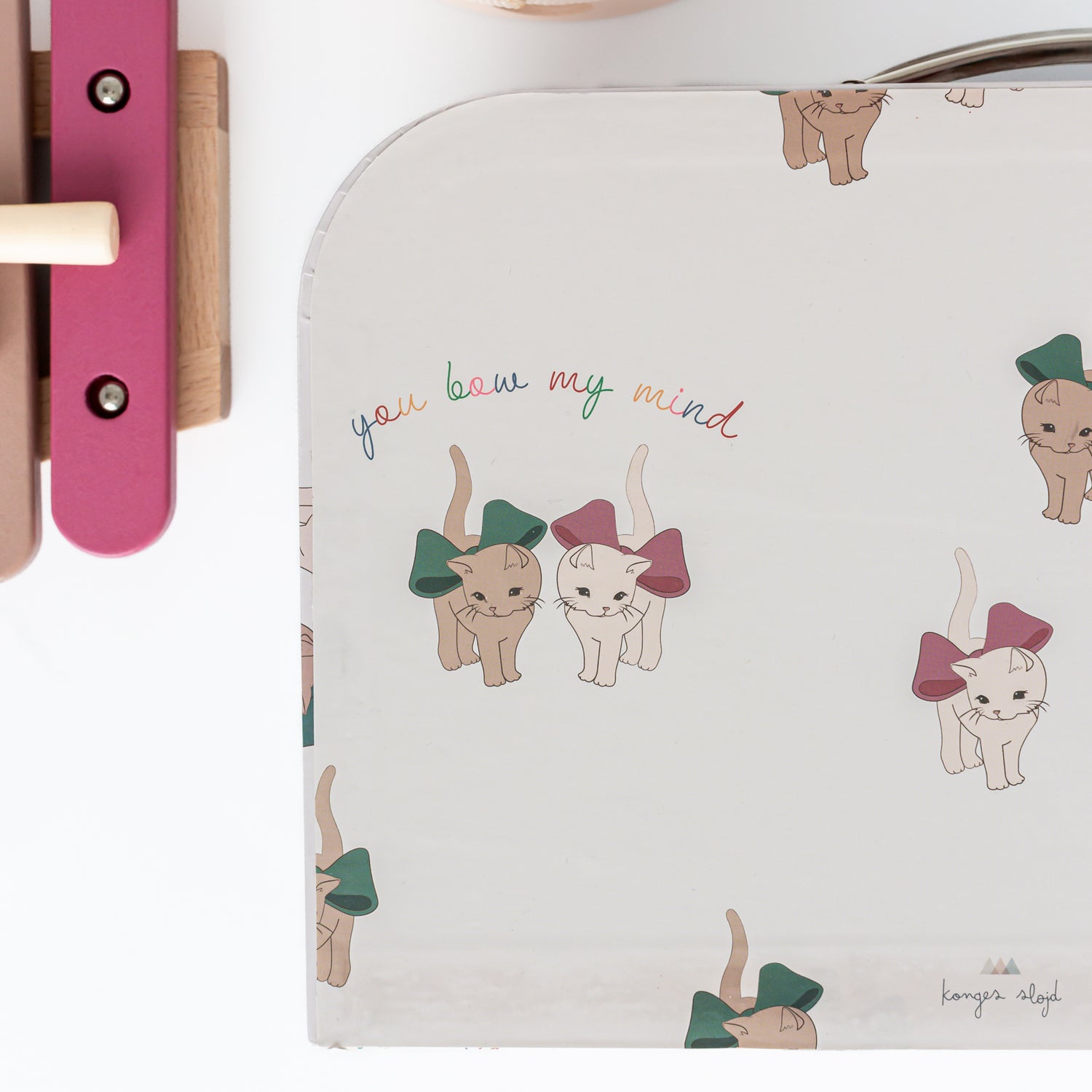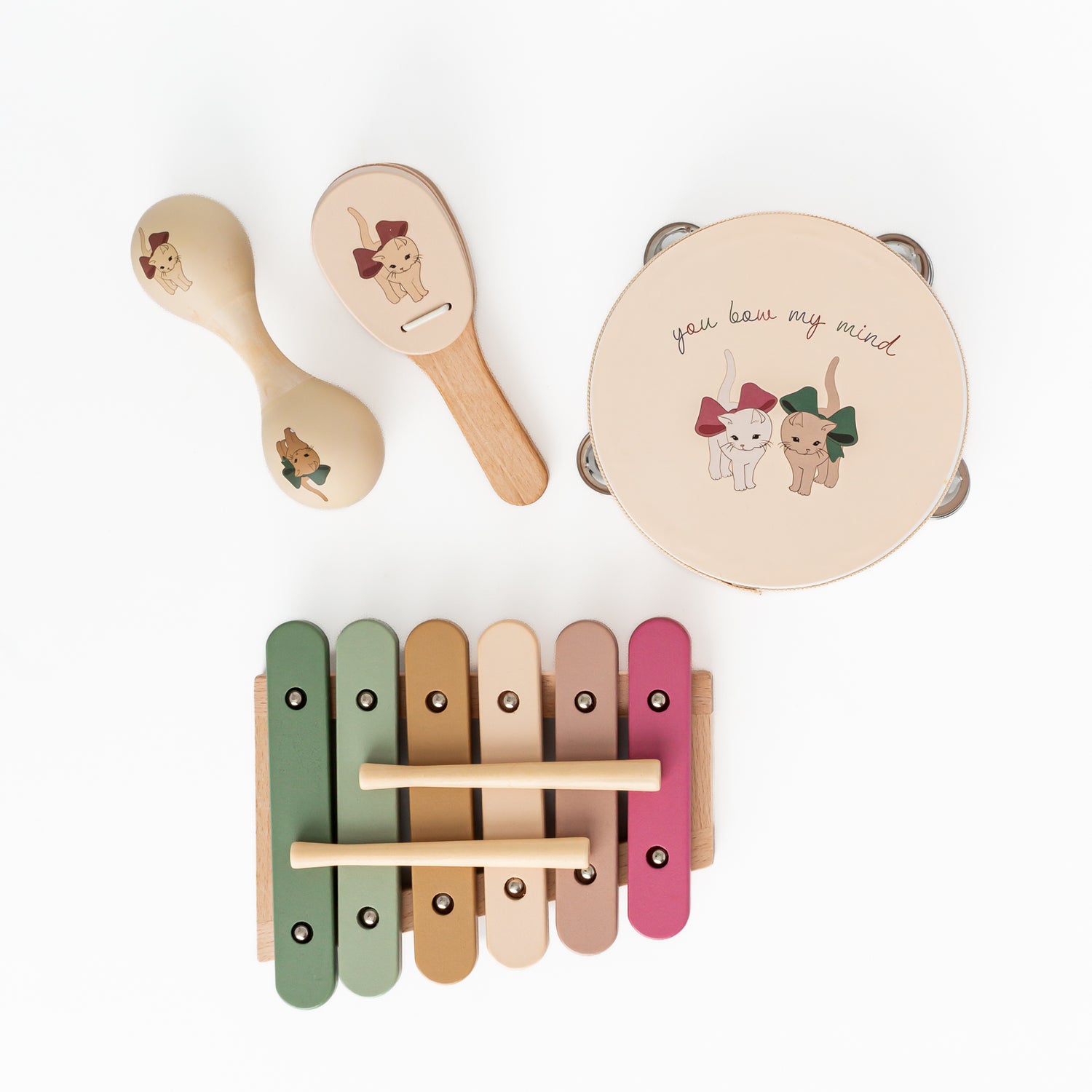 Bow Kitty Music Set by Konges Sløjd
by Konges Slojd
This purchase helps provide 2 meals to
Indigenous Canadian children in need. Learn More
Description
Introducing the Kitty Bow Music Set from Konges Slojd, where every tune is a purr-fect symphony of fun! This delightful ensemble is lovingly crafted to delight your little maestro's senses and ignite a passion for music. Tucked inside an irresistibly cute kitty bow suitcase, this set is more than just instruments; it's the ticket to a whimsical journey through rhythm and melody. The smooth wooden xylophone, playful maracas, charming castanet, and cheerful tambourine are designed not only for tiny hands to grasp but for imaginations to soar.
Why we love the Bow Kitty Music Set by Konges Slojd:
Portable Play: Comes in a handy suitcase for music-making on the go.
Tidy & Organized: Pack away neatly for a clutter-free play area.
Sensory Development: Different instruments for a full sensory experience.
Early Music Education: Introduces the basics of rhythm and melody.
Fine Motor Skills: Encourages dexterity with various instruments to grasp and use.
Let the Kitty Bow Music Set be the overture to your child's musical journey – an experience that's not just heard, but felt and remembered.
Features

• Suitcase measurements: H: 17.5 cm x W: 8 cm L: 25 cm
• This set includes: Xylophone, Sticks, Maracas, Castanet and Tambourine





Materials

• This product is made of FSC™ certified beech wood, tea wood and ply wood
• The suitcase is made from sturdy cardboard

Age/Safety

• Choking hazard due to small parts. Not suitable for children under 3 years.
• CE-tested after European standard EN-71-1

About the Brand

Konges Sløjdis a world-renowned children's lifestyle brand nestled in the vibrant city of Copenhagen, Denmark. Known for their exceptional craftsmanship, Konges Sløjd offers a delightful array of high-quality, functional, and eco-friendly Scandinavian products for children.

With an unwavering commitment to excellence, Konges Sløjd captivates hearts with their meticulously designed toys, adorned with intricate details that spark imagination and bring joy to little ones. Each item is crafted with precision and care, ensuring not only endless hours of play but also an enduring quality that withstands the test of time.

Embracing a sustainable ethos, Konges Sløjd goes above and beyond to make eco-conscious choices in their materials and manufacturing processes. By prioritizing the well-being of children and the planet, they create products that are both kind and gentle, leaving a positive impact on the environment.

Parents and children alike fall in love with the magical world of Konges Sløjd, where cherished memories are made and treasured keepsakes are found. Explore their enchanting collection and experience firsthand why Konges Sløjd has earned its esteemed reputation as a leading brand in the realm of children's lifestyle products.

Shipping & Delivery

• FREE shipping over $150
• $12 flat rate shipping across Canada on orders under $150
• $15 flat rate shipping on US orders under $150
• For more information, check out our full Shipping Policy