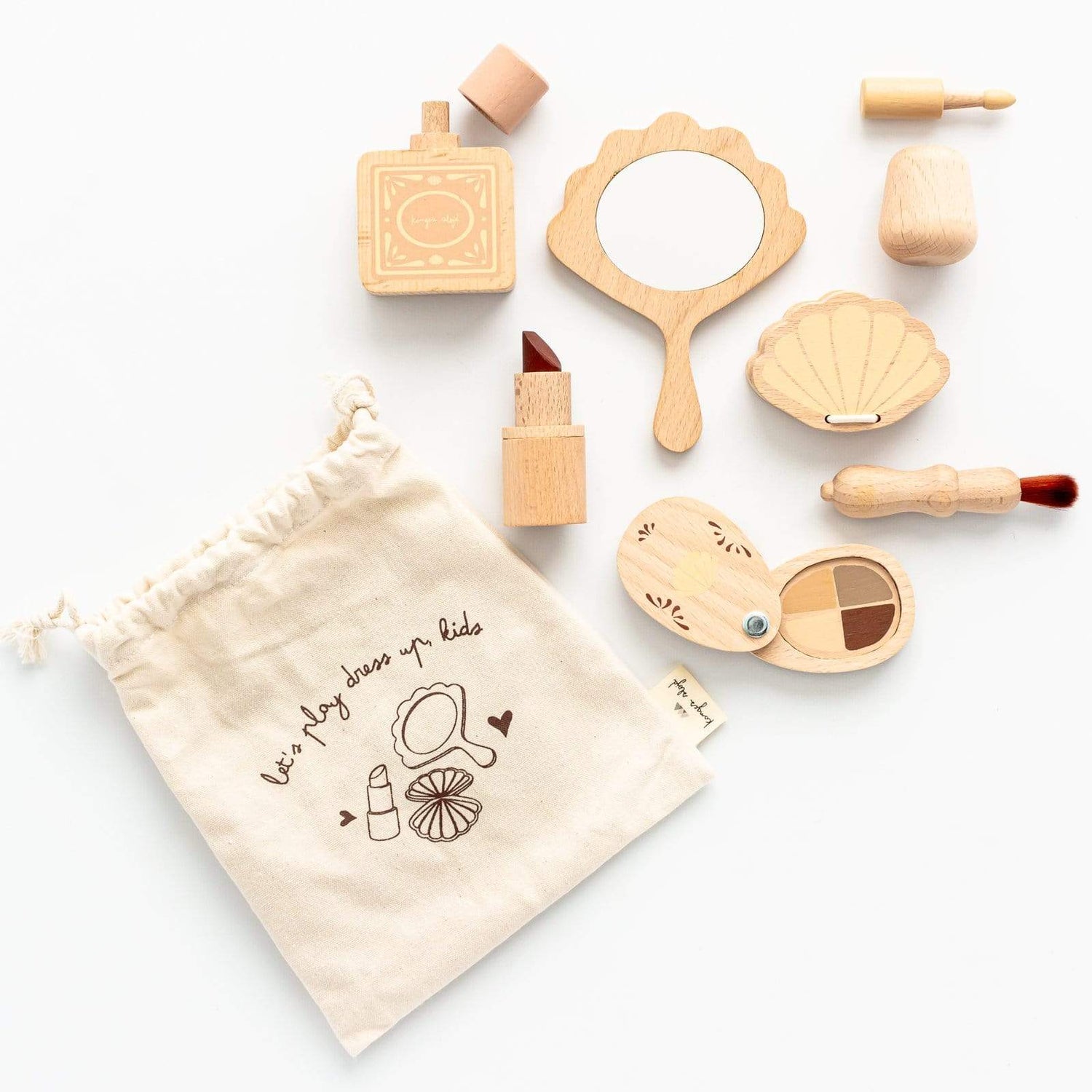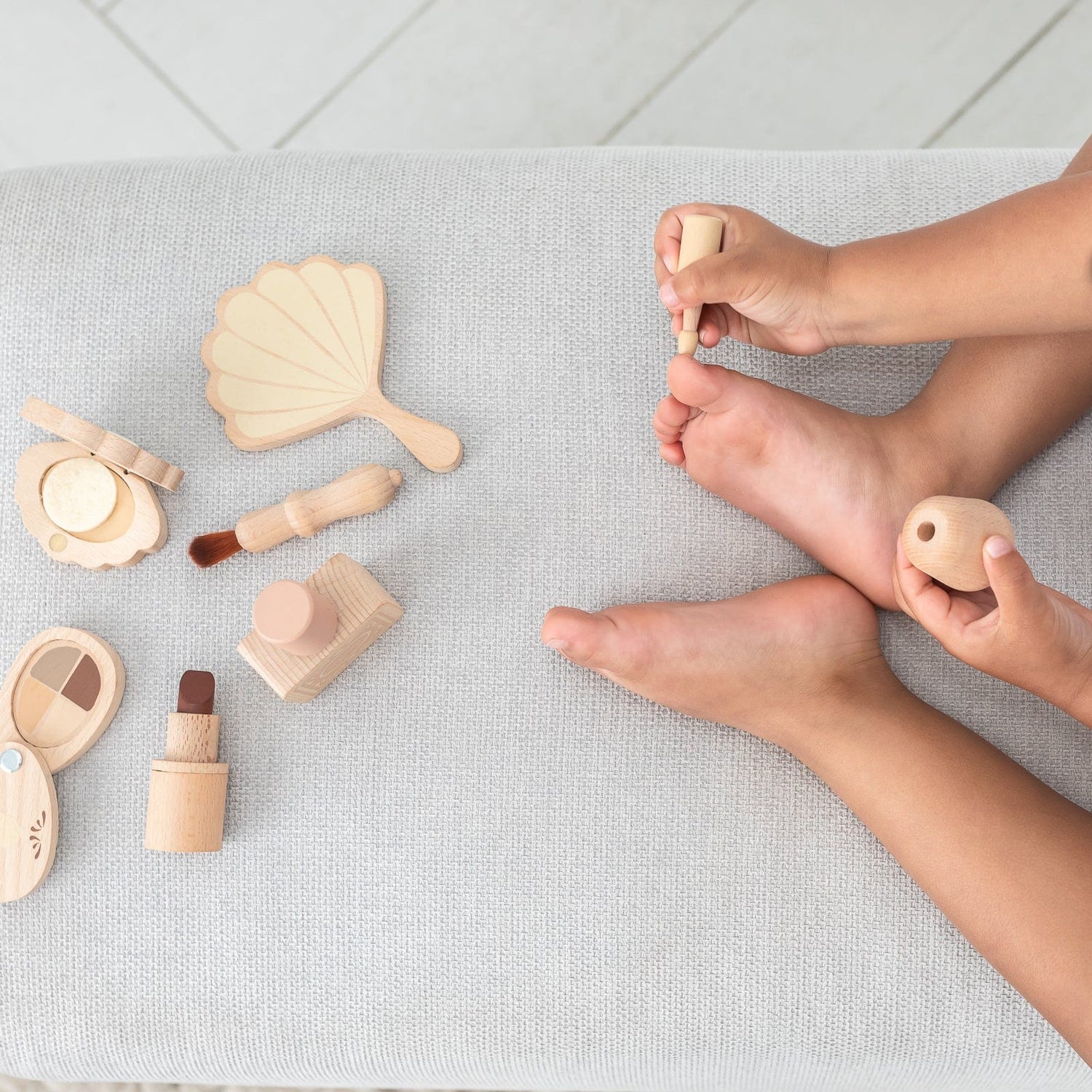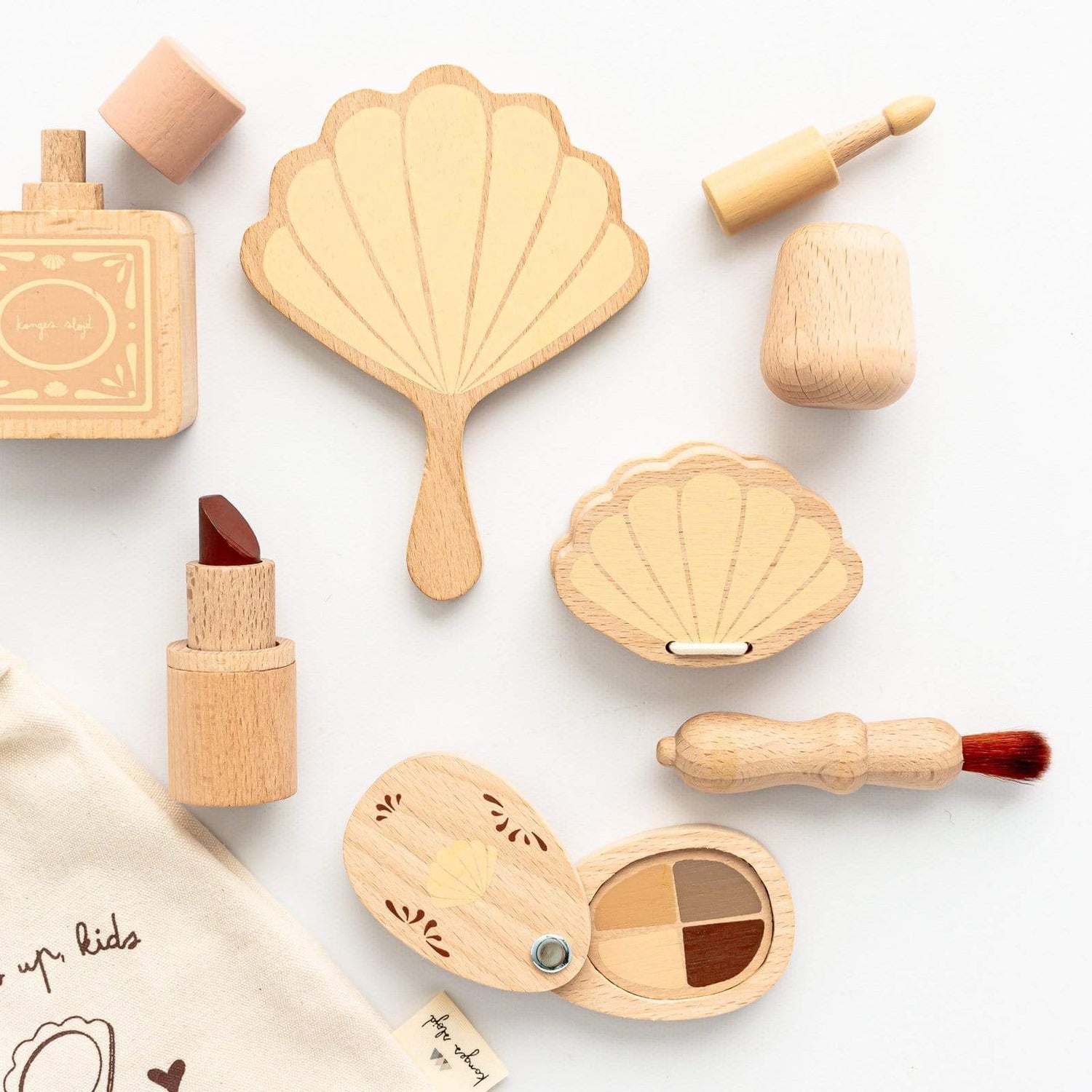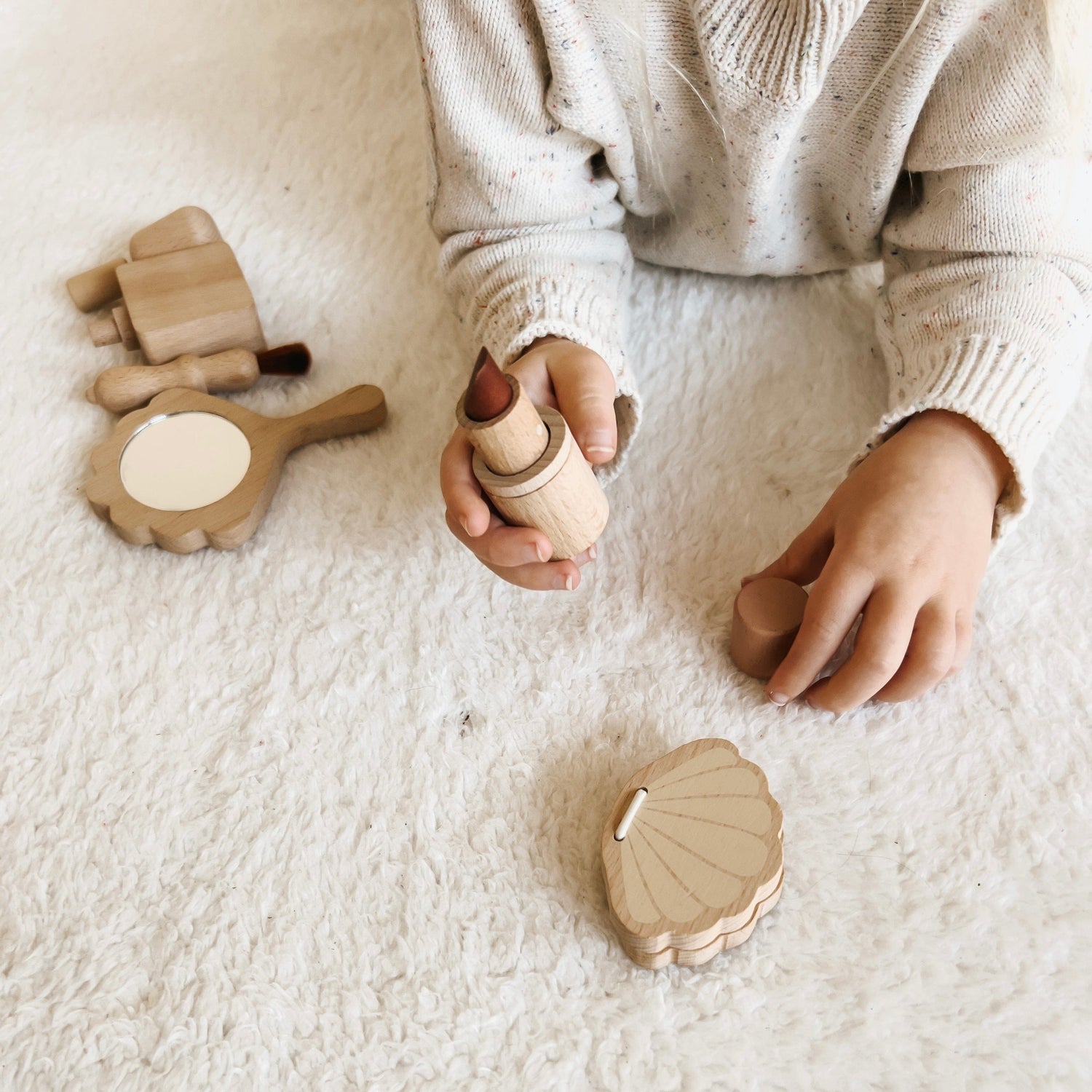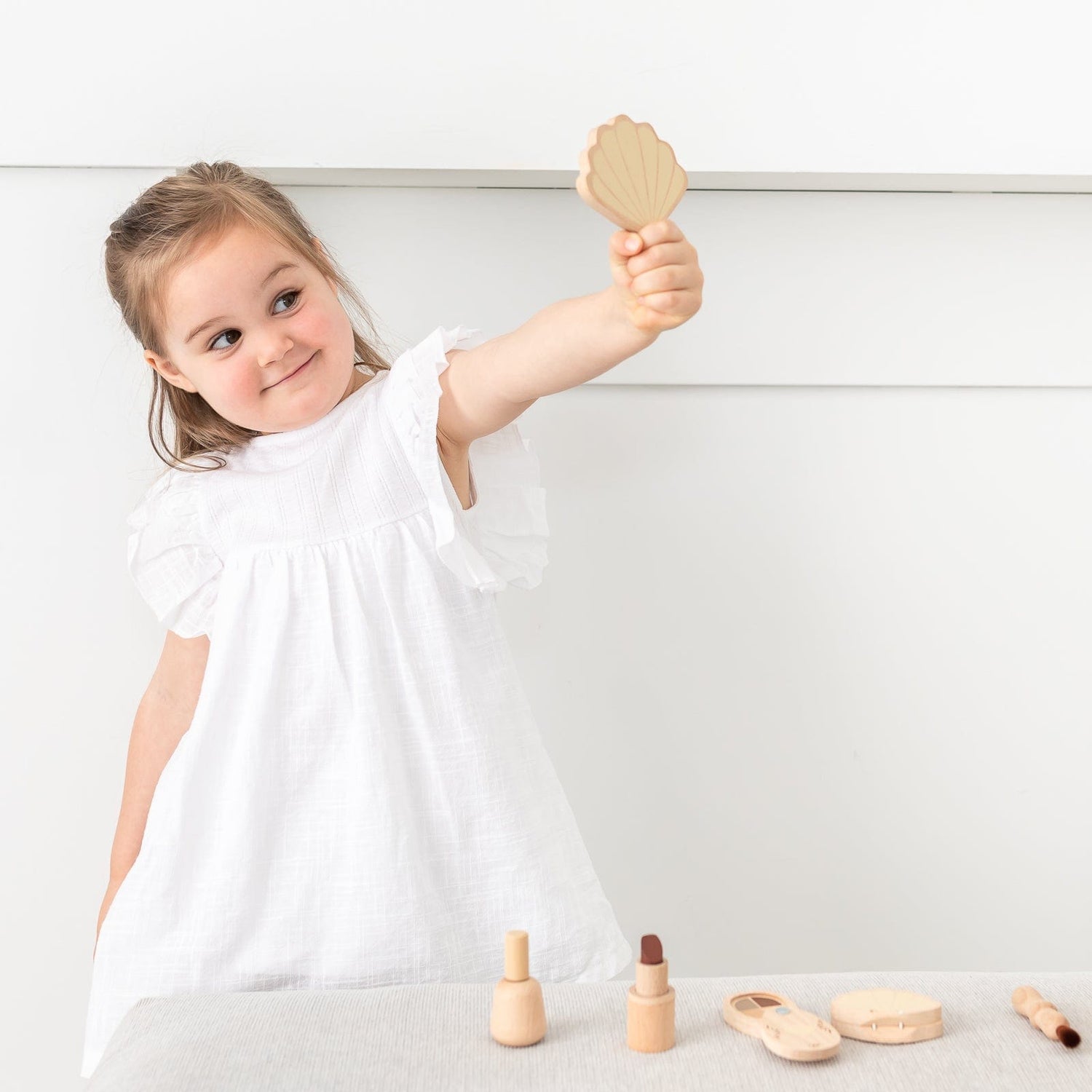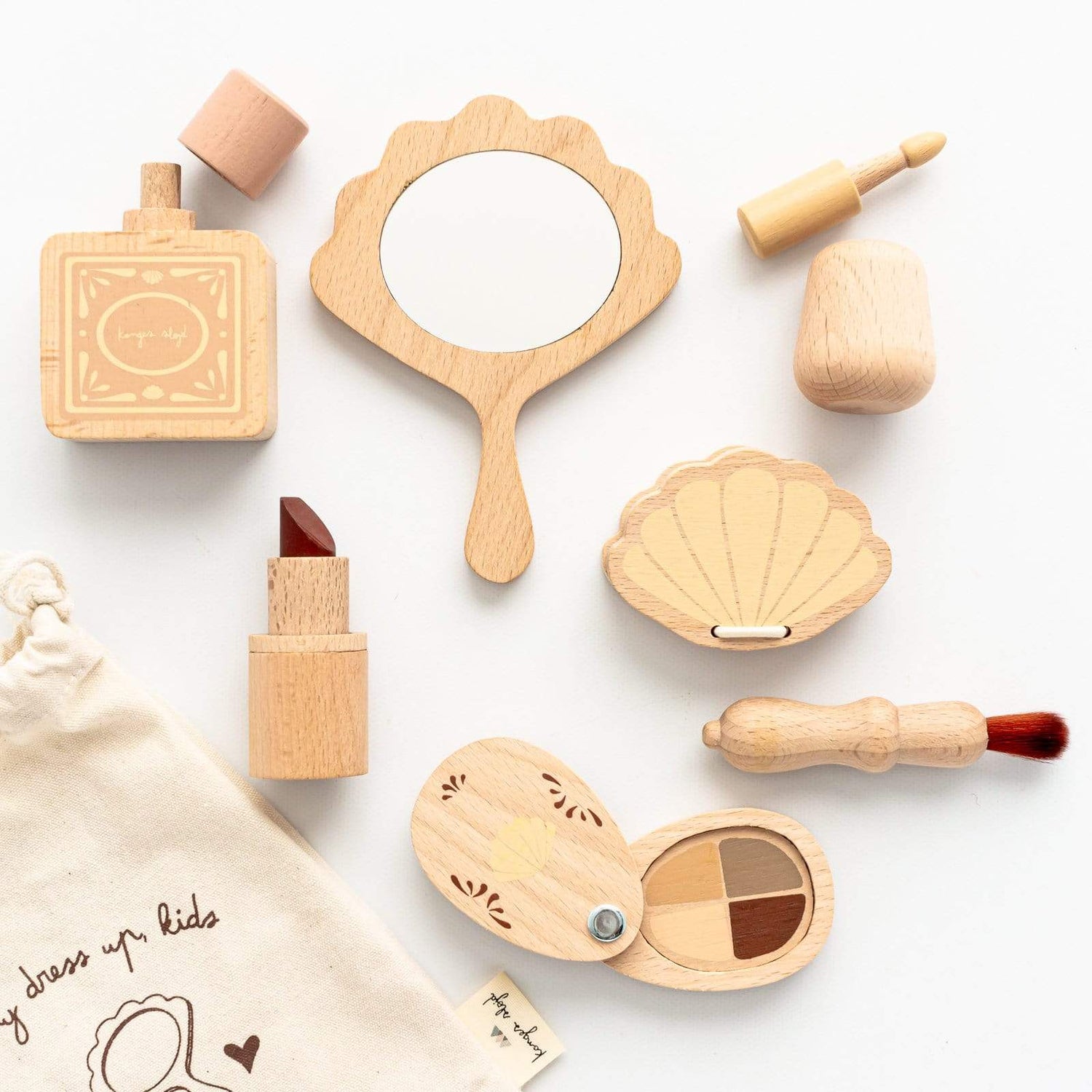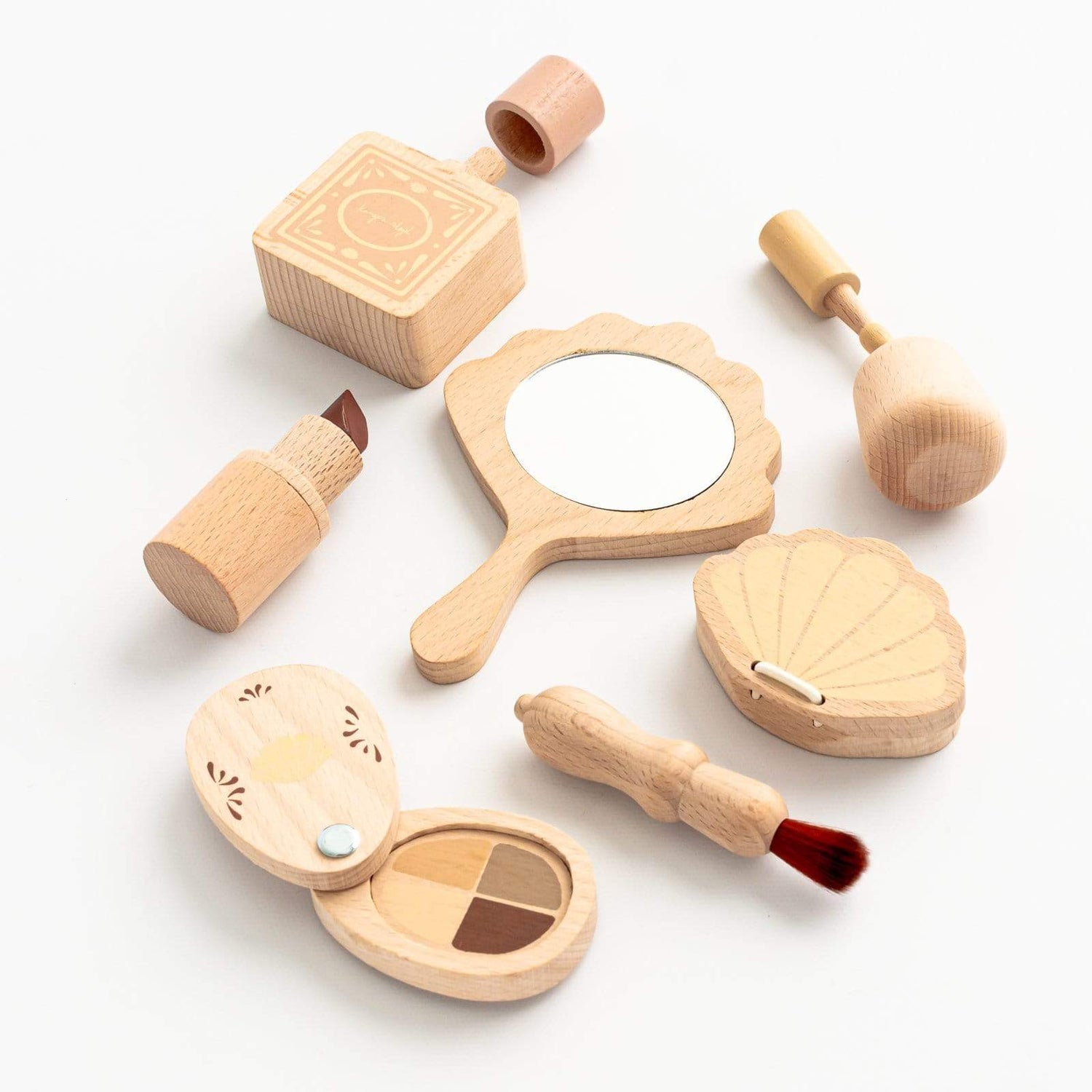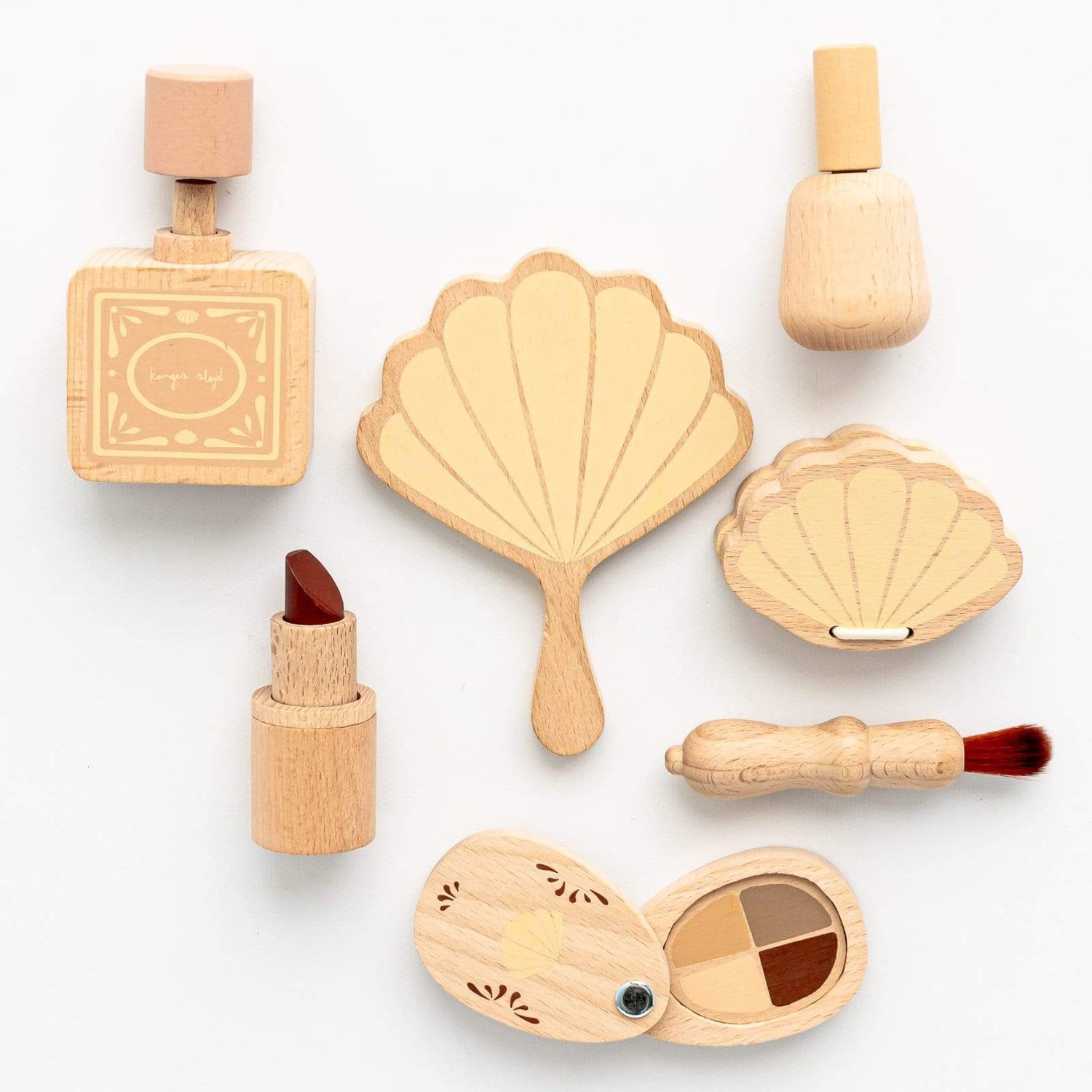 Wooden Beauty Set by Konges Sløjd
by Konges Slojd
This purchase helps provide 2 meals to
Indigenous Canadian children in need. Learn More
Description
Introducing our exquisite handmade Wooden Beauty Set, a truly enchanting addition to your child's toy collection! This unique toy set is a testament to craftsmanship and sustainability, designed to provide hours of imaginative and interactive play. With its charming details and thoughtfully crafted pieces, it's not just a toy; it's a beautiful heirloom keepsake that will be treasured for generations to come.
Each piece of this magical beauty set is lovingly handcrafted by skilled artisans using sustainably sourced wood. The set features a delightful little lipstick, perfume bottle, nail polish, eye shadow with brush and a dainty mirror, perfect for your little one to indulge in pretend play and explore their creativity. The natural, smooth finish of the wood enhances the sensory experience, inviting tactile exploration and imaginative storytelling.
Why we love the Wooden Beauty Set:
Encourages imaginative play and creativity
Fosters fine motor skills and hand-eye coordination
Promotes cognitive development through storytelling and role-play
Made from sustainable materials, ensuring a positive impact on the environment
Exquisitely handcrafted for lasting durability and timeless charm
Provides an opportunity for parent-child bonding and interactive play
Makes a unique and thoughtful gift for birthdays, holidays, or special occasions
Add a touch of whimsy to their playtime with this exquisite beauty set, and watch as their imagination blossoms!
Designed in Copenhagen, Denmark by Konges Slojd. Ethically made in China.
Features

• Set includes: mirror, lipstick, scallop blush, nail polish, eye shadow and brush, and a bottle of perfume
• Comes in a GOTS certified organic cotton bag

Materials


• Made from 100% FSC certified wood

Age/Safety

• Recommended for ages 3 and up
• CE-tested after European standard EN-71-1

About the Brand

Konges Slojd is a world-renowned children's lifestyle brand nestled in the vibrant city of Copenhagen, Denmark. Known for their exceptional craftsmanship, Konges Slojd offers a delightful array of high-quality, functional, and eco-friendly Scandinavian products for children.

With an unwavering commitment to excellence, Konges Slojd captivates hearts with their meticulously designed toys, adorned with intricate details that spark imagination and bring joy to little ones. Each item is crafted with precision and care, ensuring not only endless hours of play but also enduring quality that withstands the test of time.

Embracing a sustainable ethos, Konges Slojd goes above and beyond to make eco-conscious choices in their materials and manufacturing processes. By prioritizing the well-being of children and the planet, they create products that are both kind and gentle, leaving a positive impact on the environment.

Parents and children alike fall in love with the magical world of Konges Slojd, where cherished memories are made and treasured keepsakes are found. Explore their enchanting collection and experience firsthand why Konges Slojd has earned its esteemed reputation as a leading brand in the realm of children's lifestyle products.

Shipping & Delivery

• FREE shipping over $125
• $12 flat rate shipping across Canada on orders under $125
• $15 flat rate shipping on US orders under $125
• For more information, check out our full Shipping Policy
Incredible customer service
I was hesitant at first to buy from this company since I don't know anyone who had and I am so happy I took a chance! This company is incredible! Not only are the products incredibly cute but they have the best customer service. There was an issue with one of the items I bought (not their fault) and they not only responded right away but how they handled the situation was way better than I hoped for. I will 100% continue to support this amazing small business in the future and encourage my friends and family to do the same! 5 stars for sure!
Wooden beauty set
It's absolutely beautiful! The quality is excellent and my daughter absolutely loves it! Thank you!
Beautiful set, amazing customer service
The beauty set met my expectations and beyond. It was even more beautiful in person! Each wood item was very well mad and smooth. Anne is also the most amazing person to work with. She really caters to each clients unique needs and you can really trust all the toys she's chosen as she is a mother herself. My experience was so positive, I will definitely be buying from her shop again!
Obsessed
My 3 year old was gifted this beautiful wooden beauty set for Christmas and she loves it. Now she has her own little makeup set and is so happy.
We finally got it!
We saw this set at Le Petit Nordique during the summer and my husband and I immediately fell in love with it. The quality was exceptional and it looked so fun. As someone who does play therapy with children, I know the value of toys that offer a chance to play out reality. Our little girl was just a bit too young at the time so we didn't end up getting it. When I saw the same set for sale at The Playful Peacock, I immediately jumped at the chance to get it. It's a Christmas gift for our little girl, as well as our neighbours' little girl as we got her a set as well, so I can't wait until they get to play with it!