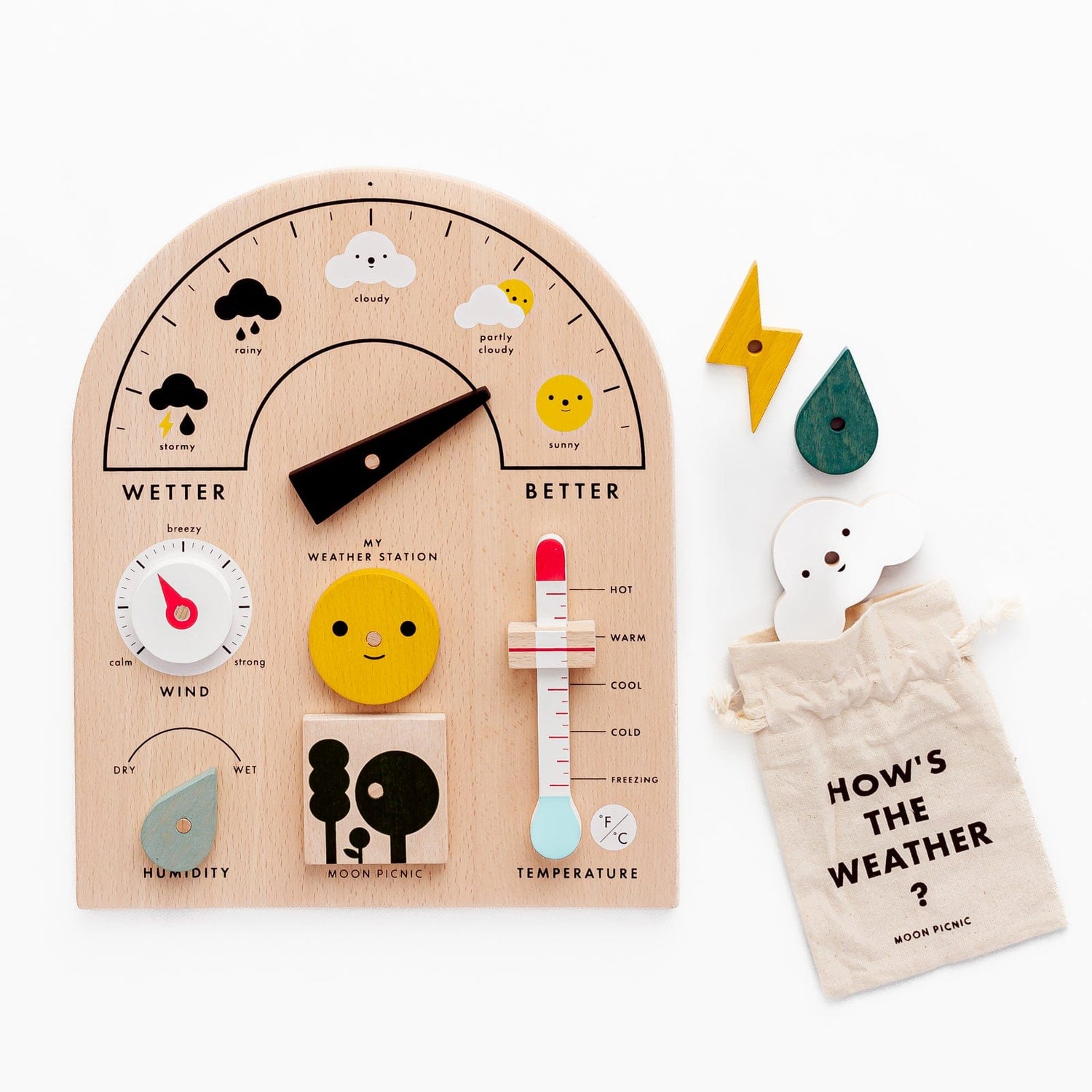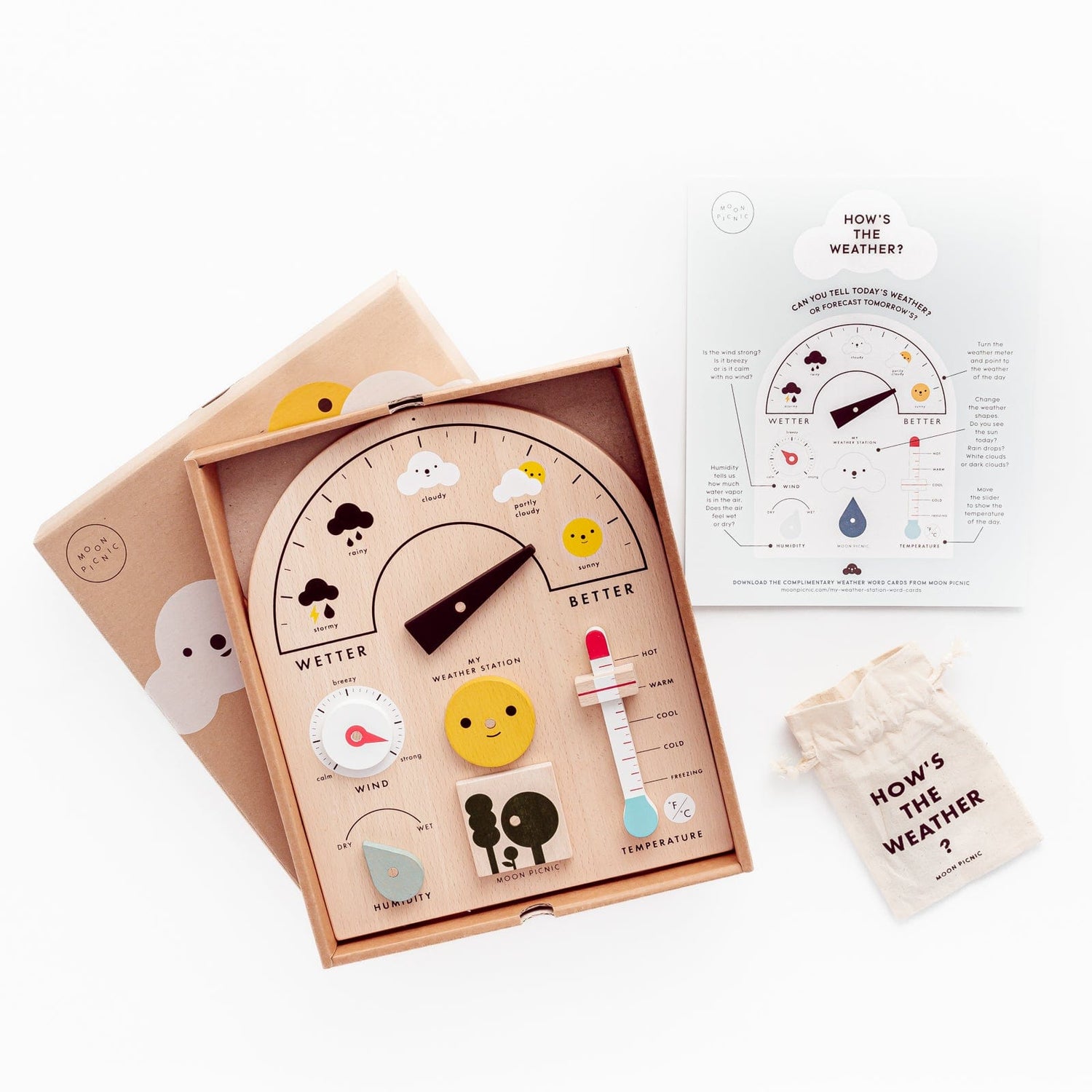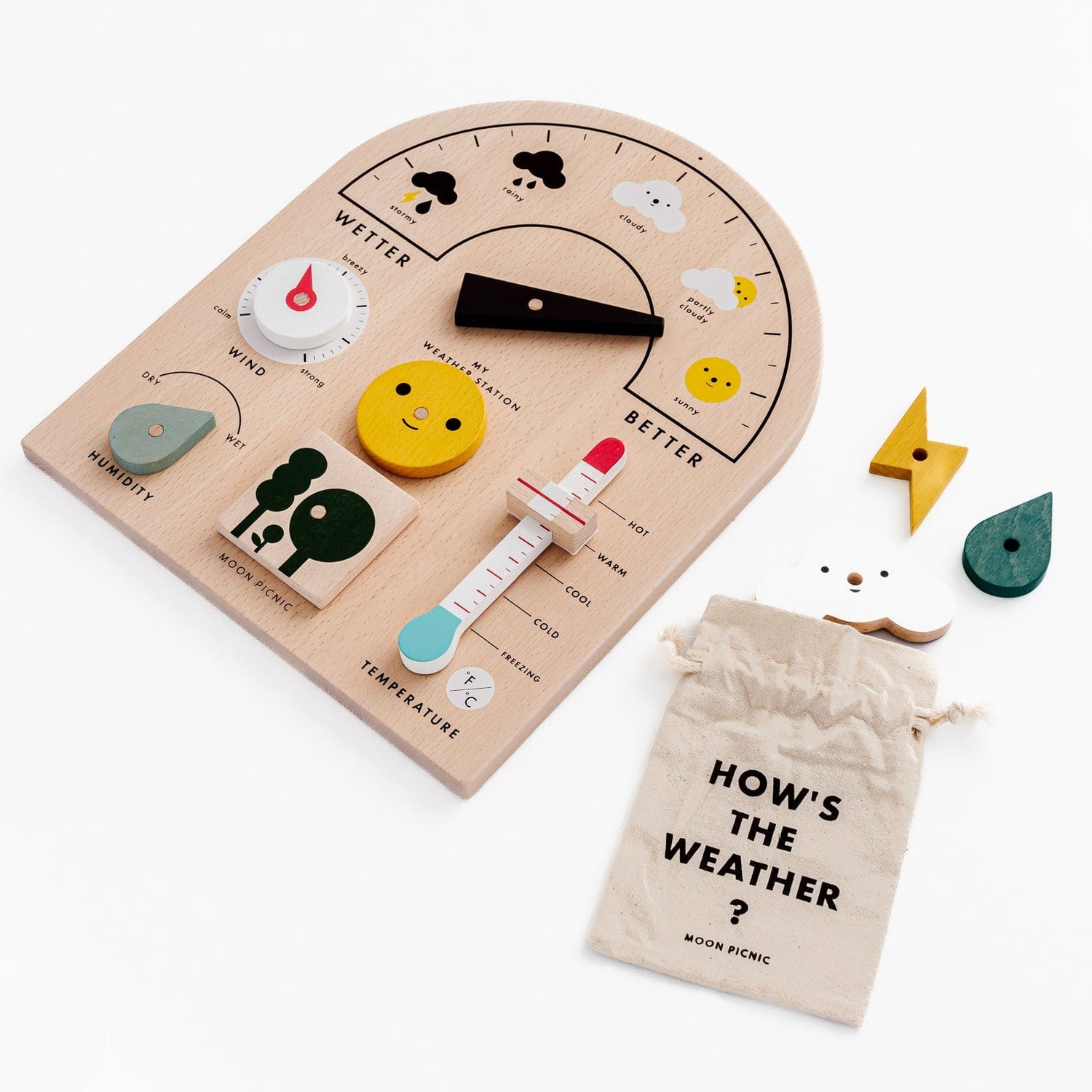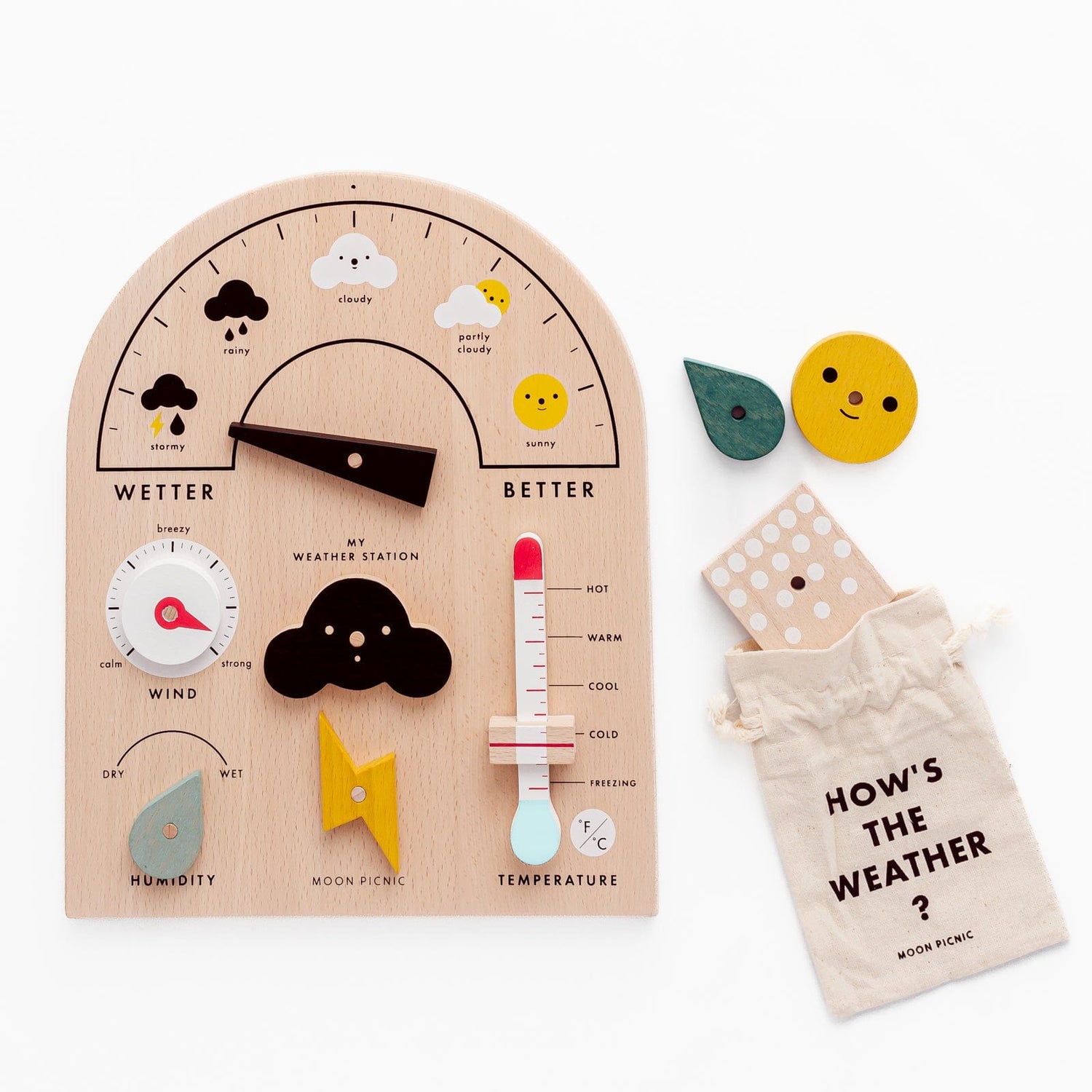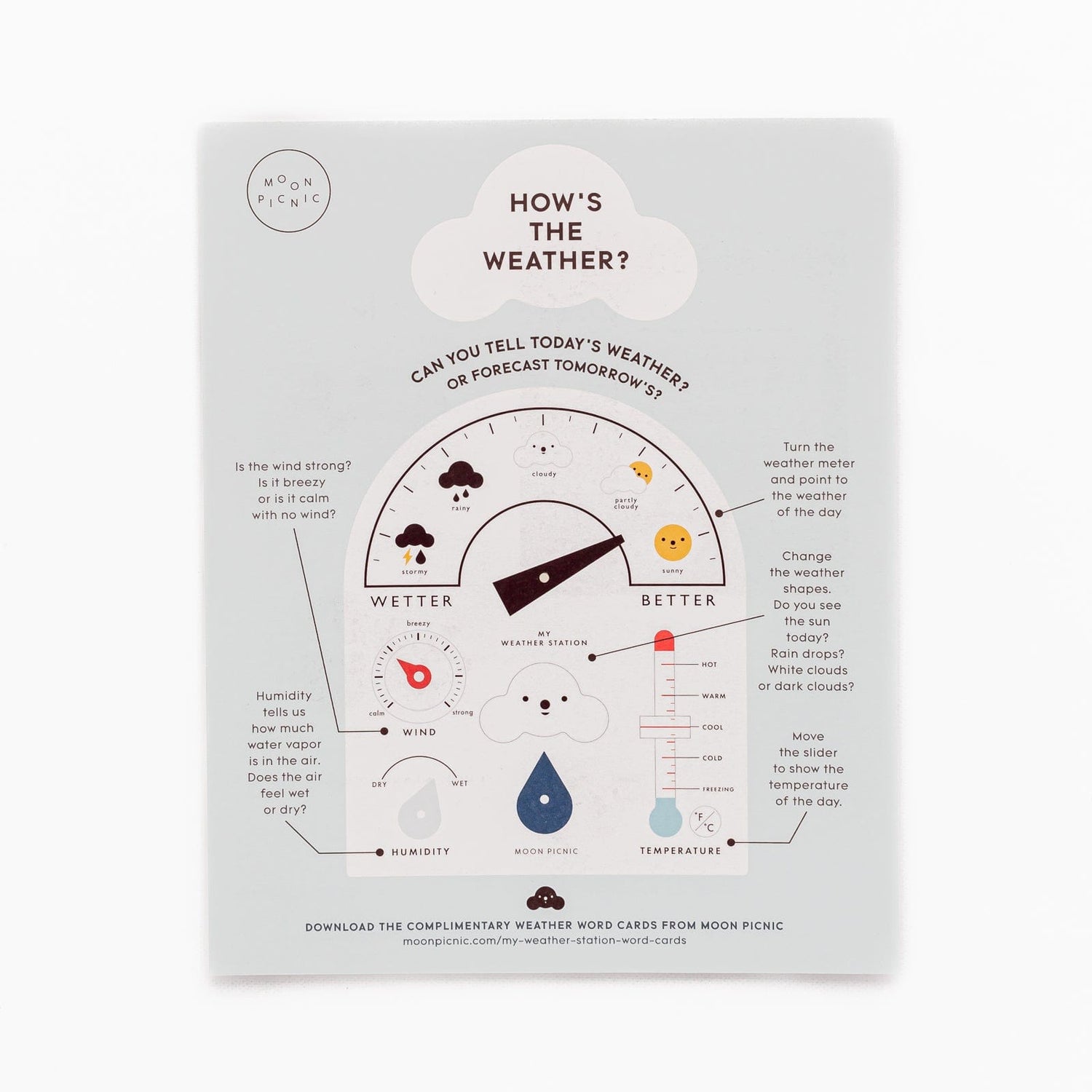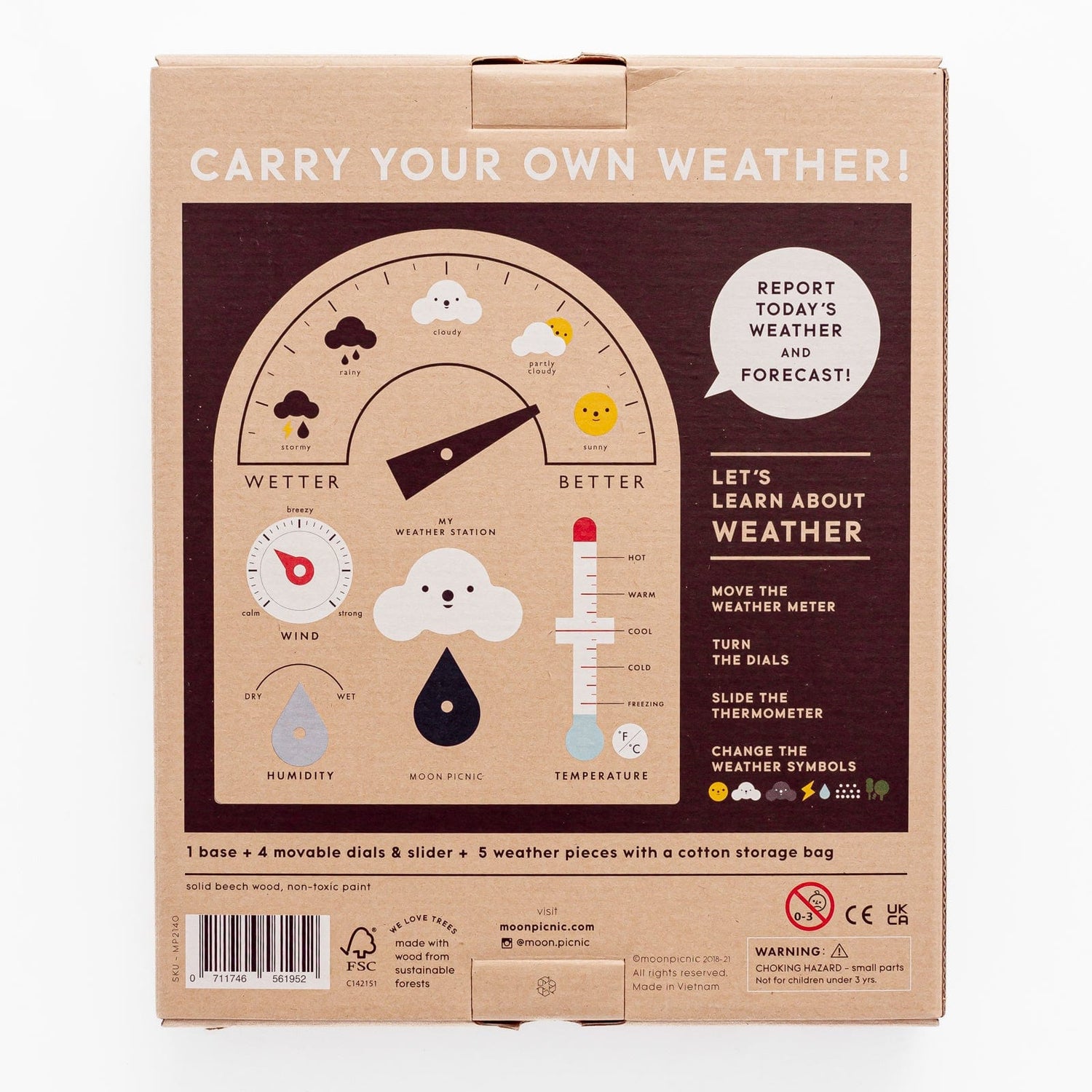 Wooden Weather Station I by Moon Picnic
by Moon Picnic
This purchase helps provide 2 meals to
Indigenous Canadian children in need. Learn More
Description
Introducing our captivating Wooden Weather Station, a delightful and interactive learning toy that brings the wonders of the weather into your child's hands! Crafted with care from natural materials, this unique toy is designed to inspire curiosity and foster a love for science and nature. With its charming design and educational features, it's the perfect addition to any child's playroom or classroom.
Our Wooden Weather Station features a beautifully crafted wooden base with movable dials and indicators that allow children to explore different weather conditions and learn about the elements. From sunny days to cloudy skies, rain showers to snowflakes, this toy provides a hands-on experience that engages all the senses. It's not just a toy, but a tool for discovery and understanding the world around us. Made with sustainable wood, this weather station is both eco-friendly and durable, ensuring years of enjoyment and learning.
Benefits of our Wooden Weather Station:
Encourages learning about weather patterns and conditions
Promotes scientific thinking and observation skills
Enhances fine motor skills through interactive play
Sparks curiosity and a love for nature and science
Provides hands-on sensory experiences
Made from sustainable materials for eco-conscious play
Get ready to dive into the fascinating world of weather with our extraordinary Wooden Weather Station!
Made by Moon Picnic.
Features

• Set includes: 1 base, 4 movable dials & slider 5 weather pieces, cotton storage bag, information card
• The base is 11.6x9.4"
• There are 2 small holes on the top for hanging on the wall.

Materials

• Made from solid beech wood sourced from sustainable, certified forests
• Painted with non-toxic water-based colours

Age/Safety

• Recommended for children 3 years+
• Conforms to CE & CPSIA Safety

About the Brand

Moon Picnic is a small US children's brand based in California whose mission is to help create an unforgettable, nurturing, beautiful and often magical childhood in these busy modern times.

They create unique, fun designs and use sustainably sourced materials and child-safe paints on all of their toys. Come with us for a picnic on the moon, with a basket filled with childhood magic!

Shipping & Delivery

• FREE shipping over $150
• $12 flat rate shipping across Canada on orders under $150
• $15 flat rate shipping on US orders under $150
• For more information, check out our full Shipping Policy
The most beautiful weather station!
This toy exceeded all our expectations! It is absolutely perfect - it can be used for all weather themed study units and it can also be used on a daily basis! Clearly durable, it's definitely a high quality toy.
Absolutely beautiful!
This weather chart is such a gorgeous addition to our playroom and morning routine. It's so lovely to have an interactive chart to use with my kiddos every morning! A wonderful conversation starter - and also looks beautiful on the wall!